By Bane Rossi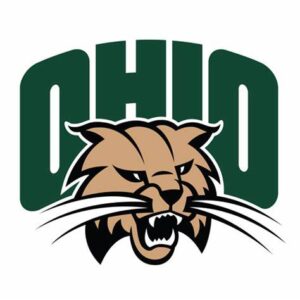 OHIO GAME NOTES
https://ohiobobcats.com/documents/2023/10/24/ohio_fb_102823_miamiohio.pdf
FOLLOW OHIO FOOTBALL: Facebook | Twitter | Instagram
ATHENS, Ohio—The Ohio football team (6-2, 3-1 MAC) are set to host the Battle of the Bricks against the Miami RedHawks (6-2, 3-1 MAC) this Saturday (Oct. 28). Kickoff is set for 3:30 p.m. ET at Frank Solich Field at Peden Stadium. The game can be seen on CBSSN with Jason Knapp and Malik Zaire on the call.
The Bobcats' matchup can also be heard on the Ohio Sports Network from Learfield. Russ Eisenstein returns for his 16th season as the "Voice of the Bobcats" and will be joined by Rob Cornelius, who has been a part of the broadcasts for two decades.
SERIES HISTORY VS. MIAMI 
The Bobcats and the RedHawks have met 98 times since 1908 with a series record of 42-54-2. The two teams last met in Oxford during the 2022 season, where Ohio won 37-21 to mark their second consecutive victory over the RedHawks.
The last time the two teams faced off on a Saturday was on Oct. 1, 2016, at Yager Stadium; holding Miami to one touchdown in the third quarter, Ohio won 17-7. The Bobcats last hosted the RedHawks on a Saturday in 2015, where they won in dominant fashion, 34-3.
SCOUTING MIAMI
The RedHawks are currently 6-2 overall and 3-1 in MAC play, falling to Toledo last week, 21-17. Saturday's matchup against the Bobcats marks their third road MAC matchup of the season.
On the season, Miami averages 29.75 points on 154.1 rushing yards and 211.75 passing yards per game.
Individually, running back Rashad Amos leads the RedHawks on the ground, scoring four rushing touchdowns on 98 carries and 421 yards. Running backs Kenny Tracy and Keyon Mozee both have two touchdowns on the season. In the air, quarterback Brett Gabbert is 111-for-187 with 14 touchdowns, throwing five interceptions in 1,634 yards. Quarterback Aveon Smith has played in five games so far this season, throwing four completions in 60 yards. Smith is also a threat on the ground, netting 49 rushing yards in eight attempts.
Defensively, linebacker Matt Salopek has a team-best 79 tackles— including 45 solo stops— and is currently ranked 20th in the country with an average of 9.9 tackles per game. He also has 4.5 tackles for loss, two sacks and one pass break up. Defensive lineman Caiden Woullard leads the team in sacks (6) while defensive back Michael Dowell is the only RedHawk defender with two interceptions.
Kicker Graham Nicholson has perfect record this season, going 25-for-25 in PATs and 14-for-14 in field goals. Punter Alec Bevelhimer has 28 punts on the season, with his longest clocking in at 64 yards.
LAST TIME OUT 
Last Saturday (Oct. 21), the Bobcats hosted the Western Michigan Broncos, winning 20-17. This victory marked Ohio's 10th consecutive victory in Athens.
The Bobcats' defense remains a force to be reckoned with, holding Western Michigan to their fewest rushing yards so far this season (79). Individually, linebackers Keye Thompson and Bryce Houston led the way, recording 13 and 12 tackles, respectively.
Wide receiver Sam Wiglusz recorded a personal-best 155 receiving yards, passing her previous record (144), which he set against Akron in 2022. On the day, he had 10 catches and one touchdown. Quarterback Kurtis Rourke went 24-for-39 on 275 yards with one touchdown.
Two field goals by kicker Gianni Spetic gave Ohio a 6-0 lead heading into halftime. After a 43-yard RedHawks field goal cut Ohio's lead to three points, running back Sieh Bangura wrapped up a nine-play, 75 yard drive with the first touchdown of the day, putting the Bobcats ahead 13-3.
The Broncos answered with their own rushing touchdown, trailing Ohio by three points as they started the last 15 minutes of play. A Wiglusz touchdown and a Broncos touchdown on the ensuing drive put the final score at 20-17.
SCOUTING OHIO 
Currently, the Bobcats are 6-2 overall and 3-1 in MAC play. They average 22.5 points per game on 143.3 rushing yards and 207 passing yards per game.
In the air, Kurtis Rourke is 122-for-194 on 1,343 yards, throwing nine touchdowns in seven games. Parker Navarro has participated in four games, going 7-for-10 with two passing touchdowns. Both are threats on the ground as well and are currently third and fourth, respectively, on the team in rushing yards. Rourke has two rushing touchdowns while Navarro claims the longest rush this season (52 yards).
Running backs Sieh Bangura and O'Shaan Allison lead the Bobcats on the ground. Bangura has a team-best three rushing touchdowns on 448 yards and 108 carries while Allison is right behind him with 104 carries and one touchdown on 346 yards. Bangura has also tallied one receiving touchdown on 14 receptions.
Wide receiver Sam Wiglusz has recorded three touchdowns on 39 receptions and 440 yards while wide receiver Miles Cross has a team-best four receiving touchdowns on 338 yards.
Defensively, linebacker Bryce Houston leads the team with 82 total tackles and 39 solo stops, putting him second in the MAC and ranked 11th in FBS football. He's also recorded eight tackles for loss, 1.5 sacks, two interceptions and three quarterback hurries. Linebacker Keye Thompson is right behind Houston with 51 tackles; against Bowling Green, he recorded a 71-yard fumble recovery for a touchdown. Defensive end Vonnie Watkins has a team-best seven quarterback hurries while defensive tackle Rayyan Buell is tied for first in the league in tackles for loss (10).
Kicker Gianni Spetic is 10-for-15 on field goals and 19-for-19 on PATs while kicker Alex Kasee is 1-for-2 on field goals, 2-for-2 on PATs and has accumulated 2,242 yards in 39 kickoffs. Punters Jack Wilson and Jared Wheatley have both made appearances this season, with Wilson's longest of 10 clocking in at 57 yards while Wheatley has 19 punts on the season, averaging 36.79 yards per punt.
To read the rest of this week's notes, click here.
#OUohyeah
COURTESY OHIO ATHLETIC COMMUNICATIONS