By StephanieLee Elliott

* The Maple Leafs achieved a feat only three other teams in NHL history have accomplished as they earned their second third-period, multi-goal comeback win of the season, just five games into it.
* The Golden Knights, Avalanche and Bruins all remained undefeated after collecting victories Saturday and are the only three teams without a loss in 2023-24.
* A total of 98 goals were scored across a 15-game slate on Saturday, a primer for Frozen Frenzy on Tuesday where all 32 teams will take to the ice with the 16 games all having different start times and the first puck dropping at 6 p.m. ET.
* The Flames face off against the Red Wings on Sunday, exactly one week ahead of the 2023 Tim Hortons NHL Heritage Classic – the first-ever "Battle of Alberta" to take place in an outdoor setting. Click here for the newly-released #NHLStats pack for the Heritage Classic.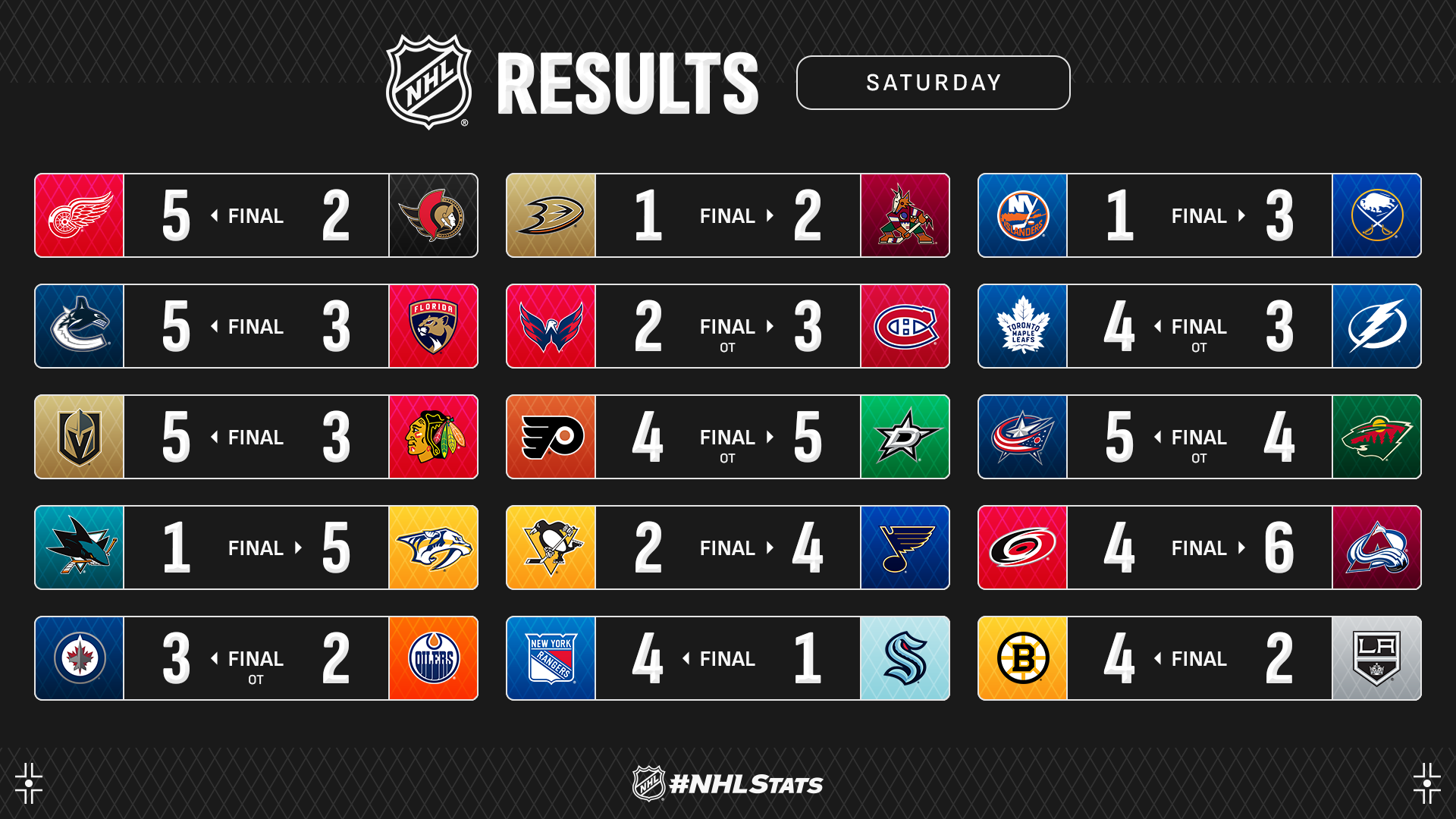 2023-24: THE SEASON OF MULTI-GOAL, THIRD-PERIOD COMEBACKS BY THE MAPLE LEAFS
History repeated itself in the Maple Leafs' first meeting with the Lightning since John Tavares (1-1—2) scored the overtime winner in Game 6 of the 2023 First Round, with the captain finding the back of the net 4:05 into extra time Saturday. This marked the Maple Leafs' second third-period, multi-goal comeback victory of 2023-24 (also Oct. 11 vs. MTL) – they are the only club with any of these wins this season. Prior to this season, Toronto's last multi-goal, third-period comeback victory was against Washington on April 24, 2022.
* Matthew Knies (2-1—3) scored twice in the third period to erase a 3-1 deficit and now has eight NHL points (regular season & playoffs combined) with seven of them coming against the Lightning. He became the fifth Maple Leafs rookie in the past 20 years to score multiple goals in a third period, joining Michael Bunting (Jan. 29, 2022), Auston Matthews (Feb. 14, 2017), John Mitchell (2x in 2008-09) and Jiri Tlusty (2x in 2007-08).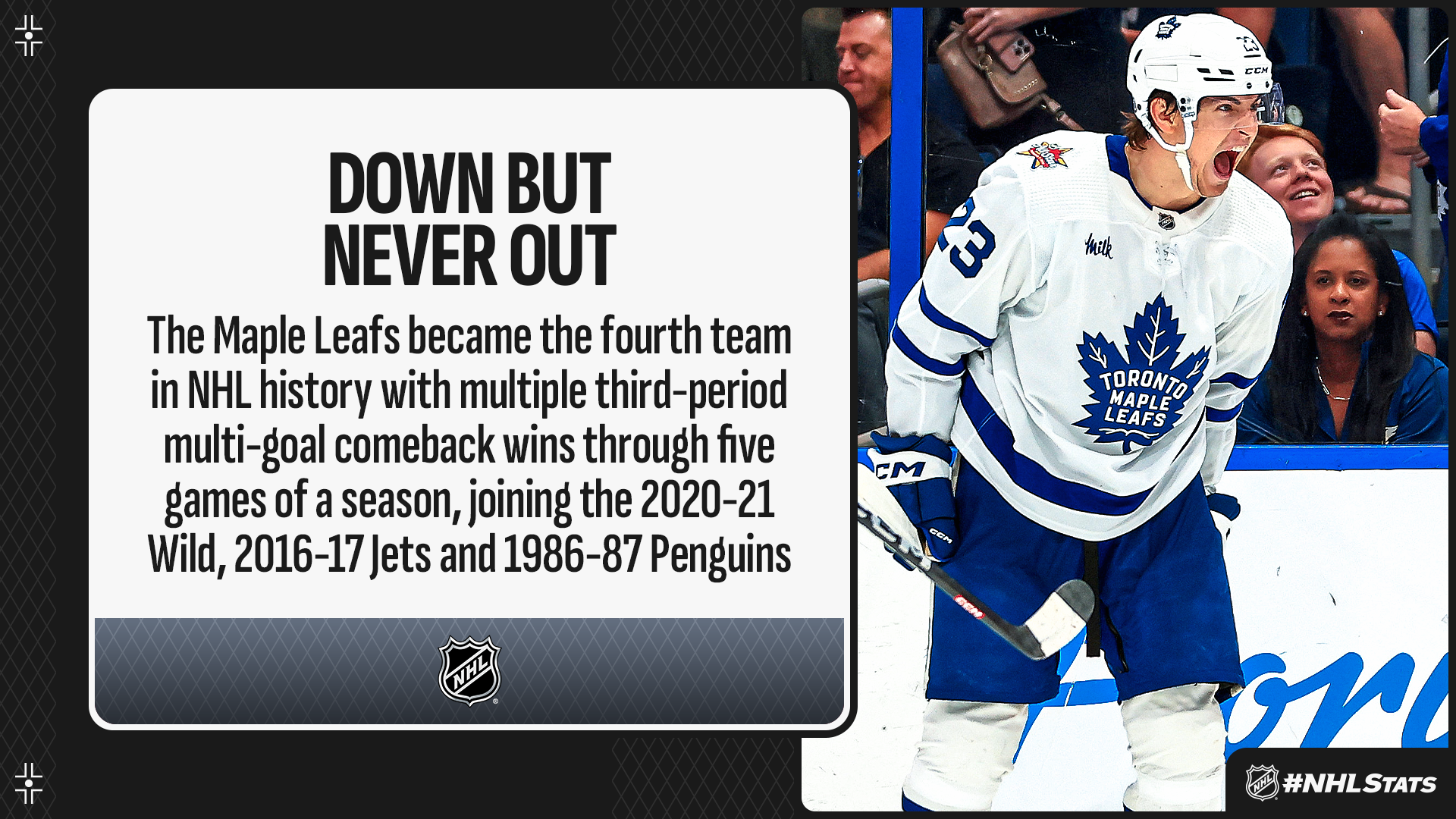 SEASON-OPENING WINNING STREAKS CONTINUE FOR VEGAS, COLORADO
The 2023 Stanley Cup-champion Golden Knights and 2022 Stanley Cup-champion Avalanche extended their season-opening win streaks to six and five games, respectively:
* William Karlsson and Jonathan Marchessault accounted for two of the Golden Knights' five goals after Connor Bedard opened the scoring at 1:30 of the first period as Vegas improved to 6-0-0 (12 points), which marks the longest season-opening winning streak by a reigning champion in NHL history. Karlsson and Marchessault were two of the "Misfits" who skated for the Golden Knights since their inaugural season that were on the Cup-winning squad (also William Carrier, Brayden McNabb, Reilly Smith & Shea Theodore).
* Logan O'Connor (1-1—2) scored a shorthanded goal for a third consecutive contest to help the Avalanche record a five-game season-opening winning streak for the fifth time in franchise history. O'Connor became the ninth player in NHL history with a shorthanded goal in three straight games, a list which includes former Colorado captain Joe Sakic nearly 25 years ago.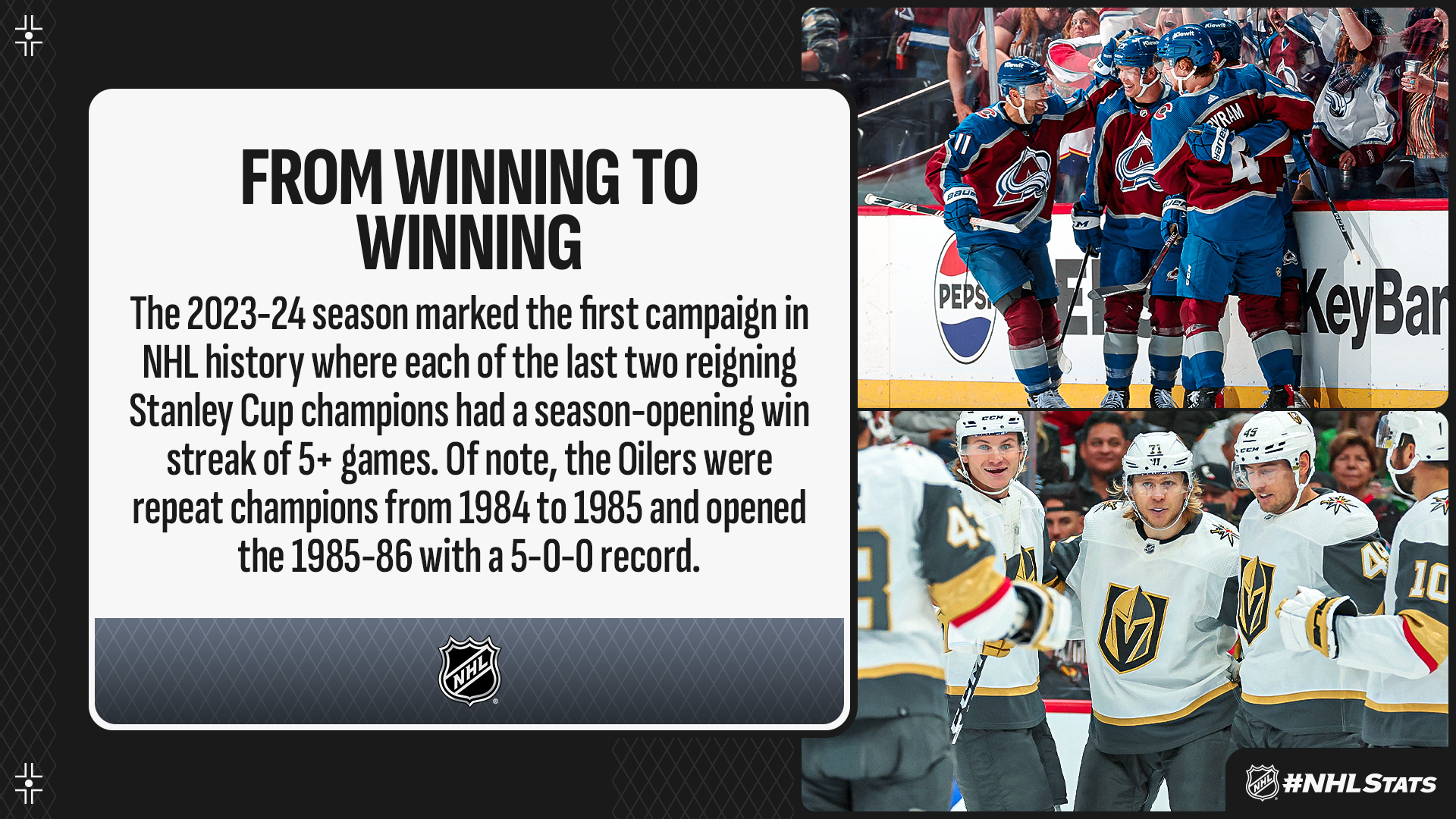 PETTERSSON, BOESER, GOSTISBEHERE CONTINUE HOT STARTS TO THE SEASON
David Pastrnak (1-2—3), Elias Pettersson (1-1—2), Brock Boeser (1-0—1) and Shayne Gostisbehere (1-1—2) continued their stellar starts to the season and helped their clubs find the win column Saturday:
* Pastrnak opened the scoring and extended his season-opening goal streak to four games – the longest run by a Bruins skater since Dimitri Kvartalnov in 1992-93 (5 GP). Boston improved to 4-0-0 to start a campaign for the seventh time in franchise history and first since 1990-91 (4-0-0). The longest season-opening win streak in Bruins history was a six-game run in 1937-38 (6-0-0).
* Pettersson and Boeser both scored to help Vancouver earn its first win against the Panthers on the road since Oct. 13, 2018. Boeser (6-1—7 in 5 GP) joined Alexander Mogilny (7 in 1995-96) and Tony Tanti (7 in 1983-84) as the third player in franchise history with six goals through their first five games of a season. Meanwhile, Pettersson moved into a tie with Jack Hughes (4-6—10 in 4 GP) for the most points among all players and became the sixth player in Canucks history to reach the 10-point mark in five contests or fewer.
* Gostisbehere helped Detroit improve to 4-1-0 to start 2023-24 – its most wins through its first five contests of a season since 2017-18 (also 4-1-0). Gostisbehere, who was acquired by the Red Wings in the offseason, extended his point streak to five games (2-4—6). He became the fifth player – and just the second defenseman – to record a point streak of five-plus contests to start his tenure with the Red Wings, joining Ed Litzenberger (6 GP in 1961-62), Taro Hirose (5 GP in 2018-19), Dylan Larkin (5 GP in 2015-16), Mikael Samuelsson (5 GP in 2005-06) and Kent Douglas (5 GP in 1967-68).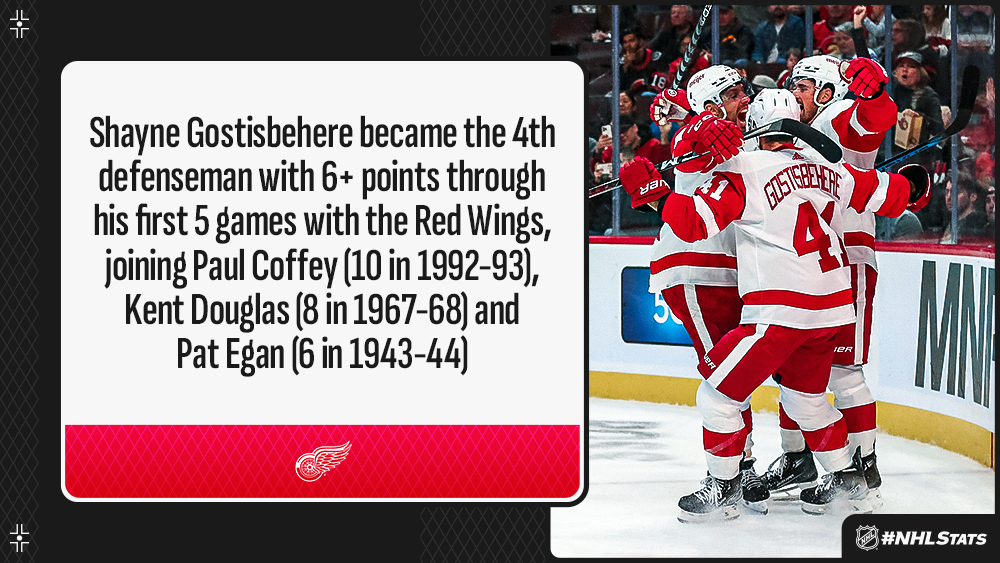 CAUFIELD TALLIES OVERTIME WINNER ON #NHLSTATS: LIVE UPDATES
A busy night for #NHLStats within Live Updates was filled with 15 games and notes for all 30 teams, including Cole Caufield, who scored his ninth game-winning goal as the overtime winner. Only six players in Canadiens history have recorded more game winners before age 23.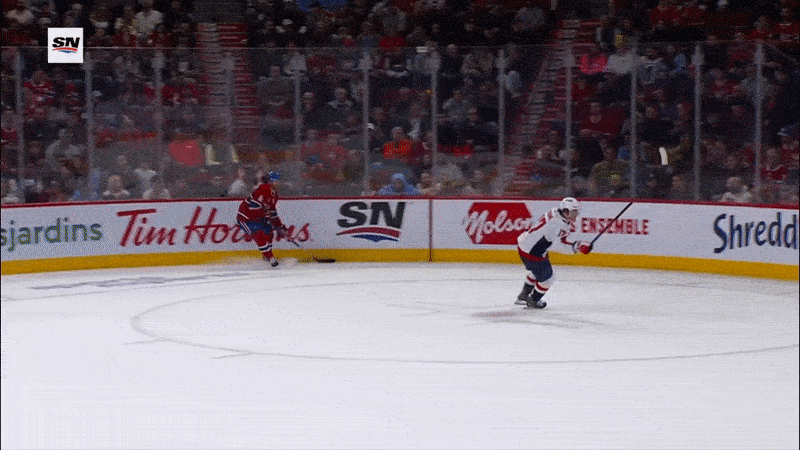 QUICK CLICKS
* Rasmus Andersson suspended 4 games for actions in Flames game
* Blue Jackets fan holds up Fantilli sign at 'College GameDay' on ESPN
* First Heritage Classic played 20 years ago brings back warm memories
* Blackhawks honor late Rocky Wirtz ahead of home opener
* Anze Kopitar skates in 1,297th NHL game, becomes Kings franchise leader in games played
TWO GAMES SET FOR SUNDAY
Four teams will be in action Sunday – both games broadcast nationally in Canada on TVA Sports – starting with the Flames visiting the Red Wings at Little Caesars Arena before the Bruins continue their West Coast road swing via a date with the Ducks.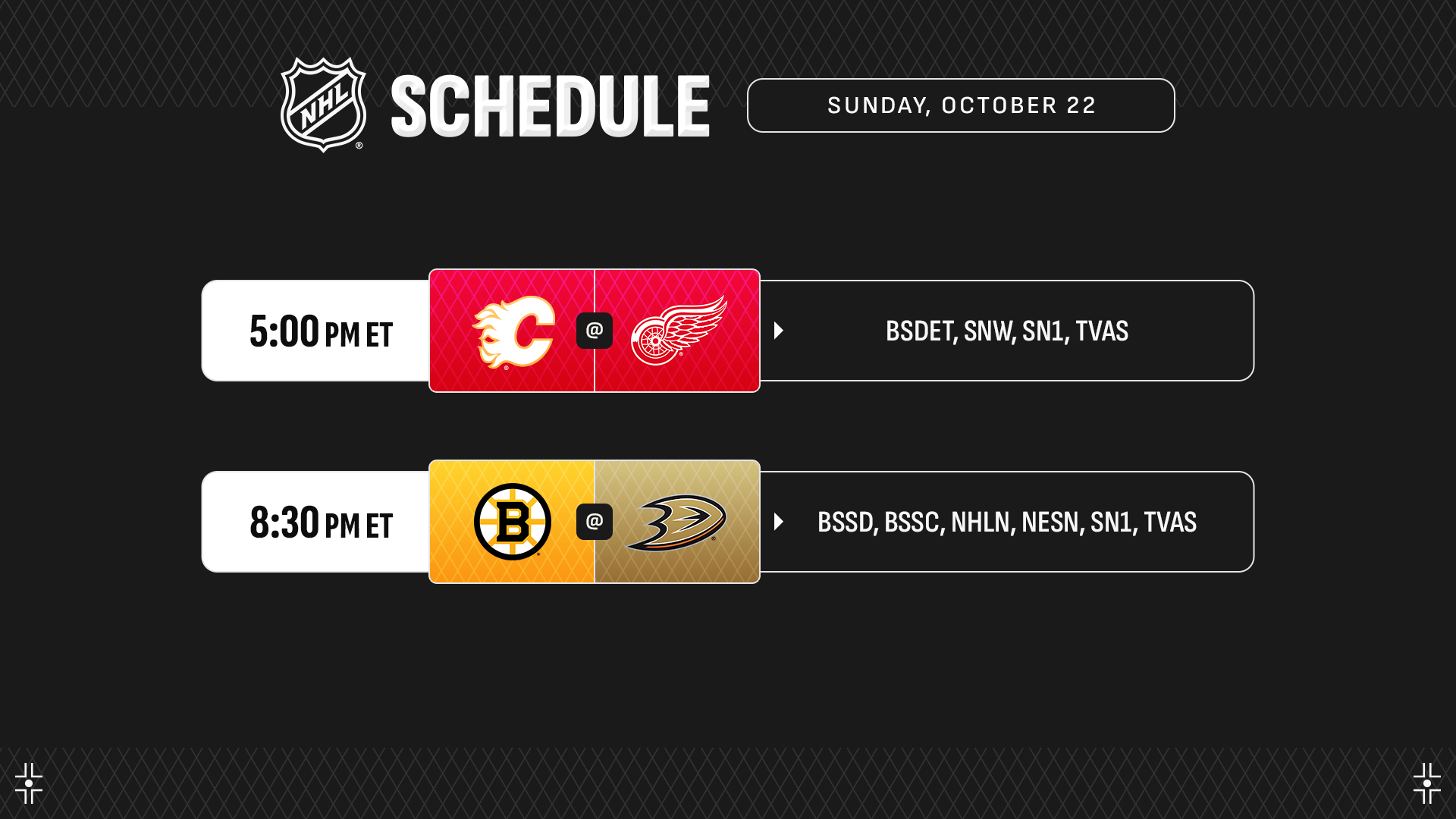 COURTESY NHLmedia.com