By Carey Van Lue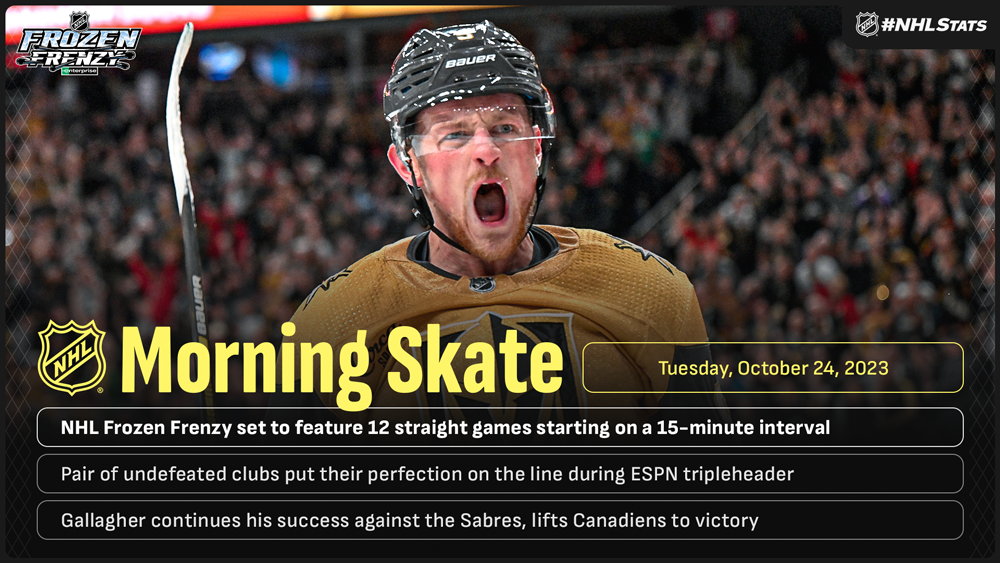 * The second 16-game day in League history will set the stage for an NHL Frozen Frenzy across the schedule, with 12 straight contests starting on 15-minute intervals from 6:30 p.m. ET to 9:15 p.m. ET. With every team on the ice, John Buccigross and analyst Kevin Weekes will host a live, whip-around, look-in studio show for a combined 6.5 hours of unprecedented, non-stop NHL coverage.
* A tripleheader on ESPN highlights a first-of-its kind day across the NHL, including a pair of undefeated teams when the Golden Knights (6-0-0) host the Flyers as well as the Bruins (5-0-0) travelling to Chicago to take on the Blackhawks.
* Brendan Gallagher's 78th career multi-point game (all w/ MTL) bolstered the Canadiens to victory in Buffalo. It also marked his 18th career goal against the franchise – his most against a single opponent.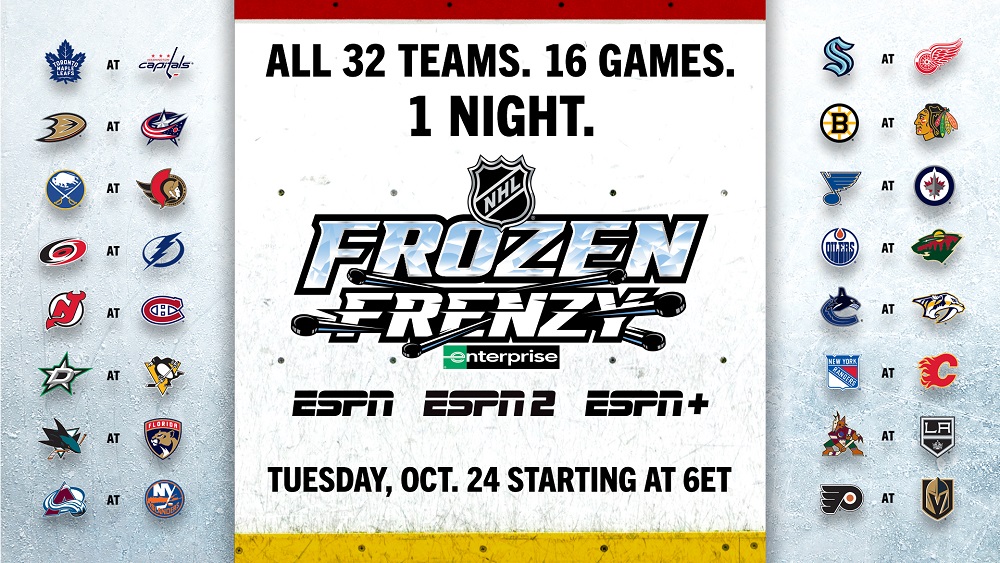 "IS THERE A HOCKEY GAME ON OCTOBER 24? NO, THERE'S 16 GAMES!"
A day unlike any other in the 106-year history of the NHL begins at 6 p.m. ET when Auston Matthews and the Maple Leafs face Alex Ovechkin and the Capitals in the first of 16 games on the day – all with different start times – and the opener of an NHL Frozen Frenzy tripleheader on ESPN. The network's second exclusive matchup pits Connor Bedard and the Blackhawks against David Pastrnak and the undefeated Bruins for their second and final meeting this season and concludes with the 3-1-1 Flyers visiting the reigning Stanley Cup champion Golden Knights who also will look to remain perfect in 2023-24.
* To keep up with the continuous action involving all 32 teams, ESPN will debut a live "whip-around" show for Frozen Frenzy hosted by John Buccigross and analyst Kevin Weekes showcasing the best plays, hits, goals and moments of the night. The live show will include a combined 6.5 hours of unprecedented, non-stop NHL coverage, streaming from 7-8 p.m. ET exclusively on ESPN+ and then from 8 p.m. ET to 1:30 a.m. ET on ESPN2 and ESPN+.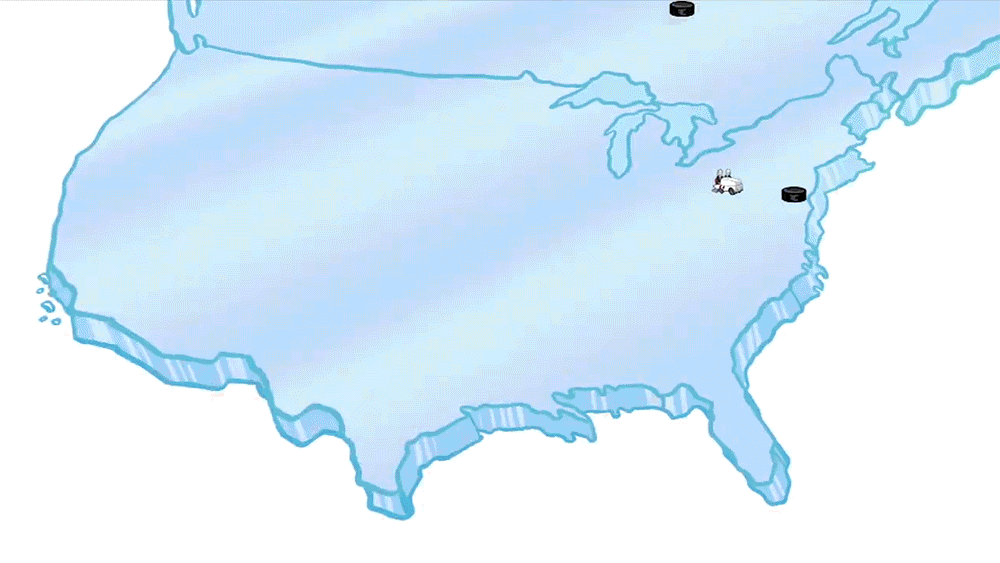 STAR-STUDDED START: MATTHEWS VS. OVECHKIN TO OPEN ESPN TRIPLEHEADER
The second ESPN tripleheader of the season starts with a star-studded showdown between top goal-scorers with a remarkable connection to an iconic moment in NHL history.
6:00 p.m. ET – Toronto Maple Leafs at Washington Capitals (ESPN, ESPN+, TSN4)
Nearly 18 years ago on an eight-game Monday, a rising star by the name of Alex Ovechkin scored a "simply sensational" goal in Arizona that remains arguably the most iconic of his 822 to date and inspired the unprecedented hockey journey of a young fan in the stands who has scored more goals than Ovechkin since entering the NHL in 2016-17.
* Playing in his 44th NHL game on Jan. 16, 2006, Ovechkin powered his way up the ice and contorted his body while falling to the ice to score the 32nd goal of his career – with NHL goals leader Wayne Gretzky (894) watching in awe from the opposing bench and future NHL star Auston Matthews, eight years old at the time, staring in disbelief in the crowd. ESPN will air a feature on the goal during The Point, airing at 5 p.m. ET on ESPN2 and ESPN+ ahead of the Maple Leafs–Capitals opener for Frozen Frenzy.
* Matthews enters his 16th career regular season head-to-head against Ovechkin with 305 goals in 486 games, one shy of the amount The Great Eight had at that stage of his career. Ovechkin (8-8—16) has a narrow edge in goals against Matthews (7-11—18) through their first 15 meetings, but the younger of the two stars has more points and wins (TOR: 8-5-2; WSH: 7-7-1). Three of Ovechkin's eight goals against Matthews have come via the power play, among the NHL record 299 such tallies he has in his career.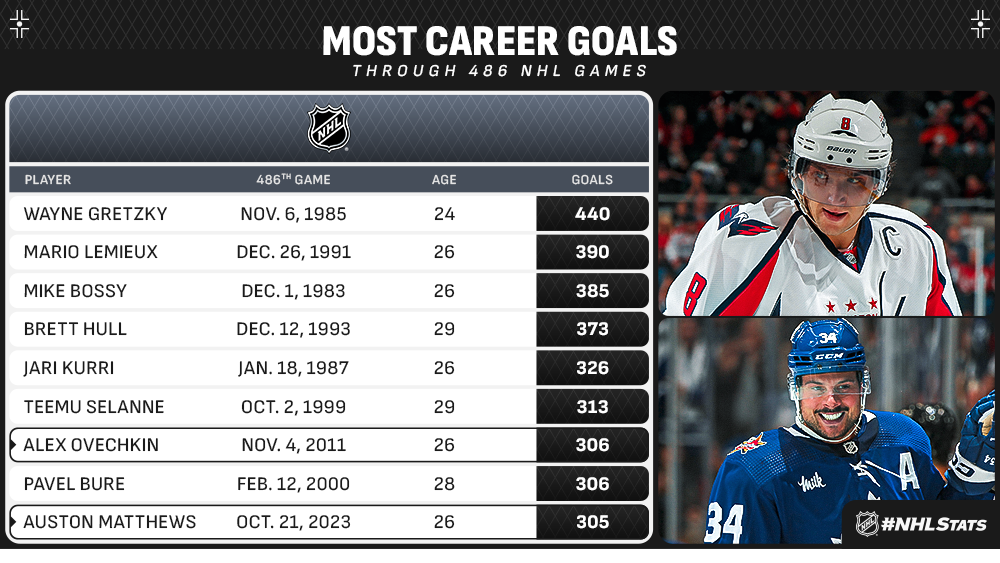 PICTURE PERFECT STARTS FOR REIGNING PRESIDENTS' TROPHY, STANLEY CUP WINNERS
The second and third games of ESPN's tripleheader will see the top team from the 2022-23 regular season and the 2023 Stanley Cup champions look to maintain their unblemished records.
8:30 p.m. ET – Boston Bruins at Chicago Blackhawks (ESPN, ESPN+, TVAS)
* After setting NHL records for wins (65) and points (135) last season, the Bruins will put their 5-0-0 record on the line when they wrap up their season series against the Blackhawks. Already the best start by a Presidents' Trophy winner in NHL history, Boston will look to match the longest winning streak from the start of a season in franchise history – a mark set 86 years ago, with their sixth victory coming against the Original Six rival Blackhawks on Nov. 21, 1937.
* Boston is one of three teams in League history to start 5-0-0 or better after finishing the previous regular season as the No. 1-ranked team, with the other two clubs doing so before the Presidents' Trophy was introduced in 1985-86. The original Ottawa Senators started 5-0-0 in 1920-21 after finishing with the top record in 1919-20, while the Maple Leafs had the best start by any reigning No. 1-seed by going 8-0-0 out of the gate in 1934-35.
* The contest will include two of 10 teenagers in the League this season in Blackhawks forward Connor Bedard (2-2—4 in 6 GP) and Bruins forward Matthew Poitras (2-1—3 in 5 GP), with the latter coming off a game in which he scored the first two goals of his NHL career. The first meeting this season between Chicago and Boston (Oct. 11) was memorable for both rookies as Bedard scored his first NHL goal in his second career game and Poitras notched an assist in his League debut.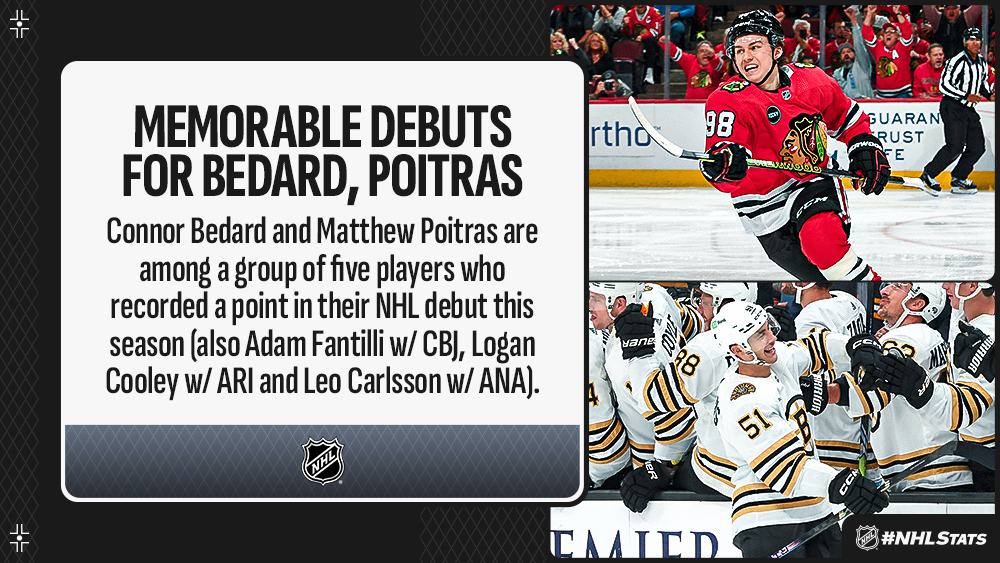 11:00 p.m. ET – Philadelphia Flyers at Vegas Golden Knights (ESPN, ESPN+)
* Off to the best six-game start in their seven-season history, the Golden Knights will put their season-opening six-game winning streak on the line against the Flyers (3-1-1, 7 points) who enter Tuesday's Frozen Frenzy atop the Metropolitan Division standings after a seventh-place finish in 2022-23. Already the longest season-opening winning streak by a reigning Stanley Cup winner in League history, Vegas can become the 16th team to begin a season with at least seven straight wins – a feat last achieved in 2021-22 by both Carolina (9-0-0) and Florida (8-0-0).
* Travis Konecny (5-2—7) has matched the best five-game start of his career (also seven points in 2019-20 and 2020-21) and tied the Flyers record for shorthanded goals in one game Saturday, as the club did the same with three goals while at a numerical disadvantage.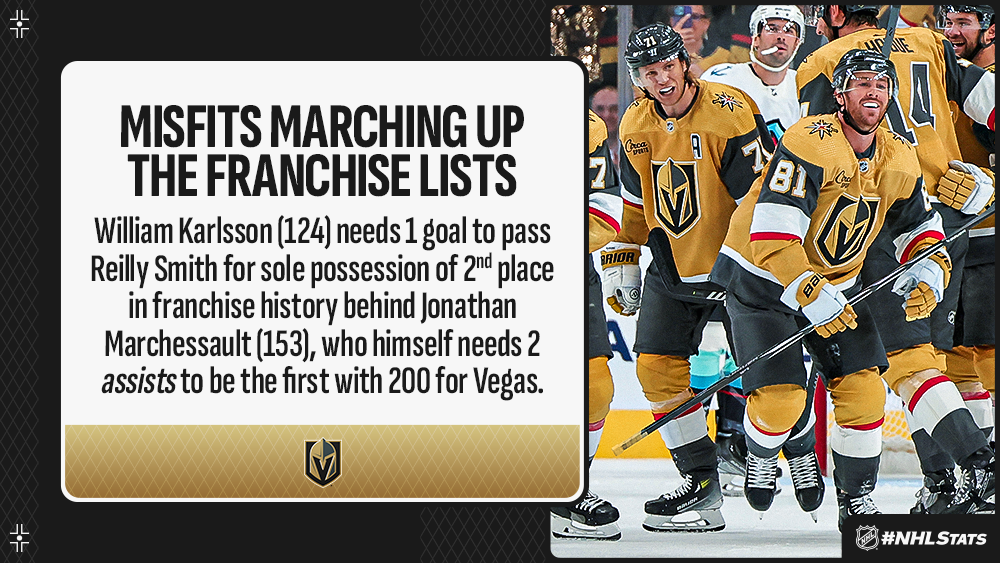 #NHLSTATS SNAPSHOTS: A LOOK AT THE REST OF THE 16-GAMER
After the clock hits 6 p.m. ET, there will be continuous NHL action until 1:30 a.m. ET, and #NHLStats will be there with Live Updates every step of the way. A few quick hits for the other 13 games on Tuesday's slate – all of which will be available on NHL Power Play on ESPN+, available to all ESPN+ subscribers (regional blackouts apply).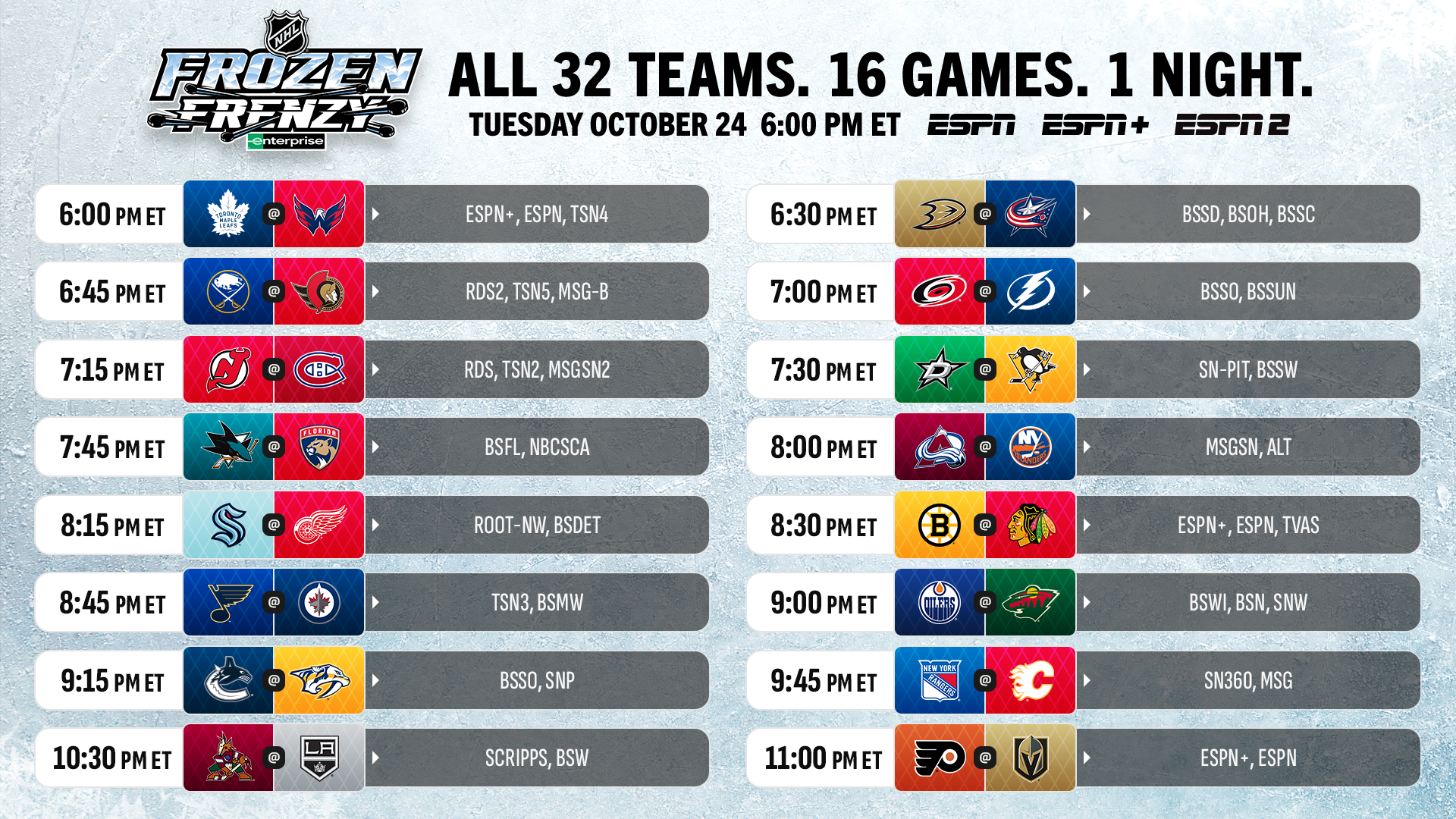 6:30 p.m. ET – Anaheim Ducks at Columbus Blue Jackets (BSSD, BSOH, BSSC)
* The second Frozen Frenzy game of the day could be the first matchup between players selected in the 2023 NHL Draft. Anaheim's Leo Carlsson (No. 2) and Columbus' Adam Fantilli (No. 3) each had a point in their NHL debut and each have one goal to their credit following Fantilli's first tally Saturday.
6:45 p.m. ET – Buffalo Sabres at Ottawa Senators (RDS2, TSN5, MSG-B)
* Two of the youngest teams in the League will meet for the first time this season, with plans to honor goaltender Craig Anderson before puck drop. Anderson spent the last two of his 20 NHL seasons with the Sabres and is the Senators franchise leader in wins and games played among goaltenders. The Buffalo-Ottawa matchup is one of two on the day involving teams that rank among the top five in terms of average age (BUF: 26.02; CBJ: 26.05; MTL: 26.19; OTT: 26.61; ANA: 26.85).
7:00 p.m. ET – Carolina Hurricanes at Tampa Bay Lightning (BSSO, BSSUN)
* The two most successful postseason teams in the Eastern Conference across the last five seasons will go head-to-head with both taking their first strides towards what they hope is a return to the playoffs and along postseason run. The Lightning have won a League-leading 11 playoff series since 2018-19 and hope to bounce back from a First Round exit in 2023, while the Hurricanes have advanced past the opening round in each of the last three playoff years after finishing first in their division in each of those seasons.
7:15 p.m. ET – New Jersey Devils at Montreal Canadiens (RDS, TSN2, MSGSN2)
* Longtime friends and teammates selected among the top 15 picks in the 2019 NHL Draft, Jack Hughes and Cole Caufield are now leading scorers in the NHL ahead of their third head-to-head meeting. Hughes has 4-1—5 to Caufield's one assist in two meetings to date, scoring twice in each contest. Four years ago, they split a game puck after breaking the USNTDP records for goals (Caufield) and points (Hughes) on the same play. Fast-forward to 2022-23 when they both set NHL career highs in goals, with NHL EDGE data showing their similar success rates from mid-range near the top of the left circle. Hughes (20.9%; 9 of 43) and Caufield (20.0%; 6 of 30) were among a group of five players with a shooting percentage of 20.0% or higher from the mid-range left circle last season (min. 30 SOG from that zone), along with Connor McDavid (24.0%; 12 of 50), Daniel Sprong (23.3%; 7 of 30) and David Pastrnak (20.3%; 15 of 74).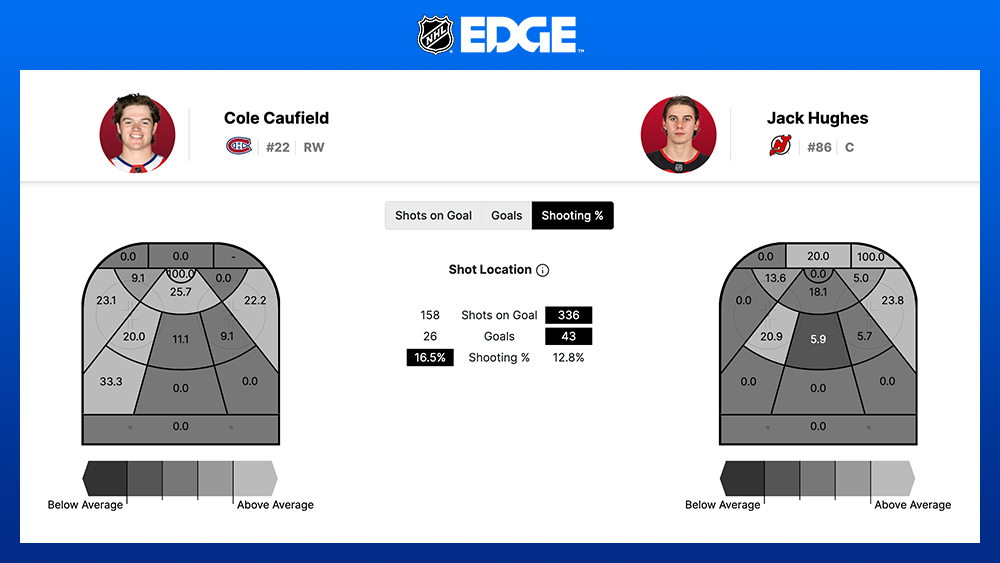 7:30 p.m. ET – Dallas Stars at Pittsburgh Penguins (SN-PIT, BSSW)
* A pair of veterans still going strong lead the way for these two teams, with 39-year-old Joe Pavelski (3-2—5 in 4 GP) pacing the Stars and 37-year-old Evgeni Malkin (4-4—8 in 5 GP) the most productive Penguins skater. It also pits two of the highest-scoring European defensemen from last season, when Erik Karlsson (25-76—101 in 82 GP) led all blueliners in points and Miro Heiskanen (11-62—73 in 79 GP) tied for the second-most points among European-born defenders.
7:45 p.m. ET – San Jose Sharks at Florida Panthers (BSFL, NBCSCA)
* The Panthers are led offensively by Sam Reinhart (6-2—8 in 5 GP) who was named the NHL's "Third Star of the Week" on Monday. Pavel Bure (7 in 1998-99) is the only Panthers player to score more goals than Reinhart through five games in a season.
8:00 p.m. ET – Colorado Avalanche at New York Islanders (MSGSN, ALT)
* One of three undefeated teams entering Frozen Frenzy, the Avalanche will look to match their longest season-opening winning streak since relocating to Colorado in 1995-96 when they visit the Islanders. Mikko Rantanen (4-4—8), Nathan MacKinnon (3-3—6), Cale Makar (2-4—6) and Artturi Lehkonen (2-4—6) are the club's top point producers, while Logan O'Connor enters Tuesday with a chance to match the NHL record for consecutive games with a shorthanded goal (he has already tied Joe Sakic for the franchise record at three games). Alexandar Georgiev is a perfect 5-0-0, marking the second time the Avalanche/Nordiques have started a season with at least five straight wins while having the same goaltender claim each of them (also Stephane Fiset: 5-0-0 in 1994-95 w/ QUE).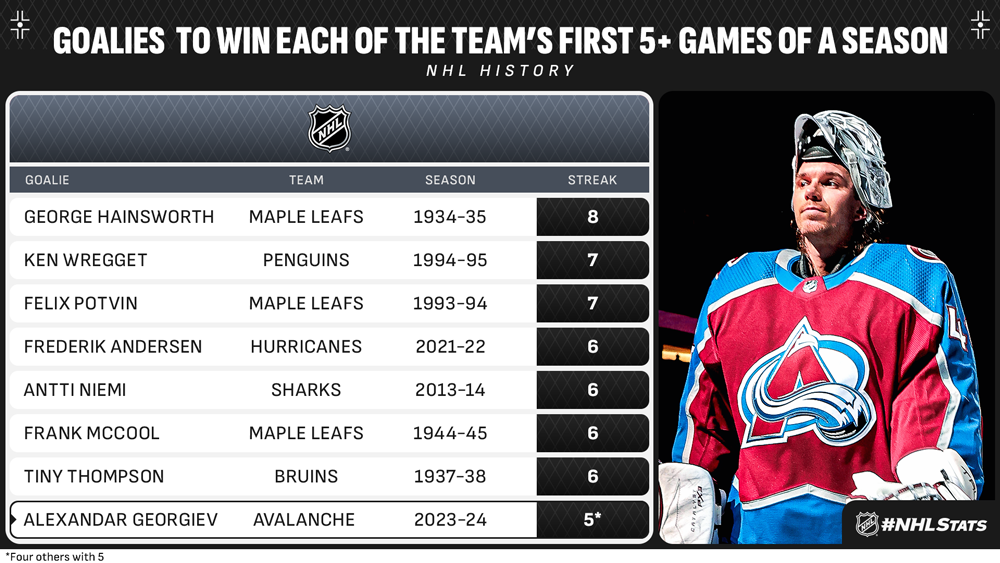 8:15 p.m. ET – Seattle Kraken at Detroit Red Wings (ROOT-NW, BSDET)
* Michigan will be well represented in this matchup as Matty Beniers (University of Michigan) and the Kraken visit a Red Wings roster that includes a League-high five players born in the state, including the top two scorers in the NHL: Alex DeBrincat (8-4—12 through his first six games w/ DET) and Dylan Larkin (3-8—11 in 6 GP). Detroit defenseman Jeff Petry and forwards Andrew Copp and Austin Czarnik also hail from the state. Beniers, Larkin and Copp all played at the University of Michigan, as did Red Wings forward J.T. Compher – a Big Ten champion with the school in 2015-16.
8:45 p.m. ET – St. Louis Blues at Winnipeg Jets (TSN3, BSMW)
* Doug Armstrong is set to serve his 1,000th regular-season game since being named Blues general manager on July 1, 2010. Armstrong (560-332-107, 1,227 points) will be the 23rd different individual in NHL history to serve 1,000 contests as GM with one franchise and the fifth among that group with at least 560 wins through the milestone game, following Ken Holland (600 w/ DET), Sam Pollock (592 w/ MTL), Harry Sinden (579 w/ BOS) and Doug Wilson (575 w/ SJS).
9:00 p.m. ET – Edmonton Oilers at Minnesota Wild (BSWI, BSN, SNW)
Playing their final road game before the 2023 Tim Hortons NHL Heritage Classic, Leon Draisaitl (4-5—9 in 5 GP) and the Oilers will look to claim their first victory in Minnesota since Feb. 7, 2019 (0-5-0 since). Wild forward Mats Zuccarello (1-6—7 in 5 GP) scored his first goal of the season Saturday and enters Frozen Frenzy with a chance to become the fourth player in franchise history with a point streak of six or more games from the start of a season – a feat last achieved by Chris Stewart in 2017-18.
9:15 p.m. ET – Vancouver Canucks at Nashville Predators (BSSO, SNP)
* Two of five clubs currently led in scoring by a Swedish-born player will meet in Nashville when Elias Pettersson (2-8—10 in 5 GP) and the Canucks close out their five-game road trip against Filip Forsberg (1-4—5 in 6 GP) and the Predators. Since 2018-19 when Pettersson entered the League, he and Forsberg ranks among the top five highest-scoring Swedish-born players (Pettersson: 2nd w/ 138-195—333 in 330 GP; Forsberg: 5th w/ 123-138—261 in 291 GP).
9:45 p.m. ET – New York Rangers at Calgary Flames (SN360, MSG)
* Just two seasons removed from finishing first and second in Vezina Trophy voting during the 2021-22 season, New York's Igor Shesterkin and Calgary's Jacob Markstrom continue to be key pieces for their respective franchises. Since the start of the 2021-22 season in which Shesterkin won the award, his 75 wins are the most of any goaltender. Markstrom, meanwhile, has made 37 saves in high-danger areas this season, entering play on Monday that stood as the second-highest total of any goaltender behind Tampa Bay's Jonas Johansson (47).
10:30 p.m. ET – Arizona Coyotes at Los Angeles Kings (SCRIPPS, BSW)
After splitting two preseason games in Australia as part of the 2023 NHL Global Series – Melbourne, the Coyotes and Kings will meet for the first time this regular season, starting a home-and-home that concludes Friday. Logan Cooley (0-4—4 in 5 GP) enters Frozen Frenzy tied for the most points among rookies as he pursues his first NHL goal. Ten players have scored a goal for the Coyotes as a teenager, with four having hit double digits: Clayton Keller (23 in 85 GP), Peter Mueller (22 in 81 GP), Mikkel Boedker (11 in 88 GP) and Jakob Chychrun (20 in 116 GP).
NHL EDGE WEBSITE PROVIDES PUCK AND PLAYER TRACKING DATA TO FANS
The NHL announced Monday the launch of the NHL EDGE advanced stats section on NHL.com (NHL.com/EDGE), delivering Player performance metrics from the League's Puck and Player Tracking system and taking fans deeper into the game. Click here for more information on the new site.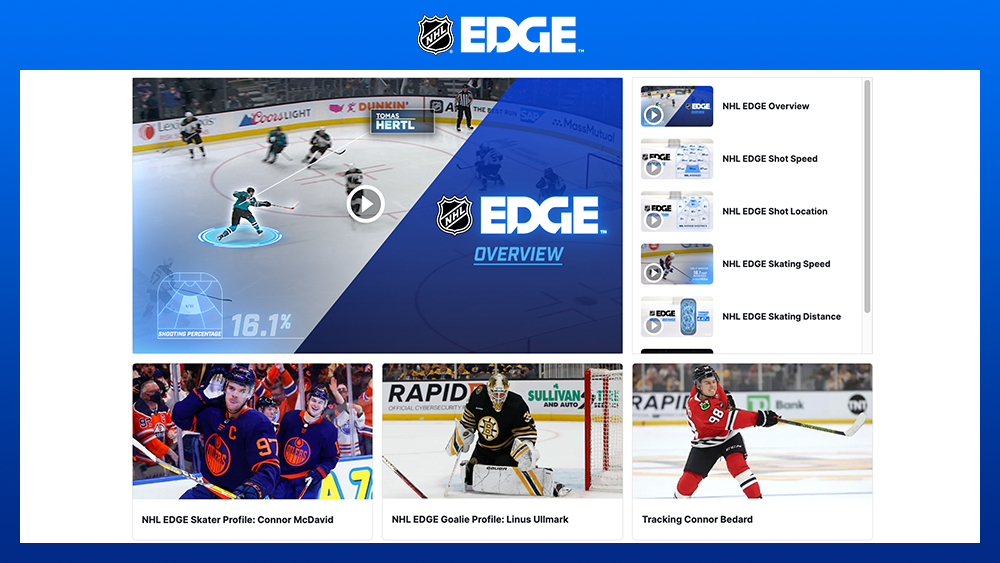 * With the NHL set to drop the puck on its first 16-game day of the season, NHL.com/EDGE will update overnight with data points that give fans the ability to learn more about their favorite players and teams. A few NHL EDGE stats as points of reference from Saturday's 15-game slate:
* Skaters combined for 1,363.65 miles skated, including 4.33 miles by Maple Leafs forward Auston Matthews – the most among all skaters that day.
* The maximum shot speed recorded was 97.84 mph, by Blues defenseman Colton Parayko at 16:04 of the first period against the Penguins.
* The highest maximum speed recorded was 23.50 mph, by Blue Jackets defenseman Zach Werenski and Kings forward Adrian Kempe.
QUICK CLICKS
* Alex DeBrincat, Alexandar Georgiev, Sam Reinhart named 'Three Stars' of the Week
* #NHLStats Pack: 2023 Tim Hortons NHL Heritage Classic
* Women in Hockey: Tina Johnson
* Montreal defeats Buffalo in latest edition of #NHLStats: Live Updates
COURTESY NHLmedia.com