By Mona Hatfield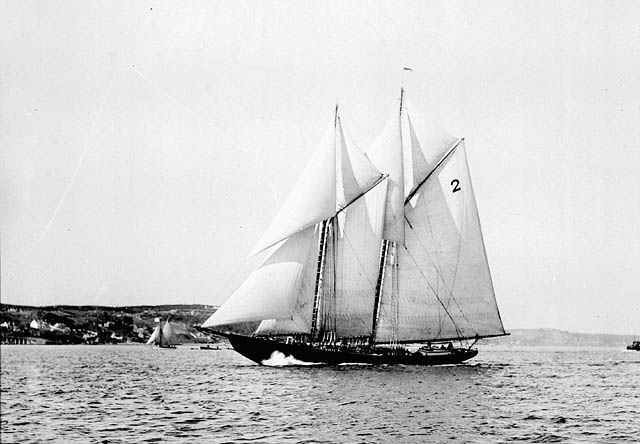 FROM WIKIPEDIA COMMONS
Bluenose was a fishing and racing gaff rig schooner built in 1921 in Lunenburg, Nova Scotia, Canada. A celebrated racing ship and fishing vessel, Bluenose under the command of Angus Walters, became a provincial icon for Nova Scotia and an important Canadian symbol in the 1930s, serving as a working vessel until she was wrecked in 1946. Nicknamed the "Queen of the North Atlantic", she was later commemorated by the Bluenose one-design sloop (1946) and a replica, Bluenose II (1963). The name Bluenose originated as a nickname for Nova Scotians from as early as the late 18th century.
TODAY'S ALMANAC
Today is noted as United Nations Day to mark the anniversary of the United Nations charter, which went into effect on October 24, 1945. Organizations and schoolchildren throughout the world mark this day with meetings, discussions, and exhibits on the achievements and goals of the international body.
Question of the Day
How many trees does it take to make a cord of wood?
Well, that depends, of course, on the size of the trees. Here are some examples: It would take 50 trees 4 inches in diameter, 10 trees 8 inches in diameter, or 3 trees 14 inches in diameter to make a cord of wood.
Advice of the Day
A lie has no legs to stand on, but it gets places.
Home Hint of the Day
Get rid of any tree branches that hang over your house and outbuildings so that squirrels can't use them as ladders.
Word of the Day
Elongation
The difference in degrees between the celestial longitudes of a planet and the Sun. Greatest Elongation (Gr. Elong.): The greatest apparent distance of a planet from the Sun, as seen from Earth.
Puzzle of the Day
How does the transposition of the parts of a word express the difference between a welcome and a wish for your departure?
Born
Sarah Hale

 

(poet; magazine editor)

 

– 

Belva A. Lockwood

 

(lawyer)

 

– 

Melvin Purvis

 

(FBI agent)

 

– 

Moss Hart

 

(playwright)

 

– 

Bob Kane

 

(cartoonist; co-creator of Batman)

 

– 

Denise Levertov

 

(poet)

 

– 

The Big Bopper

 

(singer)

 

– 

Bill Wyman

 

(bassist; formerly of The Rolling Stones)

 

– 

F. Murray Abraham

 

(actor)

 

– 

Kevin Kline

 

(actor)

 

– 

Monica

 

(singer)

 

– 
Died
Daniel Webster

 

(lawyer & statesman)

 

– 

Franklin Carmichael

 

(Canadian painter)

 

– 

Gene Roddenberry

 

(author & producer)

 

– 

Raul Julia

 

(actor)

 

– 

George P. Oslin

 

(Western Union executive)

 

– 

Harry Hay

 

(early activist in the gay-rights movement, founded Mattachine Society)

 

– 

Rosa Parks

 

(civil rights activist)

 

– 

Marcia Strassman

 

(actress)

 

– 

Maureen O'Hara

 

(actress)

 

– 

Robert Guillaume

 

(actor)

 

– 

Antoine "Fats" Domino

 

(singer)

 

– 

Leslie Jordan

 

(actor )

 

– 
Events
Spain ratified treaty to cede Florida to the United States

– 

Alonzo D. Phillips, of Springfield, Massachusetts, received a patent for phosphorus friction matches

– 

Astronomer William Lassell discovered Uranus moons Ariel and Umbriel

– 

The first transcontinental telegraph message was sent by Justice Stephen J. Field of California to President Lincoln in Washington, D.C.

– 

Canadian schooner Bluenose won the International Fishermen's Trophy

– 

Nylon stockings went on sale for the first time, Wilmington, Delaware

– 

First photos of Earth taken from space

– 

Actor Richard Burton bought a $1.1 million, 69-carat diamond ring for his wife, Elizabeth Taylor.

– 

The Concorde, the world's only supersonic airliner, headed home to London for the last time

– 

The Boston Red Sox took Game 1 of the World Series with a final score of 13-1, scoring more runs than any team in the first game of a World Series

– 
Weather
Traffic in Buffalo, New York, was stalled for several hours as cars tried to maneuver through six inches of slushy snow

– 

Thunderstorms in the Flagstaff, Arizona, area gave rise to three tornadoes

– 
COURTESY www.almanac.com