By Brenda June Temple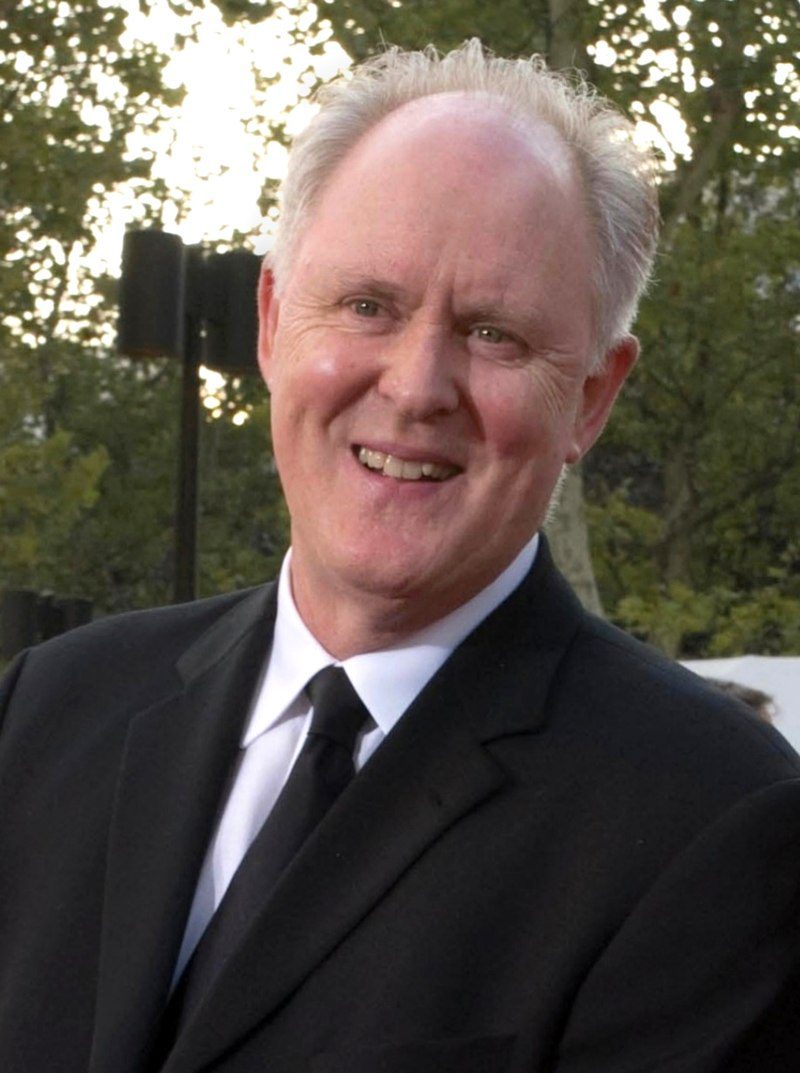 FROM WIKIPEDIA COMMONS
John Arthur Lithgow (/ˈlɪθɡoʊ/ LITH-goh; born October 19, 1945) is an American actor. He studied at Harvard University and the London Academy of Music and Dramatic Art before becoming known for his diverse work on the stage and screen. He has received numerous accolades including six Emmy Awards, two Golden Globe Awards, three Screen Actors Guild Awards, and two Tony Awards. He has also received nominations for two Academy Awards, a BAFTA Award, and four Grammy Awards. Lithgow has received a star on the Hollywood Walk of Fame in 2001 and he was inducted into the American Theater Hall of Fame in 2005.
In 1973, Lithgow made his Broadway debut in The Changing Room for which he received his first Tony Award. In 1976 Lithgow acted alongside Meryl Streep in the plays 27 Wagons Full of Cotton, A Memory of Two Mondays and Secret Service at The Public Theatre. He received Tony Award nominations for Requiem for a Heavyweight (1985), M. Butterfly (1988), and Dirty Rotten Scoundrels (2005). In 2002, Lithgow received his second Tony Award, this time for a musical, Sweet Smell of Success. In 2007, he made his Royal Shakespeare Company debut as Malvolio in Twelfth Night. He returned to Broadway in the plays The Columnist (2012), A Delicate Balance (2014), and Hillary and Clinton (2019).
Lithgow starred as Dick Solomon in the television sitcom 3rd Rock from the Sun (1996–2001), winning three Primetime Emmy Awards for Best Actor in a Comedy Series. He received further Primetime Emmy Awards for his performances as Arthur Mitchell in the drama Dexter (2009) and as Winston Churchill in the Netflix drama The Crown (2016–2019). He also starred in HBO's Perry Mason (2020) and FX's The Old Man (2022).
His early screen roles included Bob Fosse's All That Jazz (1979) and Brian De Palma's Blow Out (1981). He received Academy Award for Best Supporting Actor nominations for his performances in The World According to Garp (1982) and Terms of Endearment (1983). He then starred in the films Footloose (1984), Harry and the Hendersons (1987), The Pelican Brief (1993), A Civil Action (1998), Shrek (2001), Kinsey (2004), Dreamgirls (2006), Love Is Strange (2014), Miss Sloane (2016), Beatriz at Dinner (2017), Late Night (2019), and Bombshell (2019).
TODAY'S ALMANAC
Died
Jonathan Swift

 

(author)

 

– 

Leo Clarke

 

(Victoria Cross recipient)

 

– 

Edna St. Vincent Millay

 

(poet)

 

– 

Richard Blackwell

 

(fashion designer & critic known simply as Mr. Blackwell"")

 

– 

Tom Bosley

 

(actor)

 

– 
Born
Martha Jefferson

 

(wife of Thomas Jefferson; died before presidency)

 

– 

Cassius Marcellus Clay

 

(abolitionist)

 

– 

Alice McLellan Birney

 

(child welfare worker; the work by her and others led to the formation of the PTA)

 

– 

Eddie Bauer

 

(merchant)

 

– 

Jack Anderson

 

(journalist)

 

– 

John Le Carre

 

(author)

 

– 

Robert Reed

 

(actor)

 

– 

Peter Max

 

(artist)

 

– 

John Lithgow

 

(actor)

 

– 

Giorgio Cavazzano

 

(comic strip artist & illustrator)

 

– 

Jennifer Holliday

 

(singer)

 

– 

Evander Holyfield

 

(boxer)

 

– 

Ty Pennington

 

(carpenter; host of Extreme Makeover: Home Edition)

 

– 

Brad Daugherty

 

(basketball player)

 

– 

Jon Favreau

 

(actor, writer, & director)

 

– 

Chris Kattan

 

(actor)

 

– 

Keith Foulke

 

(baseball player)

 

– 
Events
Major General Lord Charles Cornwallis surrendered at Yorktown, Virginia, effectively ending the American Revolutionary War

– 

President Abraham Lincoln wrote to an 11-year-old girl who requested that he grow a beard

– 

First wedding to take place in balloon occurred, over Cincinnati, Ohio

– 

Government autos were first used to deliver U.S. mail

– 

Watertown Senior High School, in South Dakota, was the first school to fingerprint students

– 

Streptomycin, the first antibiotic remedy for tuberculosis, was first isolated by researchers at Rutgers University

– 

Queen Elizabeth II went to a U.S. football game

– 

The Miracle Worker, a dramatization of Helen Keller's early life, opens on Broadway

– 

U.S. auto executive, John DeLorean, was charged with the crime of selling cocaine to undercover police

– 

The first Blockbuster Video store opened in Dallas, Texas

– 

Dow Jones Industrial Average fell by 22% on what has become known as Black Monday""

– 

Mother Teresa was beatified by Pope John Paul II

– 

In Indiana, a family's pet Amazon parrot saved their lives by mimicking the sound of a fire alarm to alert them their house was on fire

– 

An earthquake measuring 2.5 hit Littleton, Massachusetts

– 

The Tampa Bay Rays won the American League Championship Series for the first time in franchise history

– 

First object ('Oumuamua) from another solar system detected in ours

– 
Weather
A hurricane that blew for five hours swept Great Lakes waters into Buffalo, drowning 200 people

– 

Hurricane Wilma made history by dropping pressure to 882 millibars

– 
COURTESY www.almaanc.com