By Lady Williamson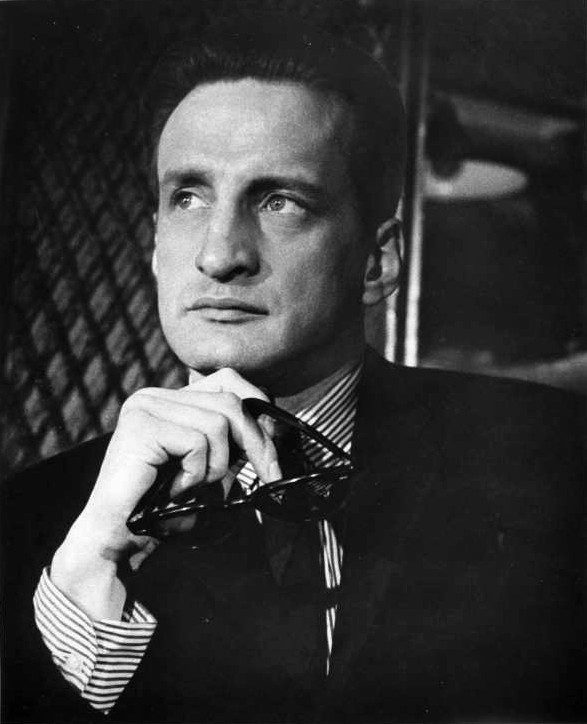 FROM WIKIPEDIA COMMONS
George Campbell Scott (October 18, 1927 – September 22, 1999) was an American actor, director, and producer who had a celebrated career on both stage and screen. With a gruff demeanor and commanding presence, Scott became known for his portrayal of stern but complex authority figures. Described by The Guardian as "a battler and an actor of rare courage", his roles earned him numerous accolades including two Golden Globes, and two Primetime Emmys as well as nominations for two BAFTA Awards and five Tony Awards.
Though he won the Academy Award for Best Actor for playing General George S. Patton in Patton (1970), he became the first actor to refuse the award, having warned the Academy of Motion Picture Arts and Sciences months in advance that he would do so on the basis of his belief that performances can't be compared to others. His other Oscar-nominated roles include in Anatomy of a Murder (1959), The Hustler (1961), and The Hospital (1971). Scott's other notable films include The Hanging Tree (1959), The List of Adrian Messenger (1963), Dr. Strangelove (1964), The Bible: In the Beginning (1966), Petulia (1968), The Day of the Dolphin (1973), Movie Movie (1978), The Exorcist III (1990), and The Rescuers Down Under (1990).
Scott gained fame for his roles on television earning two Primetime Emmy Awards for his performances in Hallmark Hall of Fame (1971), and 12 Angry Men (1997). He also played leading roles in Jane Eyre (1970), Beauty and the Beast (1976), and A Christmas Carol (1984). Scott continued to maintain a prominent stage career even as his film stardom waned, and by the end of his career he had accrued five Tony nominations for his performances in Comes a Day (1959), The Andersonville Trial (1960), Uncle Vanya (1974), Death of a Salesman (1975), and Inherit the Wind. He directed several of his own films and plays and often collaborated with his wives Colleen Dewhurst and Trish Van Devere.
TODAY'S ALMANAC
Lovely, summerlike days that occur around October 18 are called Saint Luke's Little Summer in honor of the saint's feast day. Around this time, Saint Luke's feast day, there is a period brief period of calm, dry weather. Of course, it's difficult to generalize today across the vast continent of North America, but the temperature is usually mild and the leaf colors are turning a gorgeous color. It's a good time for a brief vacation or visit to a park. In Venice, Italy, they say: "San Luca, El ton va te la zuca" (Pumpkins go stale on St Luke's Day), but here in North America, pumpkins are enjoying their finest hour. Saint Luke is the patron saint of physicians and surgeons so it seems only fitting that the good doctor give us these calm days. In olden days, St. Luke's Day did not receive as much attention in the secular world as St. John's Day (June 24) and Michaelmas (September 29), so it was to keep from being forgotten that St. Luke presented us with some golden days to cherish before the coming of winter, or so the story goes. Some folks call this Indian Summer, but that officially occurs between November 11 and November 20.
Alaska Day marks the anniversary of the formal transfer of the Alaska Territory from Russia and the raising of the U.S. flag at Sitka in 1867.
Question of the Day
When did people first use fertilizer that wasn't a natural product?
Superphosphate was patented by John Bennet Lawes in England in 1842.
Advice of the Day
Second Summer-like weather this time of year is called St. Luke's Little Summer. (Formerly known as "Indian Summer.")
Home Hint of the Day
To clean severely discolored glass or crystal, soak the item in a solution of ammonia and water for several hours, then wash and rinse.
Word of the Day
St. Luke's Little Summer
A spell of warm weather that occurs about the time of the saint's feast day, October 18, this period is sometimes referred to as Indian summer.
Puzzle of the Day
I am a caller at every home where you may meet, For daily I perambulate along each street. Take one letter from me and still you will see. I'm the same as before, as I'll always be, Take two letters from me, or three or four. I'll still be the same as I was before. In fact, I can tell you that all my letters you may take, Yet of me nothing else can you make.
Died
Pope Pius III

 

– 

Lucy Stone Blackwell

 

(suffragette)

 

– 

Thomas Alva Edison

 

(inventor)

 

– 

Walt Kelly

 

(cartoonist)

 

– 

Bess Truman

 

(U.S. First Lady)

 

– 

Dee Dee Warwick

 

(soul singer)

 

– 

Colin Powell

 

(politician, diplomat, and four-star general; served as U.S. secretary of state)

 

– 
Born
Pierre Elliot Trudeau

 

(15th Canadian prime minister)

 

– 

Jesse Helms

 

(politician)

 

– 

Chuck Berry

 

(musician)

 

– 

George C. Scott

 

(actor)

 

– 

Mike Ditka

 

(football player, coach)

 

– 

Lee Harvey Oswald

 

(alleged assassin of President John F. Kennedy)

 

– 

Martina Navratilova

 

(tennis player)

 

– 

Erin Moran

 

(actress)

 

– 

Doug Mirabelli

 

(baseball player)

 

– 

Zac Efron

 

(actor)

 

– 
The boundary line between Maryland and Pennsylvania, commonly known as the Mason-Dixon Line, was finally settled

– 

Ostend Manifesto of the US declares that if Spain refuses to sell Cuba to them, then the US will take it by force

– 

Alaska was transferred from Russia to the U.S.

– 

The British Broadcasting Company was formed

– 

Philadelphia Athletics manager Connie Mack announced his retirement

– 
Weather
An early snowstorm over Lakes Erie and Ontario brought 48 inches of snow to the region just south of Buffalo

– 

47 inches of snow fell in Gouverneur, New York

– 
COURTESY www.almanac.com