By StephanieLee Elliott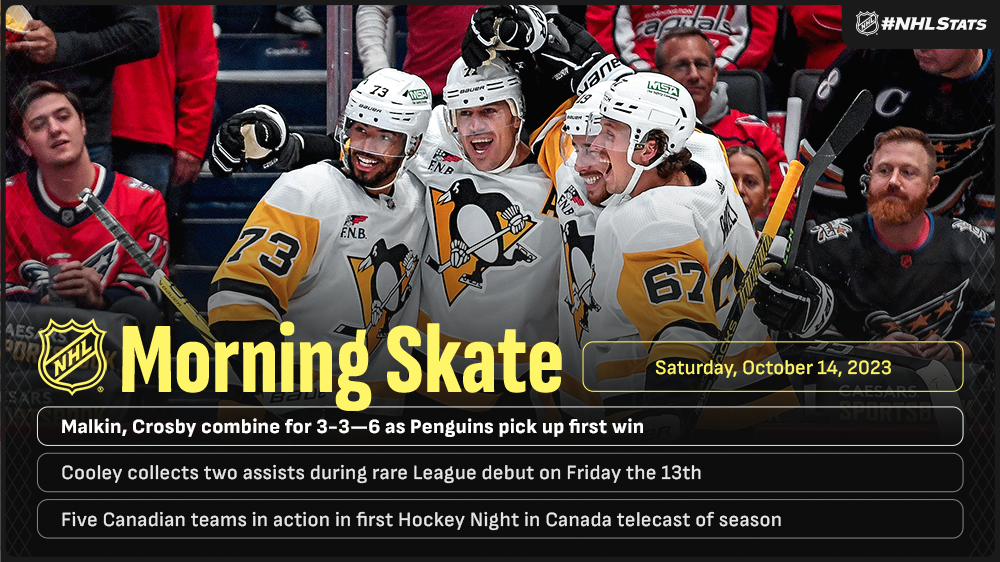 * Sidney Crosby and Evgeni Malkin earned their 103rd career win when both score at least one goal in the same game, while new teammate and reigning James Norris Memorial Trophy winner Erik Karlsson found the score sheet for the first time since joining the Penguins.
* Clayton Keller and Logan Cooley each collected two assists in the Coyotes' season-opening win at Prudential Center, with Cooley becoming the second-youngest player in franchise history to record multiple points in his NHL debut.
* The first Hockey Night in Canada telecast of the season features five Canadian teams in action across four games on Sportsnet.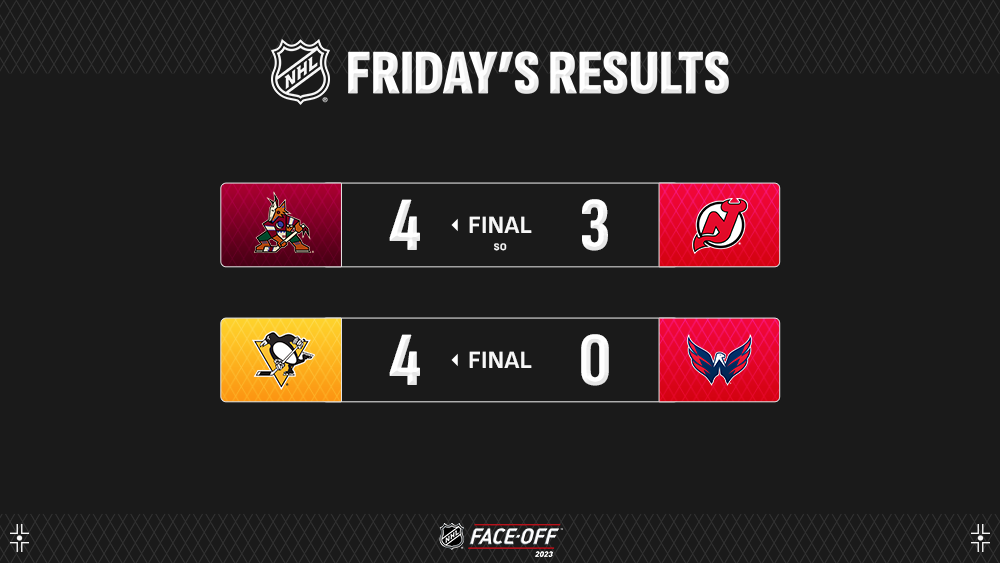 CROSBY, MALKIN PILE ON POINTS IN PITTSBURGH'S FIRST WIN OF SEASON
Longtime teammates Sidney Crosby (2-0—2) and Evgeni Malkin (1-3—4) ignited the Penguins' offense Friday, while offseason additions Reilly Smith (1-0—1) and Erik Karlsson (0-1—1) found the score sheet for the first time with their new team as Pittsburgh picked up its first win of 2023-24.
* Crosby corralled his 10th career game with multiple power-play goals and became the seventh active player to record as many, joining Alex Ovechkin (23), Leon Draisaitl (14), Steven Stamkos (14), John Tavares (13), Joe Pavelski (12) and Mika Zibanejad (11). Malkin (37 years, 74 days) had 1-2—3 in the middle frame and became the first Penguins player age 37 or older with a three-point period since Steve Sullivan (37 years, 163 days on Dec. 16, 2011).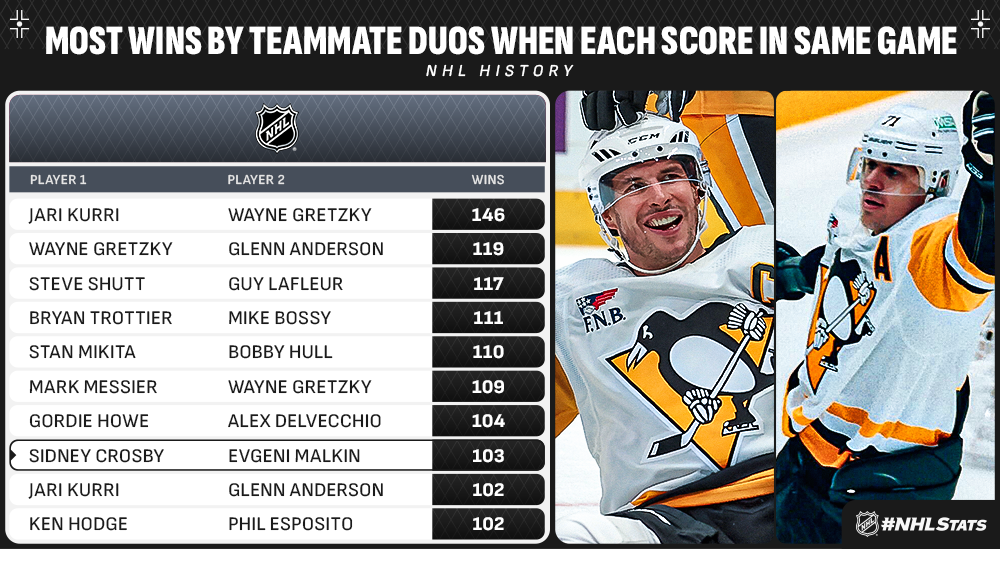 KELLER, COOLEY AND COYOTES CLAIM COMEBACK WIN AT "THE ROCK"
Clayton Keller and Logan Cooley each collected two assists as Arizona rallied from a 3-2 third-period deficit to snap a six-game winless streak in season openers (0-5-1).
* Keller (133-211—344 in 443 GP) passed Radim Vrbata (157-186—343 in 509 GP) for sole possession of 12th place on the Coyotes/Jets franchise's all-time points list, while Cooley (19 years, 162 days) became the second-youngest player in club history with multiple points in his NHL debut behind Shane Doan (18 years, 362 days on Oct. 7, 1995).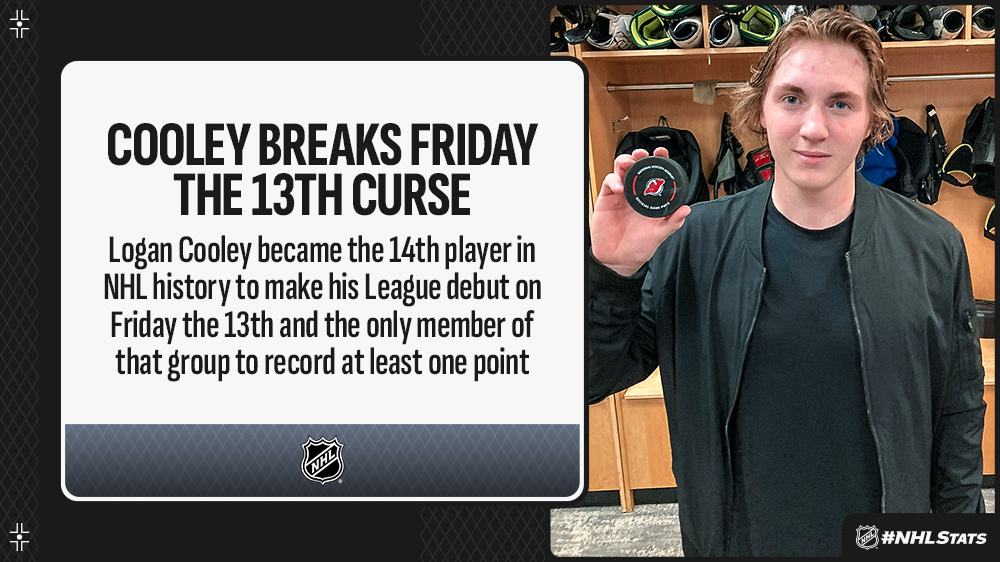 GOALS BY NEW COYOTES DEFENSEMEN DUMBA, DURZI FEATURED IN LIVE UPDATES
Friday's edition of #NHLStats: Live Updates featured more notes from the two-game slate, including new Arizona defensemen Matt Dumba and Sean Durzi each scoring a goal in their team debut.
* The Coyotes became the sixth franchise in NHL history to feature multiple defensemen scoring at least one goal during their team debut in the same game, joining the Islanders on Oct. 5, 2005 (Chris Campoli & Alexei Zhitnik), Penguins on Jan. 18, 1974 (Steve Durbano & Ron Stackhouse), Oakland Seals on Oct. 11, 1967 (Kent Douglas & Ron Harris), Rangers on Oct. 11, 1961 (Doug Harvey & Al Langlois) and Montreal Wanderers on Dec. 19, 1917 (Dave Ritchie & Art Ross).

IN THE COMMUNITY: MacEWEN MAKES HOCKEY MORE ACCESSIBLE
Zack MacEwen will be making his Senators debut on Saturday and as he aims to make an impact on the ice, he's already made one off it. MacEwen is dedicated to removing barriers and helping all children have access to hockey through the My Biggest Fan Foundation his family started. MacEwen is inspired by his late father, Craig, who would find a way to help any and all kids play hockey.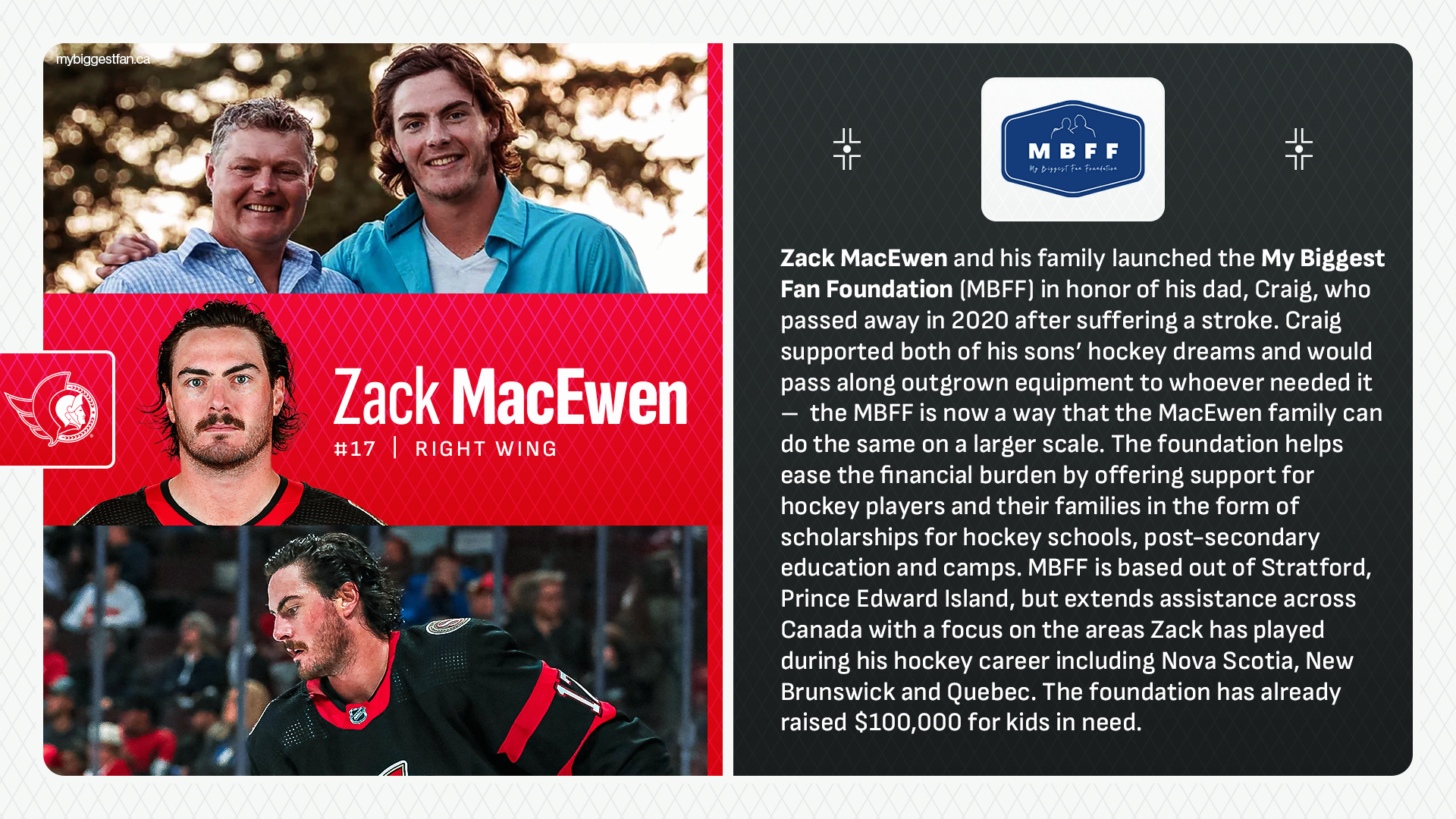 NHL PODCASTS WEEKLY ROUNDUP
* NHL Fantasy on Ice (Oct. 9): Fantasy waiver wire pickups: Week 1
* NHL Fantasy on Ice (Oct. 12): Fantasy mailbag: Week 1; Connor Bedard's early impact
* NHL @TheRink (Oct. 12): Tage Thompson joins; Derek Van Diest talks Canadian teams
* The Chirp (Oct. 13): Connor McDavid & Kevin Cheveldayoff join
QUICK CLICKS
* Start time for Canucks–Flyers game on Tuesday, Oct. 17 changed to 6 p.m. ET
* Devon Toews signs 7-year contract to remain with Avalanche
* Daniel Alfredsson returns to Senators to work in player development, coaching
* Garnet Hathaway fined $5,000 for actions in Flyers game
* Connor McDavid stoked for Nickelback at 2023 Tim Hortons NHL Heritage Classic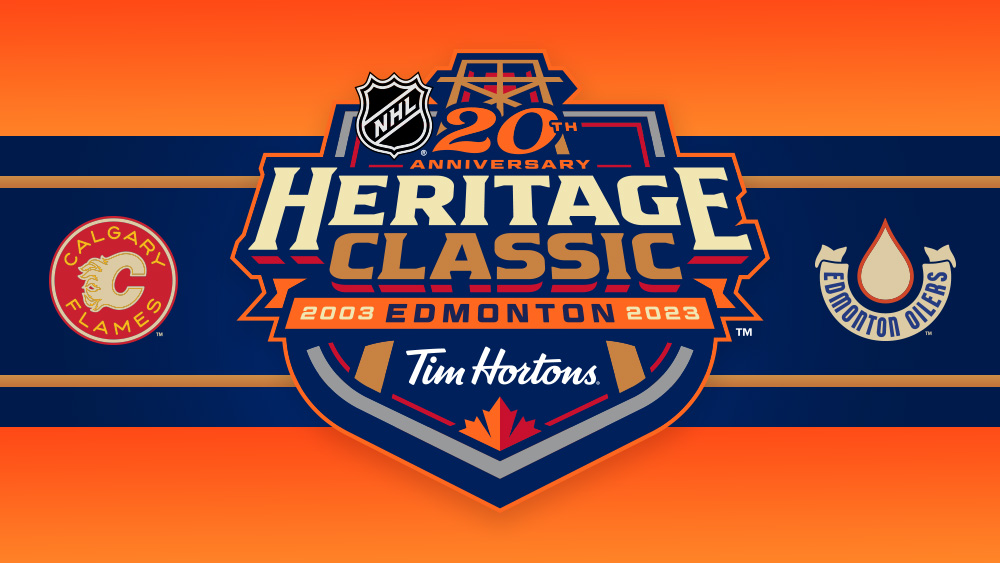 FIRST SATURDAY OF REGULAR SEASON STARTS IN CANADIAN CAPITAL
The first Saturday of the 2023-24 regular season features a 14-game slate starting with the Flyers and Senators squaring off in Ottawa, where the United by Hockey Mobile Museum will officially begin its seven-month tour across North America.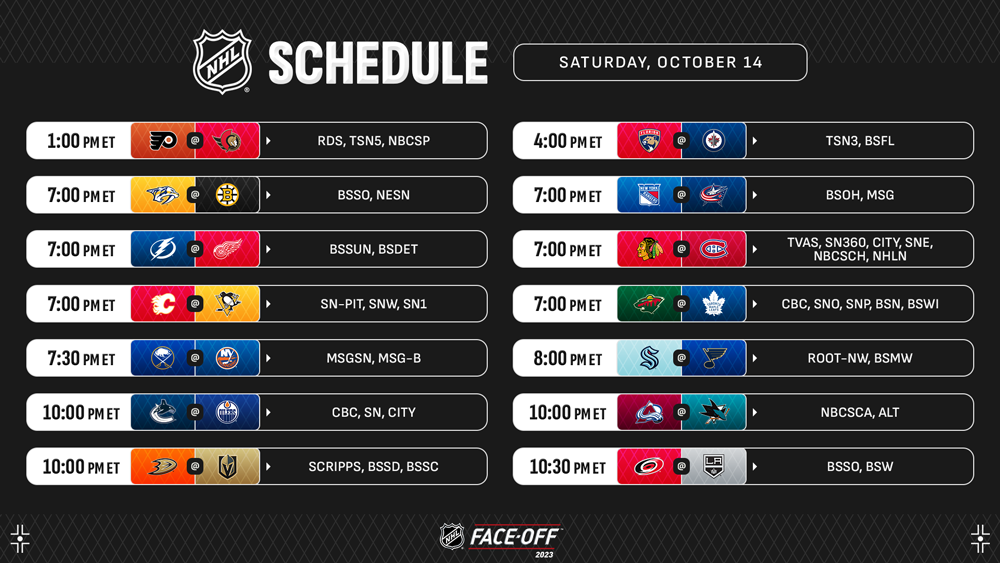 GLOBAL SERIES PREVIEW PART OF FIRST HOCKEY NIGHT IN CANADA OF SEASON
The first Hockey Night in Canada of the season will serve as the lone preview for one of four 2023 NHL Global Series – Sweden games slated for next month as Kirill Kaprizov and the Wild visit Auston Matthews and the Maple Leafs in a battle of 40-goal scorers (7 p.m. ET on CBC, SNO, SNP, BSN, BSWI).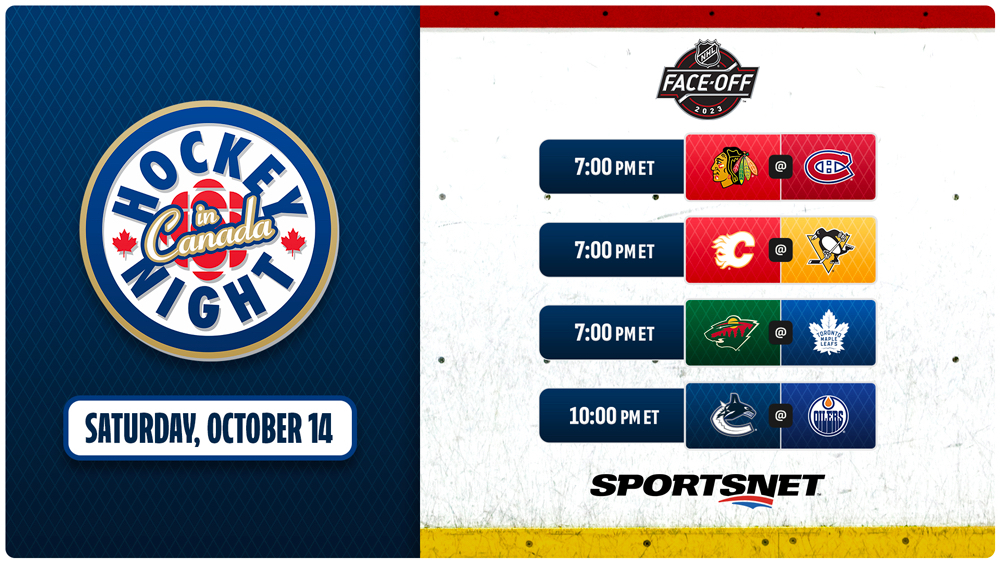 * The Flames skated away from their season opener with a 5-3 victory Wednesday thanks in large part to a 37-save effort by 2021-22 Vezina Trophy runner-up Jacob Markstrom. NHL Edge data pegged 16 of those saves on shots originating from within the high-danger zone in front of the net/in the crease, the most by a goaltender in one game so far this season.
* The Canucks and Oilers will close out a season-opening home-and-home set, with Edmonton looking to rebound at Rogers Place after Vancouver's Brock Boeser (4-0—4), Elias Pettersson (1-3—4) and J.T. Miller (1-3—4) combined for 12 points in an 8-1 win Wednesday. There have been 10 instances of a Canucks player recording five or more points through the first two games of a season, most recently by Pettersson as a rookie in 2018-19 (3-2—5 in 2 GP). The only Vancouver player with six points through two contests was Andre Boudrias to begin the 1973-74 campaign (1-5—6 in 2 GP).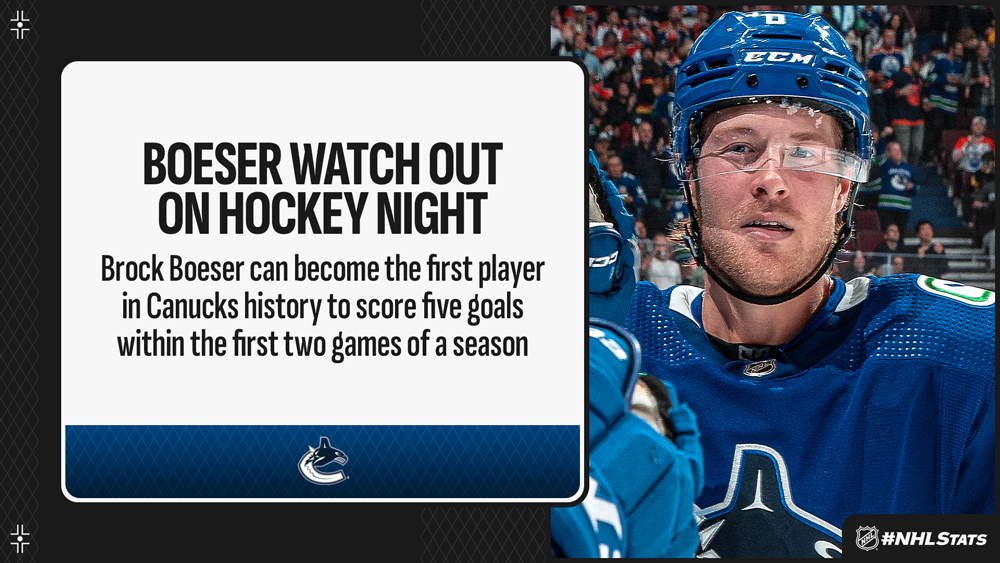 BEDARD'S FIRST NHL GAME IN CANADA SET FOR "HOCKEY NIGHT" PRIMETIME
After notching one point in each of his first two NHL games on national TV earlier this week, Blackhawks rookie Connor Bedard (1-1—2 in 2 GP) will get his first taste of Hockey Night in Canada in what will be his first NHL game on Canadian soil. Bedard, who nine months ago set Canadian records for career goals and points at the World Junior tournament, can become the third Chicago player in the past 31 years to notch a point in each of his first three career NHL games – only Jonathan Toews (10 GP in 2007-08) and Jan Rutta (3 GP in 2017-18) have done so in that span. Entering Saturday, 27 active players have had a point streak of three or more games from the start of their NHL career.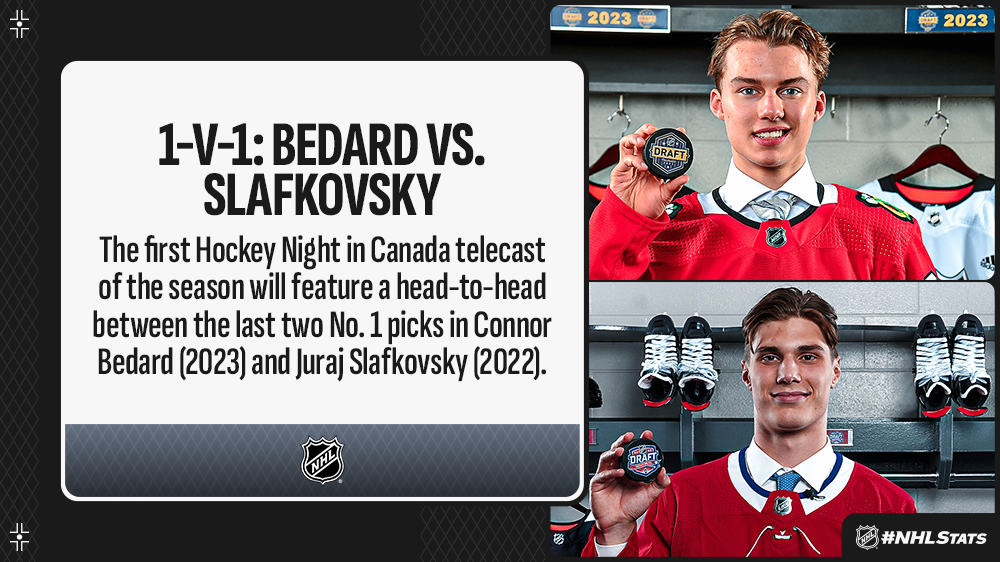 * Bedard is set to become the third active No. 1 pick to make his Saturday Hockey Night in Canada debut in Montreal, following Alexis Lafrenière (1-0—1 on Oct. 16, 2021) and Jack Hughes (0-1—1 on Nov. 16, 2019). Lafrenière and Hughes are among a group of seven active No. 1 picks who registered a point in their first Saturday Hockey Night in Canada debut, with Lafrenière the last member of that cohort to score a goal.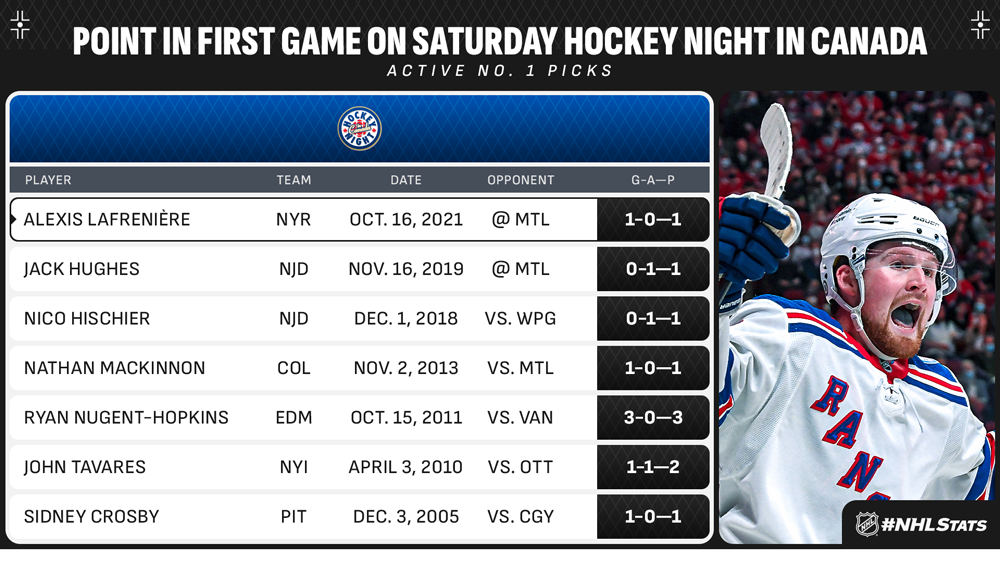 * According to SN Stats, Bedard's first taste of a Saturday Hockey Night in Canada broadcast will come one day after the 39th and 44th anniversaries of the first such games for NHL legends Mario Lemieux (Oct. 13, 1984 at MTL) and Wayne Gretzky (Oct. 13, 1979 vs. DET). Lemieux and Gretzky each notched an assist in their HNIC debuts, which marked the second career game for each player.
COURTESY NHLmedia.com