By StephanieLee Elliott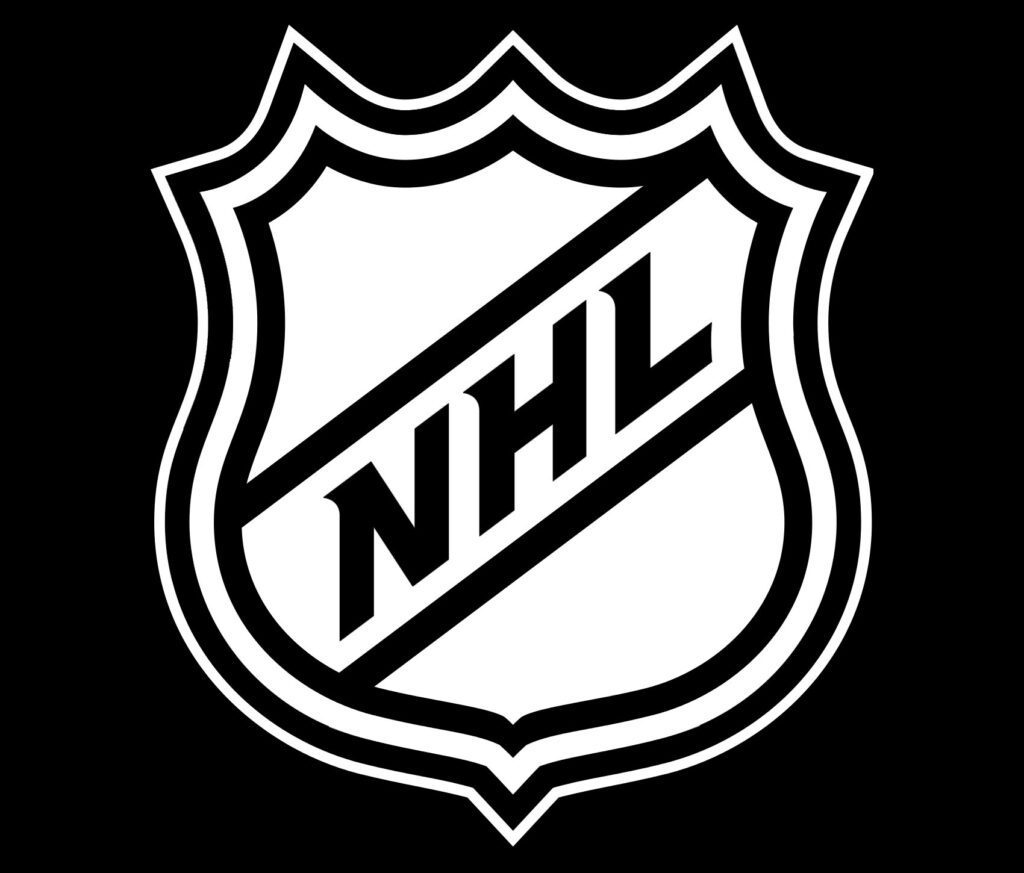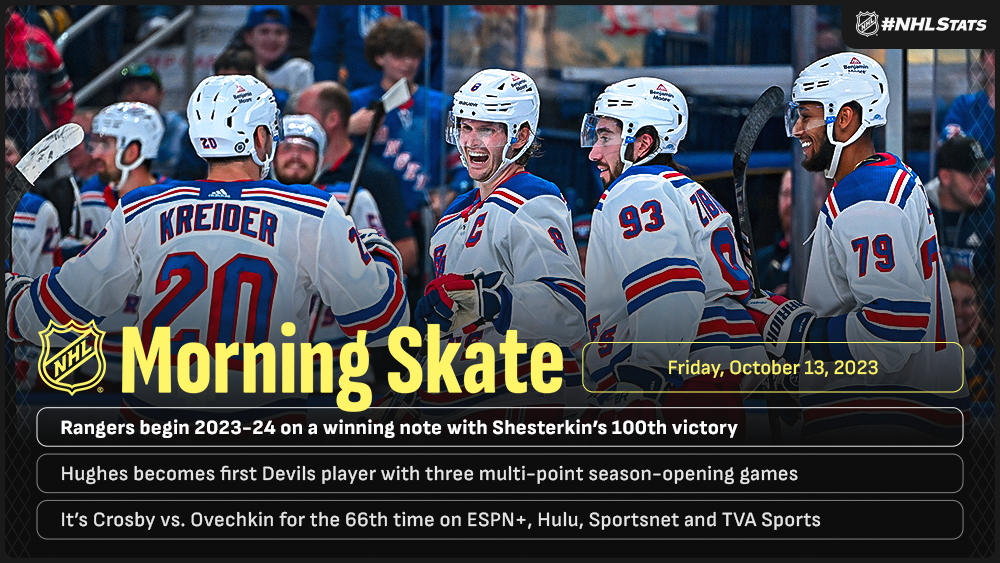 * Chris Kreider, Mika Zibanejad and Igor Shesterkin each had big performances Thursday to help the Rangers open their 2023-24 season with a victory at KeyBank Center.
* Jack Hughes was one of a trio of Metropolitan Division skaters that shone during their respective team's season opener, picking up two points and accomplishing a franchise-first in the process.
* An 18-year rivalry recommences during a two-game Friday as Penguins captain Sidney Crosby and Capitals captain Alex Ovechkin go head-to-head at 7:30 p.m. ET, exclusively on ESPN+ and Hulu in the U.S. and Sportsnet and TVA Sports in Canada.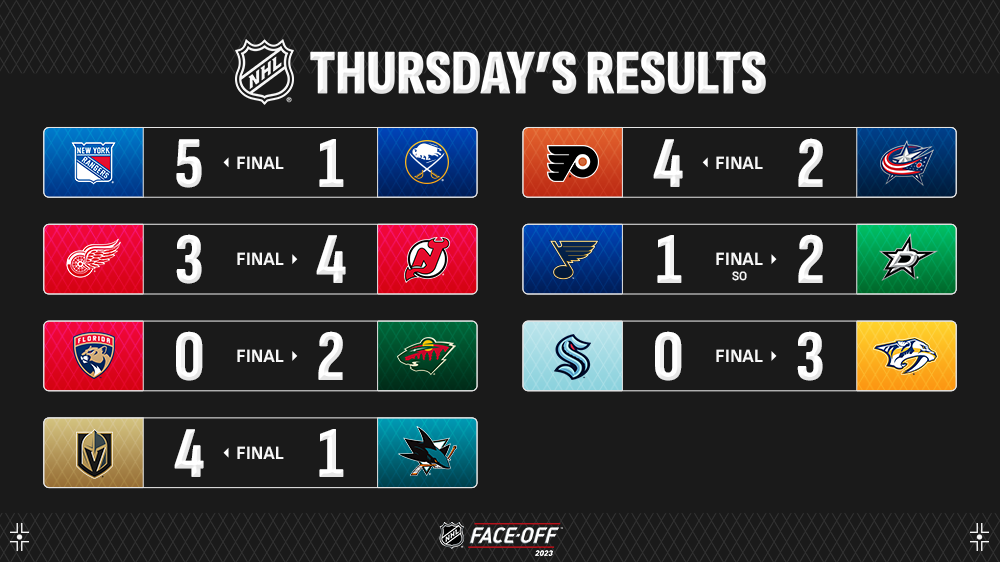 KREIDER, ZIBANEJAD, SHESTERKIN OPEN 2023-24 IN MID-SEASON FORM
Chris Kreider (2-1—3) and Mika Zibanejad (0-3—3) both factored on three of five New York goals, accomplishing several franchise and NHL feats, while Igor Shesterkin made 24 saves for his 100th career win as the Rangers opened 2023-24 victorious.
* Kreider tallied with the man advantage as well as shorthanded for his 36th career multi-goal game and boosted his career totals in season-opening games to 5-6—11 (11 GP). His five goals in those contests trail only Butch Keeling (7), Jean Ratelle (6) and Cecil Dillon (6) for the most in franchise history.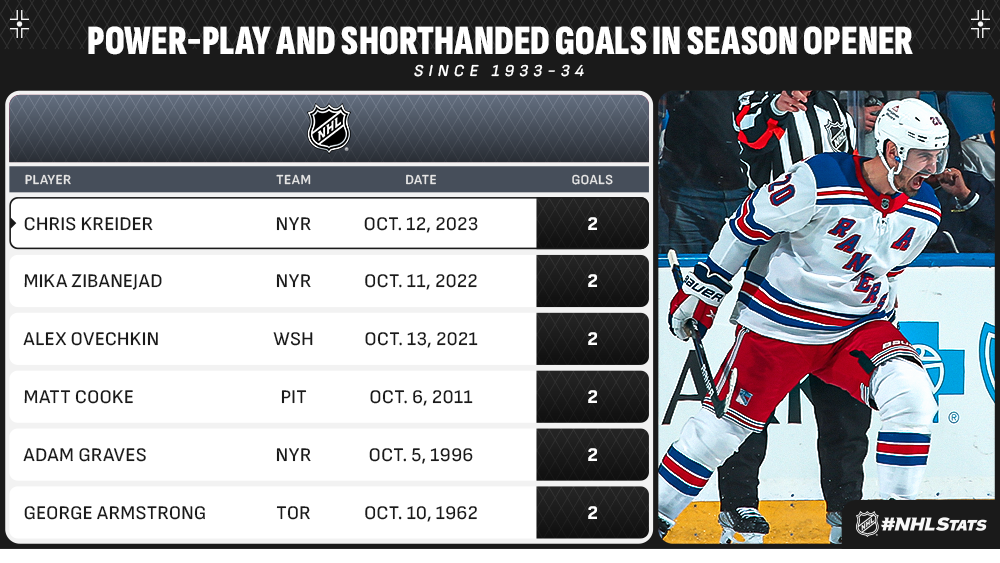 * Zibanejad became the 13th player with multiple three-assist performances in a season opener (also 1-3—4 on Oct. 3, 2019) and the fourth active skater following Evgeny Kuznetsov (0-3—3 on Oct. 5, 2017 & Oct. 13, 2021), John Tavares (0-3—3 on Oct. 10, 2014 & Oct. 11, 2023) and Nicklas Backstrom (0-3—3 on Oct. 1, 2009 & Oct. 3, 2018).
* Shesterkin became the eighth Rangers goaltender to reach the 100-win milestone and did so in 159 games, surpassing Henrik Lundqvist's mark of 187 for the fewest in club history.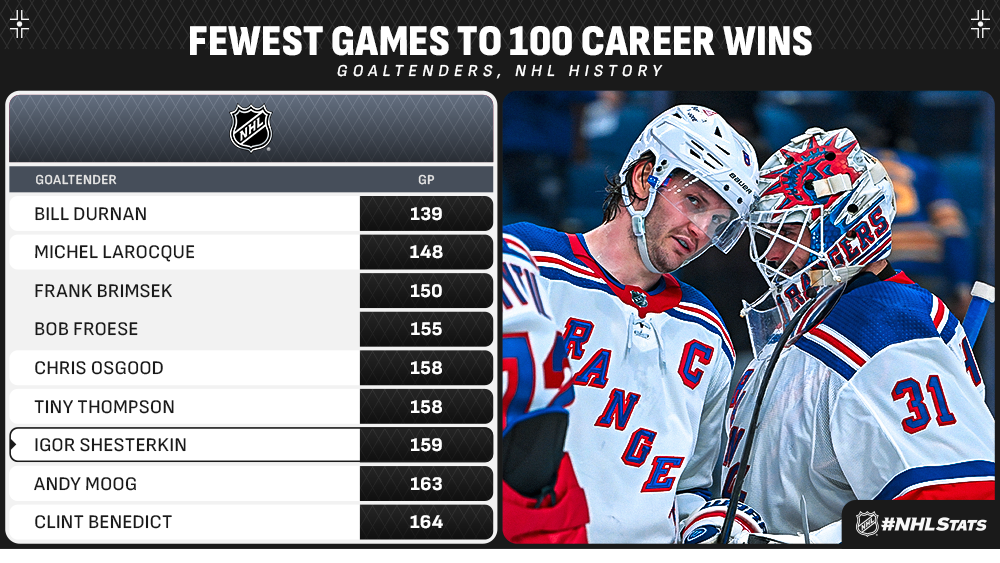 … OTHER METROPOLITAN DIVISION PLAYERS SHINE IN SEASON OPENERS
The Metropolitan Division provided no shortage of storylines to begin the new campaign as Devils, Flyers and Blue Jackets skaters produced notable performances during their first games of 2023-24:
* Jack Hughes (2-0—2), who finished the 2022-23 regular season with points in each of his last eight games (3-10—13 in 8 GP), scored his third and fourth career goals in a season opener to lift the Devils to a come-from-behind win. The 22-year-old became the first player in franchise history to collect multiple points in three separate season-opening contests, after previously posting 2-0—2 to start 2021-22 and 0-2—2 to begin 2020-21.
* Joel Farabee (1-0—1) opened the scoring just 3:33 into the game while Travis Konecny (2-0—2) climbed the Flyers' all-time goals and points lists in season-opening contests to help Philadelphia start 2023-24 on a winning note. Philadelphia has now collected at least one point in each of its last nine season openers dating to 2015-16.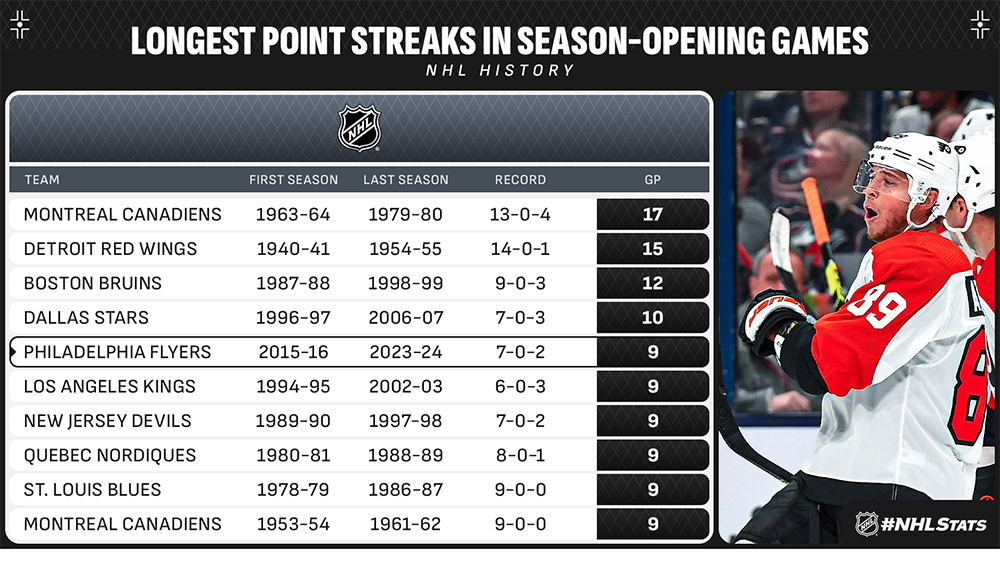 * Patrik Laine (1-0—1) recorded a point in his eighth consecutive season-opening game dating to 2016-17 and established the longest run to begin a career in NHL history. He surpassed Mats Sundin (7 GP; 1990-91 to 1996-97), Joe Sakic (7 GP; 1988-89 to 1994-95) and Wayne Gretzky (7 GP; 1979-80 to 1985-86).
FABER'S FULL-CIRCLE MOMENT FEATURED IN #NHLSTATS: LIVE UPDATES
Thursday's edition of #NHLStats: Live Updates featured 11 teams contesting their season openers, including the Wild who saw hometown Brock Faber score his first NHL goal with friends and family in attendance while Filip Gustavsson recorded 41 saves in a perfect performance – tied for the third most in a season-opening shutout.
* Faber grew up a Wild fan and skated for his hometown NCAA team, the University of Minnesota, for the past three seasons in a run that concluded with him captaining the club in 2022-23. On April 29, 2022, Faber was photographed in the stands celebrating Kirill Kaprizov's goal – 531 days later, Kaprizov celebrated Faber's first NHL goal as his teammate.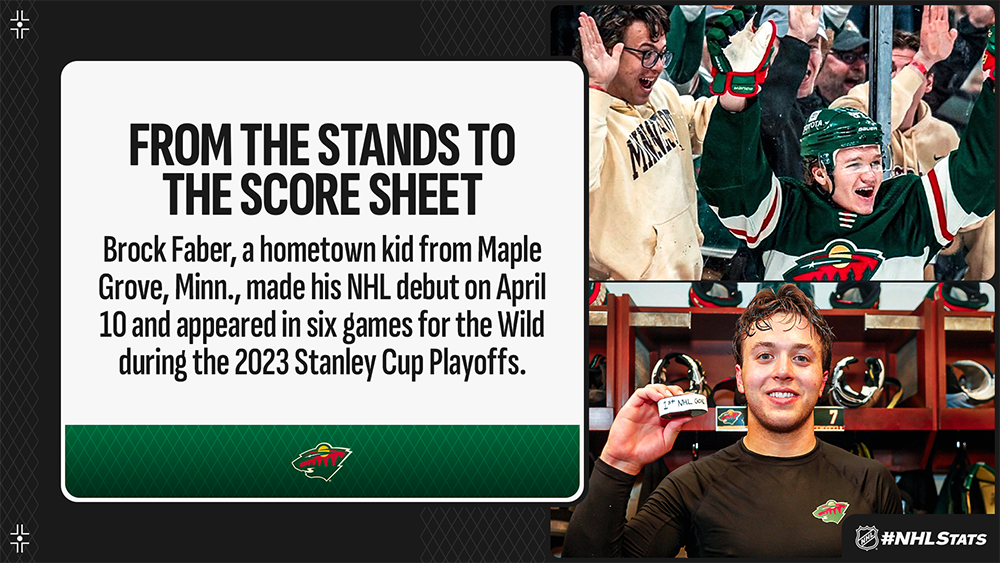 HIGHLIGHTING PLAYERS IN THE COMMUNITY THROUGHOUT 2023-24
Throughout the 2023-24 season, we'll be highlighting the work players are doing across the League to improve their community. These player-driven initiatives are growing the game as well as bettering communities by providing medical and mental health resources. Timo Meier, who skated in the Devils' season opener Thursday and is set to take to the ice with his team Friday when they welcome the Coyotes, is the first feature.
* Meier changed his number in the offseason and is making it up to fans by providing incentives through the first two weeks of the regular season for those who purchase his new jersey. Meier's program includes a donation to Hockey in New Jersey, an organization that inspires youth to develop life skills and provides "year-round hockey programs for inner-city children who are underrepresented due to gender, race, ethnicity, disability or socioeconomic status."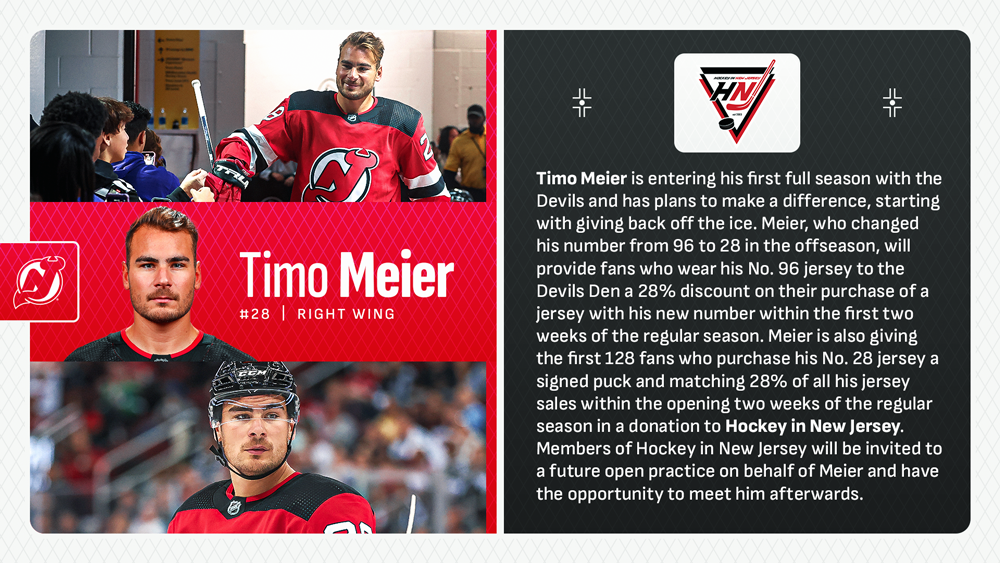 * Click hereto look back on features of players in the community from 2022-23.
QUICK CLICKS
* #NHLStats Pack: Boston Bruins Centennial Year Celebration
* Adam Fantilli surprised by birthday wishes from family and friends ahead of first NHL game
* Damar Hamlin returns the love to Buffalo at Sabres game
* Joe Bertagna named 2023 Lester Patrick Trophy honoree
* NHL on TNT's Blackhawks-Bruins telecast is the network's most watched opening night game ever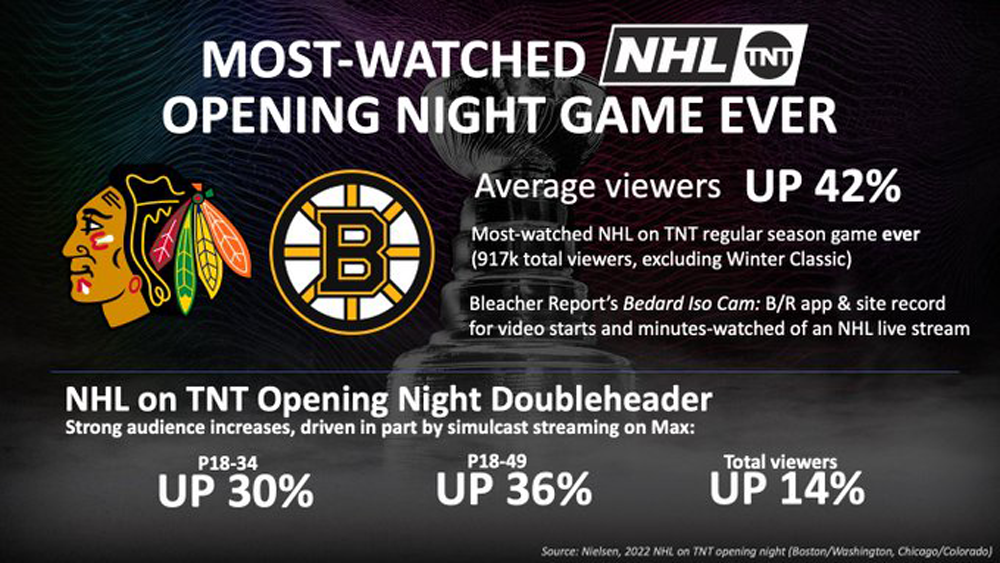 LATEST CROSBY-OVECHKIN SHOWDOWN TONIGHT ON ESPN+
For the 66th time in the regular season as part of a rivalry that has spanned 18 years, Penguins captain Sidney Crosby will meet Capitals captain Alex Ovechkin in Washington's first game of 2023-24. Crosby holds the edge in team record (38-23-4) and points (28-58—86) in those meetings while Ovechkin, true to form, leads in goals (34) and power-play markers (17). The game will air exclusively on ESPN+ in the U.S. and will also be televised on Sportsnet and TVA Sports in Canada.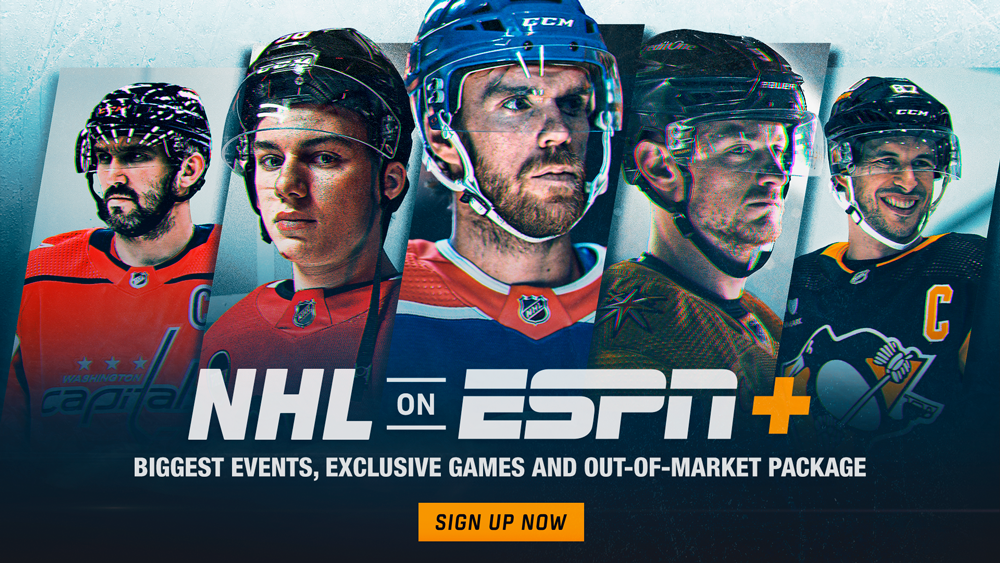 * The two veteran stars aim to return their franchises to the postseason after rare misses in 2022-23 – it marked the first time Pittsburgh had missed the playoffs since 2005-06 and the first time for Washington since 2013-14. The Penguins added 2023 Stanley Cup champion Reilly Smith and three-time Norris Trophy winner Erik Karlsson to the fold, while the Capitals hope healthy seasons from veteran mainstays Nicklas Backstrom, Tom Wilson and John Carlson will help them get back in the playoff picture.
* Ovechkin opens his 2023-24 campaign with a myriad of milestones on the horizon. He sits one away from becoming the first player in NHL history to score 300 power-play goals, 15 points from becoming the 16th player in NHL history to reach 1,500 points and continues his pursuit of Wayne Gretzky on the all-time goals list.
* Crosby, meanwhile, sits 48 helpers shy of becoming the 14th player in NHL history to reach 1,000 assists and 87 points away from entering the top-10 on the NHL's all-time points list.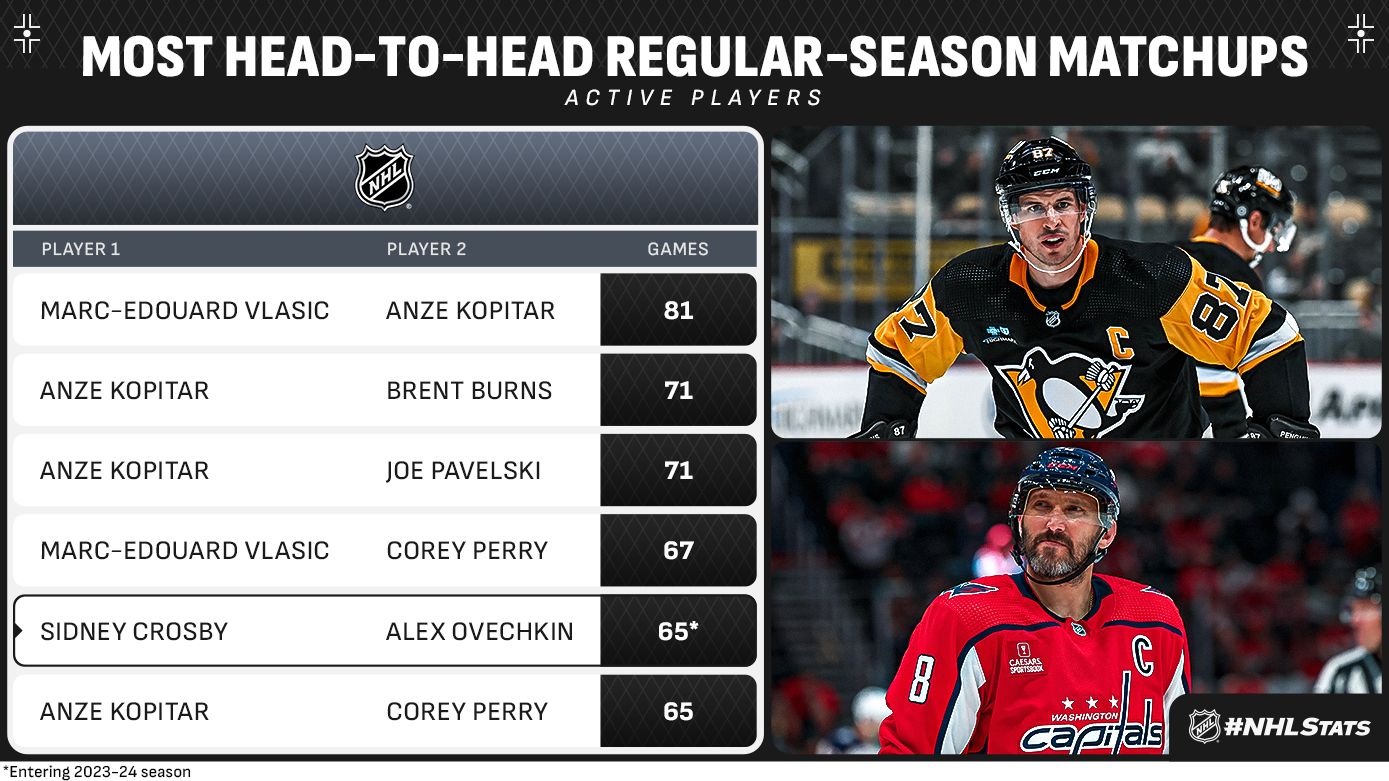 COYOTES' COOLEY LATEST ROOKIE PRIMED FOR NHL DEBUT
In what already looks to be a loaded rookie class, Coyotes forward Logan Cooley is expected to make his NHL debut when the Coyotes visit the Devils in Friday's other contest. Cooley, who was selected third overall by Arizona in the 2022 NHL Draft, starred for the University of Minnesota in 2022-23 (22-38—60 in 39 GP) and led all Coyotes skaters in preseason scoring with 4-2—6 in five games including one memorable goal in Melbourne, Australia.
* Cooley (19 years, 162 days) can become the fifth teenager in Coyotes/Jets history to score in his NHL debut. The four to do so to date include Jason Doig (18 years, 251 days in 1995-96), Kris Draper (19 years, 133 days in 1990-91), Dave Babych (19 years, 140 days in 1980-81) and Christian Fischer (19 years, 281 days in 2016-17).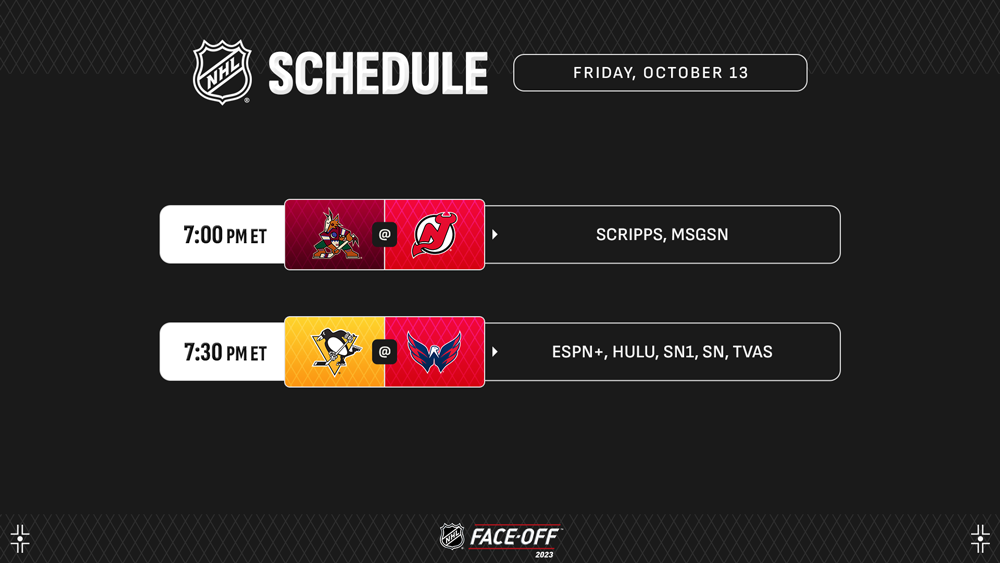 COURTESY NHLmedia.com