By StephanieLee Elliott
Record 45 Games to Air in Prime Time Locally for Fans in Europe Starting Oct. 14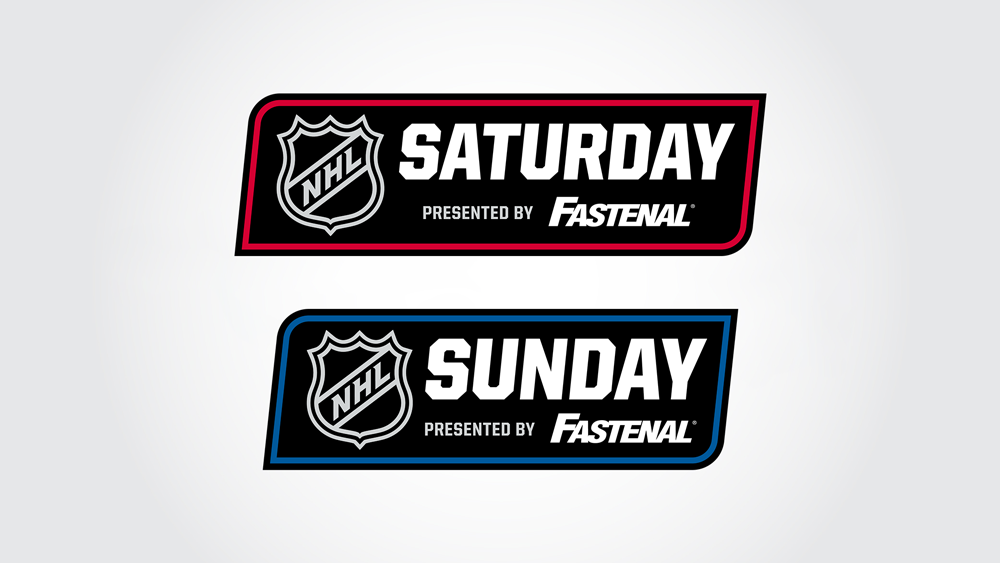 NEW YORK (Oct. 10, 2023) – For the sixth straight year, the National Hockey League and its international media partners will bring live game broadcasts in prime time to hockey fans in Europe during the 2023-24 season. A record 45 NHL Saturday presented by Fastenal and NHL Sunday presented by Fastenal games will be broadcast to fans this season in more than 30 countries and territories, starting with the October 14 regular-season contest between the Philadelphia Flyers and Ottawa Senators. The full broadcast schedule is available here.
Originally introduced in 2018, NHL Saturday and NHL Sunday broadcast windows are the result of the NHL and its international media partners' diligent work to offer more games showcasing the League's stars in desirable time slots to an ever-expanding fanbase abroad. Participating international media partners include Viaplay Group & MTV3 in Finland; Viaplay Group and TV10 in Sweden; Viaplay Group and TV3 in Norway; Viaplay Group in Poland, the U.K. and the Baltics; Sky Sports and ProSieben in Germany and Austria; Sky Sports in Italy; Nova Sport in Czechia and Slovakia; MySports in Switzerland and Liechtenstein; ESPN in the Netherlands; Sport TV in Portugal; Max Sport in Bulgaria; and Setanta in Belarus, Moldova, Georgia, Armenia, Azerbaijan, Turkmenistan, Uzbekistan, Kazakhstan and Kyrgyzstan. NHL game feeds produced specifically for European viewers of NHL Saturday and NHL Sunday programming windows help enhance the viewing experience.
NHL Saturday and NHL Sunday schedule highlights:
Roman Josi and the Nashville Predators take on Leon Draisaitl, Connor McDavid and the Edmonton Oilers north of the border on Saturday, Nov. 4 at Rogers Arena.
David Pastrnak and the Boston Bruins square off against Filip Chytil and the New York Rangers on Saturday, Nov. 25 at Madison Square as the two Original Six clubs close in on the quarter mark of the season.
Aleksander Barkov and the Florida Panthers take on Patrik Laine and the Columbus Blue Jackets on Saturday, Dec. 10 at Nationwide Arena.
Mika Zibanejad and the New York Rangers battle Nicklas Backstrom, Alex Ovechkin and the Washington Capitals in a home-and-home weekend rivalry series on Saturday, Jan. 13 and Sunday, Jan. 14.
The top two picks from the 2022 NHL Draft face off when Juraj Slafkovsky and the Montreal Canadiens visit Simon Nemec and the New Jersey Devils on Saturday, Feb. 24.
Draisaitl, McDavid and the Edmonton Oilers head to Pittsburgh to face Sidney Crosby, Erik Karlsson and the Penguins on Sunday, March 10.
The NHL's language counterparts to NHL.com in Czech, Finnish, French, German, Slovak, Swedish and Spanish offer daily game summaries, video highlights, player interviews and feature stories. In addition, NHL Social drives fan engagement on Twitter in German (@NHLde), Czech (@NHLcz), Finnish (@NHL_fi) and Swedish (@NHLsv); on Instagram via @nhleurope; on TikTok via @nhleurope; and on Facebook via @NHL. The NHL recently launched social channels in Australia on Instagram (@nhlaus), TikTok via @nhlaus and on Facebook via @nhl for the country's growing hockey community.
COURTESY NHLmedia.com