By Bane Rossi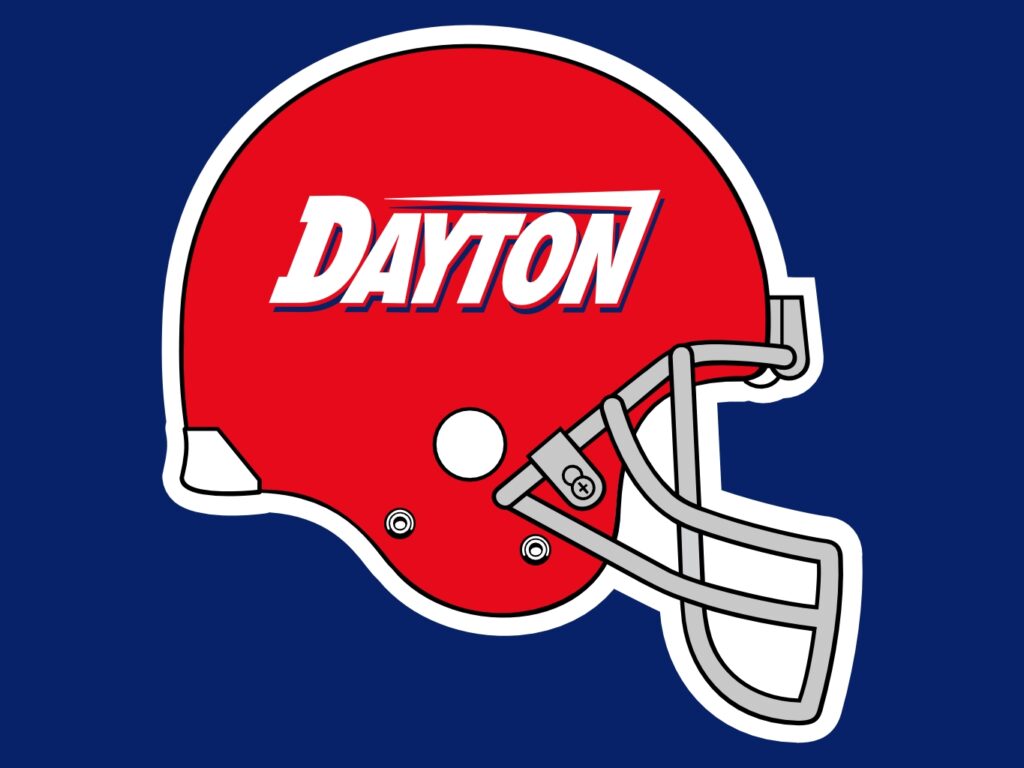 GAME NOTES
https://daytonflyers.com/documents/2023/10/4/Morehead_Press_Day.pdf
DAYTON — The University of Dayton football team goes back on the road Saturday when the Flyers visit Morehead State on Saturday, Oct. 7.
UD is 2-3 overall and 0-2 in the Pioneer Football League after last week's 20-14 loss to St. Thomas in Dayton.
The Flyers fell behind 20-0 before mounting a comeback that ended at the St. Thomas six-yard-line with five seconds left.  It was the second consecutive week Dayton cut a cut a 20-point deficit to a one-touchdown margin with the ball in the fourth quarter.
A huge factor in both losses were turnovers.  Dayton has committed 10 in the last two games, after losing just four in the first three games of the year.
Dayton leads the PFL in plays run (356), is tied for second in TDs scored (20) and third in scoring (30.6), total offense (358.2) and rushing offense (178.0).
Cole Dow is tied for first in TD's responsible for (9).
GOOD NEWS WORTH REPEATING
The Flyers entered the season with the fourth-best winning percentage (.7273, 176-66) in FCS football since 2000 AND have produced the most football Academic All-Americans (36) in Division I in the same time frame.  The top five in winning percentage were North Dakota State (.807), Harvard (.749), Montana (.748), Dayton (.7273) and San Diego (.7269).
700 CLUB
The Flyers are one of nine FCS teams to win 700 games.  The previous eight members of the FCS 700 Win Club are Yale, Harvard, Penn, Princeton, North Dakota State, Dartmouth, Delaware and Lehigh.
PFL POWER
• The Pioneer Football League is in its 31st season.  The original (and now the only) Division I strictly need-based football league began with charter members Butler, Dayton, Drake, Evansville, San Diego and Valparaiso.
• The Flyers' 136-47 record is the best in PFL history.
• UD's 12 league championships are the most in PFL history.  San Diego also has 12.
FLYER AT THE HELM
• Trevor Andrews was named the University of Dayton's head football coach on Dec. 12, 2022.
• A 1998 Dayton graduate, he brings 25 years of college coaching experience to his alma mater.
• Andrews was a three-year letterwinner at defensive back for the Flyers.
• He was a member of three Pioneer Football League championship teams that had Mike Kelly as the head coach, and Andrews' predecessor at Dayton, Rick Chamberlin, as the then-defensive coordinator.
• The Flyers were a combined 37-5 over Andrews' four years.  That includes Dayton's undefeated (11-0) team in 1996.
• Andrews brought a wealth of college coaching successes back to The Hilltop.
• He returned to Dayton from Western Michigan, where he coached the Bronco linebackers for four seasons.
• Prior to that, he was at William & Mary for 18 years, including six as Associate Head Coach, five as defensive coordinator and recruiting coordinator for nine years.
• He began his coaching career as a graduate assistant at Illinois Wesleyan in 1999 and coached one season at Randolph-Macon before moving to William & Mary.
• Over his coaching career, Andrews has coached 23 all-conference players, three league defensive players of the year and six NFL players.
• The Nappanee, Ind. native is the 24th head football coach at UD since the program began in 1905. He is the second of the 11 modern era coaches to have lettered for the Flyers (his immediate predecessor, Rick Chamberlin, was the first), and the second to be a graduate of the University of Dayton (Pete Ankney was the first alum when he coached in 1963 and 1964).
CAPTAINS, MY CAPTAINS
• The Flyer co-captains for the 2023 season are redshirt senior linebacker Nathan Arthur, graduate safety Matt Lenti, graduate offensive guard David Tkatch and redshirt senior wideout Derek Willits.
• Michael Franks was voted the special teams captain at the start of the season.
PRESEASON PFL
• Four University of Dayton Flyers were named 2023 Preseason All-Pioneer Football League, as chosen by the PFL.  Dayton's selections consisted of linebacker Nathan Arthur, safety Cole Hildebrand, defensive tackle Sam Schadek and offensive tackle David Tkatch.
• The Flyers' four selections were second only to defending champion St. Thomas' six picks.
• Phil Steele's College Football also picked eight Flyers to its All-PFL teams.  In addition to Arthur, Hildebrand, Schadek and Tkatch, four others were also named. Luke Brenner (KR) and Sam Webster (PK) were on the second team, and  Sam Bubonics (WR) and Michael Neel (RB) were on the third team.
• Dayton was picked third in the 2023 PFL Coaches Poll.
QUARTERBACK COMPETITION
• The first snap of the Trevor Andrews era was taken by redshirt sophomore Dante Casciola in the season opener at Illinois State, but it didn't take long for both Casciola and redshirt senior Cole Dow to contribute for the Flyer offense.
• Casciola was 7-for-11 passing for 43 yards at ISU.
• Dow was 10-for-20 for 63 yards, and was the UD co-leader in rushing with 12 carries for 54 yards.
• In the Central State win, the duo combined to go 15 for 24 passing for 195 yards and four touchdowns.  Casciola was 10 of 16 for 160 yards with two TD and a pick.  Dow was five of eight for 35 yards and two TD.  He also ran 13 times for 47 yards and a score.
• Against Taylor, Casciola completed 12 of 18 passes for 277 yards and two TD.
• Dow started the Taylor game, and it was his first college start, and his first start in any game since 2018.
• Casciola is second in the PFL in yards per completion (15.2) and third yards per attempt (8.2).
• Casciola started the first five games of 2022 when he suffered a broken thumb on his throwing hand at Butler.  The injury required surgery and he missed the rest of the season.
• He was second in the PFL in completion percentage at the time of the injury in 2022.
• Casciola completed 72 of 111 passes (.649) for 757 yards, with five TD and four interceptions last year.
• Dow had played in six games in the last two seasons, with eight rushes and five pass attempts with one completion.
• He is tied for the PFL lead in TDs responsible for (9, 5 rushing, 4 passing).
• A strong athlete, he actually moved to wide receiver for part of last year in hopes of getting his athleticism on the field.
• Dow started one season at Maine South High School, leading them to a Chicago Central Suburban League championship in 2018.  He passed for 2,140 yards with 26 TD and ran for another 700 yards with nine TD.
• Freshman Drew VanVleet (the son of two-time All-PFL Flyer linebacker Brad VanVleet) and senior Will Tammaru are running third and fourth respectively on the depth chart.
ON THE RECEIVING END
• Dayton has seven players who have at least seven catches already this season.  Joey Swanson has 12, Derek Willits has 11, Gavin Lochow has 10, Michael Neel  has eight, and Sam Bubonics, Jake Coleman and Alec Keithley each have seven.
• UD also has six who average at least 10.0 yards per catch  — Lochow (20.2), Coleman (18.6), Swanson (13.2), Willits (12.5), Bubonics (12.4) and Keathley (11.1).
• Last year, UD only had three receiving TDs scored by wideouts.  Dayton matched that in the Central State game, and now has on six on the year.
• All of this without last year's leading pass catcher, Luke Brenner, who is yet to play this season.
• In 2022, Brenner had 28 catches for a 9.9 avg., Swanson had 20 for 11.7,  Willits 17 for 12.4, Bubonics 14 for 14.1 and Jake Coleman five for 9.4.
• Brenner led UD in yards per catch in 2021 (11 receptions for 24.7 yards per catch), while Bubonics led in total receptions (34 for 14.0).
WHERE THERE IS A WILLITS
• Redshirt senior receiver Derek Willits is not only a team captain, he is also the president of UD's Student-Athlete Advisory Council.
• He was named the 2022 winner of football's Emil Karas Award for outstanding leadership.
• He is a semifinalist for the 2023 NFF Campbell Trophy.
NEEL HERE
• After backing up one of the best (and durable) running backs in UD history in Jake Chisholm, Michael Neel is back for a post-grad year for the chance to be Dayton's lead back.
• He currently is sixth in the PFL in rushing (83.6 yards per game), third in rushing attempts (17.2) and fifth in yards per carry (4.9).
• He shared team rushing honors with Cole Dow at Illinois State.  Neel ran the ball 18 times for 54 yards.
• Neel ran 20 times for a career-best 125 yards with a 70-yard touchdown against Central State.
• In the Taylor win, he had 15 rushes, 110 yards and two TD in three quarters.
• Neel missed the first four games of 2022 with an injury, and then appeared in seven games, with 36 carries for 204 net (5.7 avg.) with four TD.
• 175 of his 204 yards came in the last four games of the year, including carrying the ball 12 times for 70 yards and two touchdowns against Morehead State.
• He has played in 22 games in his career, with 146 carries for 690 yards (4.7 avg.) and eight TD.
TO SERVE AND PROTECT
• Dayton returned two starters on the O-line in 2023.
• Co-captain and All-PFL performer David Tkatch at guard and Dylan DeMaison at center each played and started nine games last year.
• Tkatch started his nine games at tackle in 2022.  The co-captain and All-PFL performer graduated Magna Cum Laude last spring and is working on his MBA.  A two-year starter, he is also a two-time First Team Academic All-PFL selection.
• DeMaison is also a two-year starter.  Most of his starts have come at center, but he has also started at guard.
•DeMaison was UD's Offensive Player of the Week in the season opener.
• Tackle Conor Clyde played in six games with three starts in 2022.
• At right tackle, Ryan Iiams is a transfer from Robert Morris, where he started 12 of 14 games played the last two seasons.  He transferred in January, and participated in spring ball with the Flyers.
• Injuries have depleted some of the Dayton depth on the line, and talented freshmen have stepped up.  Brock Adams and Zachary McDowell started at guard vs. Central State and Taylor.
• They both saw significant time at Illinois State in the college debuts.
TO REALLY SERVE & PROTECT 
• The Taylor game was UD's "Military Appreciation Day," and the Flyers were led onto the field by redshirt freshman wide receiver Levi Moell.
• Moell is a Marine Corps veteran who walked onto the team in the fall of 2022.
KING ME
• Redshirt senior linebacker Nathan Arthur was second for UD in tackles last year, with 73 tackles (37 solo).
• His three fumbles forced led Dayton and tied for the most in the PFL.
• Arthur's 8.5 TFL were third on the team last year.
• He also had two sacks, two QB hurries, a fumble recovery and a PBU in 2022.
• He led UD with seven tackles (five solo), with a pass break up and a QB hurry in the CSU win.
AIDEN & A-TACKLING
• In his first college start at ISU, redshirt sophomore LB Aiden McKinley led UD with 15 tackles, including a fumble forced and a fumble recovered.
• McKinley had 10 tackles (six solo) in the Taylor win.
• He tied for first at UD and is tied for fifth in the PFL in hits (8.4).
CA'RON-RON-RON-RON, DA-DO CA'RON
• Ca'ron Coleman had a game-high 13 tackles (with a TFL) in the Taylor win.
• He had another 13 against St. Thomas.
• He was UD's Special Teams Player of the Week in the Central State win.
• He tied for team honors at UD and is tied for fifth in the PFL in hits (8.4).
SCOUTING THE EAGLES
• Dayton and Morehead State both come into Saturday's game 0-2 in the Pioneer Football League, with a trail of "what-ifs" in their wake.  MSU's two losses are by a total of 14 points, while UD's are by a combined 20, thanks to a late pick-six at San Diego.
• Morehead State ranks first or second in the PFL in eight stat categories. The Eagles lead the PFL in third down conversion percentage (41.4%) and are second in red zone efficiency (92.9%). Note:  The PFL red-zone leader is Drake, who has only reached their opponents' 20 five times in 2023.
• Quarterback Carter Cravens leads the PFL in touchdown passes (8) and is second in passing yards per game (234.8). He also ranks first in the PFL in points responsible for per game (12.0). Cravens generated 285 total yards Saturday against Drake, including a team-best 64 yards .
• Receiver Ryan Upps' 23 catches are third in the PFL.  He caught 10 passes for 130 yards last week against Drake.
• Linebacker Jahleel Holmes is tied for third in the PFL in tackles per game (8.8).
UP NEXT 
• Dayton is back home for two consecutive weeks, starting with Presbyterian on Saturday, Oct. 14, followed by Butler.
• Both games kickoff at 1 p.m. ET.
COURTESY DAYTON MEDIA RELATIONS