By Lady Williamson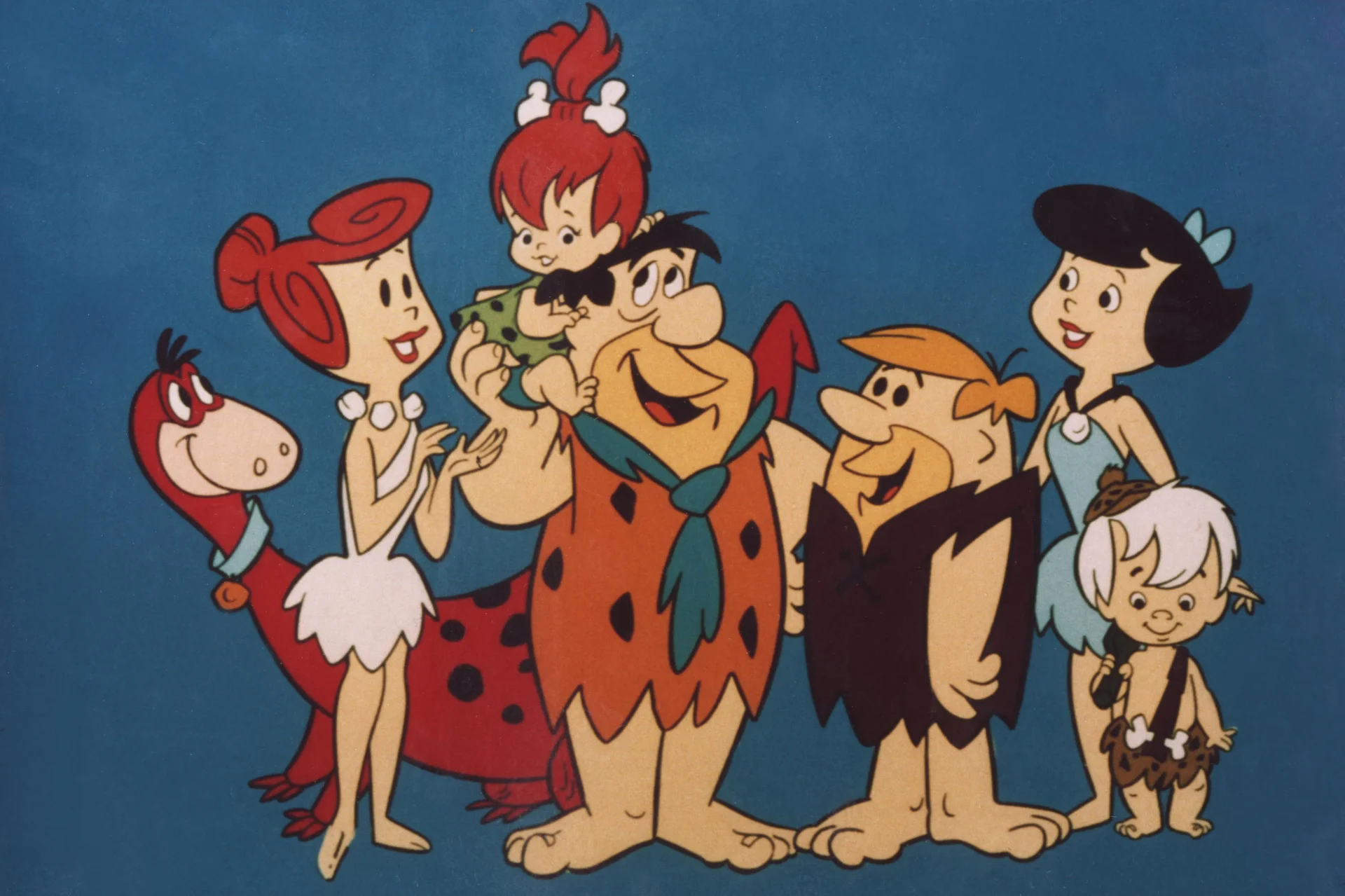 FROM WIKIPEDIA COMMONS
The Flintstones is an American animated sitcom produced by Hanna-Barbera Productions, which takes place in a romanticized Stone Age setting and follows the titular family, the Flintstones, and their next-door neighbors, the Rubbles. It was originally broadcast on ABC from September 30, 1960, to April 1, 1966, and was the first animated series with a prime-time slot on television.
The show follows the lives of Fred and Wilma Flintstone and their pet dinosaur, Dino, and they later on have a baby girl named Pebbles. Barney and Betty Rubble are their neighbors and best friends, and later on adopt a super-strong baby boy named Bamm-Bamm and acquire a pet hopparoo (kangaroo) called Hoppy.
Producers William Hanna and Joseph Barbera, who had earned seven Academy Awards for Tom and Jerry, and their staff faced a challenge in developing a thirty-minute animated program with one storyline that fit the parameters of family-based domestic situation comedies of the era. After considering several settings and selecting the Stone Age, one of several inspirations was The Honeymooners. It was inspired by The Bickersons and Laurel and Hardy, and Hanna praised it as one of the finest comedies on television. The show's animation required a balance of visual with verbal storytelling that the studio created and others imitated.
The enduring popularity of The Flintstones mainly comes from its juxtaposition of modern, everyday concerns with the Stone Age setting. The Flintstones was the most financially successful and longest-running network animated television series for three decades, until The Simpsons surpassed it in 1997. In 2013, TV Guide ranked The Flintstones the second-greatest TV cartoon of all time, after The Simpsons.
TODAY'S ALMANAC
Question of the Day
Which area of the United States has the most thunderstorm activity?
In the continental United States, that would be Florida, with an average of 80 to 90 thunderstorm-days per year. The region with the fewest thunderstorm-days is the Pacific Coast, averaging fewer than 10 a year.
Advice of the Day
As perennials fade away, mark their locations with small sticks so that you can avoid disturbing them with early spring cultivating.
Home Hint of the Day
Basic tools to outfit a home workshop — Part I: 16-ounce nail hammer with curved claw, 8-tpi (tooth per inch) hand crosscut saw for most work, adjustable pliers, 8-inch mill bastard file, retractable steel ruler, and an oilcan.
Word of the Day
Roman indiction
A number in a 15-year cycle, established January 1, a.d. 313, as a fiscal term. Add 3 to any given year in the Christian era and divide by 15; the remainder is the Roman Indiction. If there is no remainder, it is 15.
Puzzle of the Day
(Blank) is (Blank) day. (What's the saying? Fill in the blanks!)
Born
William Wrigley, Jr.

 

(manufacturer)

 

– 

Lester Maddox

 

(politician)

 

– 

Buddy Rich

 

(drummer & bandleader)

 

– 

Deborah Kerr

 

(actress)

 

– 

Truman Capote

 

(author)

 

– 

Elie Wiesel

 

(author)

 

– 

Angie Dickinson

 

(actress)

 

– 

Johnny Mathis

 

(singer)

 

– 

Z. Z. Hill

 

(blues musician)

 

– 

Marilyn McCoo

 

(singer)

 

– 

Fran Drescher

 

(actress)

 

– 

Eric Stoltz

 

(actor)

 

– 

Monica Belluci

 

(actress)

 

– 

Jenna Elfman

 

(actress)

 

– 

Martina Hingis

 

(tennis player)

 

– 

Dominique Moceanu

 

(American gymnast)

 

– 

Kieran Culkin

 

(actor)

 

– 

Lacey Chabert

 

(actress)

 

– 
Died
Edith Kermit Carow Roosevelt

 

(U.S. First Lady)

 

– 

James Dean

 

(actor)

 

– 

Lina Basquette

 

(actress)

 

– 

Monty Hall

 

(game show host)

 

– 
Events
Porgy and Bess by George Gershwin opened at the Colonial Theater in Boston, Massachusetts

– 

U.S. Navy's first nuclear submarine, USS Nautilus, is commissioned at Groton, Connecticut

– 

The Flintstones made its television debut

– 

Alouette 1 satellite ceased activity after 10 years

– 

Cheers, the place where everyone knows your name, debuted on television

– 

John Lennon was honored with a star on the Hollywood Walk of Fame

– 
Weather
Kilkenny, New Hampshire, near the Canadian border, received 6 inches of snow

– 

108 degrees F at Wichita Falls, Texas

– 
COURTESY www.almanac.com