By Melville Van Buren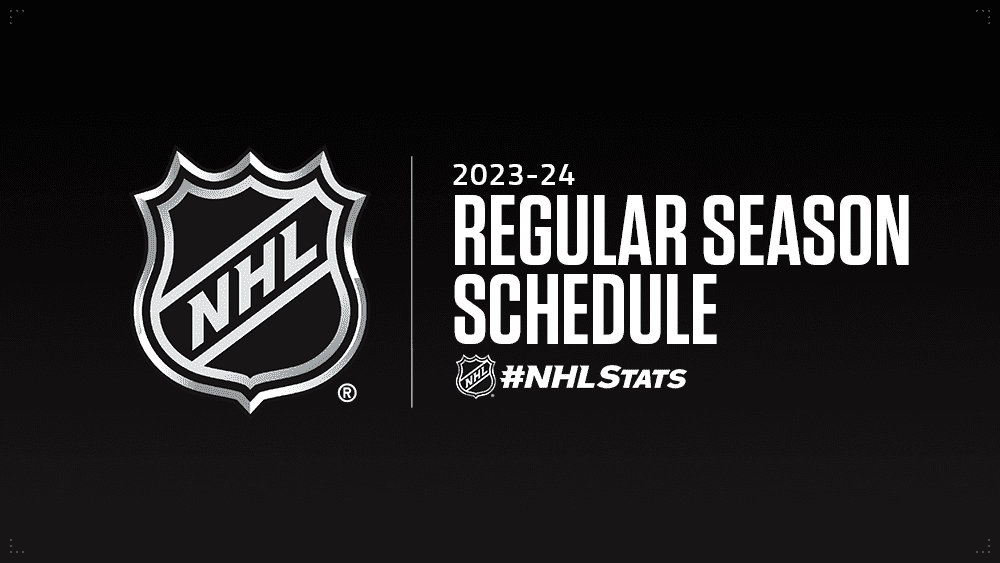 The 2023-24 NHL regular season schedule will begin Tuesday, Oct. 10, with a tripleheader on ESPN and ESPN+ that begins with a "Sun Belt" showdown between the Predators and Lightning, continues with a contest between the Blackhawks and Penguins that could see Connor Bedard make his NHL debut against Sidney Crosby, and closes with a Stanley Cup banner-raising night in Las Vegas as the Golden Knights and Kraken meet in a matchup between the NHL's two newest clubs.
GETTING AN EARLY START
* With the Predators and Lightning dropping the puck at 5:30 p.m. ET in Tampa, the 2023-24 will be the sixth to have a game on opening day with a scheduled start time earlier than 6 p.m. local (also 2020-21, 2012-13, 2007-08, 1988-89 and 1972-73).
GAME NO. 1 FOR BEDARD?
* Connor Bedard could make his much-anticipated NHL debut with the Blackhawks against Sidney Crosby and the Penguins on Oct. 10 – a contest that could feature three No. 1 picks in Bedard (2023), Crosby (2005) and new Chicago forward Taylor Hall (2010). Bedard would be the third straight No. 1 pick to face another No. 1 pick in his League debut, following Montreal's Juraj Slafkovsky (2022) and Buffalo's Owen Power (2021) who each faced the Toronto tandem of John Tavares (2009) and Auston Matthews (2016) in their respective NHL debuts. Overall, Bedard would be the 19th No. 1 pick to face another top selection in their first taste of the NHL.
* Bedard can become the 10th active No. 1 pick to have another top selection play as his teammate during his League debut. This would be the sixth time overall that Hall has skated alongside a fellow No. 1 pick during that player's League debut, following Ryan Nugent-Hopkins (Oct. 9, 2011), Nail Yakupov (Jan. 20, 2013), Connor McDavid (Oct. 8, 2015) with the Oilers, along with Nico Hischier (Oct. 7, 2017) and Jack Hughes (Oct. 4, 2019) with the Devils. So far, Hall has been teammates at any point with six No. 1 picks (also Rasmus Dahlin w/ BUF).
STANLEY CUP FINAL REMATCH
* The Panthers and Golden Knights will meet Dec. 23 for the first time since Game 5 of the Stanley Cup Final. Since 1927-28 (after the NHL took sole control of the Stanley Cup competition), the reigning champion has a record of 53-33-6 in their first meeting against the runner up the following season (runner up: 34-50-8), including a 7-3-0 mark in the past 10 (runner up: 3-5-2).
SECOND NIGHT OF SEASON FEATURES TNT DOUBLEHEADER, ALL CANADIAN TEAMS ON SPORTSNET
* After playing in Pittsburgh on opening night, the Blackhawks will ship up to Boston to open a TNT doubleheader against the Bruins and 61-goal scorer David Pastrnak. In 2022-23, Pastrnak became the seventh player in NHL history to record four points in his team's season-opening game more than once (also 2016-17); Peter Stastny is the only player in League history with three such performances (1982-83, 1987-88 & 1988-89).
* Sportsnet will carry action featuring all seven Canadian teams, marking the earliest in a season all seven clubs based north of the 49th parallel will be in action on the same day. It will be the 74th day since 2011-12 (when the current Jets began play in Winnipeg) to feature all seven Canadian clubs in action – and one of 16 instances scheduled for the 2023-24 season.
GOING OUTDOORS
The 2023-24 season features four outdoor games: the Flames and Oilers will play in the 2023 Tim Hortons NHL Heritage Classic (Oct. 29 at Commonwealth Stadium), the Golden Knights and Kraken will contest the 2024 Discover NHL Winter Classic (Jan. 1 at T-Mobile Park) and a two-game 2024 Navy Federal Credit Union NHL Stadium Series at MetLife Stadium will begin with the Flyers and Devils (Feb. 17) and close with the Rangers and Islanders (Feb. 18).
* This will be the third season with at least four regular-season outdoor games, after 2016-17 (4) and 2013-14 (6).
* The four outdoor regular-season games in 2023-24 will boost the all-time NHL total to 41.
* The Kraken will become the 29th different franchise to participate in an outdoor game.
* The Flyers will participate in their sixth outdoor game to match the Penguins and Blackhawks for the most among all teams. The Rangers (5th), Flames (3rd), Oilers (3rd), Devils (2nd), Golden Knights (2nd) and Islanders (2nd) all will contest at least their second regular-season outdoor game.
* Three tentpole events feature first-time outdoor matchups (EDM vs. CGY, SEA vs. VGK & PHI vs. NJD). Including the 2023-24 matchups, these League contests have witnessed 36 unique showdowns.
* Vegas will be the seventh team to play an outdoor game as the reigning Cup champions. The others: Red Wings (6-4 W at 2009 Winter Classic), Blackhawks (5-1 W at 2014 Stadium Series & 6-1 L at 2016 Stadium Series), Kings (2-1 W at 2015 Stadium Series), Penguins (4-2 W at 2017 Stadium Series) and Lightning (3-2 W at 2022 Stadium Series). The reigning Stanley Cup champions own an all-time record of 5-1-0 when playing outdoors.
STOCKHOLM, SWEDEN SET FOR FOUR STRAIGHT DAYS OF REGULAR-SEASON ACTION
* For four straight days in November, the NHL regular season schedule will include games from Avicii Arena in Stockholm, Sweden, as four clubs take part in the 2023 NHL Global Series (Maple Leafs, Red Wings, Senators & Wild). The 2023-24 campaign is the 13th NHL season to include regular-season games outside North America.
* Stockholm will become the first city outside North America to host a regular-season NHL game on four consecutive days. The only other time regular-season NHL play took place across four straight days overseas was in 2010-11 when Helsinki, Stockholm and Prague hosted a total of six games from Oct. 7-10, 2010.
* This will mark the second time that four unique matchups are played outside North America in one campaign (also 4 in 2011-12: NYR vs. LAK, ANA vs. BUF, NYR vs. ANA and BUF vs. LAK).
* These contests will mark the 13th, 14th, 15th and 16th games played in Stockholm, which has hosted more NHL regular-season games than any other city outside North America (next closest: seven in Helsinki, Finland and Prague, Czechia).
* The Senators will be participating in their fifth and sixth regular-season games outside North America, which will tie the Sharks and Ducks for the most among all teams. The Red Wings and Wild will be playing in their third and fourth such contests, while the Maple Leafs will become the 26th different franchise to contest a regular-season game outside North America – only the Canadiens, Islanders, Capitals, Stars, Golden Knights and Kraken have yet to do so. Toronto has played five preseason games outside North America, most recently in 2003 with stops in Helsinki and Stockholm.
BY THE NUMBERS
228 – The most games played in a single month in the 2023-24 season (March). A full breakdown by month: October (140), November (213), December (219), January (208), February (172), March (228) and April (132).
192 – Days from opening night Oct. 10 to the regular-season finale April 18, a span that includes 183 game days and only nine dates without action.
74 – Consecutive game days starting Feb. 5 until the last day of the season on April 18, 2024.
57 – The number of times the reigning Stanley Cup champions have played on the first day of the season, including the Golden Knights in 2023-24.
21 – The 2023-24 campaign will mark the 21st time the Canadiens and Maple Leafs are opponents in a mutual season-opening game – the highest such total in NHL history.
16 – The most games scheduled in a single month for one team in 2023-24 (ANA, OTT, PIT, WPG all play 16 games in March).
16 – The most back-to-back sets scheduled for one team in 2023-24 (NJD).
13 – The most matinee games scheduled for one team in 2023-24 (before 5 p.m. local), with the Jets and Wild tied for the most.
9 – The longest stretch of consecutive home games scheduled for one team in 2023-24. Vancouver is the only team with a nine-game homestand this season, from March 9-31, which will match the second longest in franchise history (also 9 GP in 1974-75) behind only a 10-game run in 1981-82.
8 – The number of teams that play the Golden Knights and Avalanche – the past two Stanley Cup champions – in consecutive games (any order), with Buffalo, Columbus, Chicago, Calgary, Florida, Minnesota, San Jose and Toronto all set to do so. Calgary has three such back-to-backs (Nov. 25-27, Dec. 11-12 and March 12-14).
7 – The most consecutive road games scheduled for one team in 2023-24, with Montreal (Dec. 18- Jan. 2) and Vancouver (Jan. 4-15) each preparing for seven-game journeys.
6 – Stretch of games for the Coyotes from Nov. 22 to Dec. 4 in which they will face each of the past six Stanley Cup champions. Arizona plays only the Blues (2019), Golden Knights (2023), Lightning (2020 & 2021), Avalanche (2022) and Capitals (2018) over that span, facing St. Louis twice. They will become the first team in the NHL's expansion era (since 1967-68) to play at least six consecutive games against the last six Stanley Cup winners.
2 – The number of 16-game days in 2023-24 (Oct. 24 and Jan. 13). To date, the only 16-game day in League history was April 8, 2023.
2 – The number of teams in the last 40 years that have started the season with their first two contests against the last two Stanley Cup Champions (regardless of order), with San Jose set to become the third team over that span to do so (Oct. 12 vs. VGK, 2023 Cup winners; Oct. 14 vs. COL, 2022 Cup winners). The Sharks will follow the Penguins in 2007-08 (Oct. 5 at CAR, 2006 Cup winners; Oct. 6 vs. ANA, 2007 Cup winners) and Flames in 1997-98 (Oct. 1 vs DET, 1997 Cup winners; Oct. 3 vs. COL, 1996 Cup winners).
COURTESY NHLmedia.com