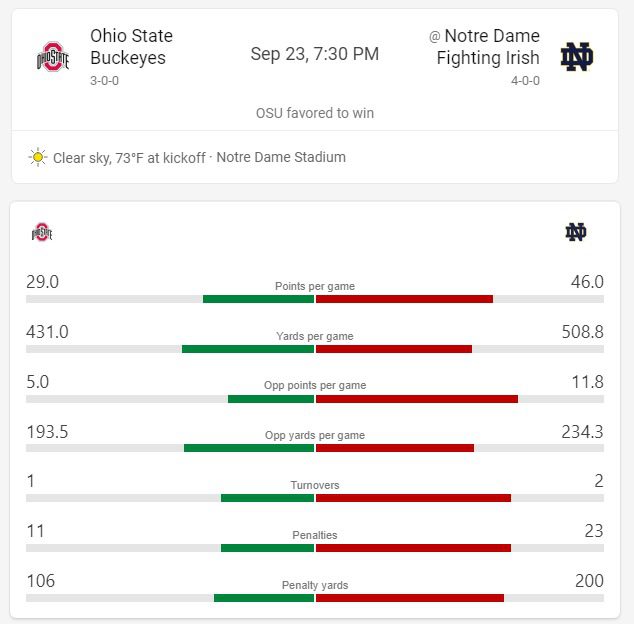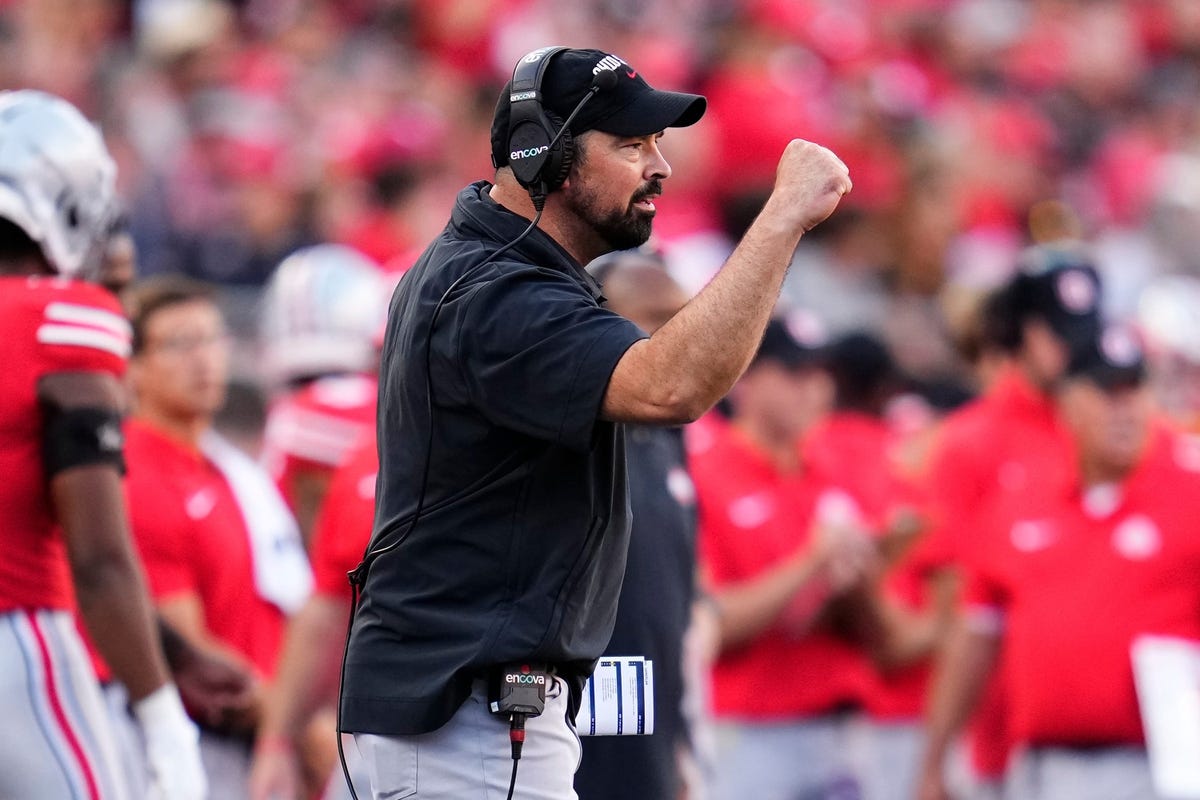 Ryan Day OSU head coach Notre Dame Week Thursday Zoom 9 21 2023.mp3
COLUMBUS, Ohio – No. 6 Ohio State and No. 9 Notre Dame, two of college football's great programs and both saturated in nostalgia and tradition, meet Saturday in primetime (7:30 p.m.) on NBC at Notre Dame Stadium.
FIRST AND TEN
This is the eighth meeting between the programs and the fifth consecutive – since 1996 – where both are in the Top 10 of the Associated Press poll.
The other Top 10 matchups aside from 2023: 2022 (Ohio State 3; ND 5), 2016 (Ohio State 7;  ND 8), 2006 (Ohio State 4; ND 5) and 1996 (Ohio State 4; ND 5).
Notre Dame won the first two games of the series, in 1935 and 1936, and Ohio State has won the last five games, played in 1995, 1996, 2006, 2016 and 2022.  The 1936 and 1996 games were played at Notre Dame Stadium.
The game will complete a two-game series between the two powers that was scheduled in 2014 and included the 2022 season opener at Ohio Stadium, won by the Buckeyes, 21-10.
Ohio State (956 wins) and Notre Dame (942) rank second and fourth, respectively, in all-time college football wins. Respective win pcts. of .733 and .730 are No. 1 and No. 4 all-time.
NUMBERS TO KNOW
21-4: Ryan Day is in his fifth year as Ohio State head coach. His teams are 48-6 overall and 16-1 in true road games (3-1 vs. Top 25 teams). His Buckeyes are 21-4 in all "away" games and 16-4 vs. Top 25 teams.
48: Ohio State's defense has allowed just 20 points through the first three games. This is the fewest points allowed at this point in 48 years, or since the 1975 team allowed just 16 points in Games 1-3.
3 & 4: Defense! Two Top 5, nationally ranked defenses will be showcased Saturday with Ohio State No. 3 nationally allowing 223.7 yards per game and Notre Dame at No. 4 allowing 234.2 yards per game.
9: Marvin Harrison Jr. has tied the great Cris Carter (1984-86) for fifth-place in school history with nine 100-yard receiving games. WR1 Harrison has 14 receptions for 304 yards and three TDs so far this year.
TWO OF THE BEST
By any measure, Ohio State and Notre Dame have been two of the elite – and winningest – programs of all-time and specifically over the last 11-plus seasons.
In that span, Ohio State is third with 117 wins; Notre Dame is sixth with 97.
The Buckeyes are second nationally with a .900 winning percentage while Notre Dame is sixth (.757)
They represent two of the seven schools to make multiple appearances in the College Football Playoff.
A HISTORICAL CONTEXT
While Ohio State and Notre Dame have been among the best programs over the last 11 years, they stack up against anyone in any decade … ever. Consider:
Ohio State ranks second in all-time wins (956); Notre Dame is fourth (942)
Ohio State is first in all-time winning percentage (.733); Notre Dame is fourth (.730)
The Buckeyes and Fighting Irish are tied for first all-time (along with Oklahoma) with seven Heisman Trophy winners apiece.
Notre Dame's 107 all-time consensus All-Americans ranks first; Ohio State's 92 is second.
Notre Dame's 525 NFL Draft picks ranks No. 1; Ohio State has 485, which is third.
Ohio State has spent 970 weeks ranked in the Associated Press poll, which is No. 1 all-time; Notre Dame is fourth at 861 weeks.
OHIO STATE/NOTRE DAME TIES
In addition to AD Gene Smith, Ohio State's ties with Notre Dame include ninth-year Ohio State assistant head coach for offense and run game coordinator Tony Alford. He spent six seasons coaching at Notre Dame under Charlie Weis and Brian Kelly.
Mickey Marotti, Ohio State's assistant athletic director for sports performance, spent seven seasons (1998-2005) as Notre Dame's strength and conditioning coach.
First-year tight ends coach Keenan Bailey spent two seasons at Notre Dame, his alma mater, in a recruiting capacity before coming to Ohio State in 2016.
Ohio State captain Tommy Eichenberg's brother, Liam, was a three-year starter at left tackle for Notre Dame from 2018-20.
Ohio State GA coach James Laurinaitis was a graduate assistant at Notre Dame last year. Laurinaitis is the most recent of Ohio State's eight three-time All-Americans.
Notre Dame defensive line coach Al Washington was linebackers coach at Ohio State for three seasons, from 2019-21.
Junior CB Lorenzo Styles played wide receiver for two seasons at Notre Dame (2021-22) before transferring to Ohio State this summer. He caught 54 passes for 684 yards and two touchdowns and played in all 26 games, starting eight. His brother, Sonny, is a starting safety for the Buckeyes and their father, Lorenzo, was a star Ohio State linebacker from 1992-94.
DE Javontae Jean-Baptiste played in 45 games for Ohio State from 2018-22. He transferred to Notre Dame this summer.
Ohio State national title-winning head coach Urban Meyer (2014) was an assistant at Notre Dame from 1996-2000.
Notre Dame national title-winning head coach Lou Holtz (1988) was an assistant at Ohio State in 1968.
ON THE DEFENSIVE
Through three games, Ohio State currently ranks second nationally in scoring defense, having allowed just two touchdown and 20 total points.
The 20 points allowed are the fewest a Buckeye defense has allowed over the first three games of the season in 48 years. In 1975, Ohio State gave up just 16 total points in its first three games (zero vs. Michigan State, nine vs. Penn State and seven vs. North Carolina).
The Buckeyes have yet to give up a point in the second half this season.
Ohio State also possesses the nation's No. 3-ranked total defense (223.7 yards allowed per game) No. 7 passing defense (140.3 yards allowed per game) and 20th-ranked rushing defense (83.3 yards allowed per game).
In the season opener at Indiana, Ohio State's defense allowed the fewest yards in a game under coordinator Jim Knowles: 153, eclipsing the previous lows of 158 last year to Iowa and 187 yards to Rutgers.
The 153 total yards is the fewest allowed by Ohio State since allowing 114 against Indiana in 2021.
The 671 yards of offense allowed by the defense are the fewest through three games in 16 years … or since the 2007 team allowed 591.
COURTESY OHIO STATE ATHLETIC COMMUNICATIONS