By Mona Hatfield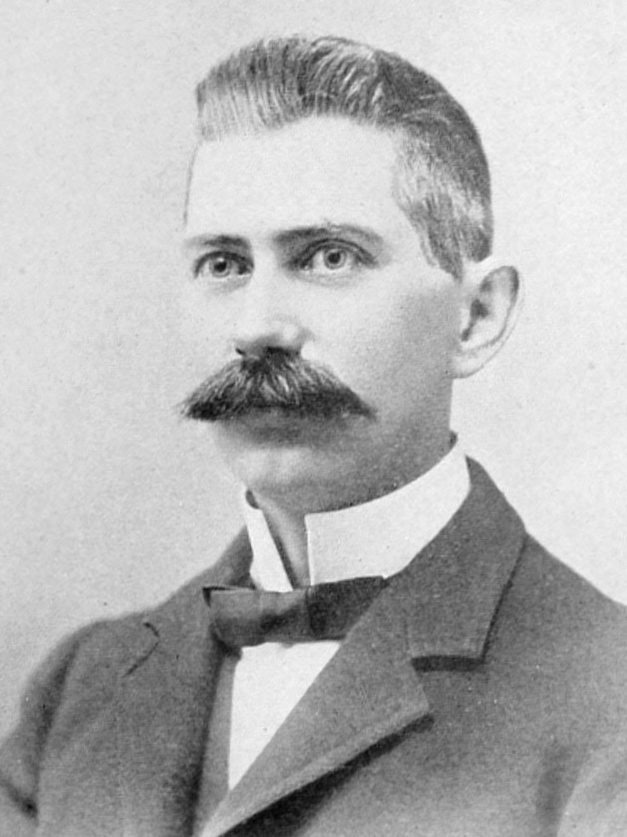 FROM WIKIPEDIA COMMONS
David Dunbar Buick (September 17, 1854 – March 5, 1929) was a Scottish-born American Detroit-based inventor, widely known for founding the Buick Motor Company. He headed this company and its predecessor from 1899–1906, thereby helping to create one of the most successful nameplates in United States motor vehicle history.
Buick was born in Arbroath, Scotland. He and his family moved to Detroit, Michigan when he was two years old.
He left school in 1869.
In early-1902, he established the Buick Manufacturing Company, with the objectives of marketing engines to other car companies, and manufacturing and selling its own cars. Manufacturing and development problems ensued, and, at the end of 1902, Buick was out of money with only one car to show for his work. The concentration on development had produced the revolutionary "Valve-in-Head" overhead valve engine. This method of engine construction produces a much more powerful engine than the rival side valve engine design used by all other manufacturers at the time. Overhead valve engines are used by most car manufacturers today, but now only General Motors (GM) and Chrysler produce the "push-rod" variant with any regularity. Since overhead cam engines are design variants of OHV engines, it is fair to classify virtually all modern engines as derivatives of Buick's invention.
The money ran out again, and in 1903 Buick was forced to raise more money via a $5,000 loan (equivalent to $163,000 in 2022) from a friend and fellow car enthusiast, Benjamin Briscoe. With this financial help, Buick formed the Buick Motor Company, which would eventually become the cornerstone of the General Motors empire.
In 1906, Buick accepted a severance package and left the company that he had founded, with only one share of the company in his possession. Then president of Buick, William C. Durant, bought this share from him for $100,000 (equivalent to $3,300,000 in 2022).

TODAY'S ALMANAC
Formerly called "I am an American Day" (1940) and then "Citizenship Day" (1952), this observance's long new name (2004) is called Constitution Day for short. It marks the anniversary of the date in 1787 when the final draft of the Constitution of the United States was signed by delegates to the Constitutional Convention after months of wrangling. The framers of the Constitution had been arguing constantly as they met in secret, but they had leaked reports to the press indicating that all was well. "So great is the unanimity, we hear, that prevails in the convention, upon all great federal subjects, that it has been proposed to call the room in which they assemble 'Unanimity Hall.'" The Federalists (as they came to be called) argued through June and most of July and reached an agreement on July 16. After deciding to leave out a bill of rights — because everyone was worn-out and they thought there was no need for such a list — the framers completed the final draft on September 17 and made it ready for submission to the states for ratification. The American Bar Association and other organizations make an effort to mark this anniversary by sponsoring symposia and, in some cases, offering free legal advice.
Question of the Day
How can I get rid of crabgrass?
The solution to ridding your lawn of crabgrass is to attack it in two stages. First, apply corn gluten meal, an organic preemergent herbicide. Do this in the spring, when the soil is still cold and the crabgrass is weakest. (Crabgrass is an annual weed, so it starts from seed every year. The preemergent herbicide prevents the seed from germinating—and if the seed can't sprout, it can't grow.) Second, reseed your lawn in the fall. This will allow the new grass time to grow strong before the next summer's attack.
Advice of the Day
Check chimneys and have them cleaned before starting autumn's first fire.
Home Hint of the Day
When cutting asphalt shingles, dip your utility knife in turpentine. This will keep the shingles from binding when you cut.
Word of the Day
Neap Tide
A tide of decreased range that occurs twice a month, when the Moon is in quadrature (during its first and last quarters, when the Sun and the Moon are at right angles to each other relative to Earth).
Puzzle of the Day
I am prepared either to scold or lie, according to the end you take me by. (What word fits the first clue, but when read backwards, fits the second?)
Died
Tobias George Smollett

 

(Scottish satirical novelist)

 

– 

Spiro T. Agnew

 

(served as vice president under Richard Nixon)

 

– 

Red Skelton

 

(comedian)

 

– 

Robert Truax

 

(rocket scientist)

 

– 
Born
David Dunbar Buick

 

(automobile manufacturer)

 

– 

William Carlos Williams

 

(writer & doctor)

 

– 

Hank Williams

 

(musician)

 

– 

Anne Bancroft

 

(actress)

 

– 

David Souter

 

(U.S. Supreme Court justice)

 

– 

Phil Jackson

 

(basketball coach)

 

– 

John Ritter

 

(actor)

 

– 

Kyle Chandler

 

(actor)

 

– 

Jimmie Johnson

 

(NASCAR driver)

 

– 
Events
City of Boston founded

– 

The U.S. Constitution signed

– 

Battle of Antietam in Maryland occurred; known as the bloodiest battle of the Civil War

– 

First powered flight of X-15 rocket plane

– 

First public display of a lunar rock, at the Smithsonian in Washington, D.C.

– 

M*A*S*H made its television debut

– 

Royal Canadian Mounted Police began accepting women as uniformed members

– 

NASA unveiled the first space shuttle, Enterprise, to the public

– 

Vanessa Williams became the first African American woman to be crowned Miss America

– 

William Rehnquist is confirmed as chief justice of the US Supreme Court

– 

Heather Whitestone of Alabama became the first deaf woman to be crowned Miss America

– 

The Late Show with David Letterman was the first TV talk show to return to the airways six days after terrorists attacked the United States in New York City

– 

Barry Bonds hit his 700th home run

– 

A 17-pound 4-ounce white catfish was caught in the Humboldt River of Nevada

– 

A bottled message tossed from an April Caribbean cruise was found in Sunset Beach, North Carolina

– 
Weather
2.42" rain fell in 3 hours in Yuma, Arizona

– 

Lander, in the Wyoming Rockies, had 23.6 inches of snow

– 
COURTESY www.almanac.com