By Brenda June Temple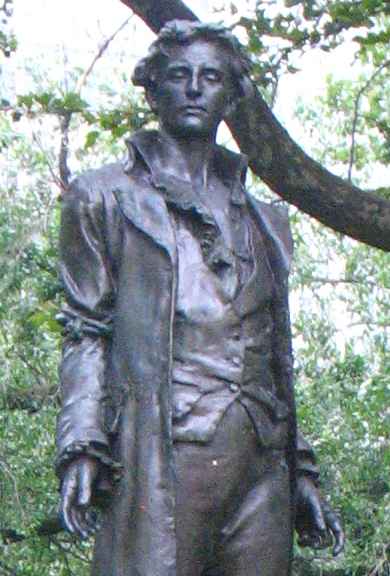 FROM WIKIPEDIA COMMONS
Nathan Hale (June 6, 1755 – September 22, 1776) was an American Patriot, soldier and spy for the Continental Army during the American Revolutionary War. He volunteered for an intelligence-gathering mission in New York City but was captured by the British and executed. Hale is considered an American hero and in 1985 was officially designated the state hero of Connecticut.
TODAY'S ALMANAC
In 1970, a West Virginia housewife, Marian Lucille Herndon McQuade, initiated a campaign to set aside a special day just for Grandparents. In 1978, the United States Congress passed legislation proclaiming the first Sunday after Labor Day as National Grandparents Day. The proclamation was signed by President Jimmy Carter. (September was chosen to signify the "autumn years" of life.) Read more about Grandparents Day here!
Question of the Day
Who discovered penicillin and when?
Alexander Fleming developed this antibiotic agent in 1928, but it was not widely used therapeutically until 1940.
Advice of the Day
Experience is what you get when you expected something else.
Home Hint of the Day
If a chair rung is too small for its hole, don't just fill the space with more glue. Instead, try inserting a bit of steel wool into the hole to create a tighter fit. Then reglue the rung in place.
Word of the Day
League
1 league=3miles=24 furlongs
Puzzle of the Day
My first is found in an oyster; my second is possessed by the nobility; every house contains my third; my whole no one applies to himself.(What's the word? Each clue is a letter!)
Born
Joseph Wheeler

 

(politician)

 

– 

Carl Van Doren

 

(biographer, critic, author of non-fiction)

 

– 

Adele Astaire

 

(dancer)

 

– 

Robert Wise

 

(director)

 

– 

Arnold Palmer

 

(professional golfer)

 

– 

Charles Kuralt

 

(journalist)

 

– 

Stephen Jay Gould

 

(evolutionary theorist author)

 

– 

Joe Perry

 

(musician)

 

– 

Chris Columbus

 

(film director)

 

– 

Colin Firth

 

(actor)

 

– 

Randy Johnson

 

(baseball player)

 

– 

Guy Ritchie

 

(director)

 

– 

Ryan Philippe

 

(actor)

 

– 
Died
Huey P. Long

 

(politician)

 

– 

Amy Clampitt

 

(poet)

 

– 

Clarence "Gatemouth" Brown

 

(musician)

 

– 

Jane Wyman

 

(actress)

 

– 
Events
Jamestown colony in Virginia received a new president, John Smith

– 

Faneuil Hall was given to the town of Boston, Massachusetts

– 

Nathan Hale volunteered to spy behind enemy lines

– 

Blount College was chartered in Knoxville, Tennessee. It later became the University of Tennessee.

– 

Elias Howe patented his lockstitch sewing machine

– 

American Forestry Association organized

– 

Queen Elizabeth of Austria was assassinated

– 

Popeye was heard for the first time on NBC radio

– 

Canada declared war on Germany (World War II)

– 

Mike the chicken lost his head when his owner, farmer Lloyd Olsen, chopped it off in preparation for dinner. However, Mike didn't die. He toured the nation for nearly 18 months before choking to death in a motel in Arizona.

– 

The television show Gunsmoke made its debut

– 

Air terminal building of Halifax International Airport, Nova Scotia, opened

– 

African Americans entered the white public schools in Alabama, after President Kennedy federalized the state's National Guard as a move toward integrating the public schools

– 

Anna Lindh, the foreign minister of Sweden, was fatally stabbed

– 

A magnitude 6.0 earthquake, centered about 260 miles southwest of Tampa, Florida, struck

– 

New England Patriots quarterback Tom Brady signed a four-year $72 million contract extension. This made him the highest-paid player in the NFL at the time.

– 
Weather
The Great Gale hit Savannah, Georgia, and Charleston, South Carolina

– 

Hurricane Dora made landfall, St. Augustine, Florida

– 

Hurricane Irma made U.S. landfall at Cudjoe Key, Florida

– 
COURTESY www.almanac.com