By Danielle Daniels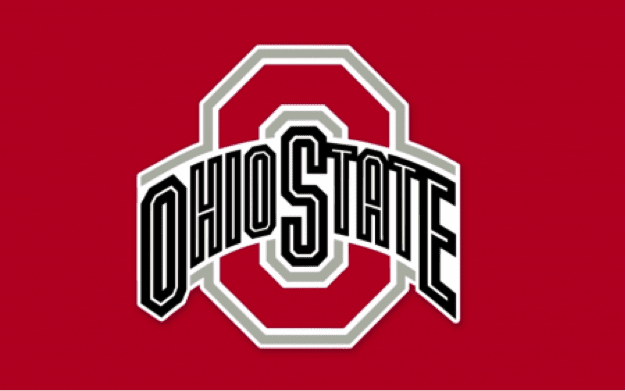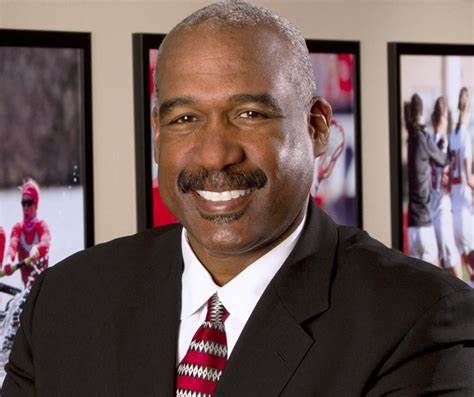 August 9, 2023
National leader in athletics administration will close out a 39-year AD career and 19 years at Ohio State
COLUMBUS, Ohio – Gene Smith, Senior Vice President and Wolfe Foundation Athletic Director at The Ohio State University, will retire in July 2024. Smith has spent the past 18 years at Ohio State leading one of the largest and most successful and outstanding athletic programs in the country, and he has worked 38 years as an athletic director. He shared the news publicly Wednesday morning at a press conference at the Woody Hayes Athletic Center.
"I want to thank the leadership of The Ohio State University during my tenure for providing me the opportunity to serve as Senior Vice President and Wolfe Foundation Endowed Athletic Director for the past 18 years," Smith said. "The presidents and many members of the Board of Trustees I have served afforded me the professional opportunity of a lifetime, and I am forever grateful.
"I have always believed that a leader seeks to be the right person at the right time in the life of the institution. I believe that July 2024 is the right time to welcome new leadership to build upon what we have achieved and continue to build upon the great tradition of excellence in athletics and business advancement at Ohio State.
"Sheila and I look forward to the next chapter when we plan to spend more consistent quality time with our children, grandchildren, and extended family.
"I want to thank the current Board of Trustees members for allowing me to make this announcement at this time, affording me the opportunity to work with colleagues on the president's cabinet to ensure a smooth and successful transition once a new president is appointed."
Born and raised in Cleveland, Smith is in his 19th year at Ohio State, having started in his position in April 2005. Prior to Ohio State, Smith served as athletic director at Arizona State University (2000-2005), Iowa State University (1993-2000), and Eastern Michigan University (1985-1993).
Smith's tenure at Ohio State is third longest among the school's eight athletic directors. Previous directors of athletics at Ohio State include Andy Geiger (1994-2005), Jim Jones (1987-94), Richard Bay (1984-87), Hugh Hindman (1977-84), J. Edward Weaver (1970-77), Richard Larkins (1947-70), and Lynn W. St. John (1912-47).
Athletic and Academic Success
Ohio State athletics finished third in the 2022-23 Director's Cup standings. This represents the ninth time Ohio State has finished as the No. 1 athletic program in the Big Ten Conference with eight of those top finishes occurring under Smith's direction. Smith's vision for academic and athletic excellence across all sport teams has resulted in consistent top-5 Director's Cup recognition that reinforced his dedication to providing student-athletes the opportunity to compete for conference and national championships.
Smith's philosophy of developing the "total student-athlete" has resulted in academic achievements concurrent with athletic success.  In 2022-23, 765 OSU Scholar-Athletes, 190 Big Ten Conference Distinguished Scholars, and six Academic All-Americans attest to Ohio State's commitment to success in the classroom and on the fields of play.
In addition, Ohio State Athletics posted a cross-sport multi-year Academic Performance Rate of 993, the highest in school history.  Of the 36 Buckeye sport programs, 26 have multi-year rates of 990 or greater, and the football program's rate of 993 is an all-time high. In 2022-23, 240 student-athletes earned their degrees.
During Smith's tenure, Ohio State has dominated Big Ten Conference play, with 115 team and 369 individual conference championships. Smith delights in seeing student-athletes proudly display their Big Ten championship rings, forever a reminder of their Ohio State experience.
On the national stage, Ohio State teams have won 32 team and 117 individual national championships during Smith's tenure, another mark of competitive excellence.  A former student-athlete, and coach, he keeps a keen focus on the over 1,000 student-athletes he serves.  He is driven to provide them all they need to grow academically, athletically, and personally during their time at Ohio State, and graduate with skills that transfer to success in life.  The department's focus is from recruitment to career.
The Eugene D. Smith Leadership Institute
To that end, the Eugene D. Smith Leadership Institute (EDSLI) was created, funded by $15 million in private support, to provide leadership, character, and career development for all Ohio State student-athletes to best prepare them for life after graduation.
A national exemplar, EDLSI programs include Bucks Go Pro internships, job shadows/micro-internships, Wolstein Leadership Academy, Buckeye road trip, career fairs, Sundays in the Shoe, and Lead Like a Buckeye, among others.  As a measure of the Institute's impact, in 2022-23 a record 95 pct. of the department's graduating seniors had job offers, were accepted into graduate school, or were pursuing professional sports.
Smith also oversees the University's Business Advancement unit, including Columbus' Nationwide Arena and OSU's Blackwell Hotel, Schottenstein Center, Fawcett Center and Trademark and Licensing, which along with Athletics have a combined annual budget of $347 million in FY 2024 (Athletics $253 million and Business Advancement $94 million).  Smith's team has increased revenues through innovation, collaboration, and operational efficiencies.
"Business Advancement continues to perform at a high level, as even this summer we will host a record five concerts at Ohio Stadium," Smith said. "Our trademark and licensing program continues to be #1 among all colleges and universities and the Blackwell Hotel closed out another great year."
Smith's business acumen has resulted in strong long term fiscal performance and new resources have been used to enhance the student-athlete experience.  Record-setting third party agreements with NIKE ($252 million), IMG ($240 million), Levy Foods ($88 million) and Coke, among others, have allowed for innovative and trend setting programs offered to student-athletes.
$930 Million in Private Support
Fund raising is one of Smith's gifts. Along with his development team, more than $930 million has been raised since his arrival in 2005 which represents over 77 pct. of all funds raised for OSU Athletics in its history.  With major renovations to Ohio Stadium and the construction of the Schottenstein Center made possible largely through public bonding prior to his arrival, Smith decided projects during his tenure would be paid for through current private support.
Projects include several major renovations to the Woody Hayes Athletic Center and Ohio Stadium, the addition of practice facilities and amenities at the Schottenstein Center, construction of Griggs Reservoir Boathouse, Jane and Walt Dennis Indoor Golf Practice Facility at The Ohio State University Golf Club, Buckeye Softball Field, several upgrades to Bill Davis Stadium, and upgrades to Jesse Owens Memorial Stadium.
The most recent projects include construction of the Schumaker Olympic Sport Complex, Covelli Arena and Jennings Wrestling Facility, Ty Tucker Tennis Center at Auer Tennis Complex, Field Hockey Stadium, and Lacrosse Stadium.
Smith oversees a total of 523 employees in athletics and business advancement, and a football program with a $1.5 billion valuation, as estimated by the Wall Street Journal.  Each year the department hosts nearly 2 million fans at its sporting events, concerts and special events, with a dedicated team of professionals seeking to ensure remarkable fan experiences at every event.
The department has received national awards for compliance and diversity.  But what Smith is most proud of is the exemplary culture within his units, recognized by Forbes as "one of the best ten organizations to work for in sports" and the only college program on its list.
Service, Appointments & Honors
Smith is a big believer in national service.  He was a member of the College Football Playoff (CFP) Committee (2017-20); past chair of the NCAA Men's Basketball Committee (2010-11); member of the negotiating advisory team for the 2010 Turner/CBS contract with the NCAA Men's Basketball Tournament for $10.8 billion; and member, negotiating advisory team for the 1991 CBS/NCAA contract for $6.0 billion.  Smith also served as President of the National Association of Collegiate Directors of Athletics (NACDA) in 1994.
Smith was appointed to the prestigious Rice Commission, convened by the NCAA to make recommendations on collegiate basketball issues and was co-chair of the NCAA Federal & State Legislative Working Group to Study Name, Image & Likeness (NIL).  Smith has served on myriad NCAA and Big Ten committees and continues to do so.
Smith has received virtually every honor in the business, including being the first two-time recipient of the Sports Business Journal A.D. of the Year (2016 & 2010) award.  Smith has been recognized by Forbes, Sports Illustrated and Black Enterprise as one of the most influential minorities in American Sport.  Smith received the John L. Toner Award for outstanding dedication to college athletics, especially college football in 2008; he was inducted into the inaugural "Legends Class" NACDA Hall of Fame in 2008; and honored as Athletic Administrator of the Year by the Black Coaches Association in 2007, among many others.
Currently, Smith serves on the NCAA NIL Working Group; College Football Playoff (CFP) Focus Group; and on the boards of directors of:  National Football Foundation; McLendon Foundation (Emeritus Board); Fiesta Bowl; US Olympic and Paralympic Collegiate Advisory Council; Columbus Sports Commission; Columbus Arena Management, Champions of Community and Ohio State Health, Inc.  In his capacity as Senior Vice President, Smith serves on the President's Cabinet at Ohio State.
The consummate student-athlete, Smith earned his bachelor's degree in business administration from the University of Notre Dame in 1977. He earned three varsity football letters as a defensive end and was a member of Notre Dame's Associated Press 1973 national championship team.
Smith also served as an assistant football coach for the Fighting Irish from 1977-81, helping to guide the squad to its 1977 undisputed national championship. He then spent two years as a marketing representative for IBM prior to joining the Eastern Michigan staff in April 1983.
Smith holds the distinction of being one of only three individuals to win a national championship in football as a student-athlete, coach and athletic administrator (Ohio State in 2014).
Gene and his wife, Sheila, have four children:  Matt (Chantal), Nicole (Joe), Lindsey (Anita), and Summer (Adrian), and eight grandchildren who Smith celebrates affectionately in photos online using their numerical order: Grandkid #1 Marshall, #2 Steele, #3 Grayson, #4 Addison, #5 Tyson, #6  Elijah, #7 Maya, and #8 Jordyn.
"Thank You" … from Gene Smith
§  "At Ohio State, we are truly blessed with the Best Damn Fans in the Land, and I want to thank Buckeye nation for its support.
§  "Along with Buckeye nation, I want to thank the leadership of our business community for its support.  I am immensely grateful to the network of business leaders who have invested in me, and in our success.
§  "I want to thank the members of the media.  I understand and respect the job you have to do.
§  "Likewise, I wish to thank the many donors with whom I have had the pleasure of sharing experiences and making special memories.  The generosity of all of Buckeye nation has been remarkable.
§  "I also want to thank the coaches and support staff with whom I've been blessed to work.  I have been fortunate to work with some of the best in the business, and I am aware that I stood on their shoulders as we strived to make our department the finest athletic department in the nation.
§  "It has been my pleasure and my honor to work with my colleagues in the Department of Athletics to create an environment conducive for educating, enriching and supporting the best and brightest student-athletes in the country.  There is no question that the student-athletes that I have had the good fortune to serve during my tenure as Athletic Director were the inspiration each and every day for us all.
§  "I want to thank my four children and eight grandchildren for embracing the Buckeye experience and participating whenever they can.
§  "Most importantly, I want to thank my wife Sheila for being so supportive of my career in athletic administration.  She has served as my friend, colleague, and emotional support through good times and bad and I am grateful for her unwavering love and support."
#GoBucks
The People. The Tradition. The Excellence.
COURTESY OHIO STATE ATHLETIC COMMUNICATIONS