By Walker Tompkins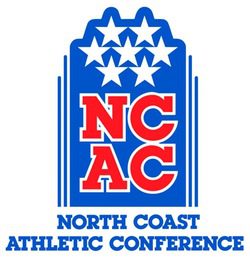 Fri, Jul 21
CLEVELAND, OH – Ohio Wesleyan's Veronica Hardman (Blenheim, New Zealand/Ravenswood) and Wooster's Isabelle Hoover (Millersport, OH/Fairfield Union) will represent the North Coast Athletic Conference (NCAC) for the 2023 NCAA Woman of the Year honor, while Denison's Charlie Fleming (Upper Arlington, OH/Upper Arlington) and Kenyon's Mart Niehoff (Utrecht, Netherlands/Christelijk Lyceum Zeist) join Hardman and Hoover as the NCAC's Division III Commissioners Association (D3CA) Men's Sport and Women's Sport Student-Athlete of the Year nominees.
The NCAA Woman of the Year award and Division III Commissioners Association Men's and Women's Sport Student-Athlete of the Year award honor graduating student-athletes who have distinguished themselves throughout their collegiate careers in the areas of academic achievement, athletics excellence, service, and leadership.
Of the record-breaking 619 female student-athletes nominated by their schools for the 2023 NCAA Woman of the Year Award, the Woman of the Year Selection Committee will name the top 10 women from each division. From the 30 honorees, the committee will then select and announce nine finalists, three from each NCAA division. The NCAA Committee on Women's Athletics will review the finalists and name the 2023 NCAA Woman of the Year. Later this coming fall, the national Top 30 honorees and nine finalists will be announced, while the 2023 NCAA Woman of the Year will be announced at the 2024 NCAA Convention in Phoenix. The NCAA Woman of the Year program has recognized graduating female student-athletes for excellence in academics, athletics, community service and leadership since its inception in 1991.
The initial round of voting for the D3CA award will be conducted by commissioners within each of the ten regions, with the top male and female honoree (including ties) earning Regional Student-Athletes of the Year honors. Those regional winners will be recognized as finalists for the Awards Committee to select the Division III Commissioner's Association Men's Sport and Women's Sport Student-Athlete of the Year. This will be the second year that the D3CA will be recognized graduating male and female student-athletes for academic achievement, athletics excellence, and service and leadership.
Charlie Fleming, Denison Baseball
Fleming graduated Magna Cum Laude with a 3.86 cumulative grade point average as a Health, Exercise, and Sport Studies (HESS) major while minoring in Psychology. He earned Academic All-America honors from the College Sports Communicators and was named to the NCAC Academic Honor Roll three times. Fleming, a 2021-22 Chi Alpha Sigma inductee, was named the 2023 recipient of Denison's Dr. Larry Scheiderer Award, which recognizes the highest-ranking senior varsity male scholar-athlete in terms of GPA and is a three-time Denison Top-50 Scholar Athlete. He was honored for his senior research project with distinction, Psychological Return-to-Sport Interventions for Injured Athletes (only the second student ever to achieve this in the HESS Department at Denison).
On campus, Fleming was a senior fellow for the HESS department and worked as a teaching assistant for both the HESS and Portuguese departments. He was a member of Phi Kappa Psi, serving as the fraternity Vice-President for risk management. Fleming was a two-year Director of Event Planning for Denison's Mission 34 Chapter.
A two-time team NCAC Pitcher of the Year, Fleming was named the American Baseball Coaches Association (ABCA) Region VII Pitcher of the Year and a second-team All-American. For his career, Fleming ranks second in Big Red history in strikeouts (221) and is third in wins (22), tied for fourth in starts (37), sixth in innings pitched (224.0) and seventh in lowest earned run average (3.70). During his senior season, Fleming became the program's first NCBWA (National Collegiate Baseball Writers Association) National Pitcher of the Week selection in 18 years after throwing the third no-hitter in program history and the first since 2005.
Veronica Hardman, Ohio Wesleyan Field Hockey and Women's Track & Field
Hardman graduated from Ohio Wesleyan with a 3.90 grade point average as a double major in Psychology and Health and Human Kinetics with a concentration in Exercise Science. She earned the Ohio Wesleyan Presidential Award and the Ohio Wesleyan Mackenzie Conway Sportsmanship Award. She is a two-time NCAC Academic Honor Roll honoree and claimed OWU's NCAC Scholar-Athlete Award. Hardman was selected to the College Sports Communicators Academic All-District team in Track & Field and as an at-large player in field hockey. She was honored with the Ohio Wesleyan Dale Bruce Scholar-Athlete Top 50 GPA Award in both 2022 and 2023. In 2023, Hardman received the Dale Bruce Scholar-Athlete Top 10 Award, the Nan Carney-DeBord Award and the Harriet Stewart Award. She was inducted into Chi Alpha Sigma and Psi Chi in 2023, is a four-time recipient of the NFHCA DIII National Academic Squad and has been named an NFHCA Scholar of Distinction three times.
Beyond her success in the classroom, Hardman volunteered her time in the community with the Common Ground Free Store and with FEED Delaware. She was an orientation leader for new international student orientation and served as the Kappa Alpha Theta Vice President of External Affairs, where she organized service events for members along with holding two philanthropy events that raised money for Court Appointed Special Advocates (CASA). Hoover also served as a team leader during the 2022 Make a Difference Day, coordinating a team to help members of the community with tasks around their homes. She was a three-year member of the Health and Human Kinetics Department Student Board, helping advise students on which classes to take for a timely graduation, while providing evaluations of professors and coming up with ways to increase the presence of the department on campus.
A four-year member of the field hockey team and a two-year member of the women's indoor and outdoor track and field teams, Hardman leaves OWU with three championship crowns. Hardman was a member of the Battling Bishops' field hockey squad that captured their ninth NCAC title in 2019 and back-to-back NCAC Tournament titles in 2021 and 2022. She is a three-year captain and three-time All-NCAC selection in field hockey and claimed one All-NCAC Indoor Track & Field certificate after placing third in the long jump during the 2023 indoor season. She was the NCAC's only National Field Hockey Coaches Association (NFHCA) first-team All-Region selection and Synapse Sports second-team All-America honoree this past season. Hardman scored the game-winning goal in the 2022 NCAC field hockey tournament title game, which earned her tournament MVP and secured the Battling Bishops second-straight NCAC Tournament crown. In the 2021 postseason, Hardman earned a selection to the NCAC All-Tournament team after the Battling Bishops claimed their first NCAC Tournament title and then went on to record their first NCAA tournament win in program history.
Isabelle Hoover, Wooster Women's Cross Country and Track & Field
Hoover, who graduated with a 3.94 cumulative grade point average after double majoring in Art History and Classical Studies with concentration in Classical Languages, was selected as a recipient of the prestigious NCAA Postgraduate Scholarship. She was also honored with the 2023 Guldin Scholar-Athlete Award, Vivian L. Holliday Prize in Classics, Frank Hewitt Cowles Memorial Prize in Classics, Netta Strain Scott Prize in Art, David A. Guldin Award in Physical Education and as a 2023 University of Cambridge Gates Scholarship Finalist. She was inducted into Phi Beta Kappa in spring 2021 and is a five-time USTFCCCA All-Academic honoree, a four-time member of the NCAC Academic Honor Roll and a two-time College Sports Communicators Academic All-District selection. She has had several papers selected for conferences, while her paper "Homer's Song of Sympathy: Andromache and Her Portrayal in the Iliad" was published in the University of Chicago's Animus Classics Journal, vol. 1.
On campus, Hoover served as the Eta Sigma Phi (National Classics Honor Society) Alpha Nu Chapter Treasurer in 2020-21 and then the President in 2021-22. She also served as a department assistant and a teaching assistant in the Classics Department. She was a student peer language tutor for the Academic Resource Center (ARC) and a health care coach for the Wooster Community Care Network. Hoover was a research assistant, working for professors at Wooster and at the University of Southern California.
She served as a team captain for both cross country and track & field. In cross country, she collected four All-NCAC certificates, earned All-Ohio honors in 2019 and 2021 and was named to the DIII Great Lakes All-Region in 2019. In indoor track & field, Hoover claimed four All-NCAC certificates and was named the 2022 NCAC Women's Middle Distance/Distance Runner of the Year after claiming two individual NCAC championship titles in the 3,000- and 5,000-meter runs. She also earned All-NCAC honors during the outdoor track & field season, winning the championship title in the 10,000-meter run in both 2021 and 2022. Hoover was also the 2022 and 2023 All-Ohio Champion in the 5,000-meter run.
Mart Niehoff, Kenyon Men's Swimming & Diving
Niehoff graduated with a 3.93 cumulative grade point average as an economics and mathematics major. He was a constant on Kenyon's Merit List, achieving the honor in every semester during his time in Gambier. He was also a two-time College Swimming Coaches Association of America (CSCAA) Scholar All-American and a three-time member of the NCAC Academic Honor Roll. In 2023, Niehoff was inducted into Phi Beta Kappa and earned high honors and distinction in economics. He was also inducted into the Pi Mu Epsilon Mathematics Honor Society in 2021. As a result of his hard work and discipline in the classroom, Niehoff was selected as a recipient of the prestigious NCAA Postgraduate Scholarship in 2023.
On campus, Niehoff served as a tutor for multiple math and economics classes and his proficiency with numbers led to him volunteering his time, for two years, as the swimming and diving team's treasurer. He was also a member of the team's bonding committee, in which he coordinated events to encourage team cohesion and help teammates develop leadership skills outside of the pool. Away from swimming, his volunteer work included participation in the Walk to End Alzheimer's and as a meet-management worker during Kenyon track and field meets.
Niehoff wrapped up his collegiate swimming career with a selection to the NCAA Division III Swimming & Diving Championships in 2023. On the national stage this past season, he helped the Owls to a runner-up finish in the team standings, while claiming an All-American performance after capturing the national title in the 200-yard freestyle relay. During the 2023 NCAC Championship, Niehoff and his teammates claimed the conference title in the 200-yard freestyle relay. The Owls also collected their league-leading 24th and 25th league titles during Niehoff's freshman (2020) and senior (2023) seasons.
COURTESY NORTH COAST ATHLETIC CONFERENCE COMMUNICATIONS