Posted by Esmerelda Emerald Espino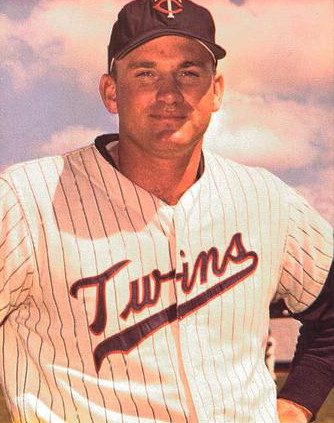 FROM WIKIPEDIA COMMONS
Harmon Clayton Killebrew Jr. (/ˈkɪlɪbruː/; June 29, 1936 – May 17, 2011), nicknamed "The Killer" and "Hammerin' Harmon", was an American professional baseball first baseman, third baseman, and left fielder. He spent most of his 22-year career in Major League Baseball (MLB) with the Minnesota Twins. A prolific power hitter, Killebrew had the fifth-most home runs in major league history at the time of his retirement. He was second only to Babe Ruth in American League (AL) home runs, and was the AL career leader in home runs by a right-handed batter. Killebrew was inducted into the National Baseball Hall of Fame in 1984.
Killebrew was 5-foot-11-inch (180 cm) tall and 213 pounds (97 kg). His compact swing generated tremendous power and made him one of the most feared power hitters of the 1960s, when he hit at least 40 home runs per season eight times. In total Killebrew led the league six times in home runs and three times in RBIs, and was named to 13 All-Star teams. In 1965, he played in the World Series with the Twins, who lost to the Los Angeles Dodgers. His finest season was 1969, when he hit 49 home runs, recorded 140 RBIs and won the AL Most Valuable Player Award while helping lead the Twins to the AL West pennant.
With quick hands and exceptional upper body strength, Killebrew was known for both the frequency and distance of his homers. He hit the longest home runs ever recorded at Minnesota's Metropolitan Stadium [520 ft (160 m)], and Baltimore's Memorial Stadium [471 ft (144 m)], and was the first of four players to hit a ball over the left field roof at Detroit's Tiger Stadium. Despite his nicknames and his powerful style of play, Killebrew was a quiet, kind man. Asked once what hobbies he had, Killebrew replied, "Just washing the dishes, I guess."
After retiring from baseball, Killebrew became a television broadcaster for several baseball teams from 1976 to 1988. He also served as a hitting instructor for the Oakland Athletics.
TODAY'S ALAMANAC
Question of the Day
How do I keep rabbits from eating my flowers?
Try one of the following methods: (1) Dust the flowers with sulfur. (2) Sprinkle them with red pepper. (3) Spray them with a mixture of 1 teaspoon Lysol and 1 gallon water. (4) Spray them with a mixture of 1 ounce tartar emetic, 3 ounces sugar, and 1 gallon water. (5) Get a cat or a dog!
Advice of the Day
Few people know how to be old. —La Rochefoucauld
Home Hint of the Day
To clean metals (other than aluminum) before painting, wipe the metal with turpentine or paint thinner. Apply a metal primer, then a finish coat of good metal paint.
Word of the Day
Expert:
Someone who knows more and more about less and less. – Anonymous
Puzzle of the Day
An animal and a symbol of liberty. (Use these clues to find the two words that, when combined, form the name of a flower.)
Died
Henry Clay

 

(politician)

 

– 

Peter Jones

 

(first native Methodist missionary to Ojibwa)

 

– 

Elizabeth Barrett Browning

 

(poet)

 

– 

Fatty Arbuckle

 

(actor)

 

– 

Jayne Mansfield

 

(actress)

 

– 

Lana Turner

 

(actress)

 

– 

Rosemary Clooney

 

(singer)

 

– 

Katharine Hepburn

 

(actress)

 

– 

Joel Siegel

 

(film critic)

 

– 
Born
Dr. William Mayo

 

(surgeon and founder of the Mayo Clinic)

 

– 

Frank Loesser

 

(composer)

 

– 

Slim Pickens

 

(actor)

 

– 

Harmon Killebrew

 

(baseball player)

 

– 

Gary Busey

 

(actor)

 

– 

Richard Lewis

 

(comedian & actor)

 

– 

Leslie Browne

 

(ballerina)

 

– 

Kimberlin Brown

 

(actress)

 

– 

Martin Truex Jr.

 

(race car driver)

 

– 
Events
Townshend Revenue Acts passed by British parliament, establishing duties on tea, glass, paint, oil, lead, and paper imported into American colonies

– 

San Francisco was founded

– 

Last stone placed for second lighthouse to be built at Minot's Ledge, Massachusetts

– 

Mesa Verde National Park in Colorado, containing prehistoric cliff dwellings, established by an act of Congress

– 

Bill Haley and His Comets reached the top of the pop music charts with Rock Around the Clock""

– 

The Rooms cultural facility opened in St. John's in Newfoundland and Labrador

– 
Weather
Lake Havasu City, Arizona, had a temperature of 128 degrees F

– 

Residents in Monticello, Florida, sweltered in record-breaking 109F heat.

– 

Hurricane Alice dumped 27 inches of rain on the lower Rio Grande Valley in Texas

– 

The Livingston (Alberta) Ranger Station received 44 inches of snow, making the record for the largest summer snowfall recorded in Canada

– 
COURTESY www.almaanc.com