Posted by REGGIE MASON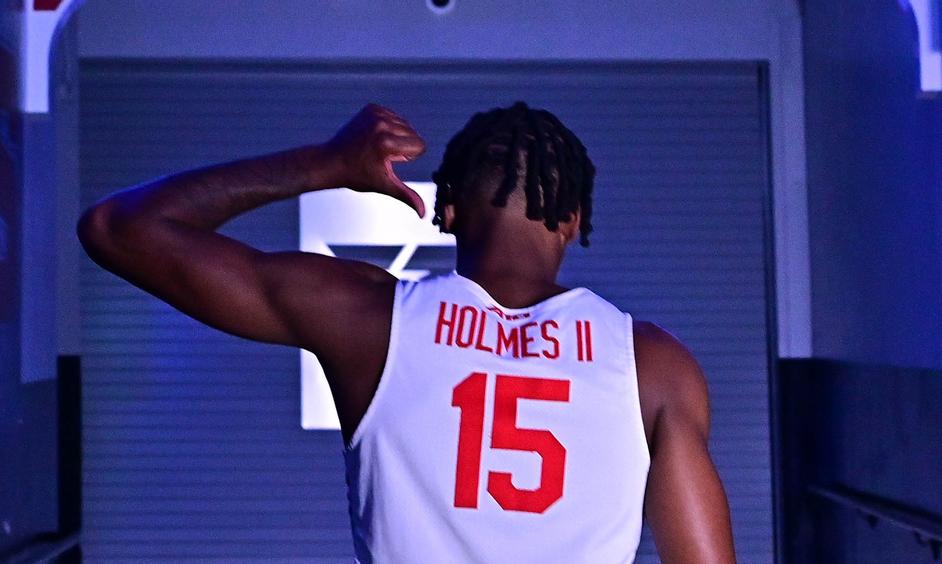 Flyer Forward DaRon Holmes II Returns To UD After Withdrawing From NBA Draft
DAYTON  – University of Dayton rising junior forward DaRon Holmes II announced Wednesday that he will withdraw his name from the 2023 NBA Draft and return to the University of Dayton.
Holmes entered his name in the draft on April 23 and participated in the NBA Combine May 16-18.
He made his announcement on Twitter, simply stating "Let's get it Flyer Nation!!!"
— Helpful Dayton Men's Basketball Links —
— Please Click Here For Ticket Information
— Please Click Here For Flyer Gear
— Sign Up for the Dayton Flyers Gameday App on your mobile device
The 6-10 big man from Goodyear, Ariz. was First Team All-Atlantic 10, and named to the A-10 All-Defensive Team for the second year in a row.  He led the Flyers in scoring (18.4), blocked shots (1.94), minutes played (34.2) and FG% (.590, 230-390) in 2022-23.  He was second on the team in rebounding (8.1) and steals (25).
He led the Atlantic 10 in blocked shots, was third in rebounding and field goal percentage and fourth in scoring.  He was the only player in the top five for four different statistical categories in the A-10.  Nationally, Holmes had the most dunks in Division I during the regular season (89).
Holmes was named the Most Outstanding Player of the 2023 Atlantic 10 Men's Basketball Championship after averaging 21.7 points, 10.3 rebounds and 4.0 blocked shots in the tournament.  During the season, he became the first true sophomore in UD- men's basketball to reach 1,000 points in his career.  He is now already 43rd in Flyer career scoring with 1,073 points.
He is also the first men's basketball payer at Dayton to be named the team's White Allen MVP as a freshman and sophomore.  In his first season as a Flyer, Holmes shared the honor with Toumani Camara and Malachi Smith, and last year he and Camara were co-MVPs.
Led by Holmes, the Flyers return three starters from last season's 22-12 team that finished second in both the Atlantic 10 regular season and the A-10 post-season championship.
COURTESY DAYTON MEDIA RELATIONS