Written by JY MORTIMER
The Cincinnati Reds were horrible and embarrassing during a tough 62-100 2022 season.
They were heavily criticized last season, and most of it was very much deserved. Fans did not like the fact that they traded away Luis Castillo, Jesse Winker, Eugenio Suarez, Tucker Barnhart, Sonny Gray, Kyle Farmer, Amir Garrett, Raisel Iglesias and letting Michael Lorenzen and Nick Castellanos walk away in free agency.
But now it seems that the front office knew what they were doing as most of those players have struggled. Castellanos in Philadelphia, Castillo and Suarez in Seattle and Gray in Minnesota are doing well.
The fact they are doing well is their farm system is producing productive players. And the scouting department has helped with keen eyes in helping bring in top prospects from other teams in those trades.
Now dubbed as "America's Team" with their brand of play, Cincinnati has won nine games in a row and, with a 38-35 record, and are the top team in the NL Central.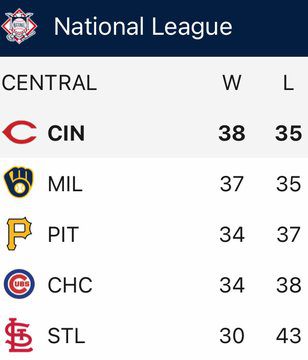 OptaSTATS tweeted earlier today, "On June 9, the @Reds were 29-35 and 5.0 games back. They have since won 9 straight and are now alone in first. They are the first team in MLB history to go from being 5+ games under .500 and 5.0+ games out of first to being alone in first place in fewer than 10 games."
Since April 24, they are 31-20, the best record by far in the NL Central.
The reason is the following influx of young talented players: Elly De La Cruz, Matt McLain, Spencer Steer, Andrew Abbott, Will Benson and holdovers Jonathan India and TJ Friedl.
Another area which has led to the rebirth is the bullpen, which was the weakness of the team the past 3 seasons.
The starting pitching has kept the team in games and given them a chance to win.
Cincinnati have only made the playoffs twice in the last decade, losing both times in the opening wild card series. Their last world championship was in 1990.
It seems like this team is going to be a buyer at the trade deadline when the naysayers thought they would be sellers. Their needs would be a couple of starters and a bullpen piece.
Happy Days are back in the Queen City.