Posted By ESMERELDA EMERALD ESPINO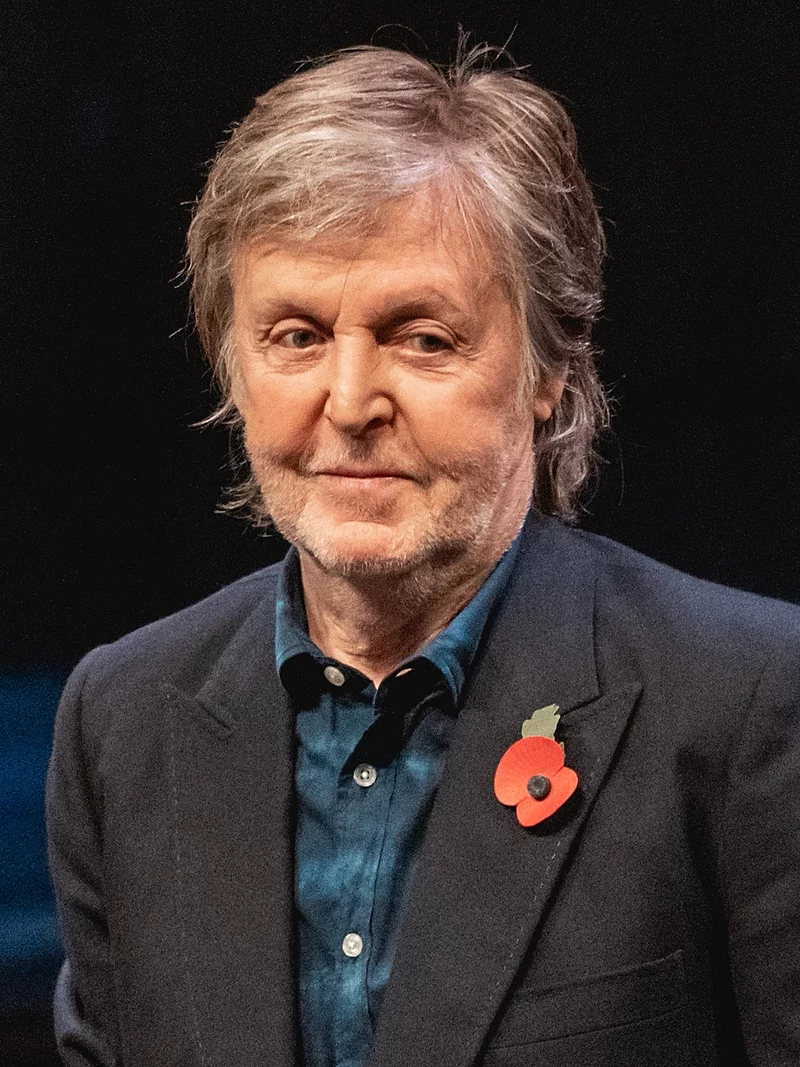 FROM WIKIPEDIA COMMONS
Sir James Paul McCartney CH MBE (born 18 June 1942) is an English singer, songwriter and musician who gained worldwide fame with the Beatles, for whom he played bass guitar and shared primary songwriting and lead vocal duties with John Lennon. One of the most successful composers and performers of all time, McCartney is known for his melodic approach to bass-playing, versatile and wide tenor vocal range, and musical eclecticism, exploring genres ranging from pre–rock and roll pop to classical, ballads, and electronica. His songwriting partnership with Lennon remains the most successful in history.
Born in Liverpool, McCartney taught himself piano, guitar and songwriting as a teenager, having been influenced by his father, a jazz player, and rock and roll performers such as Little Richard and Buddy Holly. He began his career when he joined Lennon's skiffle group, the Quarrymen, in 1957, which evolved into the Beatles in 1960. Sometimes called "the cute Beatle", McCartney later involved himself with the London avant-garde and spearheaded the incorporation of experimental aesthetics into the Beatles' studio productions. Starting with the 1967 album Sgt. Pepper's Lonely Hearts Club Band, he gradually became the band's de facto leader, providing the creative impetus for most of their music and film projects. Many of his Beatles songs, including "And I Love Her", "Yesterday", "Eleanor Rigby", and "Blackbird", rank among the most covered songs in history. While primarily a bassist with the Beatles, in various songs he played a number of other instruments, including keyboards, guitars, and drums.
After the Beatles disbanded, he debuted as a solo artist with the 1970 album McCartney and formed the band Wings with his first wife, Linda, and Denny Laine. Led by McCartney, Wings was one of the most successful bands of the 1970s, and he wrote or co-wrote their US or UK number-one hits "My Love", "Band on the Run", "Listen to What the Man Said", "Silly Love Songs", and "Mull of Kintyre". He resumed his solo career in 1980 and has toured as a solo artist since 1989. Without Wings, his UK or US number-one hits have included "Uncle Albert/Admiral Halsey" (with Linda), "Coming Up", "Pipes of Peace", "Ebony and Ivory" (with Stevie Wonder), and "Say Say Say" (with Michael Jackson). Beyond music, he has taken part in projects to promote international charities related to such subjects as animal rights, seal hunting, land mines, vegetarianism, poverty, and music education.
McCartney has written or co-written a record 32 songs that have topped the Billboard Hot 100 and, as of 2009, had sales of 25.5 million RIAA-certified units in the US. His honours include two inductions into the Rock and Roll Hall of Fame (as a member of the Beatles in 1988 and as a solo artist in 1999), an Academy Award, a Primetime Emmy Award, 18 Grammy Awards, an appointment as a Member of the Order of the British Empire in 1965 and a knighthood in 1997 for services to music. As of 2020, he is one of the wealthiest musicians in the world, with an estimated fortune of £800 million.
TODAY'S ALMANAC
Like Mother's Day, Father's Day has a modern origin. The idea came to Mrs. John Dodd as she sat listening to a Mother's Day sermon in 1909. Her father, William Smart, had raised his children alone on his Washington farm after his wife died giving birth to their sixth child. Mrs. Dodd proposed to the Spokane Ministerial Association and the YMCA that they celebrate a "father's day" on June 5, her father's birthday. The idea received strong support, but the good ministers of Spokane asked that the day be changed to give them extra time to prepare sermons on the unexplored subject of fathers. The first Father's Day was observed on June 19, 1910, in Spokane, Washington, and soon other towns had their own celebrations. In spite of widespread support, Father's Day did not become a permanent national holiday until 1972, when President Richard Nixon signed a law declaring that it be celebrated annually on the third Sunday in June.
Question of the Day
I've heard people talking about orange cucumbers that are supposed to be full of vitamins. What are these?
A beta-carotene-rich cucumber has been developed, and you may be able to find seeds for this cucumber at a local garden store. It apparently tastes like its green cousins, with a hint of tropical flavor, and is as good for you as carrots and sweet potatoes.
Advice of the Day
A suspicious parent makes an artful child.
Home Hint of the Day
Trim hedges often. For most species, frequent trimming produces more compact growth.
Word of the Day
Puzzle of the Day
Hard case (Change these words into a single word.)
Born
E.W. Scripps

 

(newspaper publisher)

 

– 

James Montgomery Flagg

 

(illustrator of Uncle Sam I Want You for the U.S. Army" poster")

 

– 

Sylvia Porter

 

(economist)

 

– 

Paul McCartney

 

(musician)

 

– 

Roger Ebert

 

(film critic)

 

– 

Isabella Rossellini

 

(actress)

 

– 

Carol Kane

 

(actress)

 

– 

Kurt Browning

 

(figure skater)

 

– 

Willa Holland

 

(actress)

 

– 
Died
Ethel Barrymore

 

(actress)

 

– 

John Cheever

 

(author)

 

– 

I.F. Stone

 

(journalist)

 

– 

Jack Buck

 

(broadcaster)

 

– 

Doris Dowling

 

(actress)

 

– 

Vincent Sherman

 

(director)

 

– 

Tasha Tudor

 

(children's author & illustrator)

 

– 

Clarence Clemons

 

(musician)

 

– 
Events
The United States declared war on Great Britain

– 

Napoleon's troops were defeated at Waterloo (present-day Belgium)

– 

First fly-casting tournament in the United States, Utica, New York

– 

Checker Cab put its first taxi on the streets

– 

National Postal strike in Canada

– 

Sally Ride became the first American woman in space

– 

A 9-lb. 6-oz. kokanee salmon caught in Okanagan Lake in British Columbia

– 

Edward Fincke first U.S. astronaut in space during birth of his child

– 

63-lb. 8-oz. flathead catfish caught, James River, South Dakota

– 

103-year-old Julia Hawkins won the 100-meter dash at the National Senior Games

– 
Weather
Phoenix, Arizona, had a temperature of 115 degrees F

– 

Tucson, Arizona, had a temperature of 113 degrees F

– 

Atlanta had 3.47 inches of rain within an hour

– 

A thunderstorm over Uruguay and northern Argentina produced a single flash of lightning that lasted 17.102 seconds, setting a world record for the longest duration of a single lightning bolt. 

– 
COURTESY www.almanac.com