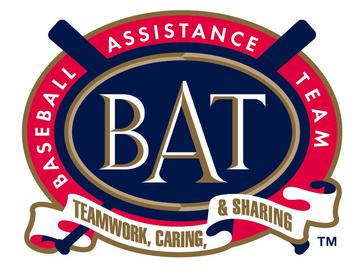 Podium-X to Continue B.AT.'s Ongoing Work for the Baseball Family By Changing the Way Former Professional Athletes Pursue Career Opportunities; Technology Platform to Offer Resume Support, Access to Job Opportunities, Career Coaching, and More
The Baseball Assistance Team (B.A.T.) announced in May a strategic partnership with Podium-X, an online platform designed to support career opportunities for athletes beyond their playing careers. The professional development platform changes the way athletes prepare and apply for jobs in any industry, through offering resume support, job opportunities, and career coaching. The newly established partnership between Podium-X and B.A.T. allows for greater support beyond B.A.T.'s existing assistance offerings across the United States, the Dominican Republic, Puerto Rico, and more.
The Baseball Assistance Team, now in its 38th year, is a unique organization within the sport dedicated to confidentially assisting members of the Baseball Family who are in need through charitable contributions in a variety of forms, including financial grants, healthcare resources, and rehabilitative counseling.
"We are so grateful for this opportunity to partner with this platform. This partnership will allow us to support the Baseball Family in ways like never before through Podium-X's technology and resourcing," said B.A.T. President Buck Martinez. "The work B.A.T. and Podium-X will be able to do together means that we can give more to players and families. It means providing support and opportunities that help them for life."
The Podium-X platform is designed specifically for athletes to highlight their unique skillset, which is often developed through their participation in athletics. Users will be able to create a traditional resume and can be matched with national job openings fit to their unique skills. Employers can also review profiles and resumes of users that match the skills needed for a specific position.
"We are excited and proud to be part of the outstanding work B.A.T. does to support its members,' said Podium X founder, Rich Thompson. "We are looking forward to assisting their players in realizing their value as potential employees and assisting them in securing the best career opportunities possible."
To date, the Baseball Assistance Team has awarded more than $62 million in grants, benefiting more than 10,400 members of the Baseball Family, including current and former, on-field Major & Minor League personnel (players, managers, coaches) as well as scouts, umpires, athletic trainers, Major & Minor League front office personnel, Negro League players, and players from the All-American Girls Professional Baseball League. B.A.T.'s coverage also extends to widows, widowers, and children, ages 23 and under, of the above groups. The vast majority of B.A.T. applicants are former players, with 88% under 50 years old. Most of whom have an income of less than $20,000 per year, with 77% residing in the Dominican Republic, Venezuela, Colombia, Mexico, Puerto Rico and other South American or European countries. All aid provided by B.A.T. is strictly confidential, allowing those in need to receive help discreetly. For more information about the Baseball Assistance Team, please visit: BaseballAssistanceTeam.com, Facebook.com/BaseballAssistanceTeam or Twitter.com/BATcharity.
Podium X is developed by experts in career services with extensive experience in staffing and recruiting, training/development, talent management, and human resources. The technology is designed to showcase student-athletes and help them tell their stories resulting in more confidence in their transferable skills and experiences while providing greater access to companies that want to hire athletes. Podium X is backed by the power of XPG Recruit Athlete, a division of Jacksonville, Fla – based XPG Recruit, with an experienced team that specializes in placing graduated athletes into career opportunities. For more information on Podium X, please visit www.podiumx.com.
COURTESY MLB MEDIA RELATIONS & MLBpressbox.com