NHL Public Relations
May 21, 2023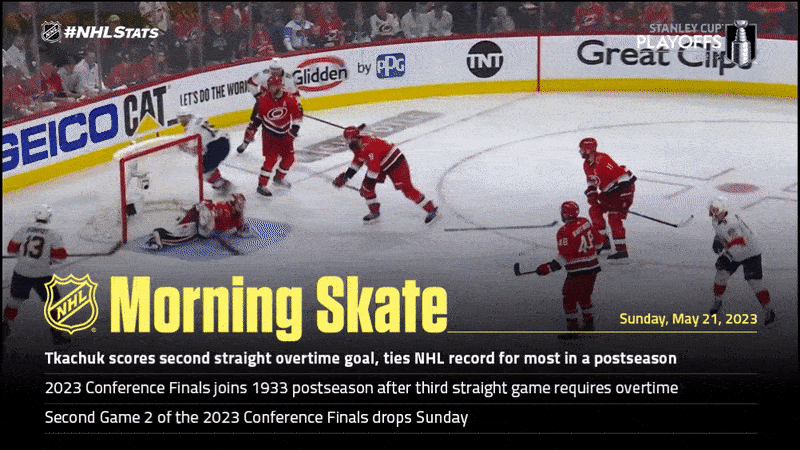 * Matthew Tkachuk played overtime hero for the second straight game, tying the record for most overtime winners in a postseason and helping Florida become the sixth lower-seeded team in the past 15 years to take a 2-0 lead in the Conference Finals.

* The 2023 Eastern Conference Final has been a tightly contested affair, with the Panthers and Hurricanes within a one-goal margin for all 201:38 of playing time – the fourth-highest total through the first two games of a series in NHL history.

* The 2023 Stanley Cup Playoffs is just the second in NHL history to have each of the first three or more games of the round before the Final require overtime with the only other instance coming over 90 years ago.

* The second Game 2 of the 2023 Conference Finals drops Sunday as Dallas aims to rally from a 1-0 series deficit for the third straight round while Vegas vies for a 2-0 lead.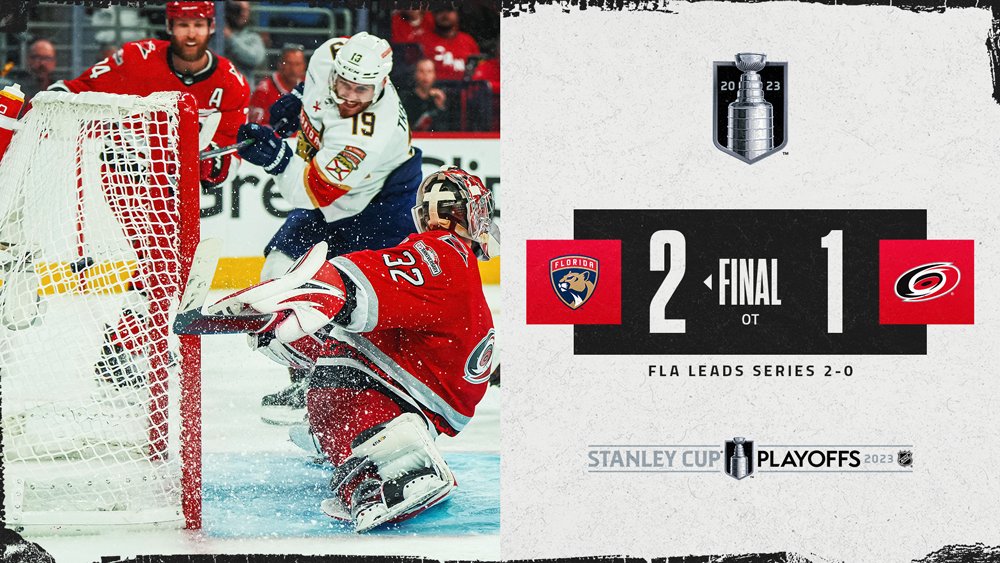 DEJA VU: TKACHUK ENDS ANOTHER EASTERN CONFERENCE FINAL GAME IN OVERTIME
It was déjà vu at PNC Arena: the Panthers and Hurricanes required overtime to decide the winner with Matthew Tkachuk (1-0—1) scoring – again – to end Game 2, but this time just 1:51 of extra time was needed. Florida extended its road winning streak to eight contests, establishing the second-longest run in the postseason in NHL history trailing only Los Angeles during its 2012 Stanley Cup championship run (10 GP).

* Tkachuk scored his third overtime goal of the 2023 Stanley Cup Playoffs – and second in as many games – tying Corey Perry (3 in 2017), Maurice Richard (3 in 1951) and Mel Hill (3 in 1939) for the most in a single playoff year in NHL history. He also matched Carter Verhaeghe for the most in Panthers history.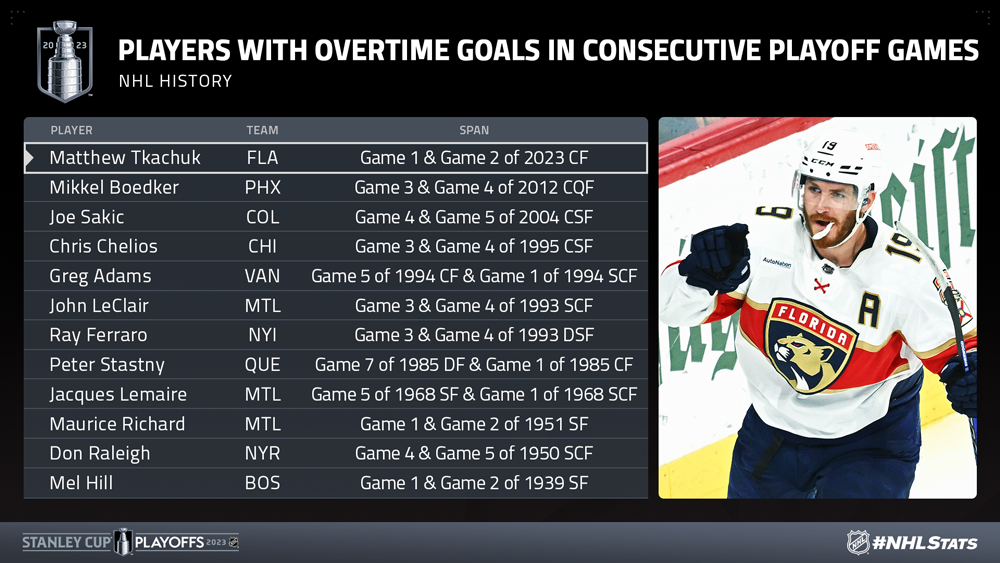 * The Panthers became the second team in NHL history to win each of their first six games that required overtime in a single postseason, joining the 2003 Ducks (7 GP).

* The 2023 Eastern Conference Final has seen the teams contest 201:38 so far through Game 1 and 2 – all of which has been with the Panthers and Hurricanes within a one-goal margin of one another. Only three other series in NHL history have seen the first two contests as closely contested (tied or within one goal): 1936 Semifinal between the Red Wings and Maroons (233:28), 1951 Semifinals between the Canadiens and Red Wings (223:29) and 2020 First Round between the Lightning and Blue Jackets (201:54).

* The Panthers and Hurricanes became the fifth series in NHL history to see over 200 minutes of game time through the first two contests, joining the 1936 Semifinals (236:30; DET vs. MMR), 1951 Semifinals (223:29; MTL vs. DET), 2020 First Round (210:27; TBL vs. CBJ) and 2003 Conference Semifinals (202:32; ANA vs. DAL).

ICYMI: Aleksander Barkov scored a highlight-reelgame-tying goal. The Panthers captain tied Ray Sheppard and Dave Lowry (both w/ 10) for the second-most playoff goals in franchise history.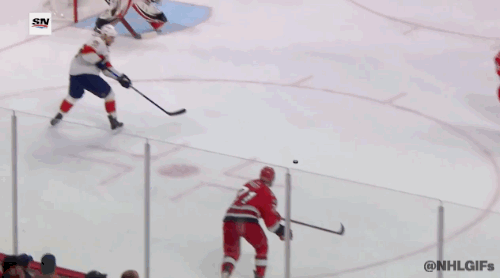 LEAGUE TRENDS FEATURED IN #NHLSTATS: LIVE UPDATES
The Saturday edition of #NHLStats: Live Updates featured a number of League trends as Game 2 of the Eastern Conference Final between the Panthers and Hurricanes became the third straight contest of the Conference Finals to require overtime.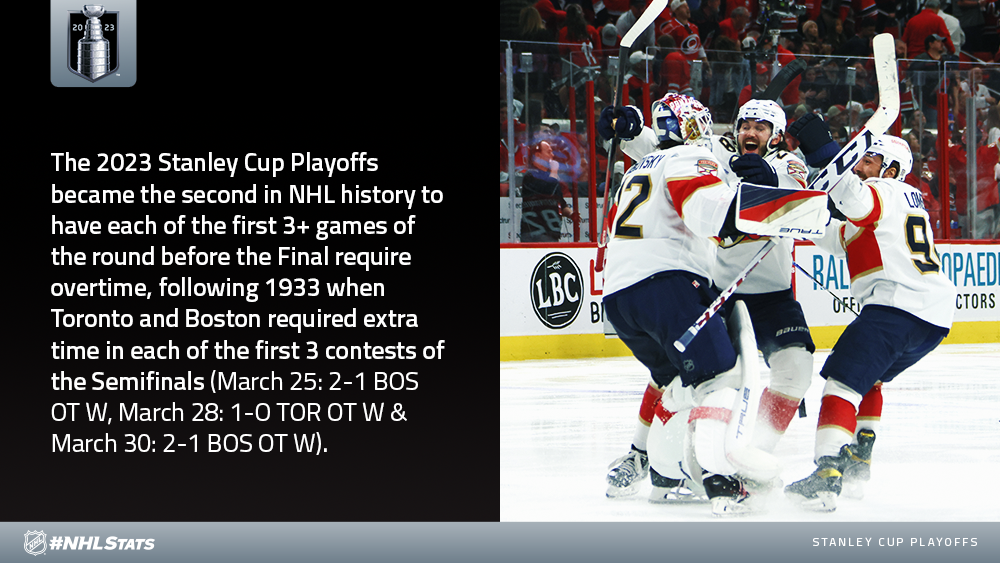 'CADCOOKS' WINS EA SPORTS NHL 23 NORTH AMERICAN CHAMPIONSHIP
Samuel 'CadCooks' Landry, who represented the Blackhawks, won the EA SPORTS NHL 23 North American Championship at the District E Powered by Ticketmaster in Washington, D.C., punching his ticket to the NHL 23 World Final in Nashville. Click here for full details.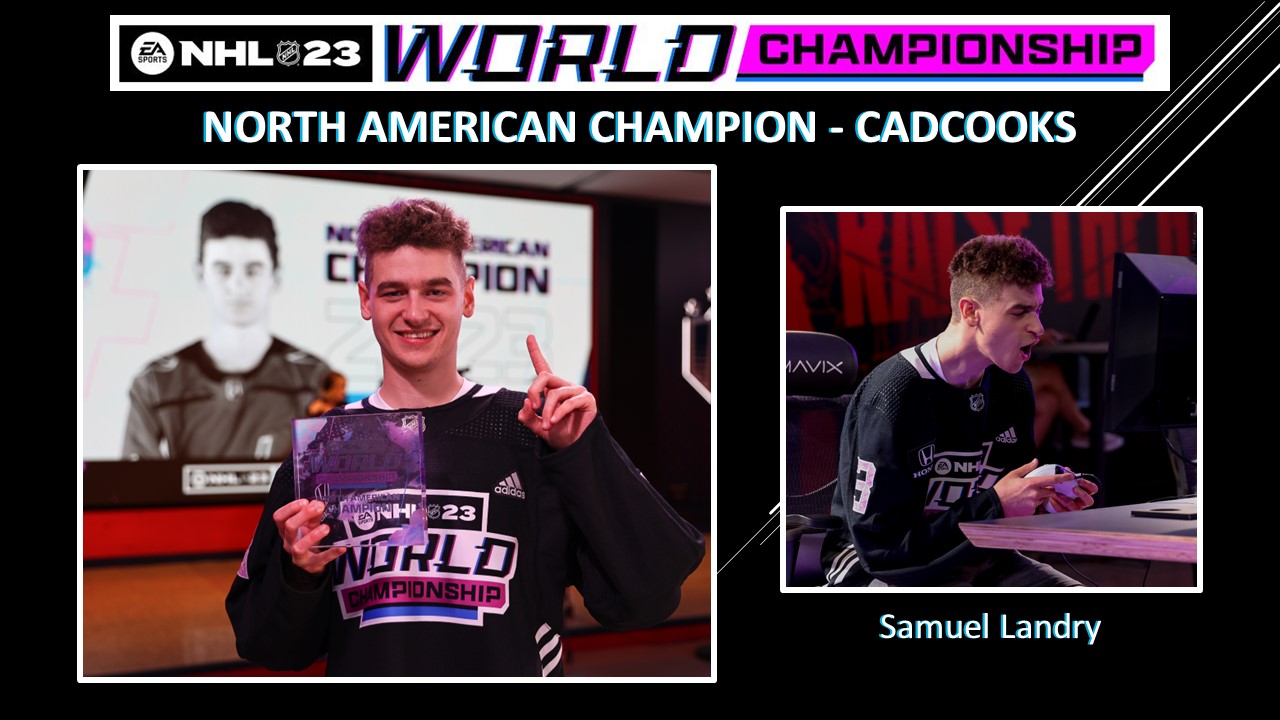 NHL PODCASTS WEEKLY ROUNDUP
* NHL Draft Class (May 15): Central Scouting's J-F Damphousse on QMJHL prospects
* NHL Fantasy (May 16): Conference Finals preview
* NHL @ The Rink (May 16): Dallas Eakins joins to talk Conference Finals
* La Tasse de café LNH (May 16): Place au carré d'as
* The Chirp with Daren Millard (May 18): Colby Armstrong joins; Conn Smythe race, more
QUICK CLICKS

* Mark Stone doing it all for Golden Knights in playoffs following injuries
*Jason Robertson hoping to turn corner for Stars following Game 1 of West Final
* Brent Burns' golden skate blades highlighted during Game 2
* NHL on TNT crew has perfect guest in Jon Cooper to talk long playoff games
*Mortiz Seider leading on, off ice for Germany at World Championship
STARS IN FAMILIAR PLACE, LOOK TO EVEN SERIES SUNDAY AFTERNOON
Game 2 of the Western Conference Final is set for Sunday afternoon on ABC and ESPN+ in the U.S. as well as Sportsnet, CBC and TVA Sports in Canada. The Stars will look to rally from a 1-0 series deficit for the third consecutive round, while the Golden Knights aim to take a 2-0 lead for the third time in franchise history – they have gone on to win the series in the two times they have done so to date.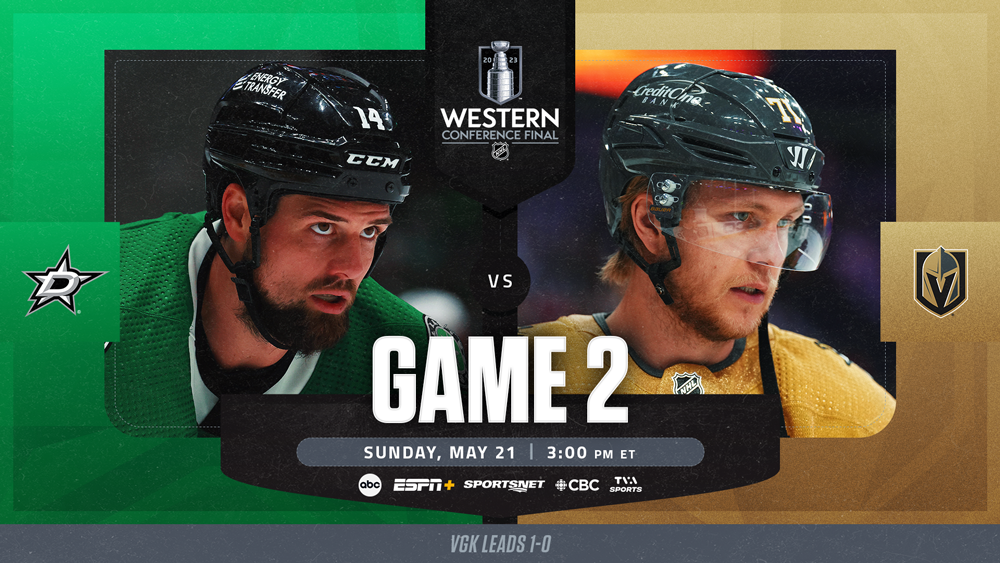 * After falling to the Golden Knights in overtime of Game 1, the Stars find themselves in a similar situation to the first two rounds – they lost the opener to both the Wild and Kraken before evening the series in Game 2 and eventually eliminating their opponent. Only one team in Stanley Cup Playoffs history has trailed 1-0 in three different best-of-seven series before advancing to the Final in the same postseason – the Mario Lemieux-led Penguins did so in the 1991 Stanley Cup Playoffs before eventually winning the franchise's first championship.
* Roope Hintz recorded his fifth three-point outing of the 2023 Stanley Cup Playoffs in Game 1, the most in a single postseason in Stars/North Stars history. Only four players over the past 30 years have more three-point contests in a single playoff year: Leon Draisaitl (7 GP in 2022), Wayne Gretzky (7 GP in 1993), Connor McDavid (6 GP in 2022) and Nikita Kucherov (6 GP in 2021).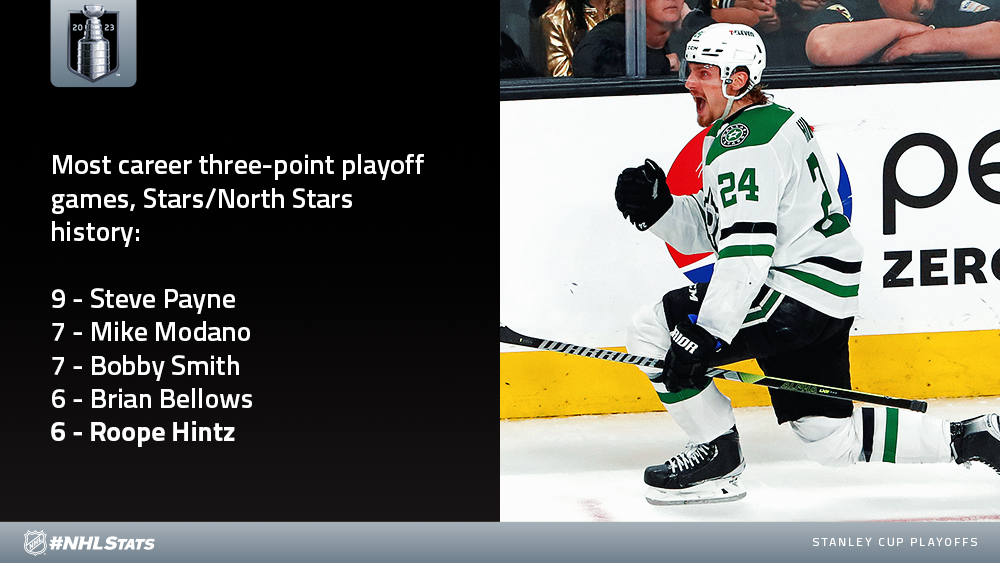 * William Karlsson, who has been with the Golden Knights since their inaugural season, recorded a multi-goal outing in Game 1 to boost his 2023 Stanley Cup Playoffs totals to 7-3—10 (12 GP). He sits one goal shy of matching the most in a single postseason in franchise history, held by current teammate Jonathan Marchessault (8 in 20 GP; 2018) and Alex Tuch (8 in 20 GP; 2020).
* Vegas, which holds a 5-2 record on home ice in the 2023 Stanley Cup Playoffs, has made T-Mobile Arena a difficult venue for opposing teams since joining the League in 2017-18. The Golden Knights have an all-time home record of 27-14 in the postseason (including wins as the designated home team in 2020), more victories as the home team than six other current franchises despite being the second-newest team in the League.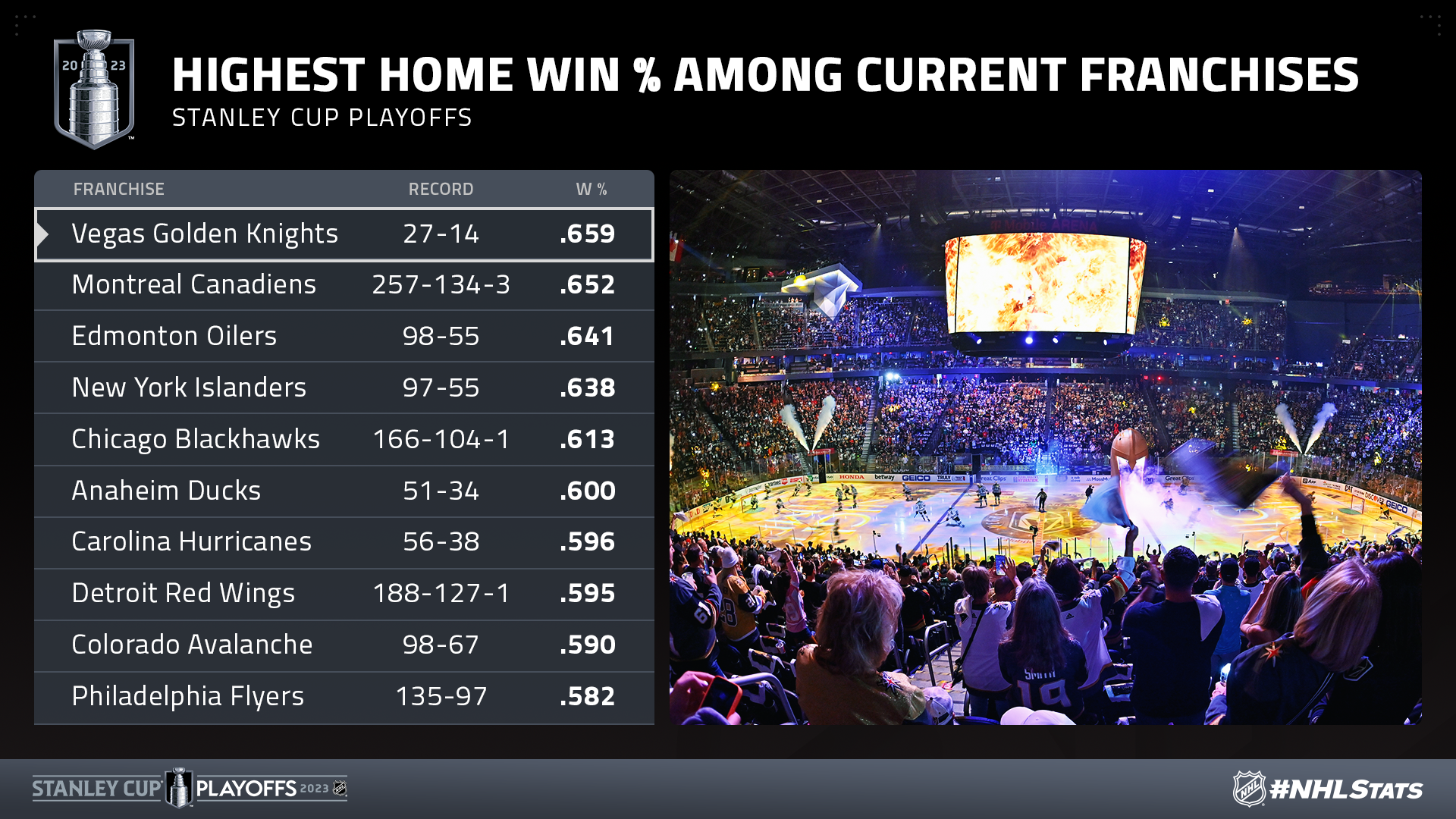 COURTESY NHLmedia.com