NHL Public Relations
December 19, 2022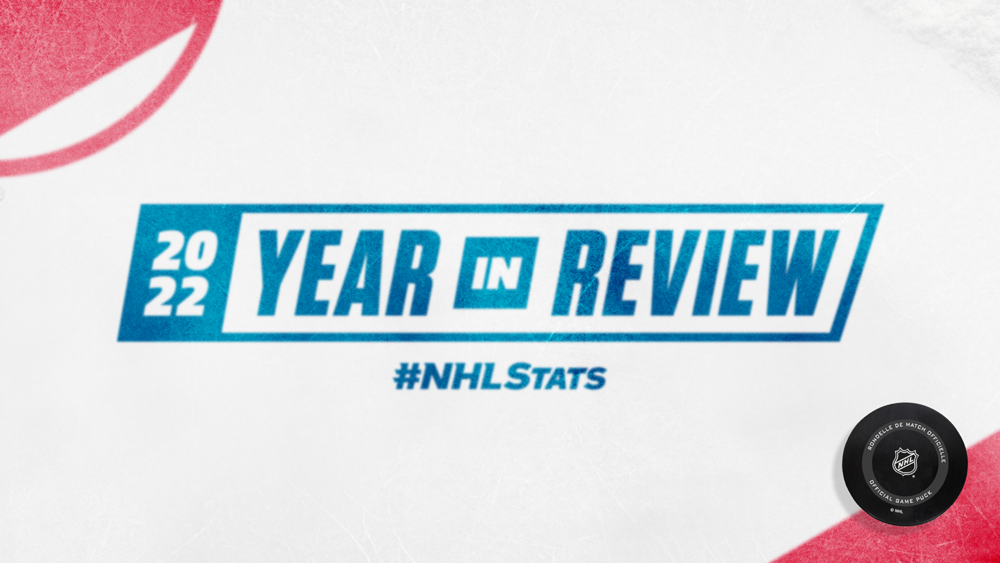 As we count down the final days of 2022 – a year that will see the most games in NHL history (1,502 regular season & playoffs combined through Dec. 31) – let's take a look back on the year it's been…

Please note, all stats are updated as of games through Dec. 18 and will be updated again on Dec. 31.


800-goal club welcomes third member: Alex Ovechkin made history with a hat trick to hit 800 career goals Dec. 13, making 2022 the third year in NHL history to include a player's 800th goal as he joined Gordie Howe (1980) and Wayne Gretzky (1994) on the exclusive list. The Capitals captain required the fewest games to go from goal No. 700 to goal No. 800 (162 GP). More information on his historic achievement is available in the latest Ovechkin #NHLStats Pack.
Another 40+ goal year for No. 8: Alex Ovechkin has scored 46 regular-season goals so far in 2022, the 12th time he has tallied 40-plus regular-season goals in a calendar year (the highest such total in NHL history, ahead of Wayne Gretzky & Mike Gartner with 10 apiece). Other 2022 achievements by Ovechkin include overtaking Jaromir Jagr for third place in League history (March 15), passing Gretzky for the most road goals in League history (Nov. 29) and overtaking Howe for the highest goal total by a player with one franchise (Nov. 5).
ICYMI: Here's what it looks like to score 800 goals…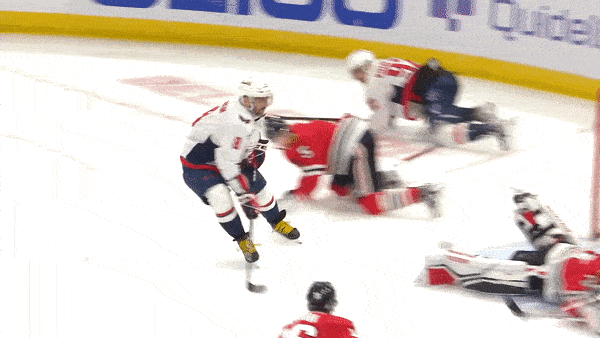 Colorado reaches mountaintop in 2022: The Avalanche went 39-11-5 (83 points) from Jan. 1 to the start of the Stanley Cup Playoffs, where they posted a dominant 16-4 record to win their third championship in franchise history. Cale Makar added a Conn Smythe Trophy to his growing list of NHL achievements, while Joe Sakic was named winner of the Jim Gregory General Manager of the Year Award.

Champs join elite company with 70 wins this year: The Avalanche have recorded 71 total wins in 2022 (55 regular season, 16 playoffs), which is tied for the ninth-highest combined total (also 2016 Penguins & 1976 Canadiens w/ 71) by an NHL team in one calendar year behind the 2013 Blackhawks (80), 2021 Lightning (73), 2013 Penguins (73), 2021 Golden Knights (72), 2019 Blues (72), 1995 Red Wings (72), 1985 Flyers (72), 1978 Canadiens (72).

All goals, all the time: There have been 8,444 regular-season goals scored across 1,318 games so far in 2022 (including 86 shootout-deciding goals), the highest total in a calendar year in League history. The 6.41 goals per game in 2022 is on pace to be the highest rate in a single calendar year in nearly 30 years (6.84 G/GP in 1993).

Take off those hats: Fans have thrown their hats 111 times overall so far in 2022 (103 regular-season season, 8 playoffs) – the highest total in 30 years (115 in 1992). Only nine years in NHL history have featured more hat tricks, with eight of those occurring during the 1980s: 156 in 1981, 138 in 1988, 126 in 1984, 123 in 1983, 121 in 1985, 121 in 1982, 118 in 1986, 115 in 1992 and 112 in 1980.

50-goal scorers galore: Seven players have scored 50-plus regular-season goals in 2022 (Auston Matthews, Jason Robertson, Kirill Kaprizov, David Pastrnak, Connor McDavid, Leon Draisaitl & Tage Thompson) – the most within a calendar year this millennia. More players have reached the mark in a calendar year just five times: 1993 (9), 1992 (9), 1983 (9), 1989 (8) and 1985 (8). Meanwhile, the NHL has featured 21 or more 40-goal scorers in the regular season (21 in 2022) for the seventh time: 1982 (27), 1993 (26), 1983 (23), 1981 (22), 1988 (21) and 1987 (21).

Down but not out: A total of 607 games were won in a come-from-behind fashion through 2022 with 570 of those coming in the regular season – both totals the most in NHL history. Through the grand total 607 comebacks, fans cheered on 165 multi-goal rallies, were treated to 237 third-period comebacks and saw 59 occur as both a multi-goal, third-period comeback. The 2022 Stanley Cup Champion Avalanche led the playoffs with 10 comebacks wins, tied for the most in a playoff year in NHL history, and became the first team in NHL history to trail in all four of their series-clinching wins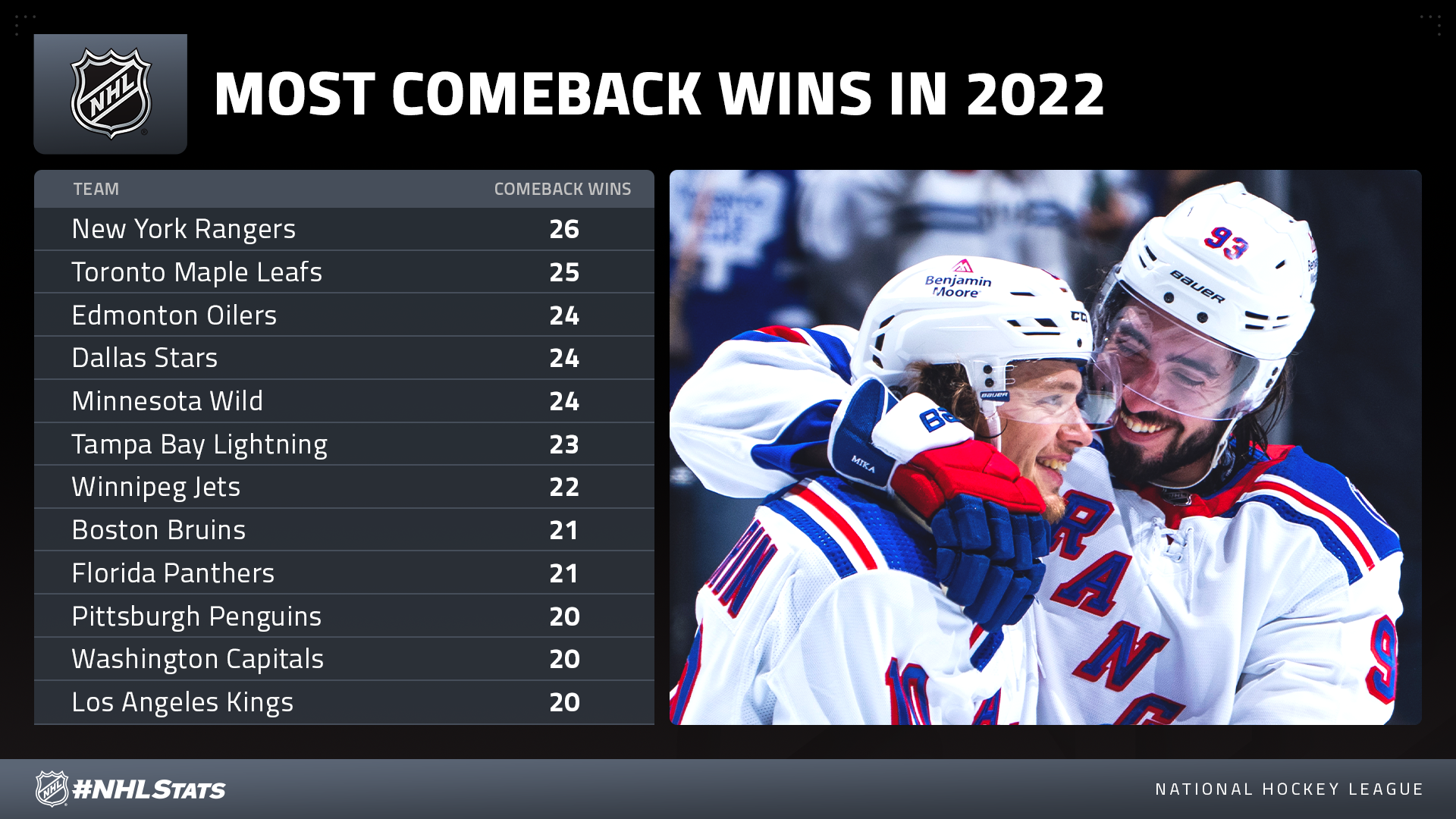 California dreamin' goal scorers: The top two regular-season goal scorers so far in 2022 were born in California: Auston Matthews (56)and Jason Robertson (54; t-2nd). Matthews grew up in Arizona and Robertson played minor hockey in the Golden State until he was 10 years old. It is on track to mark the fifth calendar year in NHL history to feature a U.S.-born player lead in regular-season goals and the second straight (also Matthews in 2021). The others: 1992 (Pat LaFontaine), 1998 (John LeClair), 2014 (Joe Pavelski).

2022-23 Maurice "Rocket" Richard Trophy winner: Matthews scored 40 goals in his first 46 regular-season games of 2022 en route to becoming the first U.S.-born player in League history to tally 60 in a season (April 26). He has 56 overall to date this year and owns a goal-per-game pace that sits atop the NHL (tied).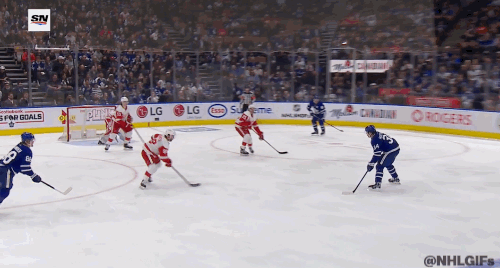 47-spot improvement on NHL's goal list: Robertson is on pace to conclude 2022 second in regular-season goals among all players, a drastic improvement over 2021 when he finished in a tie for 49th overall. In the past 30 years, just six other players age 23 or younger have scored as many goals as Robertson (54) in a calendar year: Alex Ovechkin (2x), Steven Stamkos, Sidney Crosby, Jaromir Jagr, Teemu Selanne and Pavel Bure.

Two big years, two big splashes: Matthew Tkachuk and Johnny Gaudreau, who currently sit in the top three of regular-season points among all players in 2022, have the second- and third- most points in any calendar year by a U.S.-born player in NHL history behind only Pat LaFontaine who tallied 61-79—140 in 1992. The once-teammates also made big splash in the 2022 offseason as Tkachuk was part of a blockbuster trade and Gaudreau signed with the Blue Jackets as one of the biggest free agent signings.

Another year full of offensive output for McDavid: Oilers captain Connor McDavid is on pace to lead all players in regular-season points in 2022 for the second straight year after he led all players in playoff scoring despite being eliminated in the Conference Finals.

Did someone say 1.71 points per game? Connor McDavid is producing at a rate of 1.71 points per game (regular season & playoffs combined) for the second straight year after a 1.77 clip in 2021. The last player not named McDavid to own a points per game rate of 1.70 or higher was in 1999 (Jaromir Jagr at 1.76 P/GP). In fact, the last player to produce at a rate of 1.70 or higher in consecutive years was Mario Lemieux (1.72 P/GP in 1996 & 2.69 P/GP in 1995).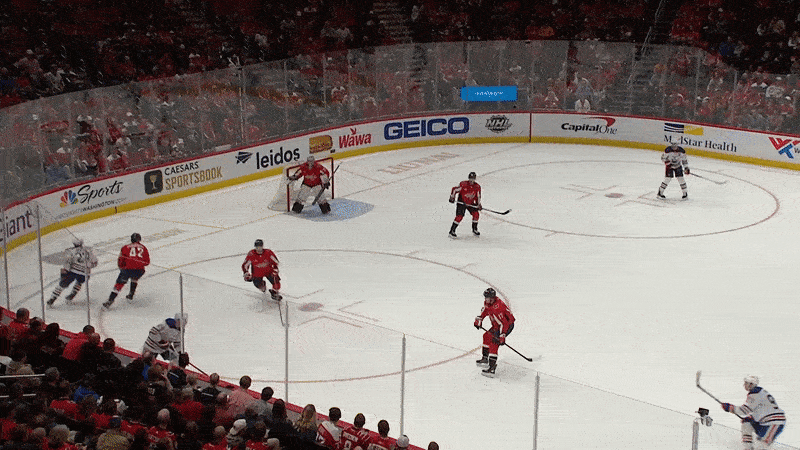 NHL stages three outdoor games in 2022: The calendar year opened with the Winter Classic at Target Field in Minneapolis between the Blues and Wild – the first NHL outdoor game in front of fans in more than 22 months. Two other outdoor showdowns took place, with the Lightning and Predators meeting in the Stadium Series at Nissan Stadium in Nashville (Feb. 26) and Maple Leafs challenging the Sabres for the Heritage Classic at Tim Hortons Field in Hamilton (March 13). Two more open-air contests are slated for the first half of 2023, starting with the 2023 Discover NHL Winter Classic.
2022-23 NHL season opens in Prague: The Predators and Sharks opened the campaign by contesting an NHL Global Series back-to-back at O2 Arena in Prague, Czechia, the League's first regular-season games played overseas since 2019. Colorado and Columbus also clashed in a doubleheader at Nokia Arena in Tampere, Finland, less than a month later.


A milestone year: 14 players skated in their 1,000-game milestone in 2022 – the last calendar year to feature more players celebrate this achievement was 2009 (16 players). Of note, Sam Gagner (WPG) & Alexander Edler (LAK) are both five games shy of the mark.

Keepin' it 1,000: Three players reached 1,000 career points in 2022, all of whom happened to do so with one franchise: Nicklas Backstrom, Patrice Bergeron and Steven Stamkos.

Multiple record book changes under NHL "Ironman": After 36 years of Doug Jarvis holding the record for the NHL's "Ironman", 2022 saw two players take sole possession of the most consecutive games played with Keith Yandle taking over the record on Jan. 25 and passing it to Phil Kessel on Oct. 25. Kessel also became the first player in NHL history to skate in 1,000 consecutive games.


Atop The Teams: Over 44% of teams (14/32) have been led in scoring by a player aged 25 or younger in 2022, with none of these players celebrating their birthday by Dec. 31: Anaheim (Troy Terry: 25), Arizona (Clayton Keller: 24), Buffalo (Tage Thompson: 25), Carolina (Andrei Svechnikov: 22), Columbus (Patrik Laine: 24), Dallas (Jason Robertson: 23), Edmonton (Connor McDavid: 25), Minnesota (Kirill Kaprizov: 25), Montreal (Nick Suzuki: 23), New Jersey (Jack Hughes: 21), Ottawa (Brady Tkachuk: 23), Philadelphia (Travis Konecny: 25), St. Louis (Robert Thomas: 23), Toronto (Mitchell Marner: 25) and Vancouver (Elias Pettersson: 24).


Parity is the name of the game in the NHL: A total of 29 of 32 teams have held a playoff spot in 2022 (min. 10 GP). As of games played through Dec. 18, 22 of 32 teams (68.75%) are above .500-point percentage.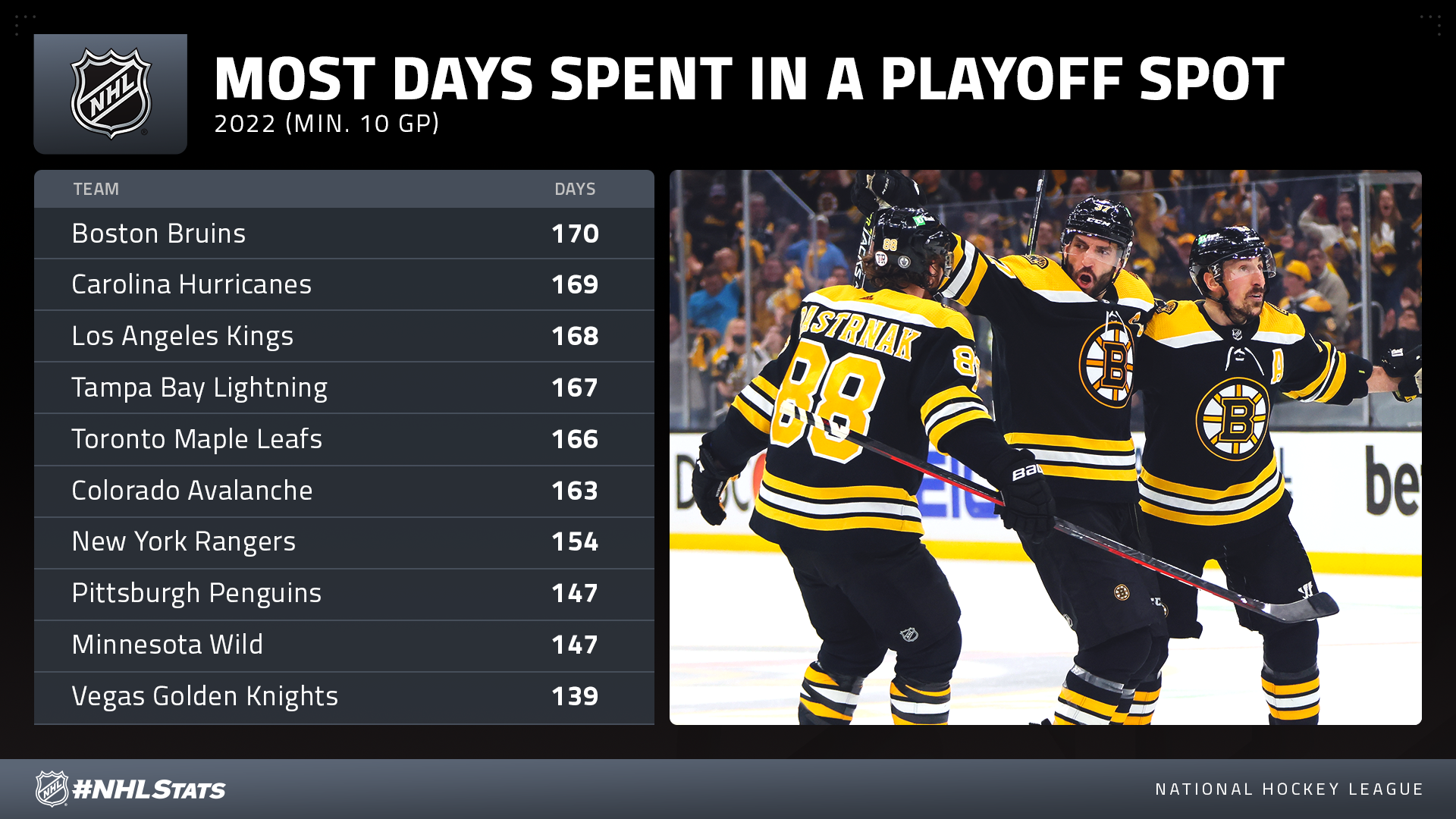 Save it for Igor: Call it a breakout year for Igor Shesterkin, who became the third Rangers goaltender to win the Vezina Trophy and concluded the calendar year with the most regular-season wins among all goaltenders, tied for second in shutouts behind Darcy Kuemper and with the highest save percentage (min. 10 GP).

Red hot finish: On Jan 1, 2022, three months into the 2021-22 season, the Devils had 29 points to rank seventh in the Metropolitan Division and 25th in the League. Fast forward nearly 12 months and New Jersey has 44 points so far in 2022-23 to sit atop its division and third in the NHL. The club was propelled by a 13-game winning streak, which tied the longest run-in franchise history; their longest win streak in 2021-22 was three straight victories.

News on Hughes: Jack Hughes is on pace to lead all Devils players in goals and points through 2022. Hughes became the fourth player in NHL history to lead their team in points during a winning streak of at least 10 games at age 21 or younger. The others: Stephane Richer, Tyler Seguin and Aleksander Barkov.



Unprecedented Year for Women in the Game: 2022 was a monumental year of change to the landscape of hockey, one that saw multiple teams name their first female assistant general manager, scouts and player development roles be filled, along with a full-time member of the coaching staff. Prior to 2022, no woman had held the role of assistant general manager, now there are six: Emilie Castonguay (VAN), Cammi Granato (VAN), Meghan Hunter (CHI), Dr. Hayley Wickenheiser (TOR), Kate Madigan (NJD) and Alexandra Mandrycky (SEA). Full details of a year that features more women in hockey operations than ever before can be found here.
COURTESY NHLmedia.com