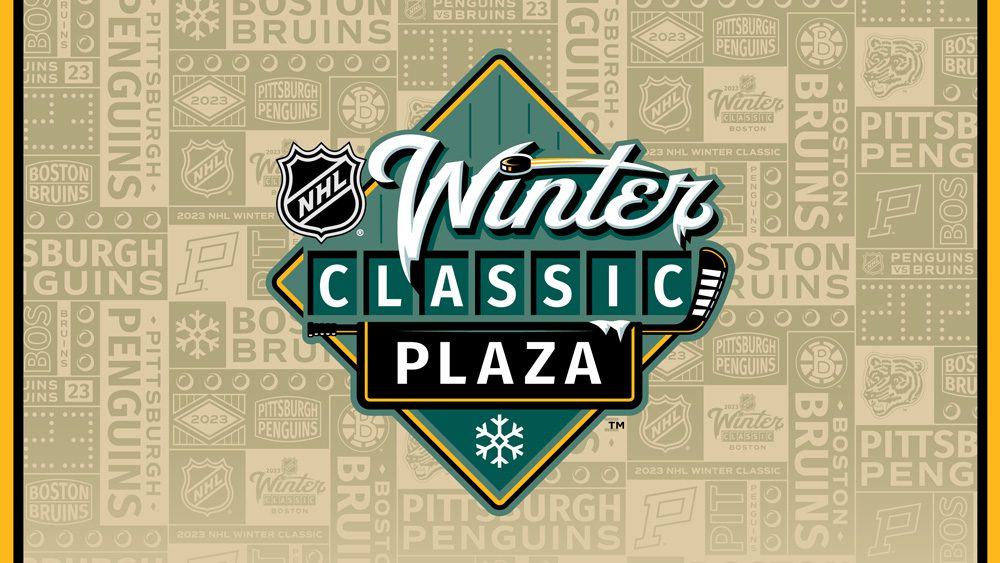 NHL Winter Classic Plaza Set for 2 p.m. – 8 p.m. ET on Dec. 30 and from 10 a.m. – 6 p.m. ET on Dec. 31; Appearances by Boston Bruins Alumni as well as the Iconic Stanley Cup Headline NHL Winter Classic Plaza
NEW YORK (Dec. 15, 2022) – The 2023 Discover NHL Winter Classic® festivities will begin at Boston City Hall Plaza with the NHL Winter Classic Plaza™, a free two-day, non-ticketed fan festival open to the public. On Dec. 30 and 31, the NHL and its corporate partners will treat hockey fans to many fun interactions and experiences, including autograph sessions featuring current and former Boston Bruins greats, a myriad of family-friendly hockey interactives, giveaways, food, and a special appearance by the oldest and most revered trophy in sports – the Stanley Cup®.
The two-day outdoor fan festival will serve as a preview of the 2023 Discover NHL Winter Classic®, the much-anticipated outdoor game between the Boston Bruins and Pittsburgh Penguins at Fenway Park on Monday, Jan. 2 (2 p.m. ET, TNT, Sportsnet, TVA Sports). A 2023 Discover NHL Winter Classic® game ticket is not required for entry to the NHL Winter Classic Plaza™.
WHAT:
NHL Winter Classic Plaza™
WHEN:
Friday, Dec. 30, 2022: 2 p.m. – 8 p.m. ET
Saturday, Dec. 31, 2022: 10 a.m. – 6 p.m. ET
WHERE:
Boston City Hall Plaza
1 City Hall Square, Boston, MA 02203
The following hockey-themed experiences to engage fans by a dozen NHL partners will be free and open to the public during operating hours at the NHL Winter Classic Plaza™:
BioSteel: NHL fans will have the opportunity to show off their best move at the #BioSteelNextGenMove Mini Rink and hydrate like NHL Players with samples of BioSteel. Fans can create and capture their own signature move to be shared on their social media channels and have the chance to win BioSteel for a month for themselves and 19 of their teammates.
Boston Bruins: The Bruins are inviting fans to come play some trivia, get your face painted and more on Dec. 30. Members of the Boston Pride will be available for autographs and photos throughout the day.
Caterpillar: Hockey fans visiting NHL Winter Classic Plaza™ can shoot for prizes, check out Cat equipment, and learn about Cat services.
Discover: The Discover activation will feature a giant air hockey table (roughly 12'x24′) and allow fans to challenge their friends in a game of over-sized air hockey. In addition, the activation will include a 20' 2023 Discover NHL Winter Classic® drop trailer that will be open to distribute premium items and will host display cases with memorabilia that fans can explore. Finally, hockey fans will have the chance to pose for a unique and shareable photo opportunity on Discover's ice throne.
DraftKings: Fans 21 and older can stay warm at the DraftKings Chalet and grab a beer with NHL Alumni on Friday, Dec. 30 and Saturday, Dec. 31.
Extreme Networks: If you think you have what it takes to hit all four corner targets, come test your skills at the Accuracy Challenge presented by Extreme Networks.
Fanatics: A wide assortment of 2023 Discover NHL Winter Classic® apparel and products will be available for purchase at the NHL Official Merchandise Shop – A Fanatics Experience.
Fastenal/MCR Safety: MCR Safety looks forward to participating in the NHL Winter Classic Plaza™. Visit our tent to play cornhole and potentially win some free safety gear! See you at the game!
Great Clips: Fans can practice like the pros and test their stick skills by shooting pucks into a stacked washer and dryer unit.
Hockey Fights Cancer: Hockey Fights Cancer is a joint initiative of the National Hockey League (NHL) and the National Hockey League Players' Association (NHLPA) that supports our official charity partners, the American Cancer Society and the Canadian Cancer Society. No matter what jersey you wear, we all are on the same team when it comes to the fight against cancer. Stop by and join the fight.
Honda: Honda, the official automotive partner of the NHL in the U.S., will display vehicles at Boston City Hall for fans to check out. Fans can also visit Honda at the NHL Winter Classic Plaza™ to try their luck at the Honda Puck Drop game or show off their hockey skills with Goalie Power Play to win fun prizes.
NHL Fan Access™ App: As the official event app, NHL Fan Access™ features maps, schedules, the "Ask Stanley" virtual assistant, opportunities to win prizes, and much more. Download the app today!
NHL Network: NHL Network will give fans the chance to test their shooting skills with a target inflatable. NHL Network's NHL Tonight will air extensive pre- and postgame coverage of the 2023 Discover NHL Winter Classic®.
Stanley Cup Display: Fans can take a photo with the most iconic trophy in professional sports on Dec. 30 from 2:30 p.m. – 7 p.m. ET and on Dec. 31 from 10:30 a.m. – 4 p.m. ET.
Truly: Truly Hard Seltzer will be at the NHL Winter Classic Plaza™ on Dec. 30 and 31 as a part of the fan experience. Fans (21+) can faceoff on our Bubble Hockey Games to see which Truly pack reigns supreme, take a picture in our interactive photo booth, or just check out the views from our rooftop deck.
Upper Deck: Upper Deck, the NHL's exclusive trading card partner, will be onsite creating personalized 2023 NHL Winter Classic® trading cards for fans in attendance. Fans can also get a FREE set of 2023 NHL Winter Classic® trading cards for a limited time on UpperDeckEpack.com. Upper Deck e-Pack® is the innovative platform that allows fans to buy, open, collect and trade with collectors around the world.
Verizon: SCAN, PLAY, SCORE– We'll invite fans to come play a fun digital game that educates consumers on Verizon products and services for a chance to win some amazing prizes.
COURTESY NHLmedia.com