NHL Public Relations
December 15, 2022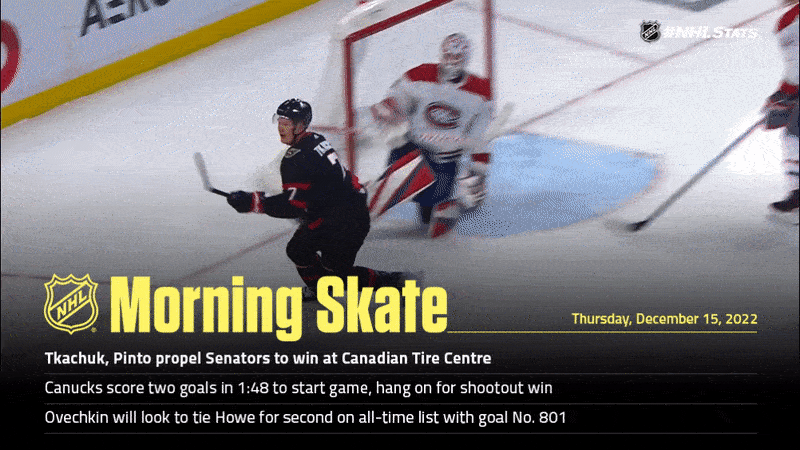 * Just two nights after becoming the third player to join the NHL's exclusive 800-goal club, Alex Ovechkin will look to match one of its members for second place on the League's all-time goals list Thursday.

* Bo Horvat and Conor Garland scored two goals in the first 1:48, while Spencer Martin made 35 saves to help the Canucks earn their ninth comeback win of the season.

* Brady Tkachuk posted a two-point performance and Shane Pinto inched closer to the rookie lead in goals as Ottawa held on for a win against Montreal at Canadian Tire Centre.

OVECHKIN HONING IN ON HOWE DURING THURSDAY SLATE
Fresh off his 29th career hat trick and 800th NHL goal, Alex Ovechkin (800-644—1,444 in 1,305 GP) looks to find the back of the net for the fifth straight game and tie Gordie Howe (801-1,049—1,850 in 1,767 GP) for second place on the League's all-time list.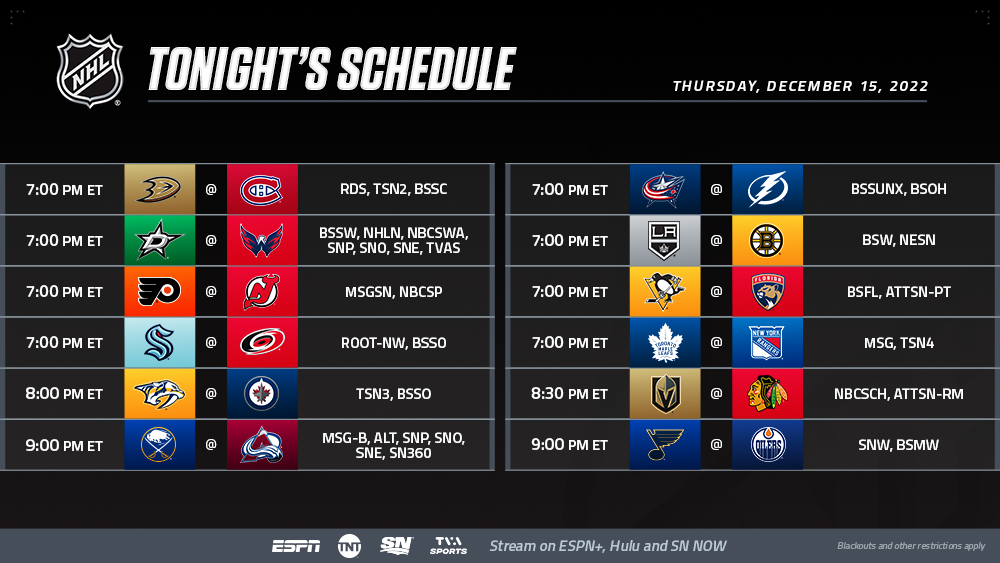 * Howe, while appearing as a member of the Whalers, scored his 801st and final NHL goal against the Red Wings on April 6, 1980 – a franchise he spent 25 of his 26 seasons with. During his time with Detroit, Mr. Hockey played alongside Andre Pronovost from 1962-63 to 1964-65 – who assisted on five of the former's 801 goals and is the grandfather of Anthony Mantha, who collected the primary helper on Ovechkin's 800th career tally.

* Mantha's ties to Howe and the Red Wings run deeper than just Pronovost after the franchise selected the now-Capitals forward in the 2013 NHL Draft (No. 20). Click here to read more about how Mantha's assist connected Ovechkin's milestone to Howe, including his prediction prior to his captain's memorable performance in Chicago.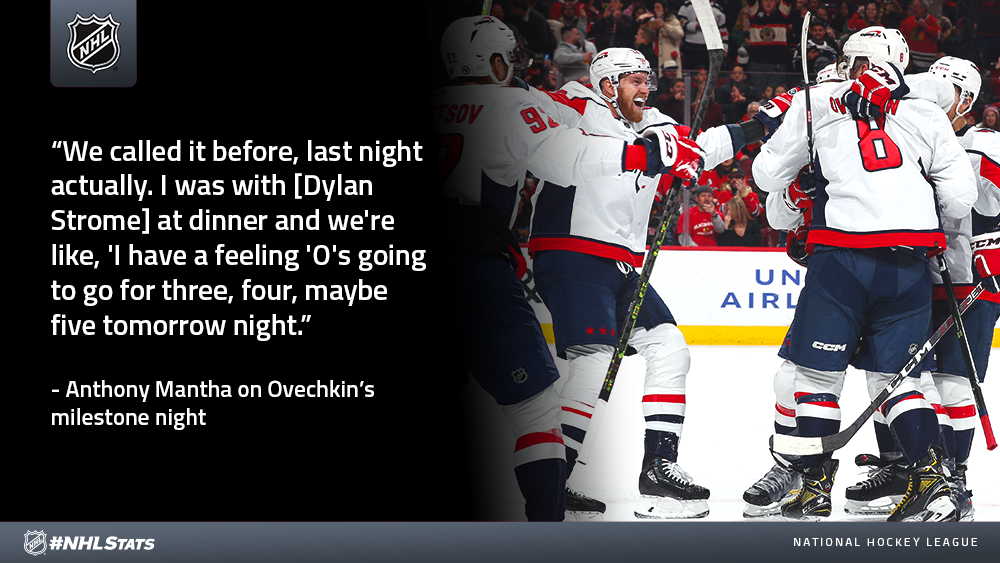 * Should Ovechkin tie Howe on Thursday, it would be his 13th career goal streak of at least five games and within two of his longest (7 GP from Feb. 10 – March 8, 2006). Only three players in NHL history have recorded 13 or more streaks of at least that length during their careers: Mario Lemieux (17x), Wayne Gretzky (16x) and Mike Gartner (13x).

* The Capitals captain (37 years, 89 days) would also become just the seventh different player in NHL history to register a five-game goal streak at age 37 or older (age based off end of streak). While a 39-year-old Brett Hull holds the longest such stretch (7 GP in 2003-04), a 37-year-old Howe also accomplished the feat (5 GP in 1965-66).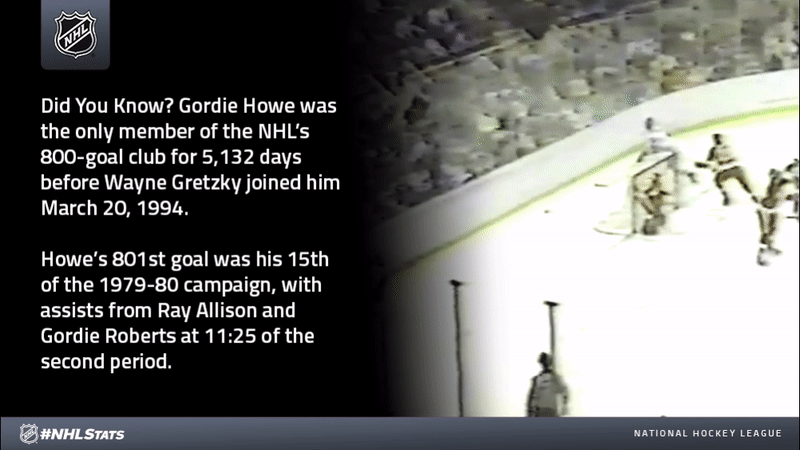 TKACHUK, PINTO HELP SENATORS HOLD ON FOR WIN AT CANADIAN TIRE CENTRE
Brady Tkachuk (1-1—2) factored on two of Ottawa's goals – including the game winner – while Shane Pinto (1-0—1) found the back of the net to help the Senators halt a Canadiens comeback attempt and earn a win at Canadian Tire Centre.

* Tkachuk recorded his 56th career multi-point game and tied Martin Havlat for the fifth most in Senators history by a player before age 24, trailing only Jason Spezza (69), Alexei Yashin (69), Marian Hossa (65) and Erik Karlsson (58).

* Pinto (10-4—14 in 29 GP) scored his 10th goal of the campaign, one back of Matty Beniers (11-12—23 in 28 GP) for the most among all rookies. Pinto will look to become the first Senators skater to lead all rookies in goals at a season's end since Mike Hoffman (27 in 2014-15).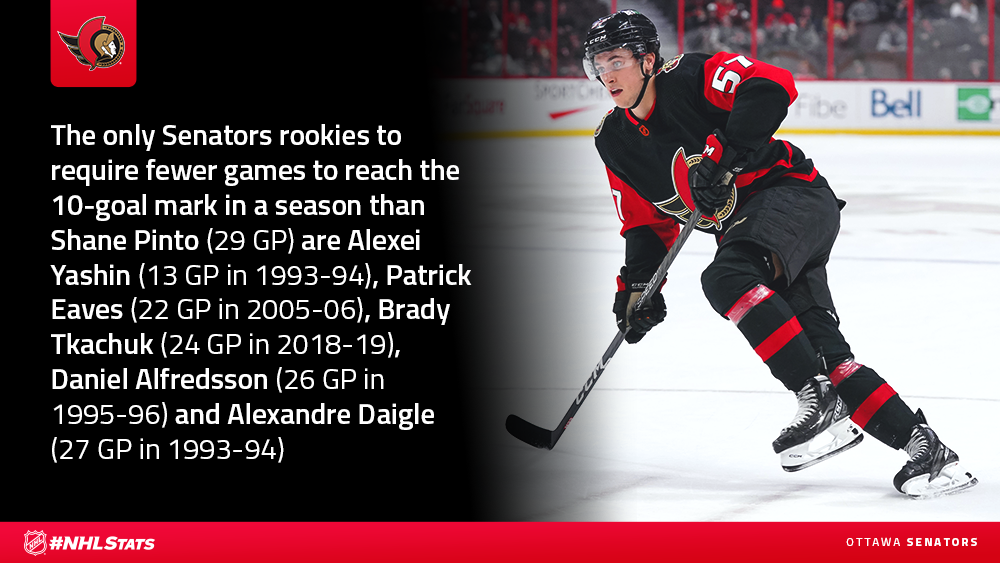 CANUCKS COME FROM BEHIND TO PUT OUT FLAMES
After jumping out to a quick lead courtesy of Bo Horvat and Conor Garland both scoring in the first 1:48 of the game, the Canucks were forced to rally after the Flames scored three straight goals, but Spencer Martin (35 saves) shut the door against Calgary in the shootout to help Vancouver complete its ninth comeback win of the season. The only team with more is Edmonton (10).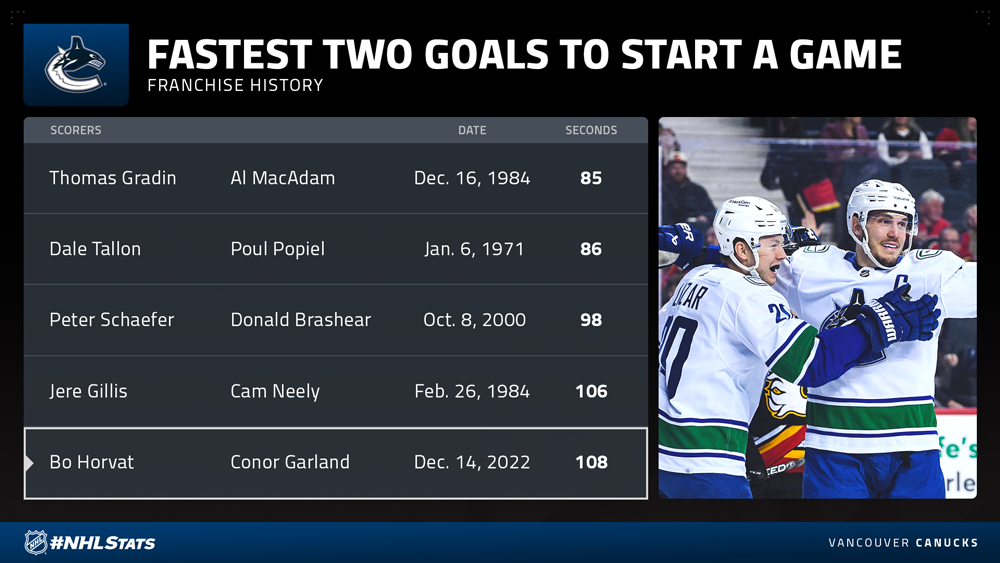 * Martin,who made his second-most saves in a game this season, earned his ninth victory in his 15th appearance of 2022-23 (9-3-1). Only two goaltenders have posted more through as many appearances in a campaign with the Canucks: Ryan Miller (12 in 2014-15) and Kirk McLean (10 in 1991-92).

* The Canucks extended their road win streak to six contests, tied for their third longest in franchise history (also 6 GP in 2006-07) behind only a nine-game stretch in 2010-11 and an eight-game run in 2003-04.

KAPRIZOV'S HOME POINT STREAK FEATURED IN #NHLSTATS: LIVE UPDATES
The Wednesday edition of #NHLStats: Live Updates featured notes from all three contests, including Kirill Kaprizov (0-1—1) factoring on one of his team's four goals to extend his home point streak to 10 games (5-11—16) as the Wild bested the Red Wings at Xcel Energy Center.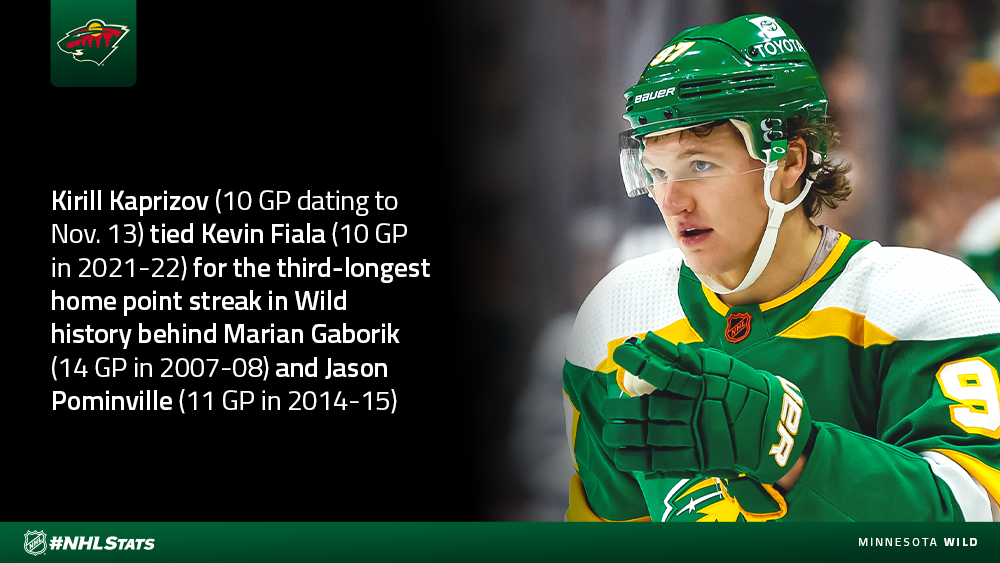 QUICK CLICKS

* Gordie Howe's 801st NHL goal forgotten by many with Alex Ovechkin closing in
* Alex Ovechkin one goal from tying Howe for 2nd in NHL history
* NHL Buzz: Tim Stutzle out at least one week for Senators with shoulder injury
* Upper Deck reveals 2022 Ultimate Fan MVP
* Ducks attempt to name Santa's reindeer in new video
COURTESY NHLmedia.com