NHL Public Relations
December 7, 2022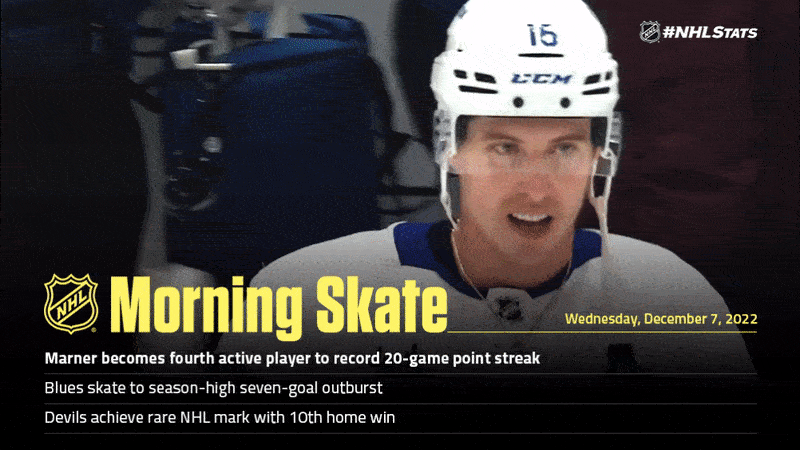 * In a head-to-head battle broadcast nationally on ESPN+, it was Mitchell Marner's point streak that outlasted Jason Robertson as the Maple Leafs forward became the fourth active player to record a run of 20-plus games.

* It was four first-period goals for the Kings, who have the second-most tallies in the opening frame among all teams, and a season-high seven-goal outburst from the Blues that allowed each club to skate off victorious.
* The Devils blanked the Blackhawks at Prudential Center and became the third team in NHL history to post 10-plus wins both at home and on the road in 26 or fewer games.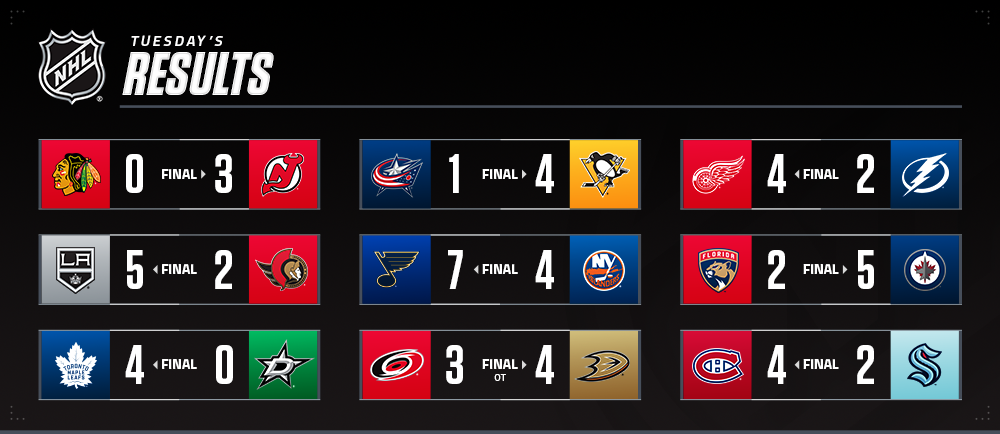 MARNER EXTENDS POINT STREAK TO 20, MURRAY RECORDS SHUTOUT
It was Mitchell Marner's point streak that remained intact Tuesday as he made it 20 straight games, while Matt Murray (44 saves) halted Jason Robertson's run at 18 contests with his first shutout performance in a Maple Leafs uniform. Toronto (16-5-6, 38 points), which sits second in the Atlantic Division, extended its point streak to 12 games (9-0-3) to establish the second-longest run in franchise history behind 2003-04 (16 GP; 14-0-2).

* Marner (0-1—1) became the fourth active player and just seventh in the past 30 years to record a point streak of 20-plus games, joining Mats Sundin (30 GP in 1992-93), Patrick Kane (26 GP in 2015-16 & 20 GP in 2018-19), Sidney Crosby (25 GP in 2010-11), Dany Heatley (22 GP in 2005-06), Adam Oates (21 GP in 1992-93 & 20 GP in 1996-97) and Paul Stastny (20 GP in 2006-07).

* During his 20-game run, Marner has factored on the game-opening tally 10 times (3-7—10) and has recorded a point on the Maple Leafs' first goal in 14 contests (3-11—14).

* While Marner continues to extend his franchise-record point streak, his impact goes beyond the ice. He's a believer that when you have a platform to change people's lives, you should do your best to do so and the Maple Leafs forward is doing exactly that through his Marner Assist Foundation.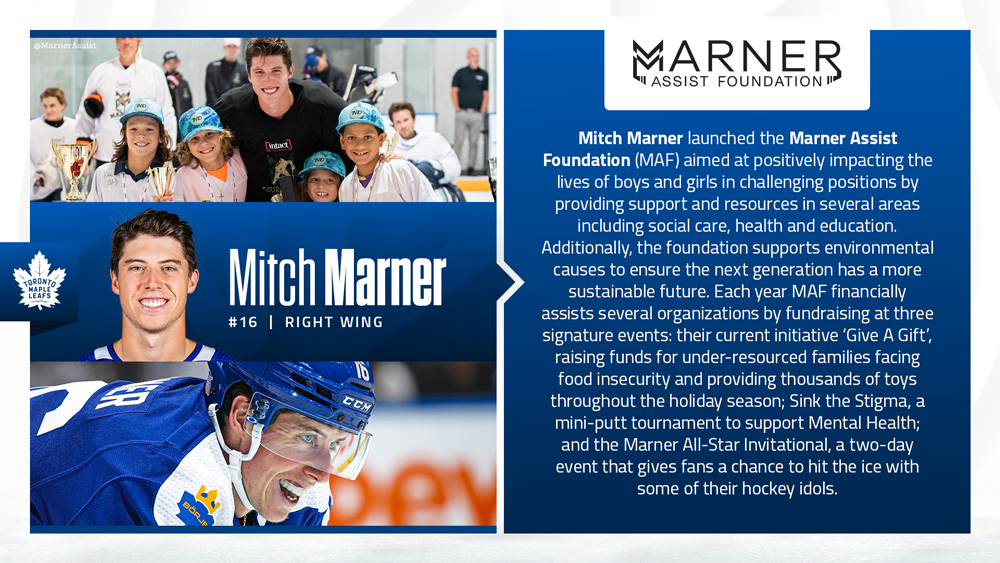 * Murray has a 6-1-2 record to begin his tenure with the Maple Leafs and became the sixth Toronto goaltender in the past 40 years to earn a point in eight or more consecutive appearances. The Thunder Bay, Ont., native grew up cheering for the Maple Leafs and remembers spending lots of time watching their games alongside his late father, James, who passed away unexpectedly in 2018. When Murray was introduced as a member of the Maple Leafs in July he said he believed his father, his hero, was proudly peering down with a smile.



GOALS, GOAL, GOALS: EARLY GOALS & HIGH-SCORING AFFAIRS
Four first-period goals for the Kings and a seven-goal outburst from the Blues propelled each club to victory Tuesday:

* It was two tallies in the opening 2:15 and four goals in the first period that propelled the Kings (14-10-4, 32 points), who sit third in the Pacific Division, to their 14th win of the season. Los Angeles now has nine goals within the first five minutes of a game, only Dallas (11) and Vegas (10) have more this season. They also improved their first-period goal total to 30, which is tied with Calgary (30) for the second most among all teams in 2022-23 behind Vegas (33).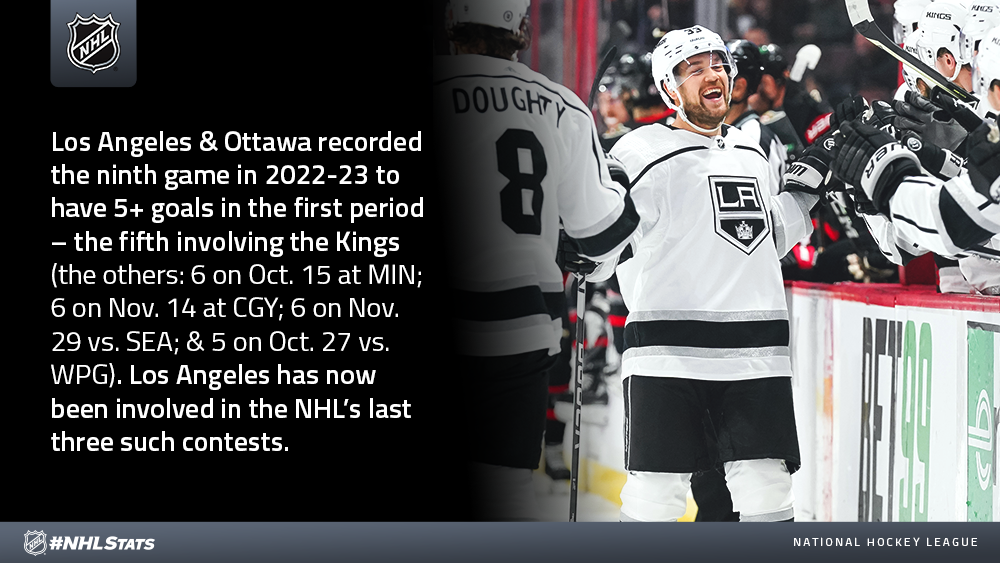 * The Blues scored a season-high seven goals – with 14 players contributing at least one point – and managed to hold off a third-period rally that saw their 5-1 advantage shrink to a 5-4 edge before emerging with their first road win against the Islanders since Oct. 9, 2017. New York's comeback attempt was part of a seven-goal third period, the fifth frame this season in which clubs combined for as many goals.

DEVILS BLANK BLACKHAWKS TO EARN 10TH WIN AT PRUDENTIAL CENTER
Jack Hughes (0-2—2) and Dougie Hamilton (1-2—3) each put up multi-point performances while Vitek Vanecek (24 saves) blanked the Blackhawks to lift the Devils to their 10th win at Prudential Center in 2022-23. New Jersey (14 GP) has only required fewer home games to reach the mark in a season five times, most recently in 2006-07 (12 GP).
* The Devils, who have earned at least a point against all 19 teams they have faced this season, are now 10-3-1 at home as well as 11-1-0 on the road.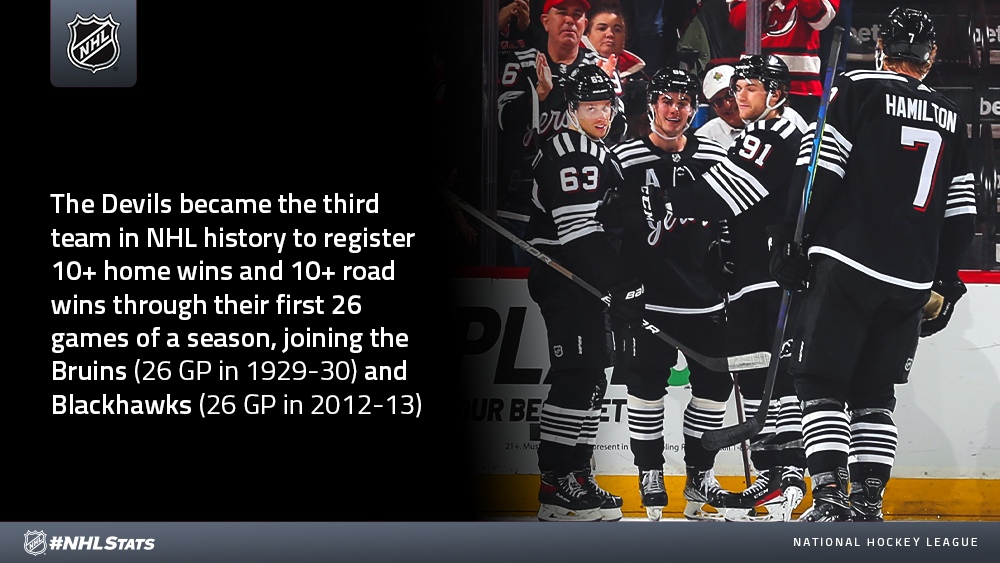 *Hughes boosted his 2022-23 totals to 13-18—31 in 26 games. Only two players in Devils/Rockies/Scouts history have required fewer contests to hit 30 points in a season at age 21 or younger: Paul Gardner (21 GP in 1977-78) and Kirk Muller (25 GP in 1986-87).

TWO FAST GOALS PROPEL CANADIENS PAST KRAKEN AT CLIMATE PLEDGE ARENA
Despite Shane Wright pulling the Kraken even with his first NHL goal, the Canadiens found the back of the net three times in the second period – including two tallies in a span of seven seconds courtesy of Cole Caufield and Josh Anderson – to earn a win at Climate Pledge Arena. Caufield and Anderson combined for the franchise's fastest two goals on the road in both the regular season and playoffs.

* Caufield leads Montreal with 15 goals in 2022-23 (26 GP) and is just eight shy of his career high of 23 that he set in 67 outings last season.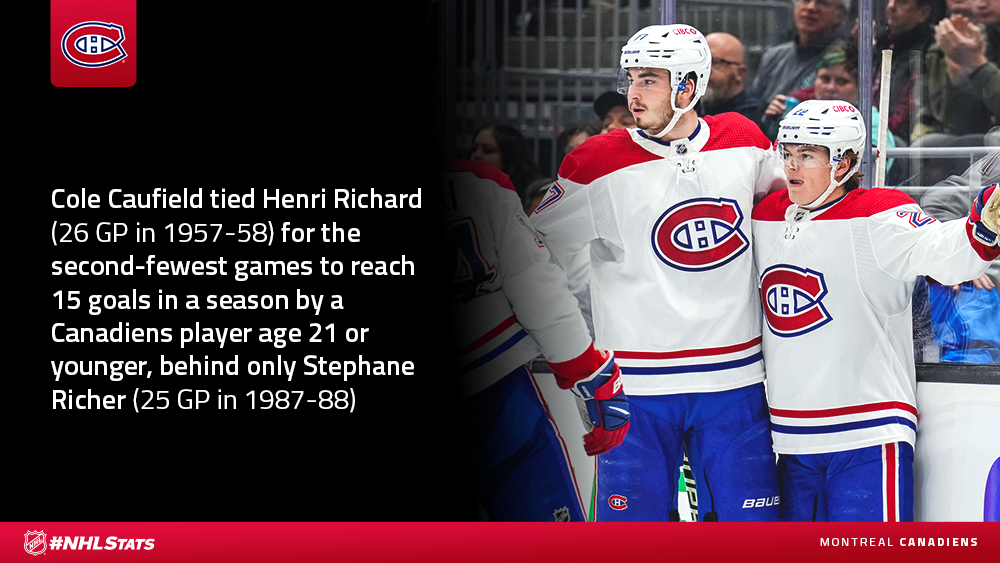 HRONEK JOINS COFFEY, RED WINGS CLIMB STANDINGS IN LIVE UPDATES
A nine-game night featured dozens of notes in #NHLStats: Live Updates, including two on Red Wings defenseman Filip Hronek,who became the first player in franchise history to notch a point in each of the club's first 11 road games of a season (4-11—15 in 11 GP). He bested the previous benchmark of 10 contests achieved by Sergei Fedorov in 1993-94.
* With their regulation victory, the Red Wings (13-7-5, 31 points) overtook the Lightning (15-9-1, 31 points) and moved into third place in the Atlantic Division. Detroit is one of six non-playoff teams from last season that currently holds a playoff spot.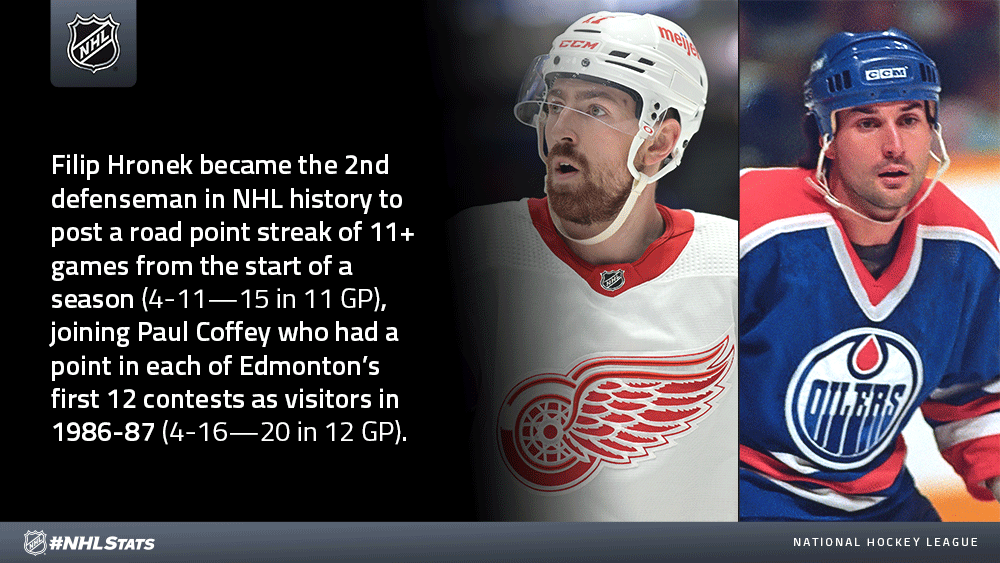 QUICK CLICKS
* Color of Hockey: Randip Janda making inroads on Canucks radio broadcasts
* 2023 IIHF World Junior Championship begins Dec. 26 in Moncton, Halifax
* Nathan MacKinnon out 4 weeks for Avalanche with upper-body injury
* Chandler Stephenson making most of opportunity with Golden Knights
* Everett Fitzhugh talks Kraken, radio play-by-play job in Q&A with NHL.com
NATIONAL TELECASTS FILL UP WEDNESDAY'S SEVEN-GAME SLATE
National doubleheaders on TVA Sports and TNT will begin in different cities – Philadelphia and Columbus, respectively – but conclude in Las Vegas where the Golden Knights will look to pad their lead atop the Western Conference. Sportsnet networks will carry three games, including a national telecast featuring Kirill Kaprizov – who is riding a franchise record-tying 12-game point streak – and the Flames.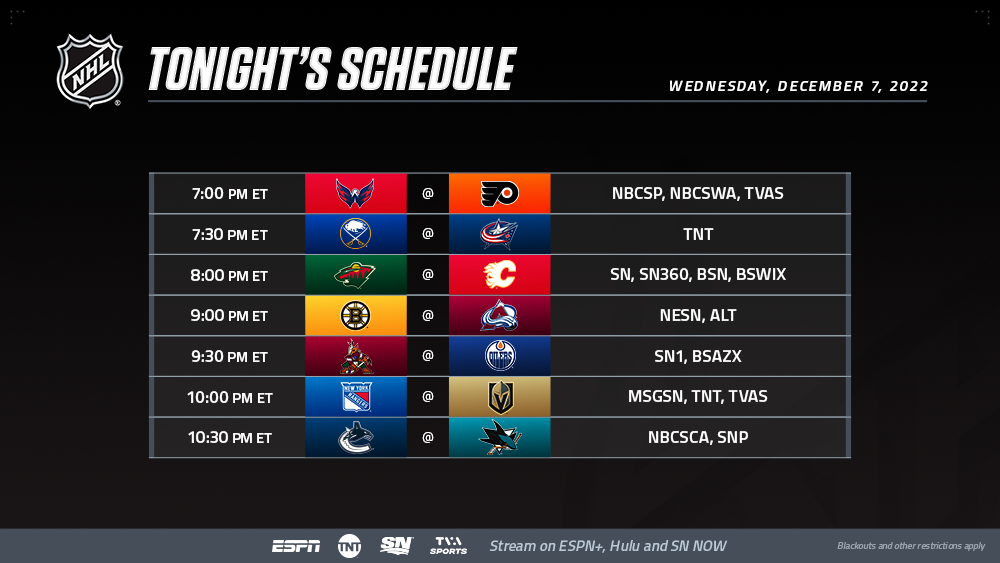 * The TVA Sports opener will see Alex Ovechkin once again continue his pursuit of the 800-goal club as he faces a team against whom he has tallied 44 of his 793 career goals. Ovechkin has a 20.8% shooting percentage against Carter Hart (5 G on 24 SOG), his second highest against any active goaltender he has faced at least five times (34.8% vs. Alexandar Georgiev: 8 G on 23 SOG).
* The only team with both a forward and a defenseman among the top 25 in NHL scoring will hit the ice on TNT when Tage Thompson (16-18—34; 8th) and Rasmus Dahlin (8-21—29; 24th) lead the Sabres against the Blue Jackets. Thompson is scoring at a 50-goal and 100-point pace – benchmarks last achieved by a Buffalo player in 1992-93 – while Dahlin is tracking toward the highest single-season point total ever by a Sabres defenseman.
* TVAS and TNT will convene at T-Mobile Arena, where the hosts will be seeking their 20th victory. The Golden Knights (19-7-1, 39 points) can hit the 20-win mark within their first 30 games of a season for the second time after doing so in 2020-21 (20-6-1 in 27 GP). The Rangers have achieved that feat four times in their 96-year history (28 GP in 1993-94, 29 GP in 1971-72, 30 GP in 2016-17 & 30 GP in 1941-42).
 
COURTESY NHLmedia.com