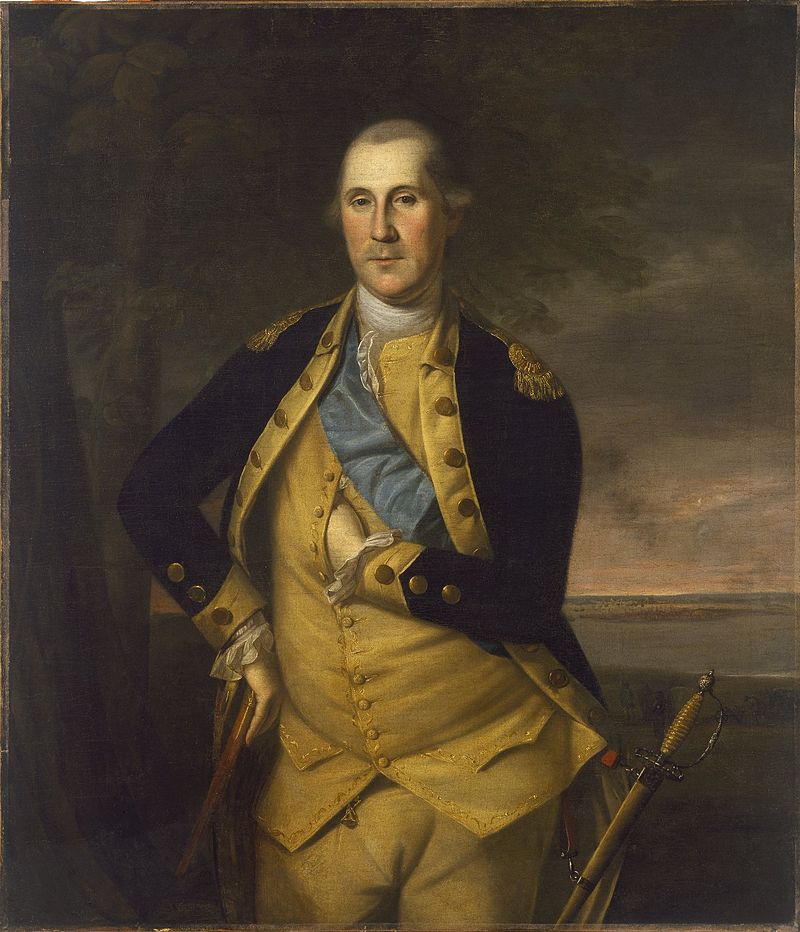 FROM WIKIPEDIA COMMONS
Commander in chief (1775–1783)
Congress created the Continental Army on June 14, 1775, and Samuel and John Adams nominated Washington to become its commander-in-chief. Washington was chosen over John Hancock because of his military experience and the belief that a Virginian would better unite the colonies. He was considered an incisive leader who kept his "ambition in check". He was unanimously elected commander in chief by Congress the next day.
Washington appeared before Congress in uniform and gave an acceptance speech on June 16, declining a salary—though he was later reimbursed expenses. He was commissioned on June 19 and was roundly praised by Congressional delegates, including John Adams, who proclaimed that he was the man best suited to lead and unite the colonies. Congress appointed Washington "General & Commander in chief of the army of the United Colonies and of all the forces raised or to be raised by them", and instructed him to take charge of the siege of Boston on June 22, 1775.
Congress chose his primary staff officers, including Major General Artemas Ward, Adjutant General Horatio Gates, Major General Charles Lee, Major General Philip Schuyler, Major General Nathanael Greene, Colonel Henry Knox, and Colonel Alexander Hamilton.[106] Washington was impressed by Colonel Benedict Arnold and gave him responsibility for launching an invasion of Canada. He also engaged French and Indian War compatriot Brigadier General Daniel Morgan. Henry Knox impressed Adams with ordnance knowledge, and Washington promoted him to colonel and chief of artillery.
At the start of the war, Washington opposed the recruiting of blacks, both free and enslaved, into the Continental Army. After his appointment, Washington banned their enlistment. The British saw an opportunity to divide the colonies, and the colonial governor of Virginia issued a proclamation, which promised freedom to slaves if they joined the British. Desperate for manpower by late 1777, Washington relented and overturned his ban. By the end of the war, around one-tenth of Washington's army were blacks. Following the British surrender, Washington sought to enforce terms of the preliminary Treaty of Paris (1783) by reclaiming slaves freed by the British and returning them to servitude. He arranged to make this request to Sir Guy Carleton on May 6, 1783. Instead, Carleton issued 3,000 freedom certificates and all former slaves in New York City were able to leave before the city was evacuated by the British in late November 1783.
TODAY'S ALMANAC
Question of the Day
What causes the leaves on my rubber plant to turn yellow?
Yellowing leaves on indoor rubber plants is a common problem. It is usually a sign of overwatering. Check your plant to make sure it has adequate bottom drainage to draw excess water away from the roots. If your plant has been in the same container for a long time, remove it and its root ball and loosen the bound roots. Remove some of the soil at the top of the ball, then transplant the tree in a larger pot.
Advice of the Day
Create more space; donate used books to your local library.
Home Hint of the Day
To discourage a cat from scratching upholstered furniture, give him a scratching post — 2 feet high and covered with carpet on a base large enough so that the cat won't tip it over. Use scrap plywood and boards for a do-it-yourself project.
Word of the Day
Hail
Hail falls mainly in the summer. It forms in thunderstorm clouds, which can extend high into the atmoshpere where extremely cold temperatures prevail. When a cloud releases rain, the rain can be forced upward, where it freezes into tiny ice pellets. If updrafts keep buffeting the pellets, layer upon layer of frozen water will be added to the pellets until, finally, hailstones are released.
Puzzle of the Day
What vegetables may be reduced to ashes merely by removing a part of them?
Squashes
Died
Armand-Jean du Plessis, Cardinal de Richelieu (French clergyman and statesman) – 1642
Frank Zappa (musician) – 1993
Besse Cooper (world's oldest person at time of her death) – 2012
Born
Thomas Carlyle (historian) – 1795
Deanna Durbin (actress) – 1921
Ed Flesh (designer of the wheel on the TV game show Wheel of Fortune"") – 1931
Roberta Lynn Bondar (astronaut) – 1945
Jeff Bridges (actor) – 1949
Marisa Tomei (actress) – 1964
Jay-Z (hip hop artist) – 1969
Events
At Fraunces Tavern in New York's lower Manhattan, George Washington bade farewell to his officers of the Continental Army, before traveling to Annapolis, Maryland, to resign his commission as commander-in-chief– 1783
National Grange of the Patrons of Husbandry founded– 1867
Boss Tweed escaped jail– 1875
Crew of shipwrecked tanker Kyzikes rescued, Kill Devil Hills, North Carolina– 1927
In its first aerial attack on Italy, the US bombs Naples– 1942
First television appearance of Marcel Marceau– 1955
Matisse's Le Bateau rehung after being upside down in art museum for 47 days, New York City– 1961
Weather
New Haven, Connecticut, received 20 inches of snow in the first of two major snowstorms that December– 1786
The temperature dropped from 52 degrees F to 18 degrees F in 20 minutes, Livingston, Montana– 1972
Central Park in NYC reached 72 degrees F– 1982
COURTESY www.almanac.com