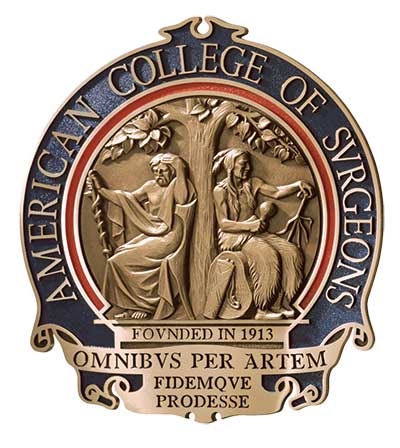 THEIR MISSION STATEMENT
We're dedicated to the betterment of our members and patients everywhere. Access an extensive library of educational resources and build stronger ties with surgeons locally and around the world.
TODAY'S ALMANAC
Question of the Day
What is the best way to deodorize my car?
Clean all the upholstery and carpeting with a mixture of vinegar and water. Sponge it in and blot with a towel. You can clean the remaining interior surfaces the same way.
Advice of the Day
To clean a steam iron, fill it with vinegar, let sit overnight, and flush with water.
Home Hint of the Day
To hammer in a small brad without hammering the fingers that hold it, poke the brad through the edge of a piece of cardboard, holding it while you tap the brad in most of the way. Then pull the cardboard free and pound the nail flush.
Word of the Day
Chin-wag
Light informal conversation for social occasions.
Puzzle of the Day
Why is a pair of skates like an apple?
Because they have both caused the fall of man.
Born
Franz Gruber (composer) – 1787
Andrew Carnegie (industrialist) – 1835
Georg Kaiser (dramatist) – 1878
Virgil Thomson (composer) – 1896
Helen Gahagan Douglas (politician) – 1900
Joe DiMaggio (baseball player) – 1914
John Larroquette (actor) – 1947
Amy Grant (singer) – 1960
John F. Kennedy, Jr. (son of President John F. Kennedy and First Lady Jacqueline Kennedy) – 1960
Christina Applegate (actress) – 1971
Barbara Pierce Bush and Jenna Welch Bush (fraternal twin daughters of President George W. Bush and First Lady Laura Bush) – 1981
Died
Upton Sinclair (writer) – 1968
Flip Wilson (actor & comedian) – 1998
Rance Howard (actor) – 2017
Events
First sword-swallower performance in the U.S.– 1817
First YMCA in North America opened, in Montreal, Quebec– 1851
Last log entry for Mary Celeste before crew disappeared – 1872
Greenback Party (originally, National Independent Party) organized– 1874
American College of Surgeons incorporated– 1912
Albert Einstein formulated his general theory of relativity– 1915
The first door to King Tut's tomb was opened– 1922
President John F. Kennedy was buried at 3:34 pm EST in Arlington National Cemetery– 1963
Robert S. Ledley granted a patent for CAT scan– 1975
Rene Levesque became premier of Quebec– 1976
U.S. chess champion John Donaldson wed Soviet champion Elena Akhmilovskaya– 1988
Ireland voted to legalize divorce– 1995
Weather
A tornado ripped through Portland, Arkansas– 1926
Steubenville, Ohio, received 36.3 inches of snow– 1950
West Virginia received 57 inches of snow– 1950
A blizzard hit the Appalachian states and nearby areas. Hartford, Connecticut, recorded gusts of 100 miles (160km) per hour.– 1950
Winds atop Mount Washington in New Hampshire were recorded at 160 miles per hour– 1950
COURTESY www.almanac.com