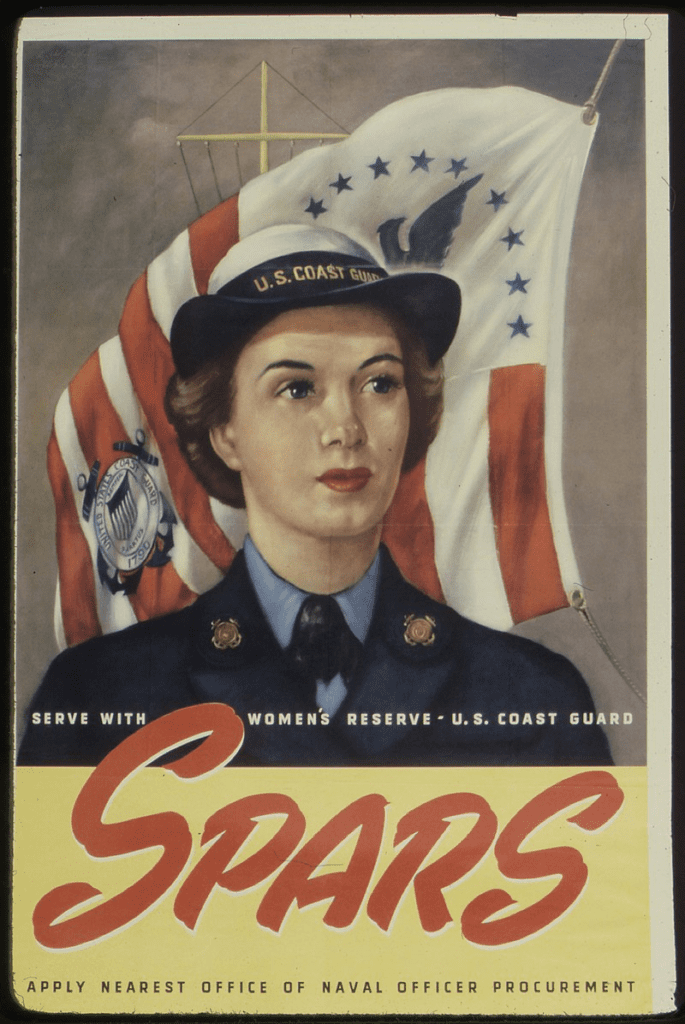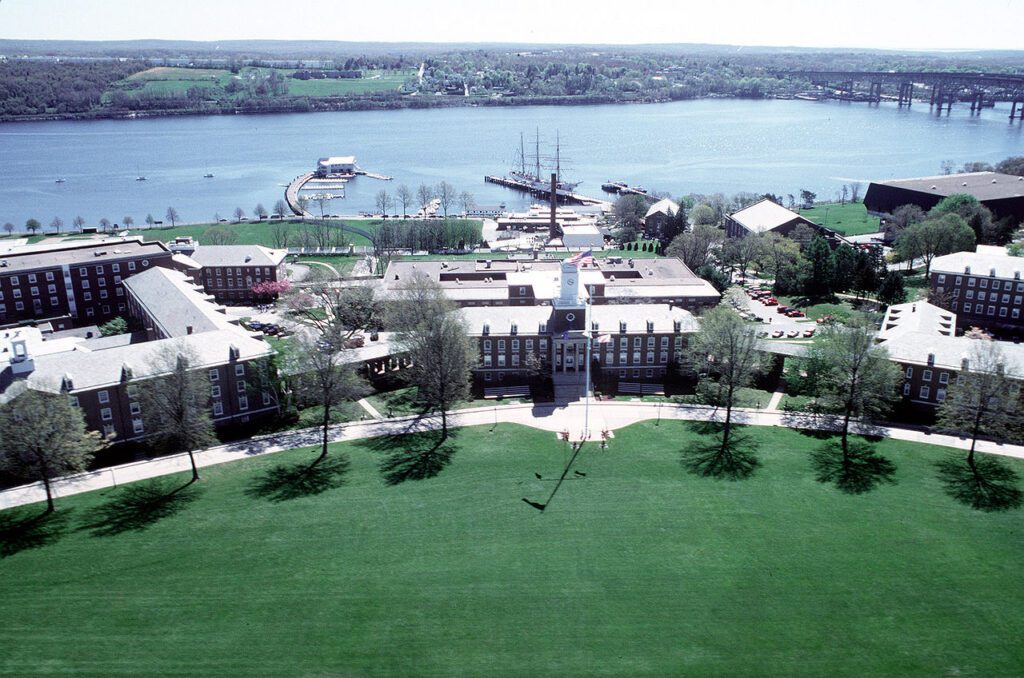 FROM WIKIPEDIA COMMONS
The United States Coast Guard (USCG) Women's Reserve, also known as the SPARS (SPARS was the acronym for "Semper Paratus—Always Ready"), was the women's branch of the United States Coast Guard Reserve. It was established by the United States Congress and signed into law by President Franklin D. Roosevelt on 23 November 1942. This law authorized the acceptance of women into the reserve as commissioned officers and at the enlisted level for the duration of World War II plus six months. Its purpose was to release officers and men for sea duty and to replace them with women at shore stations. Dorothy C. Stratton was appointed director of the SPARS with the rank of lieutenant commander and later promoted to captain.
The qualifying age for officer candidates was between 20 and 50, and they were required to have a college degree, or two years of college and two years of professional or business experience. For enlisted personnel, the qualifying age was between 20 and 36, and they were required to have completed at least two years of high school. Initially African American women were not recruited, however, late in the war five African American women were accepted and served as SPARS. Officer candidates received their indoctrination at Smith College, Northampton, Massachusetts and later at the USCG Academy, New London, Connecticut. Enlisted personnel first received their training on several college campuses. Later, their training took place at Palm Beach, Florida, in the Biltmore Hotel that was remodeled for use as a training center. Toward the end of the war, training of enlisted personnel was transferred from Palm Beach to Manhattan Beach, Brooklyn, New York.
Women of the SPARS served in every USCG district except Puerto Rico and also served in Hawaii and Alaska. Most officers were general duty officers, and most of the enlisted women performed clerical duties. The SPARS peak strength was approximately 11,000 officers and enlisted personnel. It was inactivated in 1947 but reestablished on a much smaller scale in 1949. Approximately 200 former SPARS reenlisted and served during the Korean War. The majority of them served at the Coast Guard Headquarters in Washington, D.C. In 1973 Congressional legislation ended the Women's Reserve (SPARS) and women were first officially integrated into the active-duty Coast Guard and the Coast Guard Reserve. Female reservists then serving on active duty were given the choice of enlisting in the regular Coast Guard or completing their reserve enlistments.
TODAY'S ALMANAC
Wednesday, November 23, 2022
Question of the Day
What was the first network to broadcast color television programming?
It was CBS, on June 25, 1951. The show, called Premiere, starred Ed Sullivan.
Advice of the Day
A handful of common sense is worth a bushel of learning.
Home Hint of the Day
Stains in a bathtub can be removed with household (5 percent) bleach. Lay several paper towels on top of the stain and soak them with bleach, leaving the towels in place for 45 minutes. Remove them and rinse. Repeat if necessary.
Word of the Day
Bollix
Make a mess of, destroy or ruin.
Puzzle of the Day
What is that which is full of holes and yet holds water?
A sponge
Born
Franklin Pierce (14th U.S. president) – 1804
Jose Clemente Orozco (painter) – 1883
Boris Karloff (actor) – 1887
Harpo Marx (comedian & actor) – 1888
Bruce Hornsby (musician) – 1954
Dominique Dunne (actress) – 1959
Robin Roberts (broadcast journalist) – 1960
Jonathan Papelbon (baseball player) – 1980
Miley Cyrus (actress & singer) – 1992
Jordan Fry (actor) – 1992
Died
Walter Reed (American pathologist) – 1902
Roald Dahl (author) – 1990
Roy Acuff (country music singer) – 1992
Larry Hagman (actor) – 2012
Events
Horseshoe manufacturing machine patented– 1835
The water level in Lake Merced in California dropped 30 feet– 1852
The Intercollegiate Football Association formed– 1876
The first jukebox was installed in the Palais Royale Saloon in San Francisco– 1889
The first issue of LIFE debuted– 1936
U.S. Coast Guard Women's Reserve (SPARs) authorized– 1942
Food rationing ended– 1945
Newsman Dan Rather announced he would step down in March as the anchor of the CBS Evening News after nearly a quarter-century in the job– 2004
Weather
Berlin, New Hampshire, received 55 inches of snow– 1943
-38 degrees Fahrenheit, Chinook, Montana– 1985
Yarmouth, Massachusetts, received 14 inches of snow– 1989
Strasburg, Connecticut, received 6.5 inches of snow– 1989
COURTESY www.almanac.com