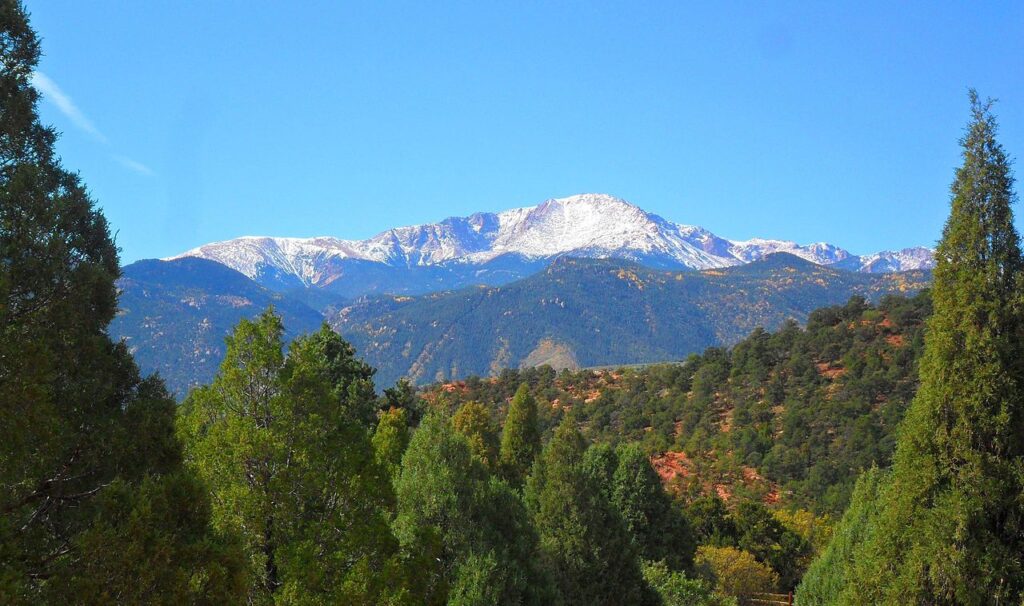 FROM WIKIPEDIA COMMONS
Pikes Peak is the highest summit of the southern Front Range of the Rocky Mountains, in North America. The ultra-prominent 14,115-foot (4,302.31 m) fourteener is located in Pike National Forest, 12 miles (19 km) west of downtown Colorado Springs, Colorado. The town of Manitou Springs lies at its base.
The mountain is named in honor of American explorer Zebulon Pike (though he was unable to reach the summit). The summit is higher than any point in the United States east of its longitude.
Zebulon Pike
Zebulon Montgomery Pike (January 5, 1779 – April 27, 1813) was an American brigadier general and explorer for whom Pikes Peak in Colorado was named. As a U.S. Army officer he led two expeditions under authority of President Thomas Jefferson through the Louisiana Purchase territory, first in 1805–1806 to reconnoiter the upper northern reaches of the Mississippi River, and then in 1806–1807 to explore the southwest to the fringes of the northern Spanish-colonial settlements of New Mexico and Texas. Pike's expeditions coincided with other Jeffersonian expeditions, including the Lewis and Clark Expedition and the Red River Expedition in 1806.
Pike's second expedition crossed the Rocky Mountains into what is now southern Colorado, which led to his capture by the Spanish colonial authorities near Santa Fe, who sent Pike and his men to Chihuahua (present-day Mexico) for interrogation. Later in 1807, Pike and some of his men were escorted by the Spanish through Texas and released near American territory in Louisiana.
In 1810, Pike published an account of his expeditions, a book so popular that it was translated into several languages for publication in Europe. He later achieved the rank of brigadier general in the American Army and served during the War of 1812, until he was killed during the Battle of York in April 1813, outside the British colonial capital of Upper Canada.
TODAY'S ALMANAC
Question of the Day
Can I get a chocolate drink stain out of a white T-shirt?
You can try scrubbing the area with a little ammonia, then washing the shirt as you normally would.
Advice of the Day
Save the water from cooking pasta. Let it cool, then use it to water houseplants.
Home Hint of the Day
To repair small defects such as old nail holes in the surface of a wall, place some spackling compound on a finger and force the filler into the hole. The spackling compound will harden, so you can paint over it.
Word of the Day
Stinkpot
An earthen jar charged with powder, grenades, and other materials of an offensive and suffocating smell, — sometimes used in boarding an enemy's vessel.
Puzzle of the Day
Why was the giant Goliath very much astonished when David hit him with a stone?
Because such a thing had never entered his head before.
Died
Johannes Kepler (astronomer) – 1630
Lionel Barrymore (actor) – 1954
Margaret Mead (author) – 1978
Born
Sir William Herschel (astronomer) – 1738
James O'Neill (actor) – 1849
Franklin Pierce Adams (newspaper columnist) – 1881
Felix Frankfurter (U.S. Supreme Court justice) – 1882
Georgia O'Keeffe (painter) – 1887
Marianne Moore (poet) – 1887
Joseph Wapner (judge & TV personality) – 1919
Ed Asner (actor) – 1929
Petula Clark (singer) – 1932
Sam Waterston (actor) – 1940
Kevin Eubanks (musician & The Tonight Show bandleader) – 1957
Helen Mersi Kelesi (tennis player) – 1969
Jonny Lee Miller (actor) – 1972
Zena Grey (actress) – 1988
Events
Pikes Peak first sighted by Zebulon M. Pike– 1806
First U.S. poultry show began, Boston, Massachusetts– 1849
First meeting of the Assembly of the League of Nations– 1920
Sadie Hawkins Day debuted in Al Capp's Li'l Abner comic strip– 1937
First gas-turbine electric locomotive in the United States was track-tested, Erie, Pennsylvania– 1948
Elvis Presley's first movie, Love Me Tender, premiered– 1956
A magnitude 8.1 earthquake struck Japan– 2006
Weather
Forty-five inches of snow fell on Watertown, New York, in 24 hours– 1900
Thirty-five tornadoes ripped through the Midwest– 2005
COURTESY www.almanac.com