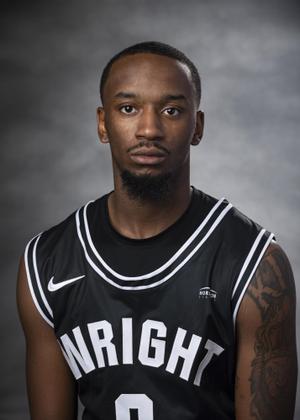 INDIANAPOLIS/DAYTON – The Wright State men's basketball team received 329 total votes and three first-place votes as the Raiders were selected third in the Horizon League preseason poll ahead of the 2022-23 season. Additionally, seniors Trey Calvin and Amari Davis were each named preseason second team selections.

Purdue Fort Wayne and Northern Kentucky each earned 394 total points to tie for first in the preseason poll, with the Mastodons notching 17 first-place votes to the Norse's 15. Each of the top six teams in the poll earned at least one first-place vote, with fourth-place Oakland and sixth-place Detroit Mercy each garnering two votes and fifth-place Youngstown State also receiving a vote.

Calvin appeared and started in 34 games for the Raiders last season, averaging 34.3 minutes per game, third-most on the roster. He averaged 14.6 points per contest, also third-highest on the roster, and was a 44.5 percent shooter from the floor while connecting at a 38.0 percent clip from three-point range and 85.1 percent from the free throw stripe. Calvin scored in double figures in 27 of his 34 games, including seven games with 20 or more points, and passed out multiple assists in 31 contests, including eight games with five-plus helpers. His game-winning jump shot in the Horizon League Championship sent the Raiders to the NCAA Tournament.

Davis played in 32 games with 13 starts at Missouri last season, averaging 9.0 points and 2.4 rebounds per game with a 42.5 percent shooting percentage while he led Mizzou with an 81.7 percent mark from the free throw line. A second-team 2020-21 All-Horizon League selection at Green Bay, Davis was the first player in Green Bay history to be named Horizon League Freshman of the Year in 2019-20 as he broke the Phoenix all-time freshman scoring record, surpassing current Virginia head coach Tony Bennett and finishing with 524 points. Davis averaged 17.1 points per game as a sophomore at Green Bay in 2020-21 following his 15.9 points per game average as a freshman.

Wright State's non-conference slate is highlighted by three new first-time opponents, including a season-opening contest against Davidson on November 9, and a matchup with in-state foe Bowling Green in addition to 10 home Horizon League games. Season tickets, individual game tickets and Once-a-Month Plans are on sale now through the Wright State Ticket Office.

The Raiders are coming off their second NCAA Tournament appearance in the last five seasons and have now won either a regular season or postseason championship in each of those five years. The Raiders won their fourth conference tournament title in program history last March with a 72-71 victory over NKU in the Horizon League Championship, going on to notch their first NCAA victory in program history with a 93-82 win over Bryant in the First Four on March 16 before meeting Arizona in the first round.
2022-23 #HLMBB Preseason Poll
Pl. Team – Pts. (First-place votes)
T1. Purdue Fort Wayne (17) – 394
T1. Northern Kentucky (15) – 394
3. Wright State (3) – 329
4. Oakland (2) – 321
5. Youngstown State (1) – 291
6. Detroit Mercy (2) – 268
7. Cleveland State – 188
8. RMU – 163
9. Milwaukee – 132
10. Green Bay – 111
11. IUPUI – 49

#HLMBB Preseason Player of the Year
Antoine Davis, Detroit Mercy

Preseason All-League First Team (alphabetical order by school)
Antoine Davis, Detroit Mercy
Marques Warrick, Northern Kentucky
Jalen Moore, Oakland
Jarred Godfrey, Purdue Fort Wayne
Dwayne Cohill, Youngstown State

Preseason All-League Second Team (alphabetical order by school)
Trevon Faulkner, Northern Kentucky
Sam Vinson, Northern Kentucky
Kahliel Spear, RMU
Trey Calvin, Wright State
Amari Davis, Wright State
COURTESY WRIGHT STATE ATHLETIC COMMUNICATIONS