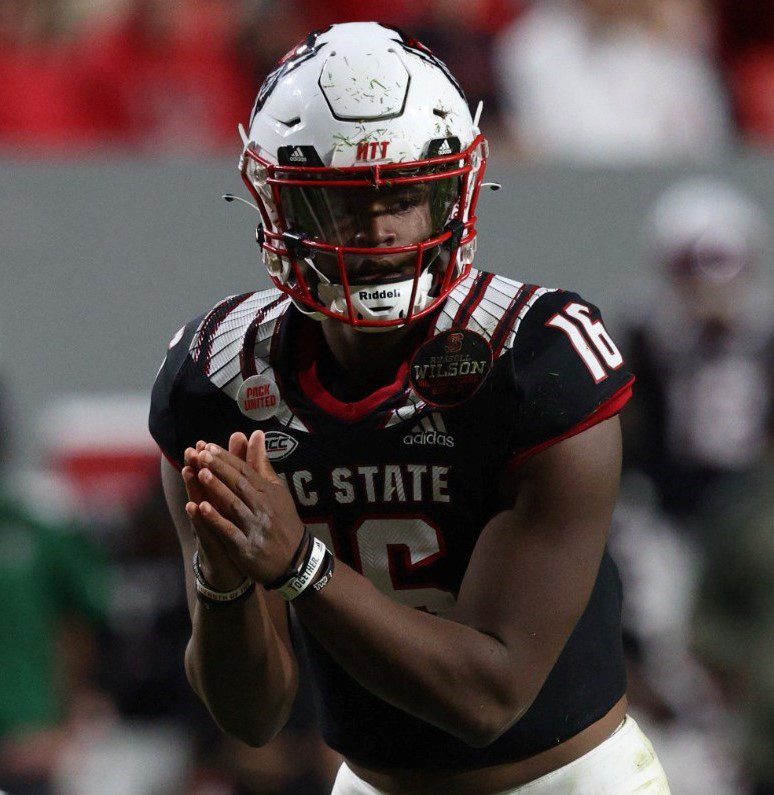 10/27/2022
NC State scored three touchdowns in a little over nine minutes in the comeback victory
RALEIGH, N.C. – In the tale of two halves, the Pack came back from a 21-3 deficit to top Virginia Tech, 22-21, in a Thursday night showdown at Carter-Finley Stadium. With the NC State's sixth win of the season, the Pack became bowl eligible for the third straight year.

Freshman quarterback MJ Morris was a game changer for the Wolfpack as he tallied three passing touchdowns and finished with 265 yards on the evening.

FIRST HALF (3-0)
Morris led the Pack quarterbacks with 52 yards in the first half after splitting play time with graduate Jack Chambers. With less than 90 seconds left in the half, Morris recorded back-to-back first downs to help get NC State in scoring position. On the eighth play of the Pack's final drive of the half, kicker Christopher Dunn put the Pack on the board first with a 35-yard field goal.

Linebacker Payton Wilson and defensive lineman Davin Vann led the Wolfpack in the first half with four tackles each.

SECOND HALF (22-21)
Virginia Tech scored a touchdown on the first possession of the second half to take the lead and then scored touchdowns on its next two offensive possessions to take a 21-3 lead midway through the third quarter. The Pack started the comeback when Morris found Thayer Thomas with 1:42 left in the quarter for a 35-yard touchdown. On the Pack's next drive, Morris found Trent Pennix in the end zone to trim the Hokies lead to five. Thomas completed the comeback with his second touchdown of the evening, taking a short pass from Morris and scampering 18 yards for the winning touchdown.

STAT LEADERS
QB MJ Morris
20-of-29 for 265 yards

RB Jordan Houston
9 rushes for 31 yards

WR Thayer Thomas
10 catches for 118 yards
10-of-13

LB Drake Thomas
8 tackles, 2 solo stops, 1 sack

LB Payton Wilson
7 tackles, 3 solo stops, 2 sacks
NOTABLES
– The Pack's 18-point comeback is the largest comeback for NC State since overcoming a 27-point (41-14) deficit to Maryland to win 56-41 on Nov. 26, 2011.
– The 18-point comeback is only the third second half comeback of 18 or more points in the FBS this season.
– NC State now has two second-half comebacks of at least 14 points this season. The Pack trailed Florida State 17-3 in the second half on Oct. 8 before coming back to win 19-17. NC State and Houston are the only two teams in college football to have multiple second half comebacks of at least 14 points this season.
– The win is NC State's 15th consecutive home victory. The 15 wins are the sixth-longest current streak in college football and the second-longest home win streak in NC State history. The Pack's longest win streak in Carter-Finley Stadium is 16 games set from 1972-1975.
– Trent Pennix records his first touchdown catch of the season in his first game back from injury (ECU). He finished with three catches for 25 yards and a touchdown.
– MJ Morris started the Pack's comeback with his first career touchdown pass and completed the comeback with his second and third. He finished 20-of-29 passing for 265 yards.
– Thayer Thomas scored the Pack's first touchdown of the game to start NC State's comeback and completed the comeback in the fourth quarter with his second touchdown reception. Thomas finished the game with 10 catches for 118 and two touchdowns.
– Freshman Terrell Timmons, Jr. had the first two receptions of his career on Thursday night, including a 43-yard grab in the fourth quarter to set up the Pack for 1st-and-goal.
– NC State finished with a season-high tying four sacks in Thursday night's win, including the first two on the season from Payton Wilson and first from Drake Thomas.
– Thursday's comeback victory marked the first win at home over Virginia Tech since Sept. 7, 1991, when NC State defeated the Hokies 7-0
– Thursday's comeback victory marked NC State's first win over Virginia Tech since Sept. 25, 2004, when the Wolfpack earned a 17-16 win in Blacksburg
– Christopher Dunn remained perfect on the season, converting his only field-goal attempt from 35 yards out. He is now 15-for-15 on field goals this season.
COURTESY N.C. STATE ATHLETIC COMMUNICATIONS