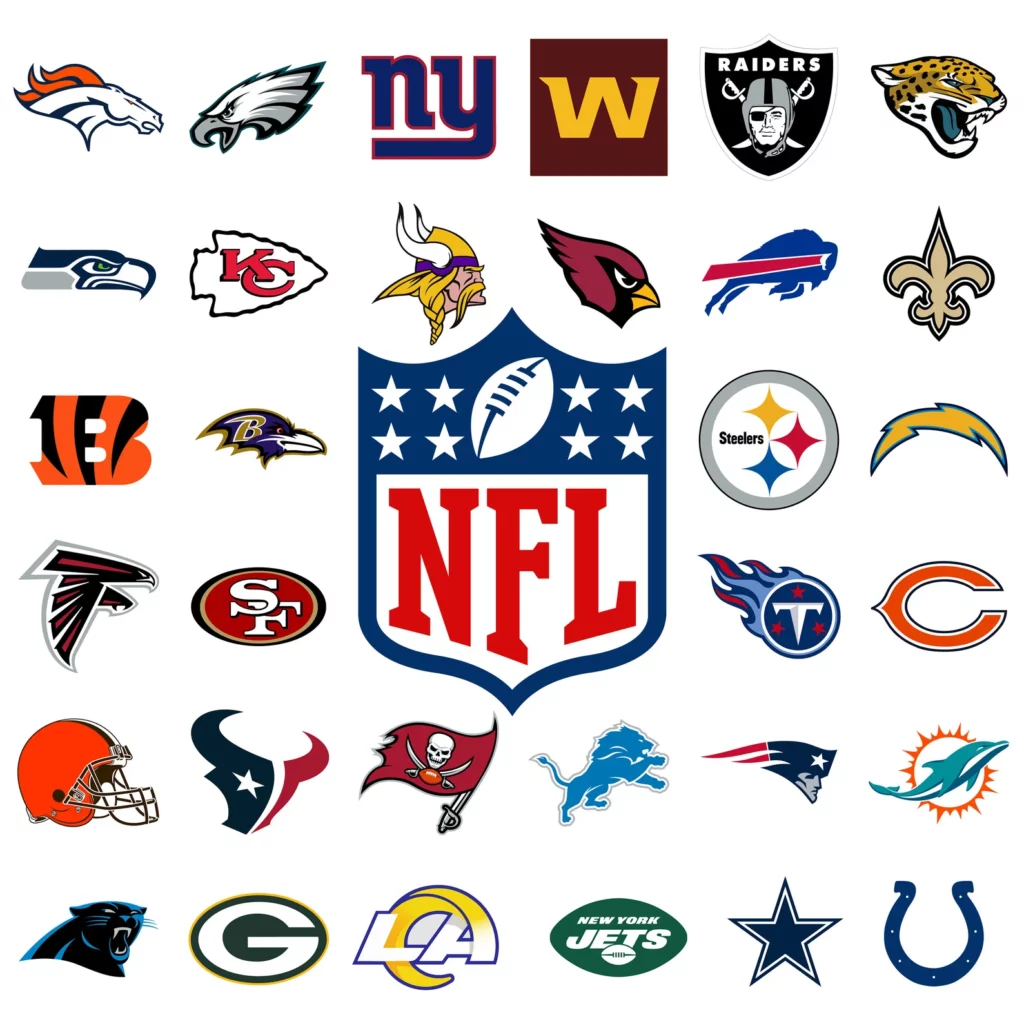 Something has to give.
The Week 6 schedule features two games involving teams with four-or-more wins, and all four clubs in those games are fresh off impressive victories.
BUFFALO (4-1) heads to KANSAS CITY (4-1) on Sunday (4:25 PM ET, CBS) in a rematch of their 2021 playoff game that many called the greatest in NFL history. In 2022, the Chiefs (31.8 points per game) and Bills (30.4) lead the league in scoring, while Buffalo's defense (12.2) is tied for the fewest points allowed per game.
Then, on Sunday Night Football (8:15 PM ET, NBC), DALLAS (4-1) visits PHILADELPHIA (5-0) in a battle for early season NFC East supremacy. The Eagles lead the NFL in turnover ratio (plus-nine) while the Cowboys (plus-five) are tied for second. Each club has just two giveaways, tied for fewest in the league.
This marks only the second time in the past 43 seasons (1980-2022) that multiple Week 6 games will pair teams with at least four wins. In Week 6 of the 2020 season, 4-1 Kansas City earned a 26-17 win at 4-1 Buffalo while 4-0 Pittsburgh recorded a 38-7 win over 4-1 Cleveland.
Also in focus on the Week 6 docket: One of the game's most hallowed records, familiar faces in former places and surprise teams making significant strides. So butter that popcorn and tune in for a weekend with storylines aplenty.
The Starting 11 entering Week 6…1. PAPA BEAR IN RANGE: The Patriots' BILL BELICHICK, who served as the Browns' head coach from 1991-95, has 323 combined regular-season and postseason wins. This week, he has an opportunity to tie Pro Football Hall of Famer GEORGE HALAS (324) for second on the league's all-time wins list when NEW ENGLAND (2-3) travels to play CLEVELAND (2-3) on Sunday (1:00 PM ET, CBS). In his 28th year as an NFL head coach, Belichick enters this week with a career 323-159 record (.670), including the postseason. Pro Football Hall of Famer DON SHULA (347) holds the all-time career wins record.

2. REUNION WEEKEND: JOE BURROW and JA'MARR CHASE return to Louisiana with the CINCINNATI BENGALS (2-3), who have a date with the NEW ORLEANS SAINTS (2-3) on Sunday (1:00 PM ET, CBS). The last time Burrow and Chase played at the Saints' home stadium, Jan. 13, 2020, they led LSU to a College Football Playoff national title in a 42-25 win over Clemson. Burrow passed for 463 yards and five touchdowns, two to Chase, who registered nine receptions for 221 yards. … Chase went to high school 10 minutes from the Saints' headquarters in Metairie, La., and also played in the dome as a sophomore in high school, when his Archbishop Rummel Raiders lost to CLYDE EDWARDS-HELAIRE and the Catholic Bears from Baton Rouge in their classification's 2015 state title game. … In addition to Belichick's return to Cleveland and the Burrow-Chase game in New Orleans, Week 6 features three other notable returns.
On Thursday Night Football (8:15 PM ET, Prime Video), Washington head coach RON RIVERA returns to Chicago, where he served as defensive coordinator (2004-06), played nine seasons (1984-92) and earned a Super Bowl XX ring with the 1985 Bears.
San Francisco head coach KYLE SHANAHAN makes his first trip to Atlanta on Sunday (1:00 PM ET, FOX) since he served as Falcons offensive coordinator from 2015-16.
ROBERT SALEH and MATT LAFLEUR meet as head coaches for the first time on Sunday when the Jets (3-2) play the Packers (3-2) at Lambeau Field (1:00 PM ET, FOX). Groomsmen at each other's weddings, they were also roommates while serving as assistants at Central Michigan from 2004-05. LaFleur's younger brother, MIKE LAFLEUR, is the Jets' offensive coordinator.
3. NUMBER OF THE WEEK – 3: The number of seasons since the 1970 league merger in which every NFL team had at least one win entering Week 6: 1990, 2018 and 2022.

4. SPOTLIGHT – INDIVIDUAL MATCHUPS: The NFL's 2022 leaders in touchdown passes, PATRICK MAHOMES (15) and JOSH ALLEN (14), meet on Sunday at GEHA Field at Arrowhead Stadium (4:25 PM ET, CBS). Buffalo's JORDAN POYER (four) leads the NFL in interceptions.
When MINNESOTA (4-1) has the ball at MIAMI (3-2) on Sunday (1:00 PM ET, FOX), look for a chess match between coordinators involving wide receiver JUSTIN JEFFERSON and cornerback XAVIEN HOWARD. Since the Vikings selected Jefferson in the first round (No. 22 overall) of the 2020 NFL Draft, he leads the NFL in receiving yards (3,563), including a league-leading 547 this season. Jefferson needs 601 more to surpass Pro Football Hall of Famer RANDY MOSS (4,163) for the most ever by a player over his first three NFL seasons. Also since Jefferson entered the league in 2020, Howard ranks tied for second in the NFL with 40 passes defensed and third with 15 interceptions.
5. SPOTLIGHT – TEAM MATCHUP: Strap in for BALTIMORE (3-2) at the NEW YORK GIANTS (4-1) on Sunday (1:00 PM ET, CBS), an interconference showdown featuring two of the most electrifying players from the first round of the 2018 NFL Draft. The Giants, off to their best start since opening 5-0 in 2009, have the league leader in scrimmage yards, SAQUON BARKLEY (676). The Ravens have the league leader in yards per rushing attempt, LAMAR JACKSON (7.6). … The Ravens are 2-0 in road games this year, and 19-7 (.731) overall in road games started by Jackson. The Giants are 4-1 in close games this season (each of New York's five games this season have been decided by eight points or less).
6. STREAK SPEAK: The NEW YORK JETS (3-2) put their unblemished road record on the line at GREEN BAY (3-2) on Sunday (1:00 PM ET, FOX). The Jets, who have 13- and 10-point comeback wins in the fourth quarters of their first two road games, aim to win each of their first three road games for the first time since 2010, their last playoff campaign. That year, the Jets won their first five road contests en route to the AFC Championship Game.
MIKE MCCARTHY can become one of three head coaches in Cowboys history to win four straight games over PHILADELPHIA (5-0) when the Eagles host DALLAS (4-1) on Sunday Night Football (8:20 PM ET, NBC). Only JASON GARRETT and Pro Football Hall of Famer TOM LANDRY have won four-or-more games in consecutive fashion over Philadelphia on a Cowboys sideline.
7. DID YOU KNOW?: Seattle quarterback GENO SMITH leads the NFL in both passer rating (113.2) and completion percentage (75.2). Smith's completion percentage is the fourth-best mark all-time for a player through his team's first five games of a season (minimum 100 attempts). Only DREW BREES in 2018 (77.9 percent), ALEX SMITH in 2017 (76.6) and Pro Football Hall of Famer PEYTON MANNING in 2013 (75.8) had higher completion percentages. Earlier this month, the Seahawks' signal-caller won his second career Offensive Player of the Week award, nine years after his first (in Week 5 of the 2013 season). Smith and SEATTLE (2-3) host ARIZONA (2-3) on Sunday at Lumen Field (4:05 PM ET, FOX).

8. UNDER-THE-RADAR STORYLINE: Five years ago this season, both KENNY PICKETT and TOM BRADY secured significant victories on the same field in Pittsburgh. As a true freshman, Pickett made his first collegiate start in Pitt's season finale and led the Panthers to a 24-14 victory over the No. 2-ranked Miami Hurricanes. Three weeks later, on the path to a berth in Super Bowl LII, Brady guided New England to 11 points in the final four minutes, including a two-point conversion to ROB GRONKOWSKI, to give the Patriots a 27-24 win over the Steelers and clinch the AFC East. The two quarterbacks return to Acrisure Stadium when TAMPA BAY (3-2) meets PITTSBURGH (1-4) on Sunday (1:00 PM ET, FOX).

9. TREND TIME: The last three Super Bowl champions – the 2019 KANSAS CITY CHIEFS (5-0), 2020 TAMPA BAY BUCCANEERS (4-0) and 2021 LOS ANGELES RAMS (5-2) – were a combined 14-2 (.875) over the balance of their seasons after their respective byes. Byes begin this week and run through Week 14. All 16 teams will be in action during Week 12, the week of Thanksgiving.

10. THIS MONTH IN NFL HISTORY: Oct. 5, 1992 (30 years ago) – The last time DALLAS and PHILADELPHIA met within the first six weeks of a season with each team having at least three wins. On that day, the Eagles' defense records four sacks and three interceptions in a 31-7 win as Philadelphia improves to 4-0. After the loss, Dallas rebounds to win 13 of its next 15 games to secure a Super Bowl XXVII title.

11. AND LAST BUT NOT LEAST: The NFC East boasts three teams at 4-1 or better. PHILADELPHIA (5-0) has the NFL's only undefeated record, including a 3-0 mark on the road. DALLAS (4-1) has won four straight, including victories over each of the 2021 Super Bowl teams. And the NEW YORK GIANTS (4-1) own road wins over each of the No. 1 seeds in the 2021 playoffs, Tennessee and Green Bay.
The NFC East is just the fourth division since the NFL realigned in 2002 with three teams earning at least four wins through a season's first five weeks. It also happened in 2002 (AFC West), 2008 (NFC East) and 2020 (AFC North).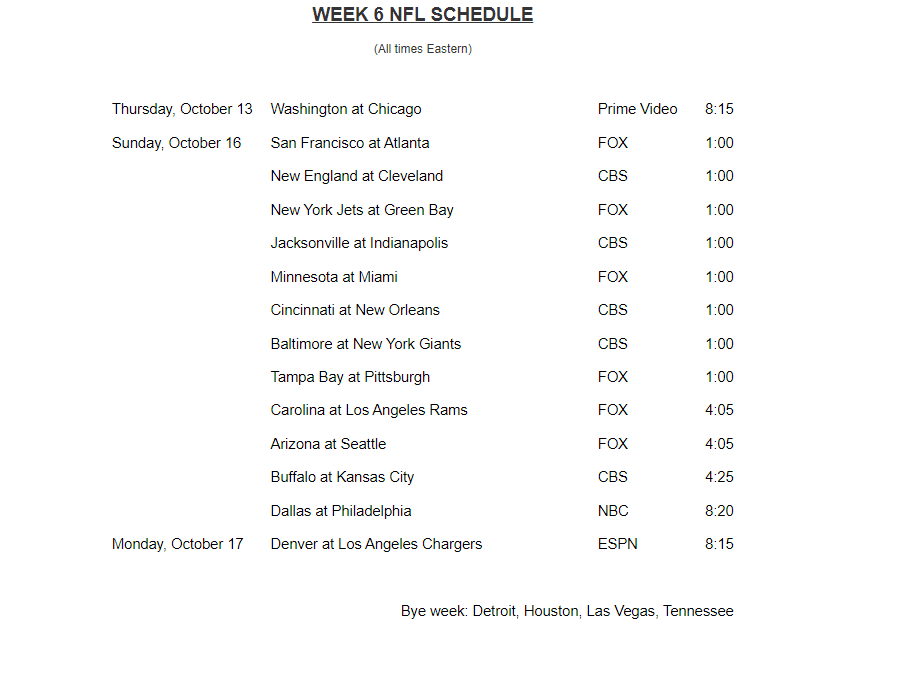 COURTESY NFLmedia.com