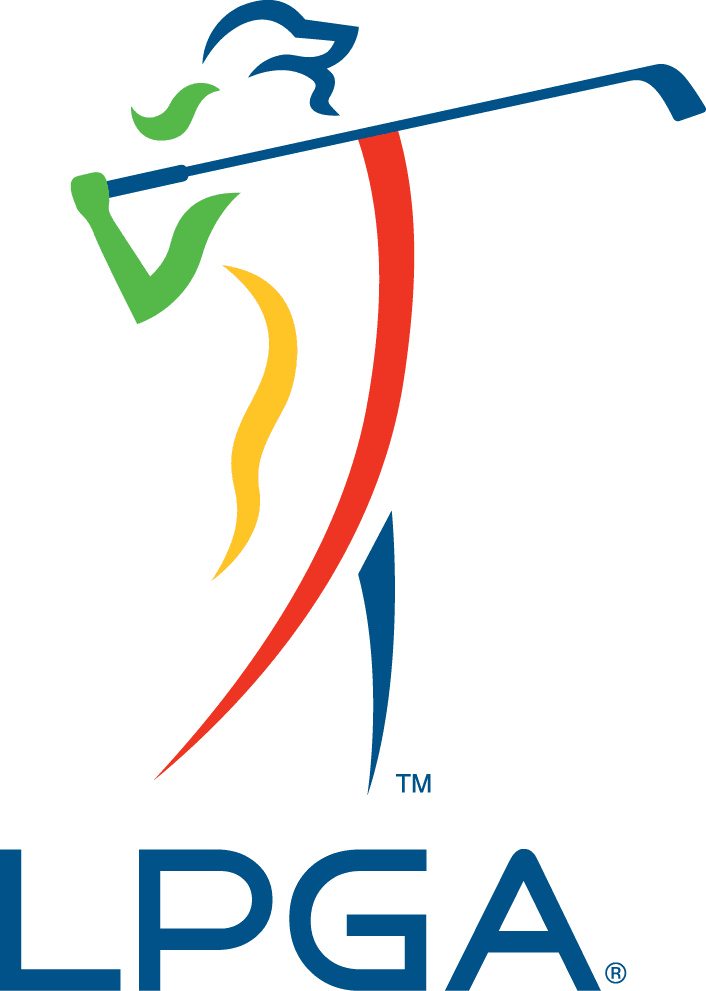 Walmart NW Arkansas Championship presented by P&G
Pinnacle Country Club | Rogers, Arkansas | Sept. 23-25, 2022
Final-Round Notes
Sept. 25, 2022
Course Setup: 36-35—71; 6,210 yards (Scoring Average: R1: 69.764; R2: 68.768; R3: 69.869)
Weather: Sunny and dry all day with northerly breezes gusting up to 22 mph and high temperatures near the 80s in the afternoon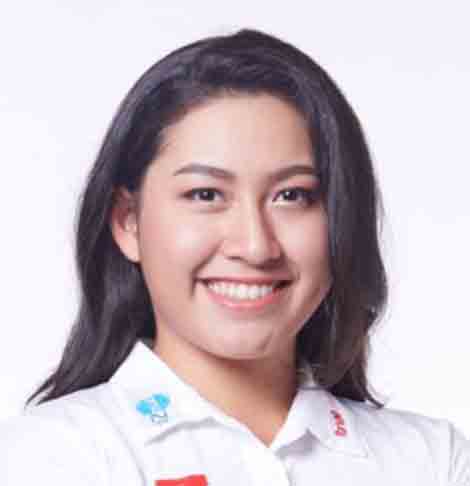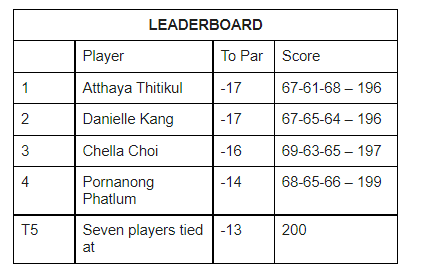 ATTHAYA THITIKUL DEFEATS KANG IN PLAYOFF TO TAKE HOME SECOND LPGA TOUR TITLE
When Danielle Kang's pitch shot from the rough found the bottom of the cup on the par-5 18th for a closing eagle, and when the roar from the crowd went up, LPGA Tour rookie Atthaya Thitikul didn't know who caused all the commotion. Kang's hole out helped her to her third bogey-free round at Pinnacle Country Club, a 7-under 64 that gave her the clubhouse lead at -17. After draining a lengthy birdie putt on the par-3 17th to tie Kang, Thitikul came to the final hole needing another one to drop to give her the win. Her putt just slid by. It'd be rookie vs. veteran in the playoff for the Walmart NW Arkansas Championship presented by P&G title.
The pair matched pars on the 15th, a short par-3 that was extra tricky as the afternoon winds picked up. Both found the fairway off the tee on No. 16 and both had looks for birdie – Kang just off the back in the fringe and Atthaya from just about fifteen feet. Kang's putt raced by, leaving the six-time LPGA Tour winner with a knee-knocker for par, giving the advantage to Thitikul. With the poise of a player well beyond her years, the 19-year-old's birdie try toppled into the heart of the cup, a triumphant exclamation point on a stellar week of golf in Rogers, Ark.
"Actually, for the playoff first hole I hit a really good shot as well, but the wind pick it up a little bit. Just make two-putt, not that much," said Thitikul. "But on the second hole that we played I had a chance to make a birdie, because like it's not that far. And then in my mind I tell myself just do your best, even it's not going in or whatever. Just do the best you can. Actually didn't think about anything at all. Just look at the line, get the speed right, and pretty much that's it."
Thitikul became a Rolex First-Time Winner earlier this season at the JTBC Classic presented by Barbasol, and with today's victory, she becomes the fourth player from Thailand to have multiple wins on the LPGA Tour, joining Ariya Jutanugarn (12), Jasmine Suwannapura (2) and Moriya Jutanugarn (2). She's also now the fourth player with multiple wins this season alongside Jennifer Kupcho (3), Minjee Lee (2) and Brooke Henderson (2) and is the second teenager ever to win two playoffs in the same season alongside 17-time LPGA Tour winner Lydia Ko (2015). Although she already has two Tour titles under her belt, Thitikul has no plans to step off the gas pedal with just a few events left this season and felt like she really proved herself on Sunday in Northwest Arkansas.
"I have to say that I really want to win. When I go out and play every event, I think every player wants to win the tournaments," said Thitikul. "It means a lot to me as well to get my second win, because it seems like you prove that you can do it, even you're not like three or four group before the final group. But I'm in the final group, and then just prove myself that, yeah, you can do it. Even if you have pressure on yourself, and it means a lot to me and to my team as well, because they know that I can do it, like many times. But, here it's second win. It's really special for me."
Although she wasn't the one hoisting the trophy at the end of the day, Kang was still incredibly proud of her effort on Sunday and took a lot of pride in what she was able to accomplish this week in Arkansas. She was bogey-free for 54 holes and the solo second is her best result since the Gainbridge LPGA at Boca Rio, as well as her best finish since her return to competitive golf in August after undergoing treatment for a tumor on her spine. It's been a tough road for the 29-year-old this season and today's finish is a sign that her game is trending in the right direction, especially important as she looks ahead to the last few events of 2022.
"I kept telling my caddie that I just wanted to finish at 17 under. On the last hole, I miss-hit the 5-wood a little bit and we didn't want to be long. As we walked up I said, 'I really want to make an eagle. I'll chip that in.' He was like, 'You can chip that in easy.' We chipped it in," said Kang. "This place is really special for me. It's the first time as a pro I ever played. I have a family here for 13 years. This is the last domestic tournament that my dad ever watched. There is a lot riding on this event, but with that going on, the way my team had built me into coming here is where I get emotional and so thankful."
Korean Chella Choi backed up her second-round, 8-under 63 with a 6-under, 65 that was good enough to finish solo third at -16, her best result of the 2022 season. Thai veteran Pornanong Phatlum, who gave it everything she had with a 6-under 65, came in fourth, just two shots back of Choi. She collected her first top 10 of the year and first top five since the 2018 AIG Women's Open. "I'm so proud of myself," Phatlum said. "I try hard on (mentally) and (physically), too, and it's worked very good right now and I tried to keep focus on what I have to do."
Seven players round out the top 10 in a tie for fifth at -13, including 2016 Walmart NW Arkansas Championship winner Ko, 2022 Dow Great Lakes Bay Invitational champion Lizette Salas and Frenchwoman Celine Boutier. University of Arkansas alums Gaby Lopez and Alana Uriell finished T64 and T69, respectively.
KANG CELEBRATES PERFORMANCE AT NW ARKANSAS CHAMPIONSHIP
After shooting a season-best 64 in the final round of the Walmart NW Arkansas Championship presented by P&G, Danielle Kang lost on the second hole of a sudden-death playoff with Atthaya Thitikul. But when she walked off the course, Kang wasn't upset. Instead, she cried tears of joy and felt nothing but gratitude.
"I'm just so happy for my team that somehow got me back playing this year," Kang told Golf Channel. "There was part of me that I didn't think I would ever play again or contend, but here I am. I'm not that far off and I'm happy about that."
The Walmart NW Arkansas Championship was just her third event since June, when she stepped away from the tour to undergo treatment for what she described as a tumor on her spine. Kang credits her team with getting her back on the range and back in contention.
"I was very private about what I went through and how the treatments were and all that," Kang said. "If I live through it in my head, I don't know how I got through it other than the fact that people around me helped me get through it.
"I didn't persevere, people around me did. I'm just so thankful for that."
For more, please visit https://www.lpga.com/news/2022/kang-celebrates-performance-at-walmart-nw-arkansas-championship
CHELLA CHOI SHOOTS BEST SCORE OF SEASON, EARNS BEST RESULT AT FAVORITE COURSE ON TOUR
Following her third round at the Walmart NW Arkansas Championship presented by P&G, Chella Choi left Pinnacle Country Club "just happy, very happy," having earned her best result of the 2022 season and her best finish at her favorite event on the LPGA Tour. Choi's chase for her solo third-place finish didn't start on Sunday morning however, but rather on her final hole during Saturday's second round.
"I really want to make a birdie last hole, because if I make a birdie, it's my best score this year, so I really focus on my game," Choi said after shooting her season-best round of 63. "But I little miss my second shot. Third shot I have chance for birdie putt, like 39 feet. I made it."
After an average, 2-under, 69 opening round on Friday, Choi carded nine birdies on Saturday to put herself in a tie for fourth place alongside eight others. She set herself apart from the crowd on championship Sunday with eight more, ranking No. 1 in the field for birdies with a total of 20. Going into the final round just four strokes behind the leader, Choi drew confidence from her stellar second round, which was the second-lowest round this week after Atthaya Thitikul's tournament record-tying 10-under, 61. "After play yesterday I have confidence, so I starting first hole I trying to make a birdie," she said. "And I follow leading player, so I made a lot of birdie and I play really well today, so I'm happy."
The secret to Choi's success this week is her love for the course at Pinnacle Country Club, she said. The 14-year Tour veteran has played in the Walmart NW Arkansas Championship 14 times, only missing the event in 2021, and has recorded five top-10 finishes. Her previous best finish at the event was a tie for sixth that came in 2014. Playing at a course that suits her game is what brings the Korean golfer back every year.
"My favorite golf course here because my driving is not too far, but course is very narrow, so I trying to focus on keep fairway and keep the green. I have a lot of chance out there, so a lot of made of birdie," said Choi, who hit 32 of 39 fairways and 46 of 54 greens through three days of play. "It's very exciting. I have a lot of good memory here, four, five time top 10."
PLAYER NOTES
Rolex Rankings No. 5 Atthaya Thitikul (1, 67-61-68)
She hit 10 of 13 fairways and 16 of 18 greens with 31 putts in the third round
Thitikul becomes the fourth player with multiple victories during the 2022 season, joining Jennifer Kupcho (3), Minjee Lee (2) and Brooke Henderson (2)
Thitikul is the fourth player from Thailand to earn multiple wins on the LPGA Tour, alongside Ariya Jutanugarn (12), Moriya Jutanugarn (2) and Jasmine Suwannapura (2)
She is the first player since Sung Hyun Park (2017) to card multiple wins during her rookie year
She is the second teenager in LPGA history to win 2 playoffs in the same season (Lydia Ko in 2015)
Her 54-hole score of 196 is a career-low; her previous best was a 199 at the 2021 Honda LPGA Thailand
Thitikul's second-round 61 is her career-low 18-hole score on the LPGA Tour; her previous low score was a 63, which she shot during the fourth round at the 2022 Cognizant Founders Cup
Thitikul became the third Rolex First-Time Winner of 2022 with her win at JTBC Classic presented by Barbasol; she followed Leona Maguire (LPGA Drive On Championship) and Nanna Koerstz Madsen (Honda LPGA Thailand)
At 19 years and 25 days, Thitikul was the youngest winner on the LPGA Tour since Brooke Henderson won the 2016 AmazingCre Portland Classic at 18 years, 9 months and 23 days
The last 19-year-old before Thitikul to win on Tour was Yuka Saso at the 2021 U.S. Women's Open presented by ProMedica (19 years, 11 months, 21 days)
In 2021, Thitkul won the Race to Costa del Sol, Rookie of the Year, and Player of the Year honors; she joined Dame Laura Davies, Carlota Ciganda and Esther Henseleit as the only players to win the Race to Costa del Sol and Rookie of the Year in the same year
SOCIAL MEDIA: #DRIVEON
Tournament: @NWAChampionship (Twitter, Instagram & Facebook); #NWAChampionship
LPGA Tour: @LPGA and @LPGAMedia (Twitter), @lpga_tour (Instagram)
TOURNAMENT SCORING RECORDS
18 holes: 61; So Yeon Ryu, second round, 2017; Atthaya Thitikul, second round, 2022
36 holes: 126; So Yeon Ryu, 2017; Anna Nordqvist, 2020
54 holes: 192; Nasa Hataoka, 2018
COURTESY LPGA TOUR COMMUNICATIONS