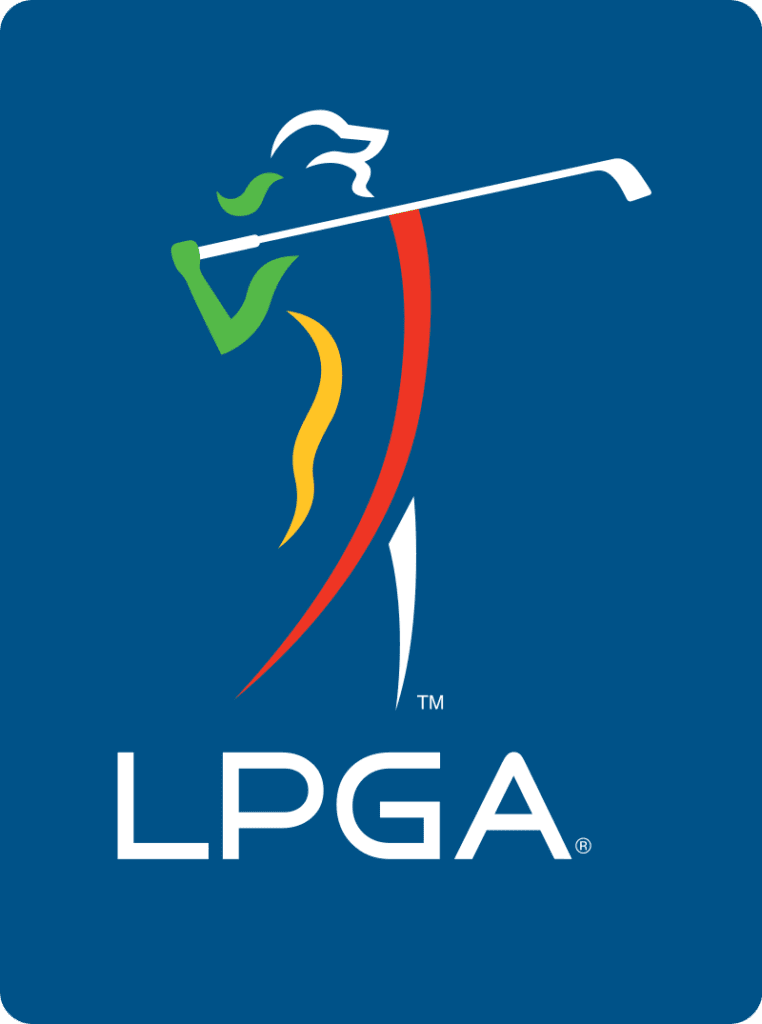 Walmart NW Arkansas Championship presented by P&G
Pinnacle Country Club | Rogers, Arkansas | Sept. 23-25, 2022
Wednesday Pre-Tournament Notes
Sept. 21, 2022
LPGA TOUR RETURNS TO ARKANSAS FOR 16TH PLAYING OF WALMART NW ARKANSAS CHAMPIONSHIP PRESENTED BY P&G
The LPGA Tour returns to Rogers, Ark. this week for the 16th edition of the Walmart NW Arkansas Championship presented by P&G at Pinnacle Country Club. Six of the fifteen previous winners of the event are in the field, including United States Solheim Cup captain Stacy Lewis,Rolex Women's World Golf Rankings No. 4 Lydia Ko and defending champion Nasa Hataoka, who won the 2021 edition of the tournament over 2009 U.S. Women's Open champion Eun-Hee Ji and two-time major winner Minjee Lee.
In addition to Lee, Ko and Hataoka, three other members of the Rolex Rankings top 10 are set to compete for a purse of $2.3 million: world No. 2 Nelly Korda, 2022 LPGA rookie Atthaya Thitikul and 11-time LPGA Tour winner Lexi Thompson. Along with Lewis, five additional University of Arkansas Razorbacks are in the field, most notably Mexico natives Maria Fassi and Gaby Lopez as well as LPGA Tour rookie Brooke Matthews, who is teeing it up as a sponsors invitation. Seventeen 2022 Tour winners are also in the field, including last week's AmazingCre Portland Classic champion Andrea Lee, Chevron Championship winner Jennifer Kupcho and AIG Women's Open champion Ashleigh Buhai.
WHAT YOU NEED TO KNOW ABOUT THE WALMART NW ARKANSAS CHAMPIONSHIP PRESENTED BY P&G
This is the 16th edition of the Walmart NW Arkansas Championship presented by P&G; Pinnacle Country Club has hosted the tournament since its inception in 2007.
The inaugural tournament in 2007, won by then-amateur and Razorback senior Stacy Lewis, is not official as it was reduced to 18 holes due to rain delays
There are six University of Arkansas Razorbacks in the 2022 field – five graduates (Lewis, Maria Fassi, Gaby Lopez, Brooke Matthews and Alana Uriell) and one current student (Kajal Mistry (a))
There are six past champions in the field including Nasa Hataoka (2021, 2018), Sung Hyun Park (2019), So Yeon Ryu (2017), Lydia Ko (2016), Na Yeon Choi (2015) and Lewis (2014, 2007)
Seventeen of the 22 winners from the 2022 LPGA Tour season are competing in Rogers, Ark.
Matthews and Mistry, along with Lilly Thomas (a), are this year's sponsor invites
Two-time champion Nasa Hataoka holds the 54-hole scoring record (192) from her 2018 victory
KROGER QUEEN CITY CHAMPION ALLY EWING CONTINUES LOOKING FORWARD TO FINAL STRETCH OF SEASON
After taking a week off to celebrate, Ally Ewing will return to the LPGA Tour as a 2022 champion. The 29-year-old, who took home her third Tour victory at the Kroger Queen City Championship presented by P&G two weeks ago, will tee it up at Pinnacle Country Club this week for the Walmart NW Arkansas Championship presented by P&G. Though Ewing has now earned at least one victory in the last three years, her win in Cincinnati, Ohio was especially sweet because she "persevered through a really tough year" to achieve it. In fact, she attributes part of her victory to a sound piece of advice she heard in Bible study before her winning week in the Queen City.
"It was 'you can't plow a field looking backwards,' and that was just something that really resonated with me to apply to my golf game," Ewing said. "It's like you can't look back on what's happened in the beginning of the season, middle of season. All we can do is look ahead to plow the best field we can. That led to a really good week."
As the final stretch of the 2022 season approaches, Ewing will continue to plow forward while focusing on maintaining her mental and physical strength. The seven-year LPGA veteran recognizes the end of the year can be a challenging time, especially with 17 starts behind her, 12 of which saw her make the cut. With six events left on the LPGA Tour calendar following this week, the Mississippi native is looking to conserve her energy in order to keep up her solid recent form.
"I think this time of year everyone is just kind of doing what they need to do to stay in form. I feel like I can trust in my ball striking, I can trust in my form and my game. It's just managing that strategy," said Ewing, who currently leads the Tour in greens in regulation (77.8%). "When I show up to the golf course, I have I guess a checklist of what I want to accomplish. If it takes me an hour, then that's fine. I feel like this time of year in previous years, I might be a little bit more worn down than I am. So I'm happy with how I feel."
This will be Ewing's sixth appearance in the Walmart NW Arkansas Championship. She earned her best finish, a T3 result, in 2018 alongside Lexi Thompson, Minjee Lee and three others. The Mississippi State alum loves returning to Rogers, Ark. every year for several reasons including the "pure golf course," the tournament's proximity to home and, of course, the abundance of Bulldog fans that can be found in SEC country.
"Being here in Arkansas this week is really exciting, somewhere near home. A lot of SEC fans around here. Bump into more Mississippi State fans than a usual tournament," Ewing said. "Really good crowds, a lot of support. Kind of you have to get ready for a lot of the 'woo pig sooie.' It's a great atmosphere. Great to see people come support obviously the Razorbacks, but women's golf with the LPGA."
PORTLAND WINNER ANDREA LEE NOT RESTING ON LAURELS AFTER CAPTURING FIRST LPGA TOUR TITLE
A few days later, she still can't believe it. On Sunday at the AmazingCre Portland Classic, Andrea Lee finally broke through on the LPGA Tour, defeating Ecuadorian Daniela Darquea by a single shot to become the ninth Rolex First-Time Winner of the 2022 season. Lee, who captured her first professional victory on the Epson Tour in March at the Casino Del Sol Golf Classic, had come oh-so-close a few times this year – she's carded three additional top-five finishes – and was relieved to get the job done in Oregon.
"I still can't really believe it. I think it's still sinking in. But it was definitely one of my goals this year in the latter half of the season, and to have accomplished that, it's just so special and means so much to me," said the Stanford alum. "Everything clicked together and I stayed super patient, especially the final round after being 2-over through three holes. Told myself to keep going, and no matter what happens, it's another great opportunity to be in contention and another great experience. But luckily it went my way."
Coming to the Walmart NW Arkansas Championship presented by P&G with a title finally on her resume, Lee is feeling free and confident in her game as she looks ahead to the challenge of Pinnacle Country Club, and for good reason. She currently is ranked fifth in driving accuracy (84.59%), 12th in both putts per green in regulation (1.76) and rounds under par (33) and 13th in putting average (29.32). Lee is also well inside the top-60 cutoff for the CME Group Tour Championship, jumping from 41st to 18th in the season-long standings, and although the Solheim Cup is exactly one year away, she's looking to make the team for next year's competition in Spain, a goal she's well on her way to achieving considering she's currently fifth in the standings.
"It would be the biggest honor to represent the USA at the highest level on the Solheim Cup team. I've played Junior Ryder Cups, Junior Solheim Cups, the Curtis Cup, and every time it's such a special experience being able to represent your country," said Lee, whose Curtis Cup record is 3-3. "It would mean so much to play under Stacy. I've looked up to her ever since I was a junior golfer. She was No. 1 in the world and she's had her battles with scoliosis and she's just such a fighter. It would just mean so much to be able to have her as my captain on the Solheim Cup team. So hopefully that will happen."
But Lee isn't getting too far ahead of herself. With only six events left after the week in Arkansas, she's locked in on her goals for the rest of the 2022 season, putting an emphasis on staying patient and managing her energy. Lee is also as focused as ever as she looks to finally play well at Pinnacle Country Club, a venue that's given her fits in her previous two appearances.
"Don't have the best track record to be honest here, but hopefully that will change this week. It's definitely a birdie barrage out there. The winner always shoots at least 16, 17-under for three days, which is pretty crazy. So it feels like far more of a sprint this week than a marathon, which is usually what it is," said Lee, who finished T74 at this event in 2021 and missed the cut in 2020. "Another win or two would be really nice to cap off the season, but I'm not going to get too greedy. I have a lot of goals, especially for next year, but for this year, having a solid end to the season basically is what would be nice."
RACE TO CME GLOBE UPDATE
The 2022 season-long Race to the CME Globe continues through the Walmart NW Arkansas Championship presented by P&G. With two victories at the Cognizant Founders Cup and the U.S. Women's Open presented by ProMedica, as well as four additional top-five finishes, including a tie for second at the KPMG Women's PGA Championship, Australian Minjee Lee (2,509.703) leads the way in the standings. Canadian Brooke Henderson (2,472.791), who also has won twice this season at the ShopRite LPGA Classic presented by Acer and Amundi Evian Championship, currently trails just behind in solo second.
Seventeen-time LPGA Tour winner Lydia Ko (2,215.550) sits in third with Chevron champion Jennifer Kupcho (2,035.050) in fourth and LPGA Tour rookie Hye-Jin Choi (1,832.532) rounding out the top five. With her win last week at the AmazingCre Portland Classic, Andrea Lee (1,170.721) made a big move in the standings, jumping from 41st to 18th, as did Epson Tour winner Daniela Darquea, who went from 107th to 59th after finishing solo second in Oregon, her career-best LPGA Tour finish.
The Race to the CME Globe is a season-long points competition with LPGA Tour Members accumulating points in every official LPGA tournament to qualify for the season-ending tournament, the CME Group Tour Championship. The player who wins the CME Group Tour Championship is named the "Race to the CME Globe Champion."
Beginning in 2019, players started earning points at each official LPGA Tour event throughout the season leading up to the CME Group Tour Championship. The top-60 points earners and ties then earn a spot in the CME Group Tour Championship with the entire field competing for a $7 million purse highlighted by a $2 million winner's check, the largest single prize in the history of women's golf.
AON RISK REWARD CHALLENGE – PAR-5 14TH AT PINNACLE COUNTRY CLUB
The par-5, 14th hole at Pinnacle Country Club requires better decision-making based on the tee selection. From the back tees, the Aon Insight tells us that the green is virtually unreachable in two, with less than 1% of the field making the attempt in 2021.
Players' strategy on their approach shots should change significantly from the front tees, with 40% of last year's field going for the green in two, resulting in the hole's scoring average being almost half a stroke lower. In the final round of the 2021 Walmart NW Arkansas Championship presented by P&G, players who finished T19 or better collectively played the 14th hole in 13 under.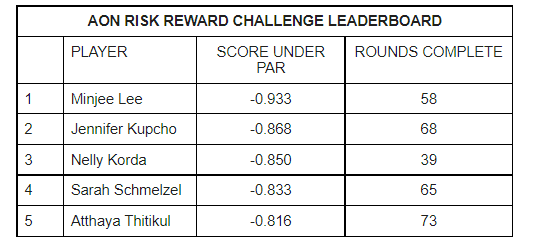 For more information on the Aon Risk Reward Challenge hole and the season-long competition, please visit https://www.lpga.com/statistics/aon-risk-reward-challenge/aon-risk-reward-challenge.
SOCIAL MEDIA: #DRIVEON
Tournament: @NWAChampionship (Twitter, Instagram & Facebook); #NWAChampionship
LPGA Tour: @LPGA and @LPGAMedia (Twitter), @lpga_tour (Instagram)
TV TIMES (all times Eastern on Golf Channel)
Friday, September 23 – 8 p.m. – 10 p.m.*
Saturday, September 24 – 12 p.m. – 3 p.m.
Sunday, September 25 – 12 p.m. – 3 p.m.
*tape delay
STREAMING TIMES (NBCSports.com, GolfChannel.com and NBC Sports App)
Friday, September 23 – 11:30 a.m. – 2:30 p.m.
Saturday, September 24 – 12 p.m. – 3 p.m.
Sunday, September 25 – 12 p.m. – 3 p.m.
TOURNAMENT SCORING RECORDS
18 holes: 61 (-10); So Yeon Ryu, second round, 2017
36 holes: 126; So Yeon Ryu (2017) and Anna Nordqvist (2020)
54 holes: 192; Nasa Hataoka, 2018
COURTESY LPGA TOUR COMMUNICATIONS