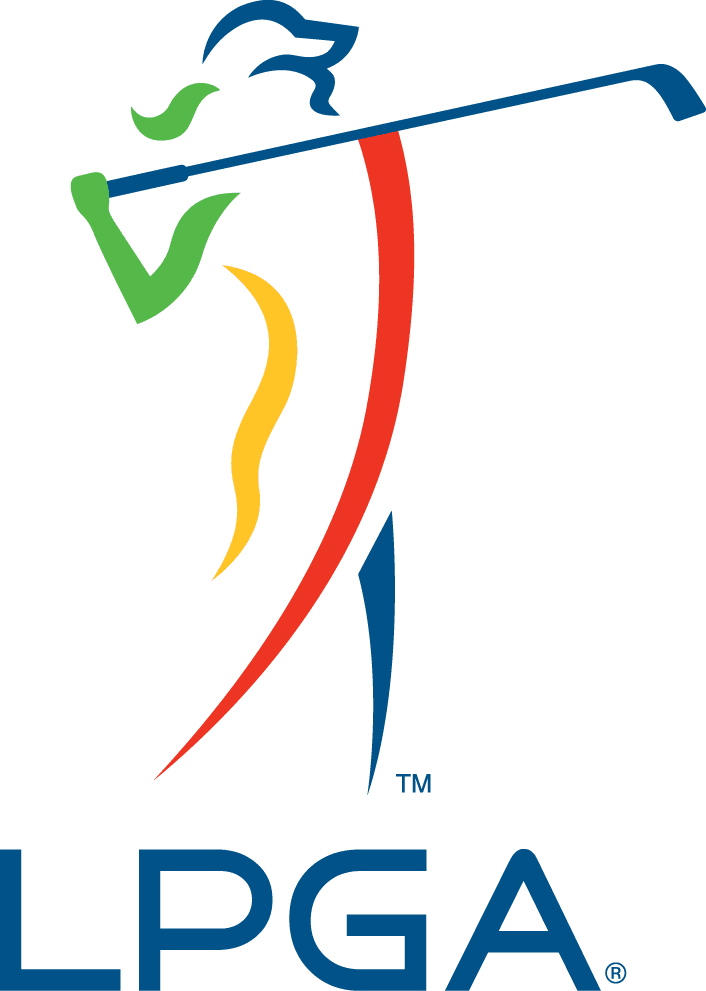 Walmart NW Arkansas Championship presented by P&G
Pinnacle Country Club | Rogers, Arkansas | Sept. 23-25, 2022
Thursday Pre-Tournament Notes
Sept. 22, 2022
SOLHEIM CUP CAPTAIN, ARKANSAS ALUM STACY LEWIS SOAKING IN THE "WOO PIG SOOIES" IN RAZORBACK COUNTRY
If there's anyone who bleeds University of Arkansas Razorback red, it's 2008 graduate and 2022 United States Solheim Cup captain Stacy Lewis. The alum always loves coming back to her old stomping grounds each year for the Walmart NW Arkansas Championship presented by P&G and is relishing the opportunity to once again take on Pinnacle Country Club, where she's won twice before. Lewis captured the first of those two victories in 2007 as an amateur; however, that title wouldn't count as an official LPGA Tour win because the event was shortened to 18 holes due to inclement weather. But the second victory, which came in 2014 after she defeated Cristie Kerr, Lydia Ko and Angela Stanford, holds a special place in Lewis' heart as it was shared with her longtime friend and Arkansas women's golf coach, Shauna Estes-Taylor.
"In college, we played a home event here a couple years, but honestly the win in 2014 is probably the most special," said the 13-time LPGA Tour winner. "I think of the putts I made down the stretch and making that one on 18. Then I remember sitting inside the clubhouse with Shauna just waiting for the end and learning that I won, just having her there and the celebration that ensued. I have so many memories here. It's hard to pick one. It's just such a cool place for me. It's a cool week."
It's also a busy week for the other former Razorbacks in the field, with a host of dinners and events to attend ahead of tournament play. Of course, Lewis gets involved as much as she can, but she has an extra layer of scheduling to deal with as the United States Solheim Cup captain. Earlier in the week, Lewis finalized the team's clothing with Dunning Golf, the official uniform supplier of Team USA, and just last night, Lewis hosted a dinner with four players that could potentially be rookies at next year's competition in Spain. It can be hard to stay focused on the golf she needs to play, but Lewis says she's always been a good time manager
"I'm just being really good about being where I am. Right now, I'm Stacy the golfer, and when I'm with my daughter I'm with my daughter, and last night I was Solheim Cup captain. It's putting different hats on and keep rolling with it," Lewis said. "It's been so great to be out here with these girls, and just to help them feel a little bit more comfortable with being around me. It's going to help them going into next year and going into the Solheim Cup, so it's important that I keep playing. I enjoy it. That's number one."
As she looks ahead to the week in Rogers, "Stacy the golfer" hopes that these 54 holes will be less "frustrating" than the rest of her season. She's missed 7 cuts in 20 starts and has just three top-10 finishes to her credit, most notably a solo third at the Dow Great Lakes Bay Invitational with partner Maria Fassi. Lewis is currently 54th in the Race to the CME Globe, and with only six events left on the LPGA Tour calendar, she'll be doing everything in her power to tee it up in Naples at Tiburon Golf Club.
"The golf has been frustrating. Definitely hasn't been where I wanted it. The week at Dow with Maria, we played really well together, but outside of that it's been inconsistent, been a rollercoaster," she said. "But for these last few events I really want to make it to CME, kind of keep my streak going there. So that's really the focus, is these next three weeks try to have some good finishes and work my way back up there."
IN THE MIDST OF A GREAT STRETCH OF GOLF, MARIA FASSI COMES HOME
Just two weeks after carding her best finish on the LPGA Tour, Maria Fassi is more ready than ever to earn her first LPGA Tour victory in her adopted home state of Arkansas. Teeing it up for the sixth time in the Walmart NW Arkansas Championship presented by P&G, Fassi plans to take advantage of her familiarity with Pinnacle Country Club and finally nab that elusive first win. Her best result in this event is a tie for 15th that came in 2020, and last year, she finished T51. But now, riding plenty of momentum derived from a great stretch of golf recently, the University of Arkansas alumna is confident she can take home the title.
"I've played this golf course a lot more times than most people out here. I try to come and play in my off weeks and just get a little more comfortable around the greens and some off the tee," Fassi said. "So I just try to see it as that, that I've prepared myself for a lot of the situations that I could potentially be in. Now instead of feeling stressed or overwhelmed, I feel like during this week I can relax a little more almost and know that I'll be okay because I've prepared pretty much the whole year for this week."
In July, Fassi first earned her career-best finish at the Dow Great Lakes Bay Invitational, coming in third alongside fellow Razorback Stacy Lewis,and said that playing alongside her friend and mentor helped her think about "what my process has to be and perfecting (my) plan for the rest of the year." Less than two months later, she played in the final group on Sunday for the first time in her career at the Kroger Queen City Championship presented by P&G, and while her final round in Cincinnati got off to a rough start with two bogeys on the front nine, the Mexican golfer turned it around, ultimately finishing in solo third. Fassi says she learned a lot from the experience and hopes to take those lessons with her as she looks ahead to the final stretch of the season.
"Cincinnati of course was a little bit different. I was alone and struggled a little bit at the beginning," said Fassi. "But I think it was probably what I needed just to keep learning and growing and work on some of the things that didn't go as planned the first few holes. But it's good. I mean, I've been knocking on the door last few weeks, and I just got to keep giving myself opportunities."
NASA HATAOKA FINDS COMFORT ZONE AT NW ARKANSAS CHAMPIONSHIP
Nasa Hataoka has found a piece of home at Pinnacle Country Club, where she has captured two Walmart NW Arkansas Championship presented by P&G titles since she joined the Tour. In fact, Hataoka's first LPGA win came in Rogers in 2018. She shot a whopping 21-under par, setting the tournament's scoring record.
"(The greens here are) really similar to the greens in Japan, which I'm very used to, so it makes me play very well," Hataoka said when asked about her success in Arkansas. "The green really stops, which helps me a lot."
This event favors Hataoka's game in other ways too. There are only 54 holes to work with, so birdies are every player's best friend. Hataoka comfortably leads the tour this season with 324 birdies and 38 rounds in the 60s.
At Pinnacle Country Club, birdies will come to those who focus on their approach. In recent years, the course has favored those who approach the green well and figures to be one of the most important factors in determining who takes home the championship this year. Last year, Hataoka led in strokes gained approach en route to her second NW Arkansas Championship.
"Having those birdies is the only way that I could keep winning on this course," Hataoka said. "Recently, my iron shots are giving me chances to get those birdies."
For more, please visit: https://www.lpga.com/news/2022/hataoka-finds-comfort-zone-at-nw-arkansas-championship
FASSI GAINING COMFORT IN HOMETOWN EVENT
There are obvious advantages to playing at home. On Thursday, Maria Fassi let out a long sigh and said, "So nice" through a big smile when asked how it felt to be able to sleep in her own bed this week during the Walmart NW Arkansas Championship presented by P&G. Fassi has lived near her alma mater, the University of Arkansas, for almost two years now and, in her words, "I don't even know why I left in the first place."
And why wouldn't she love it? The town of Rogers is full of restaurants and entertainment venues but retains the small-town quaintness that it had when Sam Walton was driving his pickup to the first Walmart. The airport (XNA, which frequent travelers refer to as Zena), ranks as one of the easiest and friendliest in the country. And, Fassi has good memories from her university days as well as a great place to practice. She won the NCAA individual championship at The Blessings, the Razorbacks' home golf course which has one of the best ranges and short-game facilities in the country.
For more, please visit: https://www.lpga.com/news/2022/fassi-gaining-comfort-in-hometown-event
KPMG PERFORMANCE INSIGHTS – WALMART NW ARKANSAS CHAMPIONSHIP PRESENTED BY P&G
KPMG Insight of the Week
In order to win this week, players will need to be incredibly proficient with their approach play. Last year, Nasa Hataoka led the field in strokes gained approach over three rounds on her way to victory. Four of the last five winners here hit more than 88% of their greens in regulation and ranked in the top-4 in the field that week: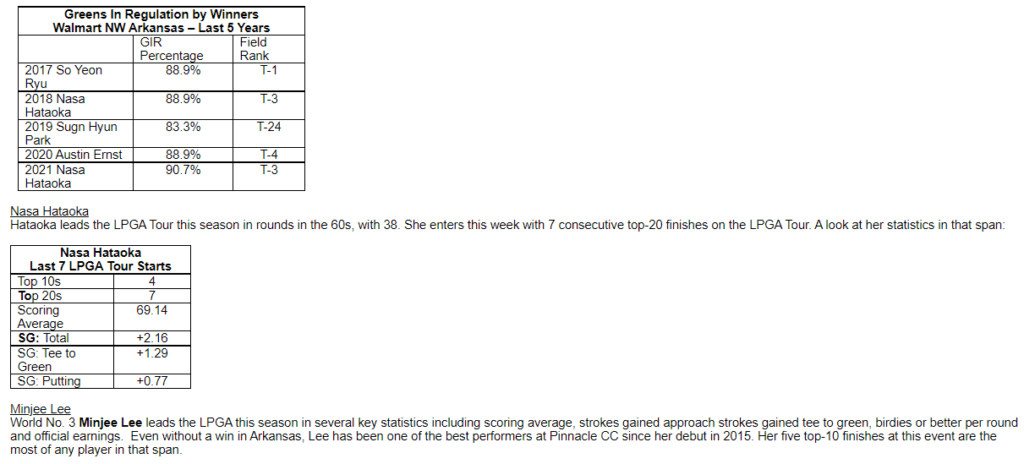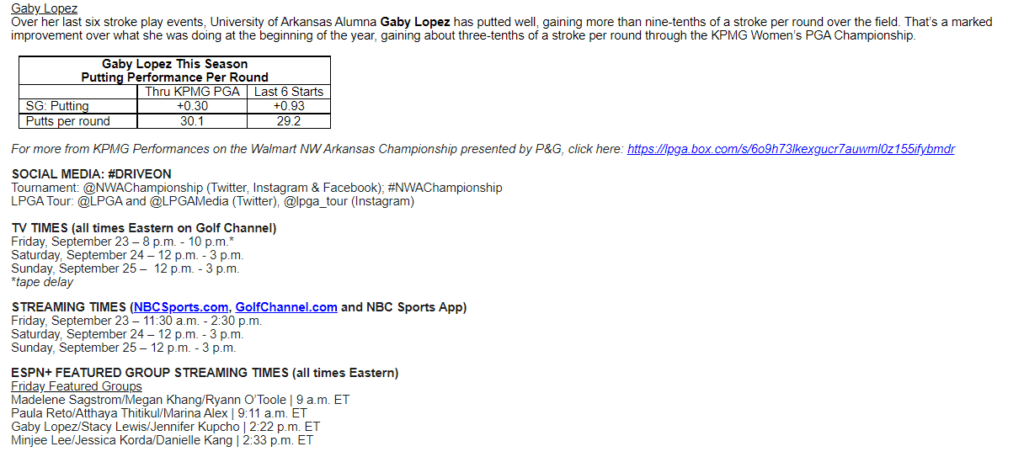 COURTESY LPGA TOUR COMMUNICATIONS