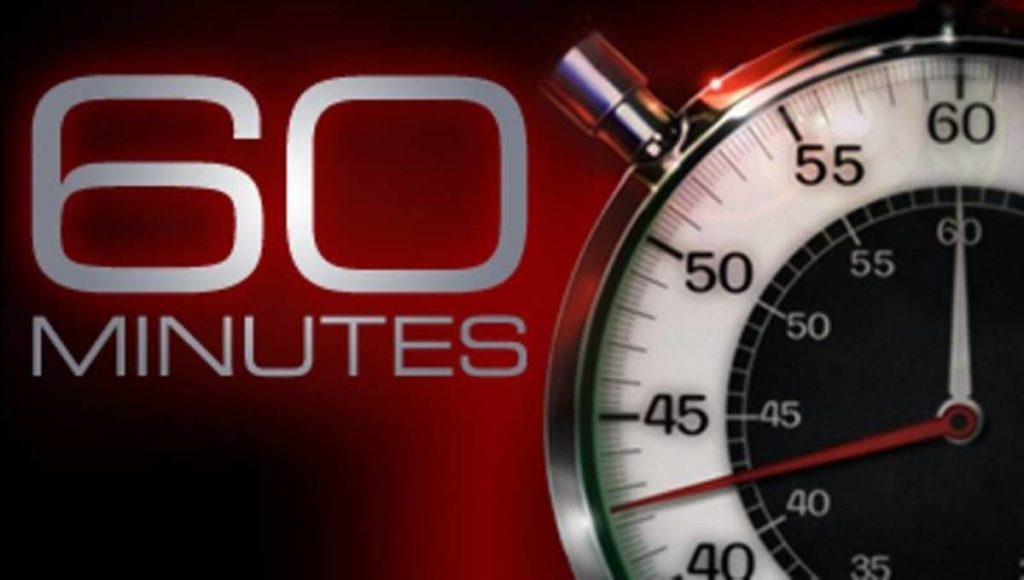 FROM WIKIPEDIA COMMONS
60 Minutes is an American television news magazine broadcast on the CBS television network. Debuting in 1968, the program was created by Don Hewitt and Bill Leonard, who chose to set it apart from other news programs by using a unique style of reporter-centered investigation. In 2002, 60 Minutes was ranked number six on TV Guide's list of the "50 Greatest TV Shows of All Time", and in 2013, it was ranked number 24 on the magazine's list of the "60 Best Series of All Time". The New York Times has called it "one of the most esteemed news magazines on American television".
Originally airing in 1968, the program began as a bi-weekly television show hosted on CBS hosted by Mike Wallace and Harry Reasoner. The two sat on opposite sides of the cream-colored set, though the set's color was later changed to black, the color still used today. The show used a large stopwatch during transition periods and highlighted its topics through chroma key⸺both techniques are still used today. In 1972, the program began airing from 6:00 pm to 7:00 pm Eastern time, although this time was sometimes disrupted by broadcasting of NFL games on Sundays. Since then, the show has generally kept the Sunday evening format, although the start time has occasionally been shifted. The program now generally starts at 7:00 pm Eastern. If sports programming is airing that afternoon, 60 Minutes starts at 7:30 pm Eastern or at the game's conclusion.
The show is hosted by several correspondents; none share screen time with each other. Full-time hosts include Lesley Stahl, Scott Pelley, Bill Whitaker, and John Dickerson. Several spinoffs of the show have been made, including international formats of the show.
TODAY'S ALMANAC
Question of the Day
Is lemon balm good for treating migraines?
Lemon balm is an ingredient in many home remedies used to treat vertigo, migraines, indigestion, and lack of appetite.
Advice of the Day
A clean tie attracts the soup.
Home Hint of the Day
A bath of tomato juice is the traditional cure for a dog that's had a run-in with a skunk, but that's messy and expensive. Instead, give the dog a bath with a solution of equal parts of vinegar and water.
Word of the Day
Dog Days
These are the hottest and most unhealthy days of the year. Also known as Canicular Days, the name derives from the Dog Star, Sirius. The traditional timing of Dog Days is the 40 days beginning July 3 and ending August 11, coinciding with the heliacal (at sunrise) rising of Sirius.
Puzzle of the Day
In music I'm an instrument, Of sweet and solemn tone, But if I be transposed aright, I then become a moan. (What word fits the first clue, but when rearranged, fits the second?)
organ – groan
Born
John Marshall (justice) – 1755
Marcus Alonzo Hanna (politician) – 1837
George Claude (inventor of neon light) – 1870
F. Scott Fitzgerald (American writer) – 1896
Severo Ochoa (biochemist) – 1905
Konstantin Chernenko (Russian politician) – 1911
Audra Lindley (actress) – 1918
Jim McKay (sportscaster) – 1921
John Young (astronaut) – 1930
Jim Henson (TV producer, creator of Muppets) – 1936
Linda McCartney (photographer, singer, activist, & wife of Beatle Paul McCartney) – 1942
Joe Greene (American football player) – 1946
Phil Hartman (actor) – 1948
Joseph Patrick Kennedy (politician) – 1952
Nia Vardalos (actress) – 1962
Kristin Talbot (Olympic speed skater) – 1970
Paul Spoljaric (baseball player) – 1970
Kevin Millar (baseball player) – 1971
Matt McKeon (Olympic soccer player) – 1974
Died
Theodor Geisel (author known as Dr. Seuss) – 1991
Jeffrey Moss (television writer, created Cookie Monster on Sesame Street) – 1998
Mike Webster (football player) – 2002
Events
Black Friday financial crisis– 1869
Fire breaks out at the U.S. Patent Office, Wash., D.C.– 1877
James Henry Fleming was the first to band a bird in Canada– 1905
Ernst A. Couturier patented a trumpet design– 1918
The world's first transatlantic telephone cable, from Clarenville, Newfoundland, to Oban, Scotland, began operation– 1956
The Brooklyn Dodgers played their last game at Ebbets Field– 1957
The USS Enterprise, the first U.S. atomic-powered aircraft carrier, was launched at Newport News, Virginia– 1960
First TV newsmagazine, 60 Minutes, debuted– 1968
Tennis player Vicki Nelson-Dunbar played Jean Hepner in a 29-minute, 643-shot rally in Richmond, Virginia. The rally remains the longest point played in a professional tennis match. Nelson-Dunbar says the two-set match lasted 61/2 hours. It was the longest rally in the history of professional tennis and probably in the history of any kind of competitive tennis.– 1984
The first female Episcopal assistant bishop was elected– 1988
Weather
Yellowstone Park recorded a temperature of -9 degrees F– 1926
The Sun and Moon appeared blue/pink/purple over the northeastern U.S. due to smoke from forest fires in Alberta and British Columbia, Canada– 1950
COURTESY www.almanac.com