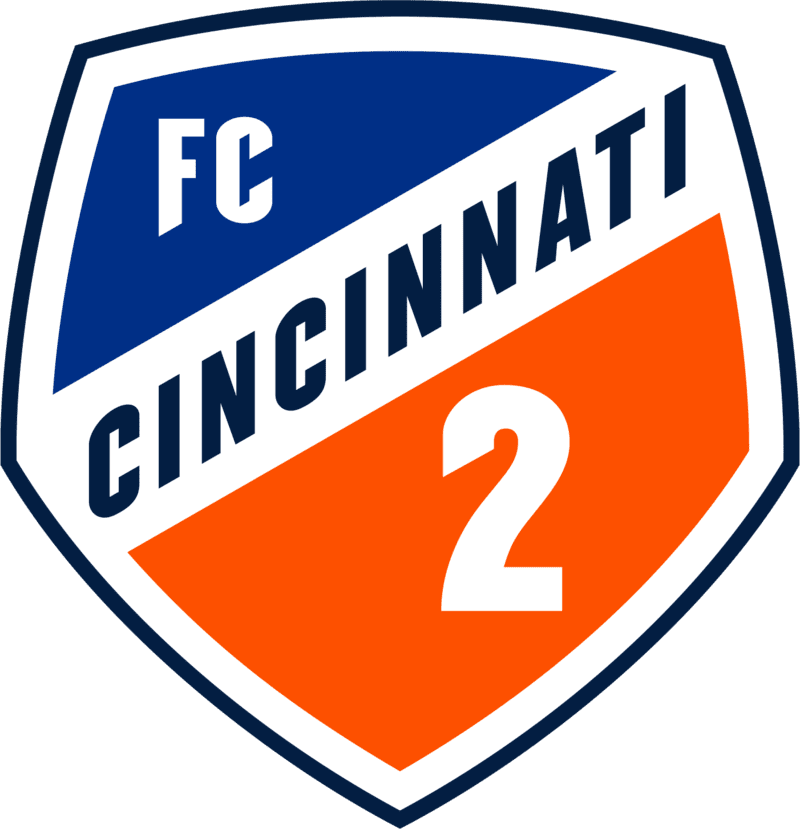 FC Cincinnati 2 square off against instate rival Columbus Crew 2 in their final match of the MLS NEXT Pro season later this afternoon at Historic Crew Stadium with kickoff scheduled for 3 p.m. ET. The match can be streamed live on mlsnextpro.com.
MATCH INFORMATION
FC Cincinnati 2 at Columbus Crew 2
Date: September 18, 2022
Competition: MLS NEXT Pro Regular Season
Site: Historic Crew Stadium
Kickoff: 3 p.m. ET
Stream: MLSNEXTPro.com
SEASON SERIES
July 16, 2022 – Historic Crew Stadium – CLB (4:0) CIN
CLB – D. Strachan (25'), J. Russell-Rowe (40', 82'), M. Micaletto (79')
August 14, 2022 – TQL Stadium – CIN (3-3) CLB
CIN – C. Harris (66', 90+6' PK), Ordoñez (74')
CLB – M. Micaletto (16'), I. Parente (45+4', 90+2' PK)
LATEST RESULTS
FC Cincinnati 2 suffered a 4-0 defeat at the hands of New York City FC II on Wednesday afternoon in their final home match of the season. Jonathan Jimenez scored two first-half goals while El Mahdi Youssoufi registered three assists in a comfortable win for the Pigeons.
Columbus split points with Inter Miami CF II last Sunday at DRV PNK Stadium. Marco Micaletto gave Crew 2 a first-half lead, but Miami's Shanyder Borgelin's second-half equalizer was enough to send the match to a shootout. Columbus would go on to win the shootout, 6-5.
KNOW YOUR OPPONENT
Columbus Crew 2 haven't taken their foot off the gas as the regular season draws to a close. Unbeaten over their last six, Crew 2 are set to enter the postseason hot and are the favorites to represent the Eastern Conference in MLS NEXT Pro Cup.
Jacen Russell-Rowe continues to dazzle for Columbus and leads the golden boot race with 17 goals. The forward has scored two goals in his last three and has started in four consecutive matches for Crew 2.
Columbus has been near perfect at home this season playing to a 10-1-0 record at Historic Crew Stadium. Crew 2's only blemish at home came back in May against Rochester New York FC in a 4-0 loss.
WHO/WHAT TO WATCH
ARQUIMIDES ORDOÑEZ – Arquimides Ordoñez played an important part in FC Cincinnati 2's comeback against Columbus in the last meeting between the sides. Ordoñez is tied for a team-high in goals (4) and has one assist on the year. Ordoñez earned a call-up to the Guatemalan national team earlier this week and should feature for the Orange and Blue against Columbus this afternoon.
MARCO MICALETTO – Russell-Rowe has stolen the spotlight in Columbus, but Marco Micaletto has been a major piece of Crew 2's success this season. Micaletto has eight goals and three assists on the year and has scored in each meeting against the Orange and Blue. Micaletto has three goals in his last five appearances and will look to keep things rolling against FCC 2.
ROUND 3 – The second installment of the 'Hell is 2 Real' derby was an instant MLS NEXT Pro classic and if Sunday's match is anything like the previous bout between the teams at TQL Stadium we are in for a treat.
The Orange and Blue exposed Columbus at TQL Stadium in August scoring three goals against the Eastern Conference giants. It's only the second time Crew 2 have conceded three or more goals in a match this season.
FC Cincinnati 2 controlled much of the second-half play holding the majority of possession in 35 minutes of action, leading to the thrilling comeback.
ABOUT FC CINCINNATI 2
FC Cincinnati 2 began play in MLS NEXT Pro in 2022. FCC 2 is designed to serve as the bridge between the FCC first team and the Academy and is a professional pathway for players to grow and develop at FC Cincinnati. The club plays its matches at NKU Soccer Stadium, Mercy Health Training Center, and TQL Stadium.
ABOUT MLS NEXT PRO
Launched in March 2022 by Major League Soccer, MLS NEXT Pro is a professional men's soccer league in the United States and Canada that completes the pro player pathway. With 21 Clubs competing during the inaugural season – 20 MLS-affiliated and one independent club, Rochester New York FC – MLS NEXT Pro is growing the game through innovation and diversity by bringing professional soccer to new communities and creating opportunities both on and off the field. Seven MLS-affiliated clubs will join MLS NEXT Pro in 2023, pending sanctioning by the U.S. Soccer Federation: Atlanta United, Austin FC, Charlotte FC, LA Galaxy, Los Angeles Football Club, Nashville Soccer Club and New York Red Bulls. Additional MLS-affiliated and independent clubs will join in the years ahead. Beginning in 2023, MLS NEXT Pro matches will be streamed live on the Apple TV app as part of the monumental partnership between Apple and Major League Soccer. For more information about MLS NEXT Pro, visit mlsnextpro.com.
COURTESY FC CINCINNATI 2 COMMUNICATIONS