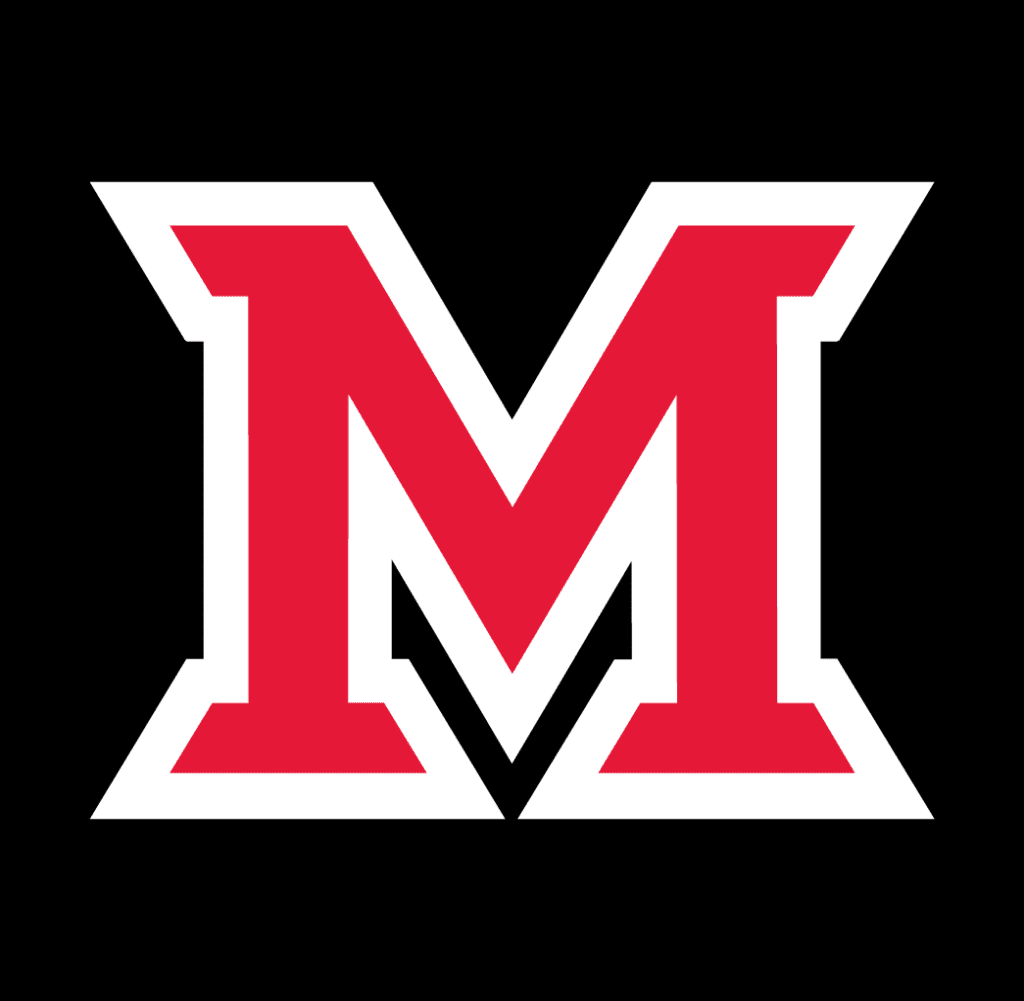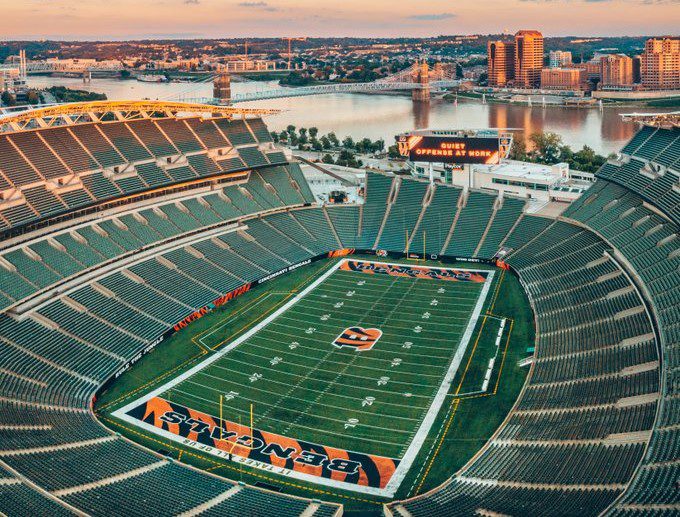 9/13/2022
The Miami University football team hosts the Cincinnati Bearcats on Saturday, Sept. 17 at Paycor Stadium in Cincinnati, Ohio. Opening kick is slated for 12 p.m.
Television
The matchup with UC will be carried live on ESPNU. John Schriffen will handle play-by-play duties, while Rene Ingolia will serve as the color analyst.
Radio
In its fourth year of its partnership with Van Wagner, the Miami Sports Network continues its coverage of Miami Football with a group of affiliates blanketing most of Southwest Ohio and Southeast Indiana. "The Voice of the RedHawks" Steve Baker will deliver the play-by-play coverage, while Terry Bridge will provide color commentary. Tune-in to one of Miami's gameday affiliates:
WMOH-AM 1450 (Hamilton, Ohio)
WFMG-FM 101.3 (Richmond, Ind.)
WDBZ-AM 1230 (Cincinnati, Ohio)
WONE-AM 980 (Dayton, Ohio)
First And Ten
• Miami football ranks first all-time in the Mid-American Conference in wins (708), conference wins (306), MAC Championships (16) and bowl wins (8). The RedHawks also captured the 2019 MAC Championship with a 26-21 win over Central Michigan.
• Although Miami was 4-18 in Coach Martin's first 22 Mid-American Conference games, the RedHawks are 30-12 in the last 42 games versus schools from the MAC, the best record in the conference during that span.
• The RedHawks clinched the MAC East Division Championship with a 6-2 record in 2019, went 2-1 in 2020 and 5-3 in 2021. Miami has now had a winning conference record in five of the past six years.
• Martin, in his ninth year leading the RedHawks, has a new-look coaching staff in 2021. Offensive Coordinator Eric Koehler returns for his ninth year calling plays, while Bill Brechin begins year one as the Defensive Coordinator (ninth year at Miami). Special Teams Coordinator Jacob Bronowski is in his first year with the Red and White.
• Miami is 9-4 in one-score games, dating back to the 2018 campaign. The RedHawks were 5-0 in one-score games in 2019, including a 26-21 victory over Central Michigan in the MAC Championship Game.
• In its last 40 contests, Miami has had a lead at some point in 35 of those games. The only five setbacks were a 42-10 loss at Buffalo in 2020 and four different losses in 2021.
• Miami competed in the 2021 Frisco Football Classic (W, 27-14) and the RedHawks have now been bowl eligible five of the last six seasons. From 2006-15, Miami was bowl eligible just twice.
About Chuck Martin
• Head coach Chuck Martin, who earned that title on Dec. 3, 2013, brings an impressive resume to Oxford, Ohio.
• Not only was he 74-7 in six years at Grand Valley State (2004-09), he has coached in seven national championship games in the past 20 seasons. Martin has an all-time head coaching record of 114-60.
• He has twice been named the American Football Coaches Association (AFCA) National Coach of the Year and has been a coordinator on both sides of the ball.
• Martin was inducted into the Hall of Fame at Grand Valley State University on Oct. 23, 2015.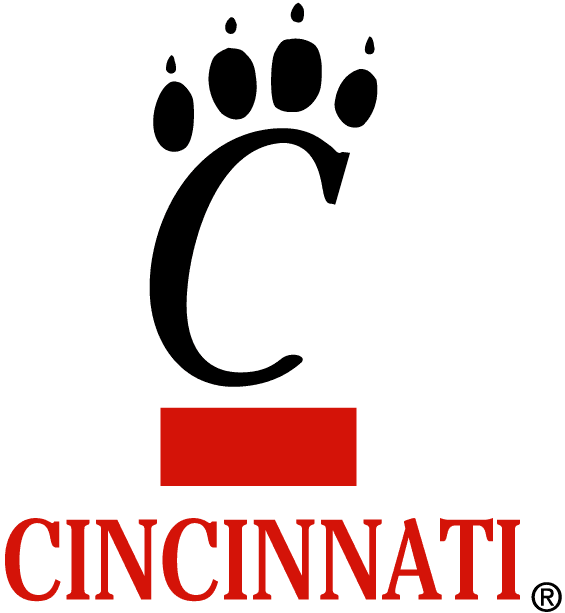 About Cincinnati
Cincinnati is 1-1 on the season and is coming off a 63-10 win last Saturday over Kennesaw State. The Bearcats are led by quarterback Ben Bryant, who has 526 yards passing and five touchdowns on the year. Former RedHawk, Ivan Pace, is tops on the Bearcats defense with 23 tackles and 4.5 tackles for loss.
Series Vs. Bearcats
The Battle for the Victory Bell series, which started in 1888 with the first college football game ever played in the state of Ohio, is now deadlocked at 59-59-7. Cincinnati has captured the last 15 meetings, with Miami's last win in the series coming in 2005. The teams' last meeting at Paul Brown Stadium came in 2018.
• The "Battle for the Victory Bell" between Miami and Cincinnati is the longest-lasting collegiate football rivalry west of the Allegheny Mountains, first being played in 1888. It is also the fifth-most played rivalry in Division I (FBS only) with 125 all-time meetings and is the oldest non-conference rivalry in the nation.
• The first Miami/Cincinnati game was played in Oxford on Dec. 8, 1888 as the teams played to a scoreless tie. The game was the first college football game played in the state of Ohio.
• Due to COVID, the two teams did not play in 2020, ending a streak of consecutive years played, dating back to 1945. Miami/UC did not play in 1943 or 1944, but Miami and UC also played every year from 1909 through 1942. Of the 125 meetings, 54 have been decided by seven points or less, including the seven ties in series history.
• The series is currently scheduled to continue through 2029.
Robert Morris Recap
Aveon Smith threw three touchdown passes in his first career start and the Miami University football team won its home opener 31-14 over Robert Morris Saturday night. Mac Hippenhammer caught two touchdown passes for the RedHawks, who scored 28 consecutive points after an early touchdown by Robert Morris.
Notable Notes From RMU
• Smith finished 14-22 through the air for 155 yards and became the first Miami quarterback to throw at least three touchdowns in his first career start since Andrew Hendrix in 2014.
• Luke Bolden's touchdown was his first career score and first career catch after playing the previous three seasons at linebacker for Miami.
• Ty Wise and Camden Rogers were credited with sacks for the RedHawks; Rogers' sack was the first of his Miami career.
• Miami out-rushed the visitors 216 yards to 40.
First QB Starts Under Chuck Martin
Aveon Smith: 14-of-22 for 155 yards and three touchdowns (vs. Robert Morris) – 2022
AJ Mayer: 7-of-25 for 116 yards and one touchdown (at Buffalo) – 2020
Brett Gabbert: 17-of-27 for 186 yards and two touchdowns (at Iowa) – 2019
Gus Ragland: 10-of-21 for 181 yards and two touchdowns (vs. Kent State) – 2016
Noah Wezensky: 14-of-28 for 153 yards and one touchdown (at Akron) – 2016
Billy Bahl: 8-of-23 for 150 yards (at Ohio) – 2015
Drew Kummer: 14-of-19 for 255 yards and two touchdowns (vs. Presbyterian) – 2015
Andrew Hendrix: 24-of-49 for 318 yards and three touchdowns (vs. Marshall) – 2014
RedHawks Picked To Win East Division
The MAC media picked Miami to capture the East Division in its yearly preseason poll. The RedHawks received 20 of 24 first-place votes back in late July.
More Preseason Accolades
Phil Steele named 12 RedHawks to his preseason All-MAC squad. Brett Gabbert was named first team All-MAC to lead the Miami offense, while Rusty Feth (second-team) Mac Hippenhammer (second-team), Reid Holskey (third-team), Tyre Shelton (fourth-team) and Jalen Walker (fourth-team) also earned All-MAC honors on the offensive side of the ball. Defensively, Matthew Salopek was the lone second-teamer, followed by Jacquez Warren (third-team) and Ryan McWood (fourth-team). Miami was well represented on special teams. Punter Dom Dzioban (second-team), placekicker Graham Nicholson (third-team) and punt returner Jalen Walker (fourth-team) all earned preseason accolades.
Home Cooking
Miami finished a perfect 5-0 at home during the 2019 and 2021 season (1-0 in 2020) and has won 15 straight at Yager Stadium. Miami's last loss at Yager Stadium was on Sept. 29, 2018. In all, when Miami hosts Kent State on Oct. 8, 2022 it will be 1,470 days since Miami's last loss at home.
Longest Home Win Streaks in School History
1. 22 Wins (1943-1948)
2. 15 Wins (2018-present)
Longest Active Home Win Streaks in the Country
1. Clemson – 34
2. Cincinnati – 27
3. Oregon – 19
4. Miami -15
Bounce Back
Since early in the 2016 season Miami has lost back-to-back MAC games just once in that span. In fact, Miami is now 10-1 following a MAC loss under Martin, dating back to Oct. 15, 2016.
Gabbert Out
On Sept. 5, head coach Chuck Martin announced Brett Gabbert would be out for "a while." Since starting the season opener at Iowa back in 2019, Gabbert ranks seventh in program history with 5,609 passing yards, completion percentage (.579) and passing touchdowns (41).
Trench Warfare
Miami's offensive line is by far the most experienced unit for the RedHawks in 2022, returning four starters from last season's squad. In all, Miami's offensive line has started 82 combined games. Caleb Shaffer leads the way with 26 career starts and is followed by Rusty Feth (24), Reid Holskey (15) and Sam Vaughan (14), John Brekke (2) and Will Jados (1). Brekke was also a three-year starter from Holy Cross before transferring to Miami.
MAC Attack
Senior Mac Hippenhammer set career bests last season in catches (48), yards (786) and touchdowns (5). The Penn State transfer posted season-highs in catches (8) and yards (170) in a win over Central Michigan last season, all while averaging 16.3 yards per catch a year ago. This season he leads all RedHawks in catches (11), Yards (137) and touchdowns (2).
New-Faces New Places
The transfer portal has changed college football, and Miami is no different. Kameron Butler (Virginia), Lonnie Phelps (Kansas) and Ivan Pace (Cincinnati) combined for 208 tackles and 21.5 sacks last season, but are now at other schools. The RedHawks brought in a handful of new talent of their own. In all, 13 transfers joined Miami for the 2022 season: Matt Bjorson (Indiana), John Brekke (Holy Cross), Jalen Brunson (Virginia Tech), Michael Dowell (Michigan State), Nolan Johnson (ECU), Trey LaBounty (Stanford), Myles Marshall (Indiana), Yahsyn McKee (Mercer), Jalen Peterson (Indianapolis), Zane Reis (Ohio Wesleyan), Corey Suttle (Iowa State), Brian Ugwu (Rutgers) and Ty Wise (Indiana).
From Zero to Hero
Over the past year, head coach Chuck Martin has awarded six scholarships to walk ons with the football program. Last year Chris Cavalaris and Dominic Nardone earned a free ride and back on Aug. 16, in the middle of fall camp 2022, Oscar McWood, Brendan Beattie, Jack DeJarld and Graham Nicholson were awarded scholarships.
New Year, Same Defense
With so many new faces on defense in 2022, a drop in defensive production could have been expected, instead, Miami is once again one of the best defenses in the conference. Miami ranks second in scoring defense (25.5), total defense (286.0) and pass defense (241.0). The RedHawks are tops in rush defense (and fifth in the nation), allowing just 45.0 yards per game on the ground (Toledo is second in the MAC at 125.0).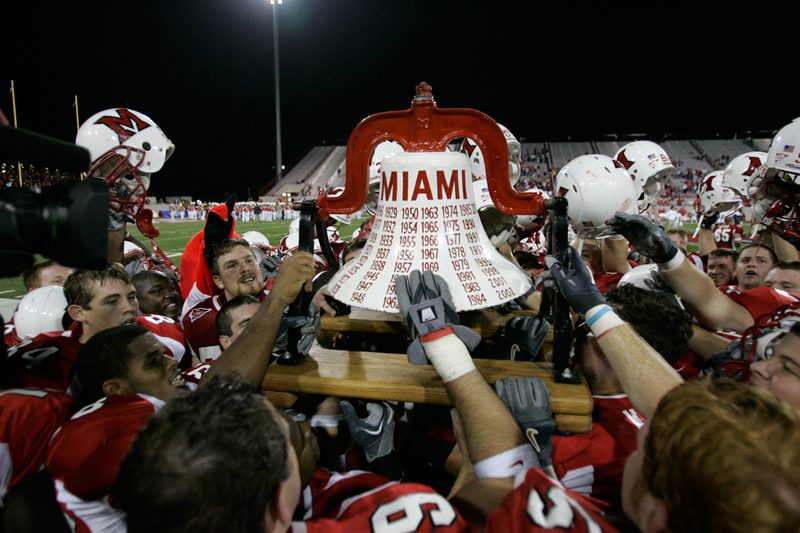 COURTESY MIAMI ATHLETIC COMMUNICATIONS