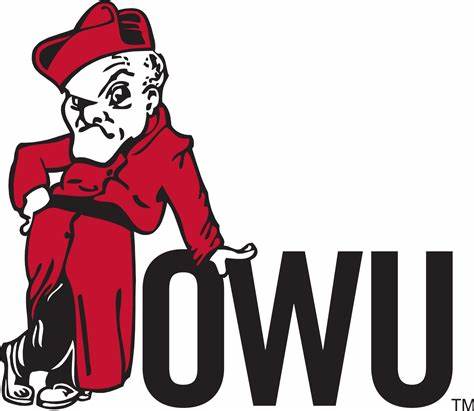 9/10/2022
Illinois Wesleyan 45, Ohio Wesleyan 21
Freshman wide receiver Josh Hurst (Port Clinton) scored on a 26-yard pass from sophomore quarterback Zack Leonard (Niles/McKinley) to give Ohio Wesleyan the lead late in the first quarter, but Illinois Wesleyan put up 28 consecutive points during the second quarter and went on to a win on Saturday in Bloomington, Ill.
Facing a third-and-9 from the Titan 45, Leonard completed 3 straight passes to march the Bishops to the end zone, first hitting Hurst for 12 yards before a 7-yard connection with freshman wide receiver Tyler Webb (Port Clinton) and then the 26-yard scoring play to Hurst.
IWU evened the score when Seth Albin scored on a 2-yard run on fourth-and-1, capping a 13-play, 75-yard drive. On the Bishops' next possession, Artis Benjamin picked off a Leonard pass and returned it 27 yards for a score. Ryan Saxe called his own number and went over from 5 yards out for a score that was set up by a 30-yard connection from Saxe to Charl Hamilton, and the Titans closed out the half when Saxe found Kevin Graham for 29 yards to set up a 4-yard scoring run by Zach Bozarth.
The Titans increased the margin when a 21-yard field goal try by junior kicker Gabriel Chlebowski (Toledo/St. John's) was blocked and Ant Wachal Jr. returned the ball 96 yards for a score, and Saxe followed with an 11-yard scoring pass to Myles Kee.
Ohio Wesleyan rallied in the fourth quarter, with junior quarterback Kaden Buza (Winchester, Va./Millbrook) finding Hurst on a 6-yard scoring play, then connecting with Webb on a 38-yard TD pass.
Leonard completed 10 of 17 passes for 73 yards and a score, and Buza completed 8 of 14 throws for 142 yards and 2 touchdowns.  Hurst had a team-high 6 catches for 113 yards and 2 TDs.  Buza led the Bishops with 46 yards on 6 rushes.  Sophomore safety Drew Thornton (Powell/Olentangy Liberty) led Ohio Wesleyan with 10 tackles.
COURTESY OHIO WESLEYAN ATHLETICS