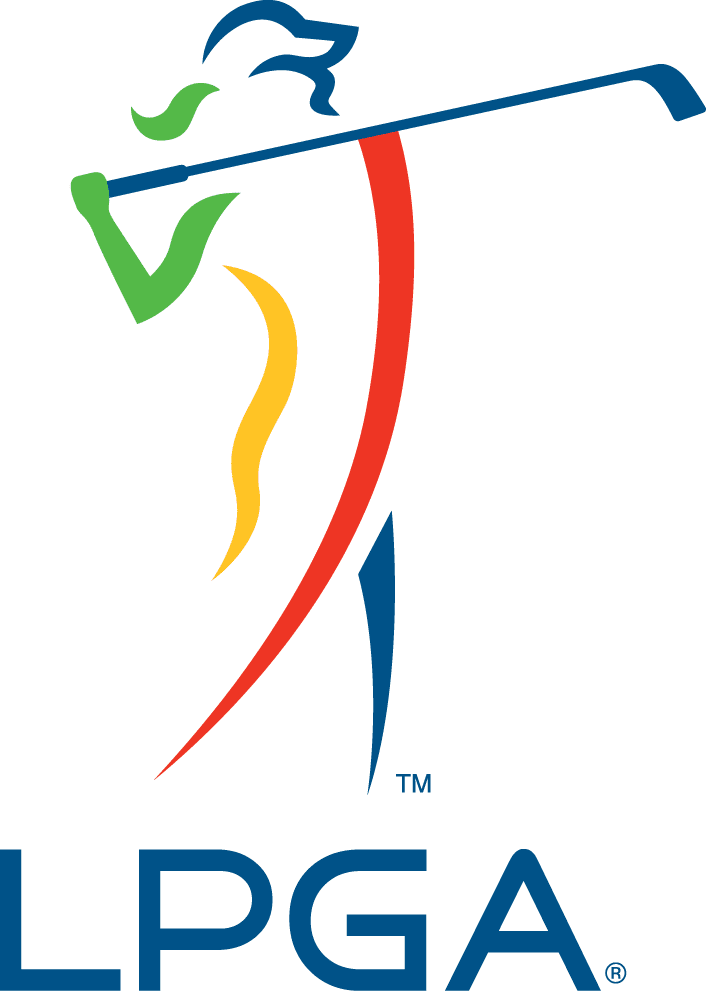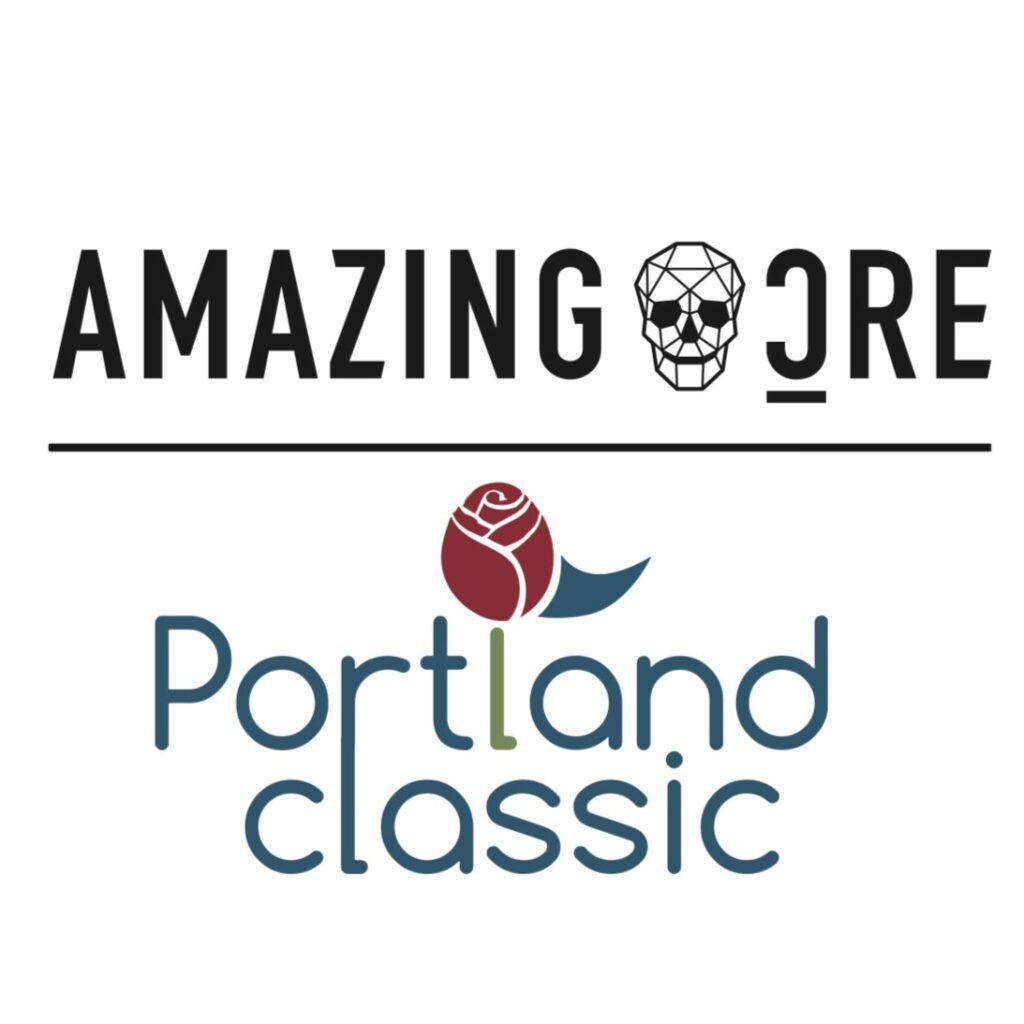 AmazingCre Portland Classic
Columbia Edgewater Country Club | Portland, Oregon | Sept. 15-18, 2022
Second-Round Notes
Sept. 16, 2022
Course Setup: 36-36—72, 6,326
Scoring Averages: R1 – 72.341; R2 – 71.542
Weather: Mostly cloudy skies with temperatures peaking in the high 60s; 5-12 mph winds throughout the day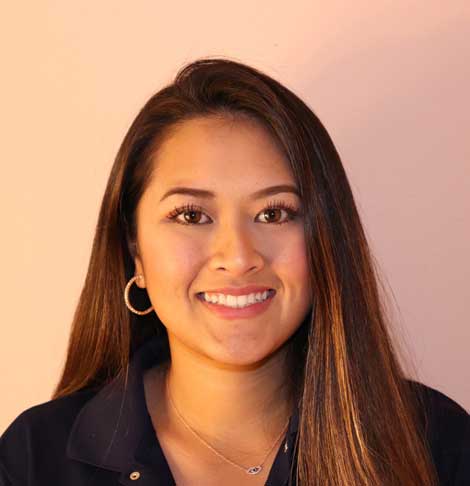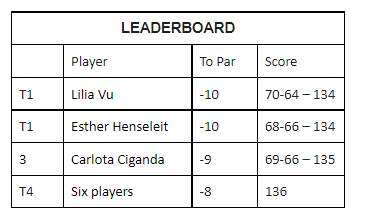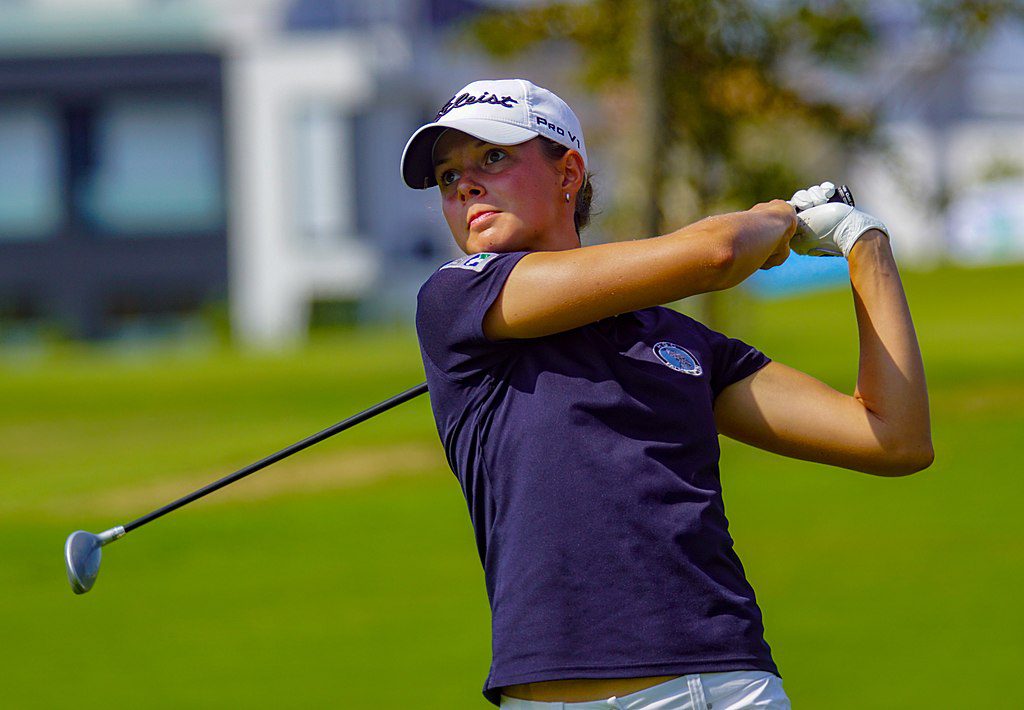 HENSELEIT AND VU SHARE TOP SPOT AHEAD OF WEEKEND IN PORTLAND
In her first appearance at the AmazingCre Portland Classic, Lilia Vu has share of the lead for the first time in her LPGA career after an exciting 6-under 64 on Friday. The UCLA alumna made four birdies in her first five holes, added an eagle at the par-5 seventh hole and added one more birdie at No. 12. Having never played at Columbia Edgewater Country Club before, the 24-year-old Epson Tour graduate used her course management skills to create birdie opportunities.
"It feels pretty good to be in contention here. The course it a little tighter. It's not as long, but definitely tight off the tee," she said. "I think I do have good course management… and I just know that sometimes going for the green isn't always something I'm comfortable with. So, I'm completely fine laying up, and then I feel like I can make a birdie from anywhere."
Vu shares the second-round lead with two-time LET champion Esther Henseleit. The German golfer also got off to a hot start with four birdies in her first nine, but really kicked it up a notch after the turn. She carded five straight birdies on holes 2-6 and added another for good measure on her 18th hole. Henseleit tied Andrea Lee for the low round of the day with her 8-under 64, earning a share of the lead for the second time this season. She held a first-round lead during the Honda LPGA Thailand back in March but has struggled to find her rhythm since.
"To be honest, it's just great to be here at the moment. I had some pretty rough bumps since Thailand, and it's great to see something coming your way," Henseleit said. "It's just felt like nothing really came together. I've been working really hard and felt like every part of my game has been improving but couldn't really get the scores together. Kind of around the cut line every week; pretty hard mentally if you do that every week. So, yeah, just good that today kind of happened and I didn't have to fight too hard for it."
Spaniard Carlota Ciganda holds solo third following a second-round 6-under 66. The two-time LPGA champion has found a good groove in her past two events, finishing T10 at the Dana Open presented by Marathon and T13 at the CP Women's Open. She's had three additional top-10 finishes in 2022 and two more top-20 finishes. Friday in Portland, Ciganda needed only 24 putts to sink eight birdies and put herself in the final group on Moving Day.
"I'm putting great, so I think if you can keep the speed going, I think, yeah, can go low during the weekend," she said. "I've been playing good lately, so it's nice to be at the top again. I would love to win a tournament before the end of the year, so that's my goal. I'm going to try to do that. Keep playing my best, keep playing the strategy that we have with my caddie, and yeah, just keep making birdies."
The highlight of the second round came from Oregon native Caroline Inglis, who aced the par-3 13th from 143 yards with her 8-iron. Inglis, a member at Columbia Edgewater, was particularly excited about earning her first ace as a pro at her home course in front of a large gallery of locals.
"I hit it kind of not very good, like it was thin. I was like, okay, it'll bounce up. That's fine. It took a really big first bounce and just like went in," Inglis explained. "I was so shocked like that it actually happened at my home course on a hole that I played so many times. And there were so many people. Like so many of my family, friends, and members out here watching that it was like such a loud roar. It was really fun."
Inglis sits in a tie for 10th, just one stroke behind a group of six players tied for fourth. One of those players is Maja Stark, who is making her member debut on the LPGA Tour this week. She is joined by Lee, Daniela Darquea, Weiwei Zhang, Ayaka Furue and past Portland Classic champion Hannah Green at -8 heading into the weekend.
GETTING TO KNOW RUONING YI
2022 LPGA Tour rookie Ruoning Yin made the most of a great opportunity at the AmazingCre Portland Classic, playing alongside LPGA Tour winners Brooke Henderson and Ayaka Furue in the first two rounds. She matched her playing partners shot for shot, entering the third round at -7, one stroke behind Furue, one ahead of Henderson and just three strokes behind the leaders.
"They are the best players in the world, so I still can learn lot of things from them," Yin said of her superstar grouping in Portland.
So who exactly is Ruoning Yin, the teenager behind the round John Lennon sunglasses? Now just 12 days shy of her 20th birthday, the 2022 LPGA Tour rookie from Shanghai won nine amateur titles in 2019, including the China National Amateur Championship. After turning professional in 2020, she won her first three consecutive CLPGA Tour events, the most in the history of that tour.
In December 2021, Yin finished T4 in the LPGA Q-Series to earn LPGA Tour Membership for the 2022 season. She made just two cuts in her first nine starts and admitted that the pressure to quickly make her mark on the LPGA Tour was daunting. With a shy smile on her face, Yin said she relied on the sage advice of her mother to get her past those nerves.
"I got to thank my mom for that, because we been talking a lot about the mental (side of the game)," Yin said. "I told her how stressful I play on the Tour, and she just goes, you have to enjoy it."
With that new mentality, Yin fired a first-round 65 at the Dana Open presented by Marathon and saw her name at the top of an LPGA Tour leaderboard for the first time. She's again within striking distance in Portland and ready for the challenge. "Always feel good about seeing my name on the leaderboard," she said. "I think it's kind of motivation for me to keep playing better."
MAJA STARK MAKES LPGA TOUR DEBUT AFTER STELLAR MENTORSHIP
She shot 69 on Thursday and 67 on Friday, good enough to be on the first page of the leaderboard going into the weekend at the AmazingCre Portland Classic. Not bad for your first start as an LPGA Tour Member.
Sweden's Maja Stark made her debut on the LPGA Tour this week at the AmazingCre Portland Classic having earned Tour Membership through her victory at the ISPS Handa World Invitational presented by AVIV Clinics. At the time the 22-year-old was leading the Ladies European Tour's Race to Costa del Sol. She was also one of scores of Swedes to come through the Oklahoma State college program, including major champion Pernilla Lindberg, who when she signed was the 13th Swede to tee it up for the Cowboys.
But Stark, who was the 2021 Big 12 Player of the Year, is just one of many Swedes making noise in the game these days, giving rise to the notion that there is another wave of Scandinavian superstars. The first batch of Swedes to splash onto the LPGA Tour included champions like Liselotte Neumann, Helen Alfredsson, Carin Koch, Catrin Nilsmark and, of course, arguably one of the greatest athletes the nation has ever produced, Annika Sorenstam.
Among those past champions is five-time LPGA Tour and 16-time LET winner Sophie Gustafson. But the 48-year-old does more than give advice. She is one of the few past champions who has spent more than a few weeks carrying a golf bag for fellow players – not as a one-off, but as the most credentialed caddie on any professional tour.
For more, visit www.lpga.com/news/2022/maja-stark-makes-lpga-tour-debut-after-stellar-mentorship
PLAYER NOTES
Rolex Rankings No. 131 Esther Henseleit (70-64)
She hit 11 of 14 fairways and 14 of 18 greens with 25 putts
Henseleit's second-round 64 is tied for the second lowest round of her LPGA Tour career; she shot a first-round 63 at the 2022 Honda LPGA Thailand and shot 64 twice in 2021
This is Henseleit's 19th event of the 2022 LPGA Tour season; her best finish is a tie for 12th at the Honda LPGA Thailand
This is Henseleit's third season on the LPGA Tour; she has four career top-10 finishes, with fourth-place finishes at the 2021 Dana Open and the 2022 Ascendant LPGA benefitting Volunteers of America
This is Henseleit's third appearance in the AmazingCre Portland Classic; her best finish is a tie for fifth in 2021
She is a two-time winner on the Ladies European Tour, winning the LET's 2019 Order of Merit and Rookie of the Year honors
Rolex Rankings No. 56 Lilia Vu (68-66)
She hit 11 of 14 fairways and 14 of 18 greens with 26 putts
This is Vu's 18th event of the 2022 LPGA Tour season; she finished third at the Bank of Hope LPGA Match-Play presented by MGM Rewards and has four other top-10 finishes
This is Vu's second full season on the LPGA Tour; she has five career top-10 finishes, all in 2022
This is Vu's first appearance in the AmazingCre Portland Classic
Three-time Epson Tour winner and won the 2021 Ascensus Race for the Card to regain LPGA Tour status for 2022
Member of the 2018 Arnold Palmer Cup and USA World Amateur Teams
As a UCLA Bruin, was awarded 2018 PING WGCA Player of the Year, Pac-12 Conference Golfer of the Year and Honda Award finalist, also three-time WGCA First Team All-American and All-Pac 12 performer
First on the all-time UCLA career victory list with eight individual titles
SOCIAL MEDIA – #DriveOn
Tournament: @PortlandClassic (Twitter) @amazingcreportlandclassic (Instagram), #BeAmazing
LPGA: @LPGA, @LPGAMedia (Twitter), @lpga_tour (Instagram)
TV & STREAMING TIMES (all times Eastern on Golf Channel, golfchannel.com and the NBC Sports App)
Saturday, Sept. 17 – 3-6 p.m.
Sunday, Sept. 18 – 3-6 p.m.
COURTESY LPGA COMMUNICATIONS