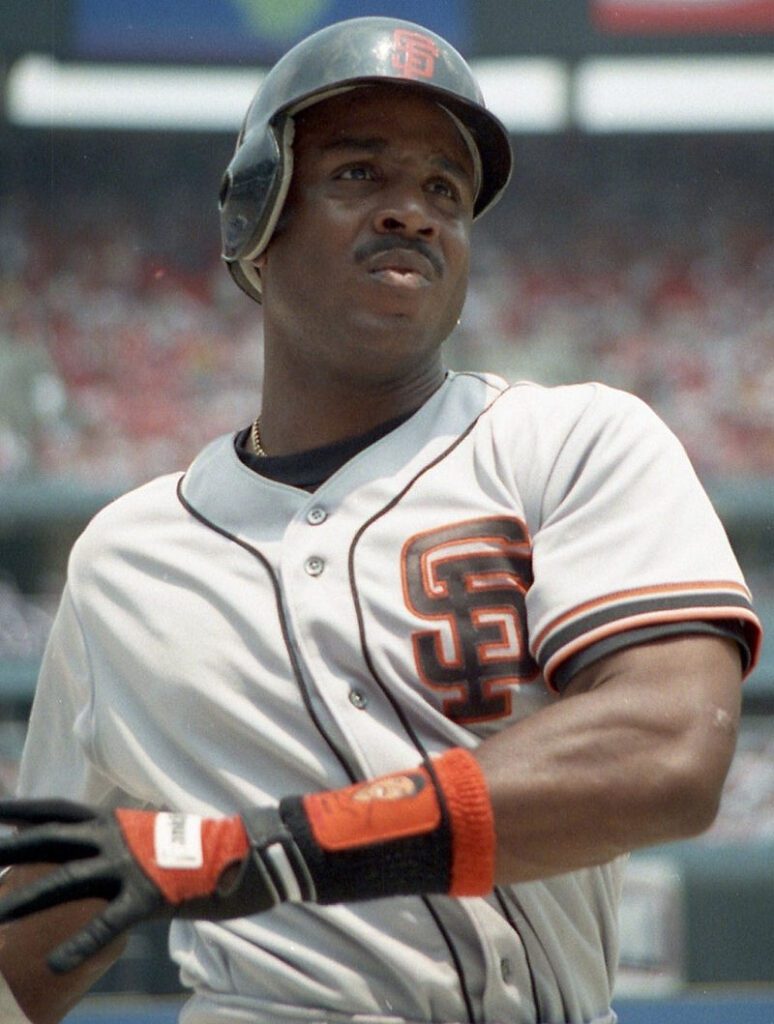 FROM WIKIPEDIA COMMONS
Barry Lamar Bonds (born July 24, 1964) is an American former professional baseball left fielder who played 22 seasons in Major League Baseball (MLB). Bonds was a member of the Pittsburgh Pirates from 1986 to 1992 and the San Francisco Giants from 1993 to 2007. He is considered to be one of the greatest baseball players of all time.
Recognized as an all-around player, Bonds received a record seven NL MVP awards and 12 Silver Slugger awards, along with 14 All-Star selections. He holds many MLB hitting records, including most career home runs (762), most home runs in a single season (73, set in 2001), and most career walks. Bonds led MLB in on-base plus slugging six times and placed within the top five hitters in 12 of his 17 qualifying seasons. For his defensive play in the outfield, he won eight Gold Glove awards. He also stole 514 bases, becoming the first and only MLB player to date with at least 500 home runs and 500 stolen bases. Bonds is ranked second in career Wins Above Replacement among all major league position players by both Fangraphs and Baseball-Reference.com, behind only Babe Ruth.
Despite his accolades, Bonds led a controversial career, notably as a central figure in baseball's steroids scandal. He was indicted in 2007 on charges of perjury and obstruction of justice for allegedly lying to a grand jury during the federal government's investigation of BALCO, a manufacturer of an undetectable steroid. After the perjury charges were dropped, Bonds was convicted of obstruction of justice in 2011, but the conviction was overturned in 2015. During his 10 years of eligibility, he did not receive the 75% of the vote needed to be elected to the National Baseball Hall of Fame. Some voters of the Baseball Writers' Association of America (BBWAA) stated they did not vote for Bonds because they believe he used performance-enhancing drugs.
TODAY'S ALMANAC
Formerly called "I am an American Day" (1940) and then "Citizenship Day" (1952), this observance's long new name (2004) is called Constitution Day for short. It marks the anniversary of the date in 1787 when the final draft of the Constitution of the United States was signed by delegates to the Constitutional Convention after months of wrangling. The framers of the Constitution had been arguing constantly as they met in secret, but they had leaked reports to the press indicating that all was well. "So great is the unanimity, we hear, that prevails in the convention, upon all great federal subjects, that it has been proposed to call the room in which they assemble 'Unanimity Hall.'" The Federalists (as they came to be called) argued through June and most of July and reached an agreement on July 16. After deciding to leave out a bill of rights — because everyone was worn-out and they thought there was no need for such a list — the framers completed the final draft on September 17 and made it ready for submission to the states for ratification. The American Bar Association and other organizations make an effort to mark this anniversary by sponsoring symposia and, in some cases, offering free legal advice.
Question of the Day
How can I get rid of crabgrass?
The solution to ridding your lawn of crabgrass is to attack it in two stages. First, apply corn gluten meal, an organic preemergent herbicide. Do this in the spring, when the soil is still cold and the crabgrass is weakest. (Crabgrass is an annual weed, so it starts from seed every year. The preemergent herbicide prevents the seed from germinating—and if the seed can't sprout, it can't grow.) Second, reseed your lawn in the fall. This will allow the new grass time to grow strong before the next summer's attack.
Advice of the Day
Check chimneys and have them cleaned before starting autumn's first fire.
Home Hint of the Day
When cutting asphalt shingles, dip your utility knife in turpentine. This will keep the shingles from binding when you cut.
Word of the Day
Semidiurnal Tide
A tide with one high water and one low water every half day. East Coast tides, for example, are semidiurnal, with two highs and two lows during a tidal day of approximately 24 hours.
Puzzle of the Day
Everyone keeps me on hand, I've ever to labor bent; but twist me about and then I'm only an ornament. (What word fits the first clue, but when rearranged, fits the second?)
Finger – fringe
Died
Tobias George Smollett (Scottish satirical novelist) – 1771
Spiro T. Agnew (served as vice president under Richard Nixon) – 1996
Red Skelton (comedian) – 1997
Robert Truax (rocket scientist) – 2010
Born
David Dunbar Buick (automobile manufacturer) – 1854
William Carlos Williams (writer & doctor) – 1883
Hank Williams (musician) – 1923
Anne Bancroft (actress) – 1931
David Souter (U.S. Supreme Court justice) – 1939
Phil Jackson (basketball coach) – 1945
John Ritter (actor) – 1948
Kyle Chandler (actor) – 1965
Jimmie Johnson (NASCAR driver) – 1975
Events
City of Boston founded– 1630
The U.S. Constitution signed– 1787
Battle of Antietam in Maryland occurred; known as the bloodiest battle of the Civil War– 1862
First powered flight of X-15 rocket plane– 1959
First public display of a lunar rock, at the Smithsonian in Washington, D.C.– 1969
M*A*S*H made its television debut– 1972
Royal Canadian Mounted Police began accepting women as uniformed members– 1974
NASA unveiled the first space shuttle, Enterprise, to the public– 1976
Vanessa Williams became the first African American woman to be crowned Miss America– 1983
William Rehnquist is confirmed as chief justice of the US Supreme Court– 1986
Heather Whitestone of Alabama became the first deaf woman to be crowned Miss America– 1994
The Late Show with David Letterman was the first TV talk show to return to the airways six days after terrorists attacked the United States in New York City– 2001
Barry Bonds hit his 700th home run– 2004
A 17-pound 4-ounce white catfish was caught in the Humboldt River of Nevada– 2005
A bottled message tossed from an April Caribbean cruise was found in Sunset Beach, North Carolina– 2018
Weather
2.42" rain fell in 3 hours in Yuma, Arizona– 1963
Lander, in the Wyoming Rockies, had 23.6 inches of snow– 1965
COURTESY www.almanac.com