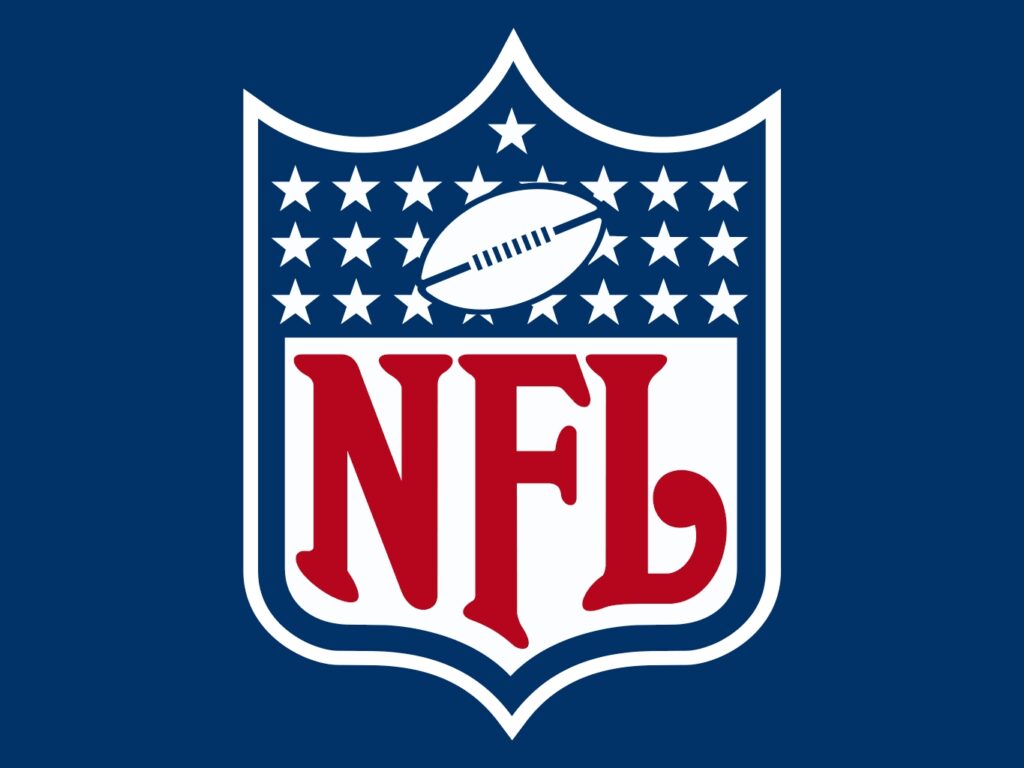 The National Football League sure knows how to write a season-opening statement with an exclamation point.
Seven games were decided by three points or fewer, more than any opening week in league history.
A sampling from morning headlines following Week 1 games: Furious fourth-quarter rally, crazy, stunning, gutsy, thrilling, jaw-dropping, wild, blistering, historic debut.
Week 2 brings even more historic debuts. This week the NFL unveils its first new broadcast partner since 1994. Amazon Prime Video is the new home of Thursday Night Football and the package's initial game is an AFC West showdown between the LOS ANGELES CHARGERS (1-0) and KANSAS CITY CHIEFS (1-0) at 8:15 PM ET. Then, to bookend the week, the NFL presents its first staggered Monday Night Football doubleheader, with TENNESSEE (0-1) at BUFFALO (1-0) kicking off at 7:15 PM ET on ESPN and MINNESOTA (1-0) at PHILADELPHIA (1-0) at 8:30 PM ET on ABC.
The Starting 11 entering Week 2…1. PRIMETIME PROMINENCE: JUSTIN JEFFERSON (184 yards on nine receptions) and A.J. BROWN (155 yards on 10 receptions) enter Week 2 leading the NFL in receiving yards. They play Monday at Lincoln Financial Field (8:30 PM ET, ABC). Jefferson also leads the NFL with 3,200 receiving yards since entering the league in 2020.
JALEN HURTS squares off with Jefferson in their first meeting since the 2019 Peach Bowl, when they combined for six touchdowns (LSU's Jefferson caught four and Oklahoma's Hurts ran for two).

2. NUMBER OF THE WEEK – .952: The Bills' winning percentage (20-1) when quarterback JOSH ALLEN rushes and passes for at least one touchdown in the same game. Including last week's win, Allen's 21 games with at least one rushing TD and one-or-more passing TDs are the most in the NFL since he entered the league in 2018.
TENNESSEE (0-1) and BUFFALO (1-0), who play Monday (7:15 PM ET, ESPN), are two of four teams with playoff berths in each of the past three years (also Green Bay and Kansas City).
Buffalo has not punted in three of its last four regular-season games, the first team since 1939 (when the league began tracking punting statistics) with three zero-punt performances over a four-game stretch.

3. NOTE THAT MATTERS: Ten teams that missed the 2021 playoffs won their Week 1 games, including MIAMI (1-0) and BALTIMORE (1-0), who meet Sunday at M&T Bank Stadium (1:00 PM ET, CBS).
Last week, Ravens quarterback LAMAR JACKSON improved to 38-12 over his first 50 NFL starts, matching TOM BRADY (38 wins) and DANNY WHITE (38) for the third-most victories by a quarterback in his first 50 career starts since the 1970 merger. Only PATRICK MAHOMES (40 wins) and Pro Football Hall of Famer KEN STABLER (40) had more.

4. SPOTLIGHT – INDIVIDUAL MATCHUP: Linebacker FOYESADE OLUOKUN, who signed with Jacksonville as an unrestricted free agent this offseason, led the NFL with 192 tackles in 2021. On Sunday (1:00 PM ET, CBS), Oluokun and the Jaguars host Indianapolis and running back JONATHAN TAYLOR, who led the league last year in both scrimmage yards (2,171) and rushing yards (1,811).

5. SPOTLIGHT – TEAM MATCHUP: In 18 of the last 19 seasons (2003-21), at least two teams have won their divisions the year after missing the playoffs, including CINCINNATI (0-1) and DALLAS (0-1) in 2021. Those teams meet Sunday at AT&T Stadium (4:25 PM ET, CBS). Each team features a reigning Associated Press Rookie of the Year (the Bengals' JA'MARR CHASE won the offensive award and the Cowboys' MICAH PARSONS took the defensive honor), marking the third consecutive season that the league's top offensive and defensive rookies from the previous season meet in Weeks 1 or 2.

6. STREAK SPEAK: NEW ORLEANS (1-0) hosts TAMPA BAY (1-0) on Sunday (1:00 PM ET, FOX) with seven consecutive regular-season wins over the Buccaneers, including four against TOM BRADY. It's the longest regular-season winning streak by an NFL team against Brady as a starting quarterback. Prior to the Saints' current streak, Brady had only lost three consecutive games to a single opponent on one occasion, to the Broncos from 2005-09 … JACKSONVILLE (0-1) hosts INDIANAPOLIS (0-0-1) on Sunday (1:00 PM ET, CBS), having won its last six against the Colts in Jacksonville. FRANK REICH was DOUG PEDERSON's offensive coordinator when Philadelphia won the Super Bowl in 2017.

7. DID YOU KNOW?: This week, seven teams that have not been 2-0 since at least 2016 have that opportunity, including the CLEVELAND BROWNS (1-0). With a win Sunday (1:00 PM ET, CBS) against the Jets (0-1), the Browns would be 2-0 for the first time since 1993, when their head coach was BILL BELICHICK. WASHINGTON (last 2-0 record in 2011), the L.A. CHARGERS (2012), NEW ORLEANS (2013), MINNESOTA (2016), the N.Y. GIANTS (2016) and PHILADELPHIA (2016) also can get off to their best starts in at least six years this week.
Tampa Bay's TOM BRADY has an opportunity to begin a season 2-0 as a starting quarterback for a 10th time and break a tie with Pro Football Hall of Famers PEYTON MANNING (nine) and DAN MARINO (nine) for most 2-0 starts in NFL history.

8. UNDER-THE-RADAR STORYLINE: Former quarterback KERRY COLLINS holds a significant place in the histories of the CAROLINA PANTHERS (0-1) and NEW YORK GIANTS (1-0), who meet Sunday at MetLife Stadium (1:00 PM ET, FOX). The first-ever draft selection in Panthers history, Collins led the franchise to the NFC Championship Game in only his second season, 1996. Four years later, Collins led the Giants to a berth in Super Bowl XXXV, where the starting quarterback for his opponent was the Ravens' TRENT DILFER. Both Collins and Dilfer are now high school football coaches in the Nashville area.

9. TREND TIME: The PITTSBURGH STEELERS (1-0) have led the league in sacks each of the past five seasons (2017-21), an NFL record. They enter Sunday's game against NEW ENGLAND (0-1) at Acrisure Stadium (1:00 PM ET, CBS) tied for the 2022 lead (with Buffalo) after a seven-sack performance in a dramatic win last week.

10. THIS WEEK IN NFL HISTORY: Sept. 15, 2002 (20 years ago) – Future Pro Football Hall of Famer BRIAN URLACHER sacks 22-year-old MICHAEL VICK twice in the fourth quarter to preserve a 14-13 Chicago win at Atlanta, dropping the Falcons to 0-2. Vick, who had taken over as Atlanta's starter prior to the season, would then lead the Falcons to wins in eight of their next 10 games to springboard the team into the playoffs.

11. AND LAST BUT NOT LEAST: Defensive coordinators VANCE JOSEPH and PATRICK GRAHAM face off at Allegiant Stadium Sunday (4:25 PM ET, CBS) when Arizona travels to Las Vegas. Each coach is a former Dolphins defensive coordinator. And, each has tutored four-time Pro Bowler CHANDLER JONES, now with the Raiders. Jones had 30.5 sacks in three Cardinals seasons under Joseph (2019-21). Earlier, Graham was Jones' first NFL position coach with New England from 2012-13, when Jones recorded 17.5 sacks over his first two seasons in the league. Since 2014, only AARON DONALD (99) has more sacks than Jones (90).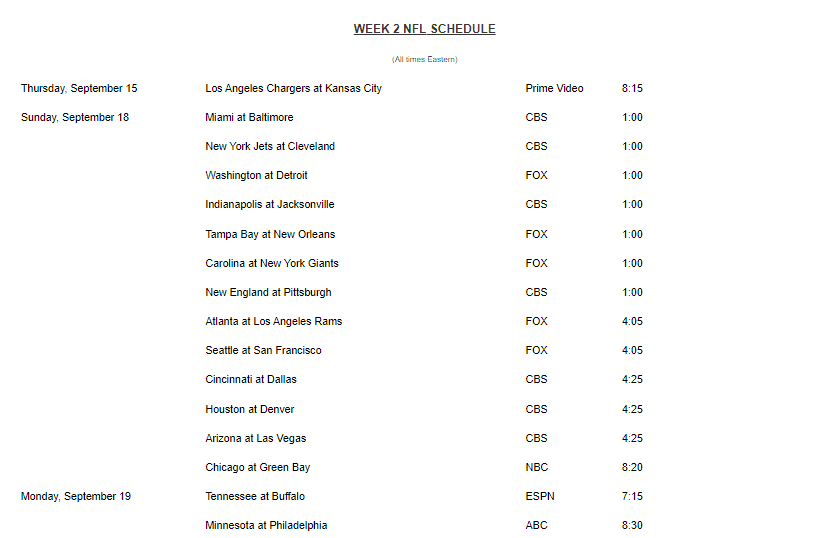 COURTESY NFLmedia.com