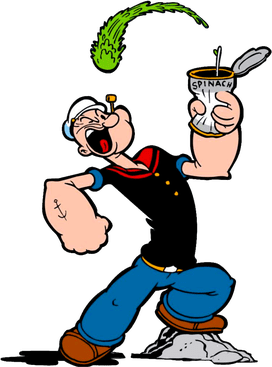 FROM WIKIPEDIA COMMONS
Popeye the Sailor Man is a fictional cartoon character created by Elzie Crisler Segar. The character first appeared in the daily King Features comic strip Thimble Theatre on January 17, 1929, and Popeye became the strip's title in later years. The character has also appeared in theatrical and television animated cartoons.
Segar's Thimble Theatre strip was in its 10th year when Popeye made his debut, but the one-eyed sailor quickly became the main focus of the strip, and Thimble Theatre became one of King Features' most popular properties during the 1930s. After Segar died in 1938, Thimble Theatre was continued by several writers and artists, most notably Segar's assistant Bud Sagendorf. The strip continues to appear in first-run installments in its Sunday edition, written and drawn by R.K. Milholland. The daily strips are reprints of old Sagendorf stories.
In 1933, Max Fleischer adapted the Thimble Theatre characters into a series of Popeye the Sailor theatrical cartoon shorts for Paramount Pictures. These cartoons proved to be among the most popular of the 1930s, and Fleischer—and later Paramount's own Famous Studios—continued production through 1957, these productions included Allied propaganda during the Second World War. These cartoon shorts are now owned by Turner Entertainment and distributed by its sister company Warner Bros.
Over the years, Popeye has also appeared in comic books, television cartoons, video games, hundreds of advertisements, peripheral products ranging from spinach to candy cigarettes, and the 1980 live-action film directed by Robert Altman and starring Robin Williams as Popeye.
Charles M. Schulz said, "I think Popeye was a perfect comic strip, consistent in drawing and humor". In 2002, TV Guide ranked Popeye number 20 on its "50 Greatest Cartoon Characters of All Time" list.
TODAY'S ALMANAC
The Harvest Moon is the full Moon nearest the autumnal equinox and is bright enough to allow finishing all the harvest chores.
Question of the Day
Who discovered penicillin and when?
Alexander Fleming developed this antibiotic agent in 1928, but it was not widely used therapeutically until 1940.
Advice of the Day
Experience is what you get when you expected something else.
Home Hint of the Day
If a chair rung is too small for its hole, don't just fill the space with more glue. Instead, try inserting a bit of steel wool into the hole to create a tighter fit. Then reglue the rung in place.
Word of the Day
Chain
1 chain=100 links=22 yards
Puzzle of the Day
The Volunteer State.(Name the U.S. state!)
Tennessee
Born
Joseph Wheeler (politician) – 1836
Carl Van Doren (biographer, critic, author of non-fiction) – 1885
Adele Astaire (dancer) – 1896
Robert Wise (director) – 1914
Arnold Palmer (professional golfer) – 1929
Charles Kuralt (journalist) – 1934
Stephen Jay Gould (evolutionary theorist author) – 1941
Joe Perry (musician) – 1950
Chris Columbus (film director) – 1958
Colin Firth (actor) – 1960
Randy Johnson (baseball player) – 1963
Guy Ritchie (director) – 1968
Ryan Philippe (actor) – 1974
Died
Huey P. Long (politician) – 1935
Amy Clampitt (poet) – 1994
Clarence Gatemouth" Brown" (musician) – 2005
Jane Wyman (actress) – 2007
Events
Jamestown colony in Virginia received a new president, John Smith– 1608
Faneuil Hall was given to the town of Boston, Massachusetts– 1742
Nathan Hale volunteered to spy behind enemy lines– 1776
Blount College was chartered in Knoxville, Tennessee. It later became the University of Tennessee.– 1794
Elias Howe patented his lockstitch sewing machine– 1846
American Forestry Association organized– 1875
Queen Elizabeth of Austria was assassinated– 1898
Popeye was heard for the first time on NBC radio– 1935
Canada declared war on Germany (World War II)– 1939
Mike the chicken lost his head when his owner, farmer Lloyd Olsen, chopped it off in preparation for dinner. However, Mike didn't die. He toured the nation for nearly 18 months before choking to death in a motel in Arizona.– 1945
The television show Gunsmoke made its debut– 1955
Air terminal building of Halifax International Airport, Nova Scotia, opened– 1960
African Americans entered the white public schools in Alabama, after President Kennedy federalized the state's National Guard as a move toward integrating the public schools– 1963
Anna Lindh, the foreign minister of Sweden, was fatally stabbed– 2003
A magnitude 6.0 earthquake, centered about 260 miles southwest of Tampa, Florida, struck– 2006
New England Patriots quarterback Tom Brady signed a four-year $72 million contract extension. This made him the highest-paid player in the NFL at the time.– 2010
Weather
The Great Gale hit Savannah, Georgia, and Charleston, South Carolina– 1804
Hurricane Dora made landfall, St. Augustine, Florida– 1964
Hurricane Irma made U.S. landfall at Cudjoe Key, Florida– 2017
COURTESY www.almanac.com