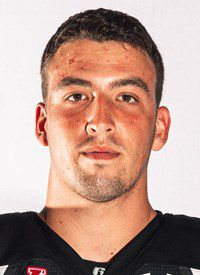 September 03, 2022
FAYETTEVILLE, Ark.  – The No. 23-ranked Cincinnati football team battled No. 19 Arkansas tough in front of the seventh-largest crowd in Donald W. Reynolds Razorback Stadium history before ultimately falling 31-24 on Saturday. 
 
Senior quarterback Ben Bryant tossed for 325 yards and two touchdowns, while sophomore running back Corey Kiner rushed for 59 yards and a touchdown.
 
Senior running back Charles McClelland added 44 yards on five carries and 42 yards on four receptions. Tyler Scott led the receiving corps with five catches for 77 yards.
 
Senior linebacker Ivan Pace, Jr. led the Bearcats with 12 tackles and 3.5 TFLs (including a sack) in his Bearcats' debut. Ja'Quan Sheppard (nine stops), Jaheim Thomas (seven) and Bryon Threats (six) each followed with career-highs.
 
The Bearcats were driving at midfield down 24-17 with just over 10 minutes left in the game when Bryant was sacked on his blindside by Arkansas' Jordan Domineck and fumbled.
 
Arkansas recovered. Two plays later, Razorbacks' quarterback KJ Jefferson found Trey Knox for a 32-yard touchdown to put the home team in front, 31-17, with 9:26 left.
 
Jefferson finished with three passing touchdowns and one rushing score.
 
UC fought back with a nine-play, 75-yard drive over 3:37 in the fourth quarter. Bryant had completions of 18 and 23 yards after facing 3rd-and-8 shy of midfield, then capped off the drive with a 11-yard strike to Leonard Taylor over the middle for a touchdown.
 
Led by Jefferson's rushing, Arkansas was able to convert first downs over the final minutes to run out the clock for the victory.
 
Cincinnati trailed 14-0 at halftime but came out rolling on offense after the break, scoring on its first three drives of the third quarter.
 
UC marched 75 yards on 12 plays right after the half with Bryant completing 6-of-9 passes and adding a 5-yard rush on the drive to set up Kiner's 5-yard touchdown that made the score 14-7.
 
After Arkansas answered with a 19-yard touchdown pass from quarterback KJ Jefferson to Jadon Haselwood to extend its lead to 21-7, the Bearcats fired right back.
 
Bryant found Scott for a 30-yard catch along the sideline before lofting a perfect pass to a streaking Nick Mardner for a 35-yard touchdown to bring UC back within a score, 21-14, at the 6:50 mark in the third quarter. It marked the first catch in a Bearcats uniform for the 6-6 transfer receiver from Hawaii.
 
Arkansas fumbled a hand off to start its next possession and Cincinnati defensive end Eric Phillips recovered the ball three yards from the end zone. However, four penalties stymied UC's offense the Bearcats were forced to settle with a 21-yard field goal from senior kicker Ryan Coe that made the score 21-17.
 
Bryant passed for 177 yards in the third quarter.
 
Bryant completed his first five passes of the game, but his sixth attempt was picked off by Arkansas cornerback Dwight McGlothern, who returned the interception 51 yards. The turnover set up a 15-yard touchdown rush by Jefferson that gave Arkansas a 7-0 lead with 6:18 remaining in the first quarter.
 
After Coe missed a 48-yard field goal late in the second quarter, Jefferson's 5-yard touchdown pass to Trey Knox put the Razorbacks in front 14-0.
COURTESY UC SPORTS COMMUNICATIONS