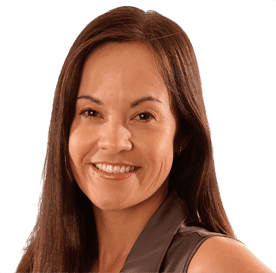 Aug. 25-28, 2022, NCR Country Club (South Course), Kettering, Ohio
Jill McGill knows about disappointment in the final round of a USGA championship, and now she's revisited the elation of victory. With the South Course at NCR Country Club at its brilliant and challenging best, McGill closed with an even-par 73 on a day when no one broke par to win the U.S. Senior Women's Open by one stroke over Leta Lindley at 3-under-par 289 in her first year of eligibility for the championship.

"That sounds amazing," McGill said when introduced as the champion. "I love the USGA. I've loved it ever since I got spanked in my very first Junior Girls by Brandie Burton. That was a welcome to competitive golf."

McGill, who won the 1993 U.S. Women's Amateur and the 1994 U.S. Women's Amateur Public Links, joins Arnold Palmer, Jack Nicklaus, Tiger Woods, JoAnne Carner and Carol Semple Thompson as the only players to win three different USGA championships. The triumph also earned her an exemption into next year's U.S. Women's Open Presented by ProMedica at Pebble Beach.

"I'll have to set my schedule now," said McGill when told about the exemption to Pebble Beach. "I look forward to it. That place is heaven on earth."

McGill, who was paired with Annika Sorenstam in the final round on Sunday, also played with Sorenstam in the final round of the 2002 U.S. Women's Open at Prairie Dunes. McGill began that day two strokes off Sorenstam's lead but started bogey-bogey on her way to a 78 as Juli Inkster closed with a 66 to win by two strokes over Sorenstam.

This time, it was McGill who got the best of Sorenstam, the defending champion who was briefly tied with Laura Davies, the 2018 champ, and Helen Alfredsson, who won in 2019, for the final-round lead after a birdie on No. 1. But Sorenstam, who had trouble finding consistency all week, fell back with three consecutive bogeys beginning on No. 3 and shot 77.

Meanwhile, McGill stayed focused on her own game.

"I knew at the turn I was a couple back, and from that point on, I really had no idea. I knew that I was close when I made a couple of birdies. I was disappointed with that bogey on 17. I tried not to focus on it. All I could do was what I could do, and whatever everybody else was doing was what they were doing."

Lindley birdied the final hole to claim second place alone at 2-under-par 290 with Alfredsson and Catriona Matthew at 291. Inkster was at 293 along with Sorenstam and Davies.

"Amazing, just amazing," said Lindley after closing with a 74. "I can remember JoAnne [Carner] was 60 and she was still playing out on the LPGA Tour and I'm thinking, wow, 60. I don't know if I'm going to be playing golf at 60, but now that I'm here at 50, I think it's within the realm of possibility when I see all the amazing golf being played by my peers that are older than me."

For much of the day it appeared that Davies would capture this title for the second time. When Davies made the turn at five under par, she was two strokes ahead of McGill and three clear of Alfredsson.

Davies had not made a bogey since No. 8 on Friday – a stretch of 39 holes – when she drove into left rough on No. 12, clipped a tree with her second shot, which went out of bounds, then hit another tree with her next shot. Davies eventually got to the green in 6 and two-putted for a quadruple-bogey 8.

"About as tough as I've ever known it, I think," Davies, who was hobbled by a sore right Achilles, said about the demands of the course on Sunday. "I mean, it's just an accumulation," she said about exhaustion that was apparent. "It's three weeks of walking with a hobble, the pressure of a final round, and well, I was going really well until the quad."

Sorenstam, who won by eight strokes last year, came in with high hopes but never found the reliable rhythm that was the hallmark of her World Golf Hall of Fame career

"I didn't drive it well enough," she said. "I made birdie on the first and felt great and then somehow just my wheels came off." When asked if she will compete next year, Sorenstam said: "I don't know. I just got off the course. Right now, I'm not really thinking about that, but I'm definitely not going to play as much."

The 1986 U.S. Women's Open was plagued by a series of disasters – a toxic spill, storms, power outages, and earthquake and even a swarm of locusts. This year, everything was perfect, and on Sunday the South Course presented a most demanding challenge.

While several of the other contenders succumbed to the challenges of NCR, McGill was more than up to the task. It was a history-making performance.

What the Champion Receives
Custody of the U.S. Senior Women's Open Trophy for one year

A gold medal

Exemptions into the next 10 U.S. Senior Women's Opens

Exemption into the 2023 U.S. Women's Open Presented by ProMedica at Pebble Beach (Calif.) Golf Links

First-place prize of $180,000

Notable
Going into Sunday, Sorenstam and Trish Johnson were the only players not to have an over-par round. Both were over par in the final round, Sorenstam with a 77 and Johnson with a 79.

Patricia Ehrhart, low amateur at 10 over par, has three daughters who are avid surfers and were on the Margaritaville Surf Team, which is captained by singer Jimmy Buffet. As low amateur, Ehrhart is exempt into next year's U.S. Senior Women's Open at Waverley Country Club in Portland, Ore.

Six of the seven tougheset holes on the South Course were in the nine-hole stretch from No. 3 through No. 11. Davies was the only contender to play that stretch under par on Sunday, and then she made a quadruple-bogey 8 on No. 12

McGill becomes the first American to win the U.S. Senior Women's Open. The first three were won by Laura Davies of England, Helen Alfredsson and Annika Sorenstam, both of Sweden.
Quotable
"I was very proud to be defending here. As you know, the USGA put a great championship together. I've always enjoyed playing in them. Kind of that's where my career started. I love the golf course. The support has been fabulous, the weather. Everything has been great. I wish my game was a little better." – Annika Sorenstam
"Well, especially having Matt back on the bag. I felt like we picked up right where we left off and it was like putting on really your favorite comfy sweater. It just felt so natural to be back out here, and it just felt so good to walk the fairways on this championship golf course." – Leta Lindley about her husband/caddie, Matt Plagmann, who was her caddie on the LPGA Tour

"The Pub Links [1994]. It's been a long time. It's been a really, really long time." – Jill McGill on when she won her last significant tournament (she never won on the LPGA Tour)


KETTERING, OHIO – Results from the Final Round of the 2022 U.S. Senior Women's Open Championship, played at 6,178-yard, par-73 NCR Country Club.
Purse: $1,000,000
POS,NAME,OFFICIAL MONEY,SCORES-TOTAL,STATUS
1,Jill McGill,$180,000,74-71-71-73-289,-3
2,Leta Lindley,$108,000,69-72-75-74-290,-2
T3,Catriona Matthew,$58,961,72-76-70-73-291,-1
T3,Helen Alfredsson,$58,961,70-70-75-76-291,-1
T5,Juli Inkster,$36,010,76-71-73-73-293,+1
T5,Annika Sorenstam,$36,010,73-70-73-77-293,+1
T5,Laura Davies,$36,010,71-76-68-78-293,+1
FROM WIKIPEDIA COMMONS
Leta Lindley (born June 1, 1972) is an American professional golfer who captured her first LPGA Tour title after 15 years on tour at the 2008 LPGA Corning Classic.
Lindley, whose first golf job was painting stripes on range balls as an 11-year-old, has had a long and successful career in the game. After graduating from the University of Arizona in 1994 with a degree in communications, Lindley turned pro in 1995. She ranks among the top 60 all-time LPGA money winners, despite having only one win. Lindley's husband, Matt Plagmann, caddies for her; her son Cole, and daughter Reese travel with the couple. The whole family was on the 18th green to celebrate her hard-earned victory at the 2008 Corning Classic after 295 LPGA Tour starts.
COURTESY USGA COMMUNICATIONS