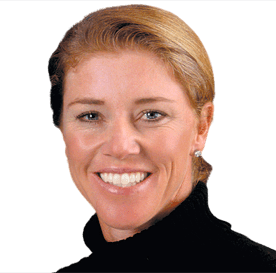 Aug. 25-28, 2022, NCR Country Club (South Course), Kettering, Ohio
What Happened
Call the first two rounds of this U.S. Senior Women's Open a prelude to greatness. Helen Alfredsson, the 2019 champion, is leading the way at 6-under-par 140, but is being chased by who's who of greats. No fewer six players with USGA trophies at home are in the hunt, setting the stage for a scintillating finish this weekend at NCR Country Club.

Occupying the two spots just below Alfredsson on the leader board are Leta Lindley, who is one stroke back at 141 after a 72 on Friday, and defending champion Annika Sorenstam, in solo third place at 143.
First-round leader Tammie Green is at 144, with Catrin Nilsmark and Jill McGill at 145 and Trish Johnson at 146. Juli Inkster, 2018 U.S. Senior Women's Open champion Laura Davies and Jacqueline Gallagher-Smith are at 147.

Alfredsson, who capped her round by hitting a 9-iron from 118 yards to inside a foot for a birdie on No. 18, was solid in every aspect of her game, making only one bogey. She hit 12 of 14 fairways and 17 of 18 greens.

"Yeah, it's gotten a little bit better," Alfredsson said. "Yesterday was not great. Today was a little bit better, which I need. I think [the key] is to keep it in play off the tee. I have an advantage that I'm fairly long still, so you know, if I can just keep it in the fairway, I don't have that far in like some of the other girls."
Asked how many times she has competed since last year's U.S. Senior Women's Open at Brooklawn Country Club in Fairfield, Conn., Alfredsson said: "Zero. I don't even know if I have 10 rounds, actually."
Lindley joined Alfredsson as the only players to shoot under par in each of the first two rounds, following a 69 with a 72 despite making bogeys on two of the final three holes. She has only 56 putts in 36 holes.
"I did a lot of good things," Lindley said. "A little disappointed with my finish; hit just a couple squirrelly shots. But otherwise played really solid, continued to roll my putts nicely. Just had some that just rolled over the edge, but felt like overall I played really solid other than my two bogeys coming in."

Sorenstam, visibly upset after an even-par 73 on Thursday, began her second round on No. 10 and made birdies on Nos. 12, 17, 1 and 4 while making her only bogey on No. 6 as she shot 3-under-par 70.

"I drove the ball better," Sorenstam said. "Missed a few short putts, but I would say overall I was in a much better mood. I had the rhythm, had some momentum. It was fun out there, and just trying to go out there and enjoy and not feel constantly pressure in what I have to do. That's why I played better."
Inkster, who also began her second round on No. 10 and had even more work to do after a 76 on Thursday, was four over par after a bogey on No. 14, then reeled off five birdies in a row before making a triple-bogey 8 on the par-5 sixth hole on her way to 71.

Green, who had the grabbed the first-round lead with a 5-under-par 68, got to six under par through six holes on Friday but played four over from there in for a 76. Still, she's in the hunt. Alfredsson is going to have a lot of company around the top of the leader board in Saturday's third round, and many of them are familiar names she's been tussling with for decades.
Notable
Hollis Stacy, a six-time USGA champion, kept her perfect (4 for 4) cut streak in this championship intact. She's joined in playing the weekend by USGA titleholders Amy Alcott and Alison Nicholas.

Eight-time USGA champion JoAnne Carner, who shot her age on the number with an 83 on Thursday, matched that number again on Friday.

Maggie Will had one of the best bounce-back performances, following a 79 and an even-par 73.

Catrin Nilsmark's roller-coaster round included four bogeys, a double bogey and three birdies as she shot 76 but is still only five back.
Quotable
"I hit a lot of great shots today. I just didn't – the putter wasn't as good as it was yesterday, but certainly I'm striking the ball well. I'm driving the ball well. I don't see why I can't move right up the leaderboard tomorrow." – Tammie Green
"I do not compare myself to him whatsoever, but I think anybody that sees Tiger is off, he knows how to play the game. It's his physical abilities. He knows where to hit it, what shots to hit, and I think we grew up in an era that we learned to play golf. We were not just hitting shot after shot after shot and trying to have a perfect golf swing because obviously I've never claimed to have one." – Helen Alfredsson on how she remains sharp despite rarely competing
"I played well today. I had a couple bad drives coming in, and that was my 8, highlighted by a three-putt. I made up some ground. I've got 36 holes left. I definitely put myself in a hole again, but I'm used to crawling out of them." – Juli Inkster after shooting 2-under-par 71
"Well, I don't know if this makes me more nervous or going in for childbirth, one of the two. I'm getting my nine-month-old puppies back from military school, so I don't know which one is more challenging at the moment. But it's fun to be in this position." – Jill McGill on being in the hunt on the weekend
"I came from Sweden; I had a golf bag and two suitcases. She came with a U-Haul." – Annika Sorenstam on rooming with Leta Lindley at the University of Arizona
"I think that might be a little bit of an exaggeration. I had a carful. Maybe my parents had some. I do remember my parents taking her to go get sheets. That might be a better memory than a U-Haul." –Lindley
KETTERING, OHIO – Results from Round 2 of the 2022 U.S. Senior Women's Open Championship, played at 6,053-yard, par-73 NCR Country Club.

POS,NAME,SCORES-TOTAL,STATUS
1,Helen Alfredsson,70-70-140,-6
2,Leta Lindley,69-72-141,-5
3,Annika Sorenstam,73-70-143,-3
4,Tammie Green,68-76-144,-2
T5,Catrin Nilsmark,69-76-145,-1
T5,Jill McGill,74-71-145,-1
7,Trish Johnson,73-73-146,E
T8,Jacqueline Gallagher-Smith,74-73-147,+1
T8,Juli Inkster,76-71-147,+1
T8,Laura Davies,71-76-147,+1
T11,Catriona Matthew,72-76-148,+2
T11,Pat Hurst,70-78-148,+2
T13,Patricia Ehrhart (a),74-75-149,+3
T13,Cathy Johnston-Forbes,74-75-149,+3
T13,Michele Redman,75-74-149,+3
T13,Liselotte Neumann,76-73-149,+3
T13,Lisa Grimes,76-73-149,+3
T18,Audra Burks,73-77-150,+4
T18,Laurel Kean,72-78-150,+4
T18,Stefania Croce,75-75-150,+4
T21,Yuko Saito,75-76-151,+5
T21,Lara Tennant (a),75-76-151,+5
T23,Amy Alcott,76-76-152,+6
T23,Maggie Will,79-73-152,+6
T23,Tracy Hanson,75-77-152,+6
T23,Denise Killeen,76-76-152,+6
T23,Rosie Jones,74-78-152,+6
T23,Christa Johnson,75-77-152,+6
T29,Judith Kyrinis (a),72-81-153,+7
T29,Sherry Andonian,76-77-153,+7
T29,Jamie Fischer,76-77-153,+7
T32,Moira Dunn-Bohls,78-76-154,+8
T32,Yukako Matsumoto,74-80-154,+8
T34,Alison Nicholas,77-78-155,+9
T34,Eriko Gejo,78-77-155,+9
T34,Becky Iverson,78-77-155,+9
T34,Barb Moxness,78-77-155,+9
T34,Danielle Ammaccapane,76-79-155,+9
T34,Ellen Port (a),78-77-155,+9
T40,Lisa McGill (a),79-77-156,+10
T40,Lisa DePaulo,78-78-156,+10
T40,Michelle McGann,78-78-156,+10
T40,Dina Ammaccapane,76-80-156,+10
T44,Hollis Stacy,79-78-157,+11
T44,Cathy Panton-Lewis,80-77-157,+11
T46,Susie Redman,76-82-158,+12
T46,Dana Bates,79-79-158,+12
T46,Yuko Ogura,80-78-158,+12
T46,Shelly Stouffer (a),82-76-158,+12
T46,Elaine Crosby,78-80-158,+12
T46,Cheryl Anderson,75-83-158,+12
T46,Nicole Jeray,79-79-158,+12
Failed to Qualify
Michelle Dobek,74-85-159,CUT
Leslie Spalding,78-81-159,CUT
Pat Shriver,79-80-159,CUT
Jane Geddes,78-81-159,CUT
Sue Wooster (a),79-80-159,CUT
Yuka Shiroto,80-79-159,CUT
Brandie Burton,82-78-160,CUT
Laura Coble (a),81-79-160,CUT
Tina Tombs,82-79-161,CUT
Suzanne Strudwick,81-80-161,CUT
Kim Williams,85-76-161,CUT
Karen Garcia (a),79-82-161,CUT
Kathy Kurata (a),82-80-162,CUT
Sue Ertl,82-80-162,CUT
Maggie Leef (a),82-80-162,CUT
Kristi Albers,76-86-162,CUT
Kris Tschetter,86-76-162,CUT
Sally Voss Krueger (a),84-78-162,CUT
Marion Reid (a),78-84-162,CUT
Tina Barker (a),82-81-163,CUT
Janet Moore (a),82-81-163,CUT
Jayne Pardus (a),80-83-163,CUT
Tonya Gill Danckaert,81-82-163,CUT
Smriti Mehra,84-79-163,CUT
Karen Weiss,84-79-163,CUT
Laura Shanahan Rowe,78-86-164,CUT
Martha Linscott (a),82-82-164,CUT
Angela Buzminski,81-83-164,CUT
Itsuko Moridaira (a),77-87-164,CUT
Mary Jane Hiestand (a),82-82-164,CUT
Laura Carson (a),84-80-164,CUT
Dana Ebster,82-82-164,CUT
Lynne Cowan (a),81-83-164,CUT
Sherry Wright (a),79-86-165,CUT
Anne Marie Palli,84-81-165,CUT
Barbara Bunkowsky,82-83-165,CUT
Cheryl Fox,84-81-165,CUT
Martha Leach (a),82-83-165,CUT
Kelley Brooke,83-82-165,CUT
Pam Prescott (a),75-90-165,CUT
Jan Stephenson,85-81-166,CUT
Adele Snyder,83-83-166,CUT
Kristal Parker,85-81-166,CUT
Carin Hjalmarsson,84-82-166,CUT
Jean Bartholomew,83-83-166,CUT
JoAnne Carner,83-83-166,CUT
Teresa Ishiguro,81-86-167,CUT
Anna Morales (a),82-85-167,CUT
CJ Reeves,82-85-167,CUT
Gigi Higgins (a),83-84-167,CUT
Carol Semple Thompson (a),85-83-168,CUT
Theresa Mahlik (a),81-87-168,CUT
Noreen Mohler (a),81-87-168,CUT
Kim Shek (a),86-84-170,CUT
Amy Fruhwirth,83-88-171,CUT
Susie Keane (a),85-86-171,CUT
Wendy Modic,84-87-171,CUT
Kaori Shimura,84-87-171,CUT
Julie Oxendine (a),83-88-171,CUT
Avis Brown-Riley,87-85-172,CUT
Helene Chartrand (a),86-87-173,CUT
Joy Bonhurst,88-85-173,CUT
Kay Daniel (a),90-84-174,CUT
Suzi Spotleson (a),94-81-175,CUT
Karen Bennett,87-90-177,CUT
Stephenie Harris (a),90-89-179,CUT
Christine Lindsey,85-95-180,CUT
Michaelyn Farmer (a),91-89-180,CUT


KETTERING, OHIO – Tee Times and Pairings for Round 3 of the 2022 U.S. Senior Women's Open Championship, played at 6,053-yard, par-73 NCR Country Club.

9:20 a.m. — Nicole Jeray, Chicago, Ill. , 79-79 158, +12; Cheryl Anderson, Heathrow, Fla. , 75-83 158, +12;
9:31 a.m. — Elaine Crosby, Jackson, Mich. , 78-80 158, +12; Shelly Stouffer (a), Canada , 82-76 158, +12;
9:42 a.m. — Yuko Ogura, Japan , 80-78 158, +12; Dana Bates, Tacoma, Wash. , 79-79 158, +12;
9:53 a.m. — Susie Redman, The Woodlands, Texas , 76-82 158, +12; Cathy Panton-Lewis, Scotland , 80-77 157, +11;
10:04 a.m. — Hollis Stacy, Holmes Beach, Fla. , 79-78 157, +11; Dina Ammaccapane, Phoenix, Ariz. , 76-80 156, +10;
10:15 a.m. — Michelle McGann, North Palm Beach, Fla. , 78-78 156, +10; Lisa DePaulo, Austin, Texas , 78-78 156, +10;
10:26 a.m. — Lisa McGill (a), Philadelphia, Pa. , 79-77 156, +10; Ellen Port (a), St. Louis, Mo. , 78-77 155, +9;
10:37 a.m. — Danielle Ammaccapane, Phoenix, Ariz. , 76-79 155, +9; Barb Moxness, Rio Verde, Ariz. , 78-77 155, +9;
10:48 a.m. — Becky Iverson, Madison, Wis. , 78-77 155, +9; Eriko Gejo, Japan , 78-77 155, +9;
10:59 a.m. — Alison Nicholas, England , 77-78 155, +9; Yukako Matsumoto, Japan , 74-80 154, +8;
11:10 a.m. — Moira Dunn-Bohls, Utica, N.Y. , 78-76 154, +8; Jamie Fischer, Centerville, Ohio , 76-77 153, +7;
11:21 a.m. — Sherry Andonian, Centennial, Colo. , 76-77 153, +7; Judith Kyrinis (a), Canada , 72-81 153, +7;
11:32 a.m. — Christa Johnson, Tucson, Ariz. , 75-77 152, +6; Rosie Jones, Hilton Head Island, S.C. , 74-78 152, +6;
11:43 a.m. — Denise Killeen, Canton, Ga. , 76-76 152, +6; Tracy Hanson, Coeur d'Alene, Idaho , 75-77 152, +6;
11:54 a.m. — Maggie Will, Richmond, Va. , 79-73 152, +6; Amy Alcott, Pacific Palisades, Calif. , 76-76 152, +6;
12:05 p.m. — Lara Tennant (a), Portland, Ore. , 75-76 151, +5; Yuko Saito, Japan , 75-76 151, +5;
12:16 p.m. — Stefania Croce, Italy , 75-75 150, +4; Laurel Kean, Estero, Fla. , 72-78 150, +4;
12:27 p.m. — Audra Burks, Springfield, Ill. , 73-77 150, +4; Lisa Grimes, Alexandria, Minn. , 76-73 149, +3;
12:38 p.m. — Liselotte Neumann, Sweden , 76-73 149, +3; Michele Redman, Plymouth, Minn. , 75-74 149, +3;
12:49 p.m. — Cathy Johnston-Forbes, Kitty Hawk, N.C. , 74-75 149, +3; Patricia Ehrhart (a), Birmingham, Ala. , 74-75 149, +3;
1:00 p.m. — Pat Hurst, Danville, Calif. , 70-78 148, +2; Catriona Matthew, Scotland , 72-76 148, +2;
1:11 p.m. — Laura Davies, England , 71-76 147, +1; Juli Inkster, Los Altos, Calif. , 76-71 147, +1;
1:22 p.m. — Jacqueline Gallagher-Smith, Jupiter, Fla. , 74-73 147, +1; Trish Johnson, England , 73-73 146, E;
1:33 p.m. — Jill McGill, Dallas, Texas , 74-71 145, -1; Catrin Nilsmark, Sweden , 69-76 145, -1;
1:44 p.m. — Tammie Green, Somerset, Ohio , 68-76 144, -2; Annika Sorenstam, Sweden, 73-70 143, -3;
1:55 p.m. — Leta Lindley, Palm Beach Gardens, Fla. , 69-72 141, -5; Helen Alfredsson, Sweden , 70-70 140, -6
COURTESY USGA COMMUNICATIONS