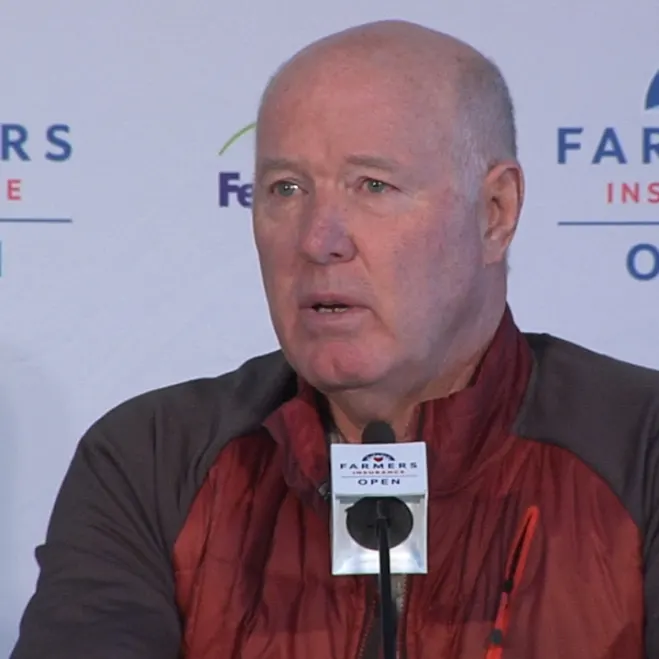 FROM WIKIPEDIA COMMONS
Thomas Daniel Weiskopf (November 9, 1942 – August 20, 2022) was an American professional golfer who played on the PGA Tour and the Champions Tour. His most successful decade was the 1970s. He won 16 PGA Tour titles between 1968 and 1982, including the 1973 Open Championship. After winding down his career playing golf, Weiskopf became a noted golf course architect.
CAREER
Weiskopf was born in Massillon, Ohio. He attended Benedictine High School in Cleveland, and Ohio State University where he played on the golf team. He turned professional in 1964.
Weiskopf's first win on the PGA Tour came at the Andy Williams-San Diego Open Invitational in 1968, and fifteen more followed by 1982. His career season was 1973, when he won seven tournaments around the world, including The Open Championship at Royal Troon, and he would finish that year ranked second in the world according to Mark McCormack's world golf rankings. This was to remain his only major championship victory, but he was a four-time runner-up at The Masters and also had a T2 finish at the 1976 U.S. Open.
Weiskopf won the Canadian Open in 1973 and 1975; the latter win was achieved in dramatic fashion, with a one-hole playoff win over archrival Jack Nicklaus, when Weiskopf nearly holed his approach on the 15th hole at the Royal Montreal Golf Club's Blue Course. Weiskopf was a member of the United States team in the 1973 and 1975 Ryder Cups. He qualified as well for the 1977 team, but decided to skip the competition in order to go big-game hunting.
Weiskopf's swing was much admired in the golf world. He hit the ball high, generated enormous power, and had very good control as well which is a rare combination. Weiskopf's displays of his temper on the golf course earned him the nickname of "The Towering Inferno".
Weiskopf joined the Senior PGA Tour in 1993 and won several senior tournaments, including one senior major, the 1995 U.S. Senior Open.
He also worked as a golf analyst for CBS Sports covering the 1981 and 1985 to 1995 Masters. After 2008, he contributed to ABC Sports and ESPN's coverage of The Open Championship.
DEATH
In 2020, Weiskopf was diagnosed with pancreatic cancer. He died at his home in Big Sky, Montana, on August 20, 2022, aged 79. His death was first announced by fellow golfer Tom Watson, who extended his condolences to the Weiskopf family in a tweet.