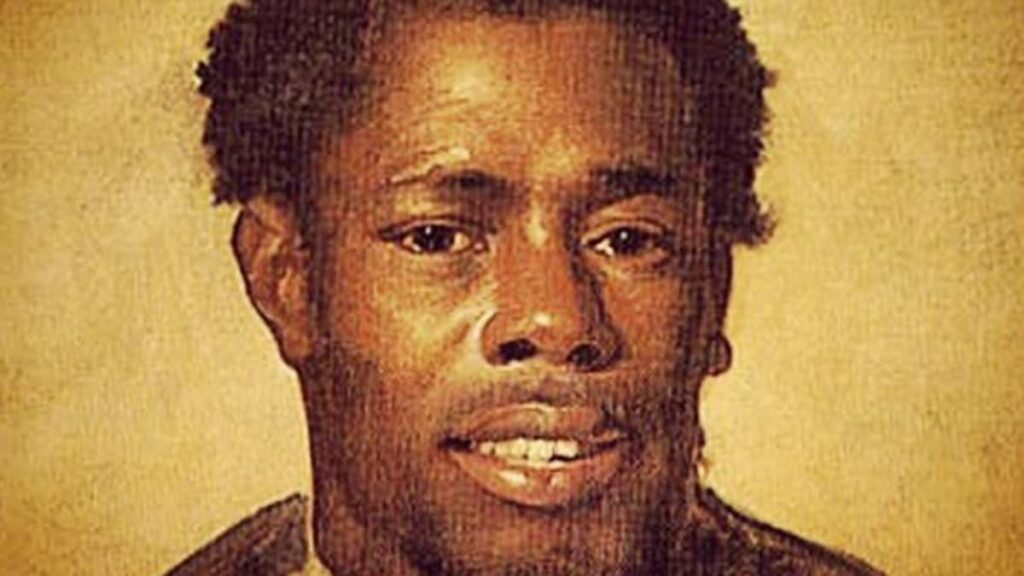 FROM WIKIPEDIA COMMONS
NAT TURNER'S BACKGROUND
Nat Turner (October 2, 1800 – November 11, 1831) was an enslaved African-American preacher who organized and led the four-day rebellion of enslaved and free Black people in Southampton County, Virginia, in 1831. Born into slavery on October 2, 1800, also in Southampton County, a rural plantation area with more Black people than White, Turner was recorded as "Nat" by Benjamin Turner, the man who enslaved him and his family. When Benjamin Turner died in 1810, under then-current laws which made slavery legal, Nat was inherited as property by Benjamin's son Samuel Turner. For most of his life, he was known simply as "Nat", but after the 1831 rebellion, he was widely referred to as "Nat Turner". Turner knew little about the background of his father, who was believed to have escaped from slavery when Turner was a young boy. Turner spent his entire life in Southampton County.
Turner learned how to read and write at a young age. He was identified as having "natural intelligence and quickness of apprehension, surpassed by few." He grew up deeply religious and was often seen fasting, praying, or immersed in reading the stories of the Bible. He frequently had visions which he interpreted as messages from God, and these visions influenced his life. At age 21, he escaped from his enslaver, Samuel Turner. After becoming delirious from hunger and receiving a vision which told him to "return to the service of my earthly master", he returned a month later. In 1824, he had his second vision while working in the fields under a new enslaver, Thomas Moore. In it, "the Saviour was about to lay down the yoke he had borne for the sins of men, and the great day of judgment was at hand".
Turner often conducted services, preaching the Bible to his fellow enslaved people, who dubbed him "The Prophet". In addition to Blacks, Turner garnered White followers such as Etheldred T. Brantley, whom Turner was credited with having convinced to "cease from his wickedness".
By the spring of 1828, Turner was convinced that he "was ordained for some great purpose in the hands of the Almighty". He "heard a loud noise in the heavens" while working in Moore's fields on May 12, "and the Spirit instantly appeared to me and said the Serpent was loosened, and Christ had laid down the yoke he had borne for the sins of men, and that I should take it on and fight against the Serpent, for the time was fast approaching when the first should be last and the last should be first". Historian and theologian Joseph Dreis later wrote: "In connecting this vision to the motivation for his rebellion, Turner makes it clear that he sees himself as participating in the confrontation between God's Kingdom and the anti-Kingdom that characterized his social-historical context."
In 1830, Joseph Travis purchased Turner, and Turner later recalled that he was "a kind master" who had "placed the greatest confidence" in him. Turner eagerly anticipated God's signal to "slay my enemies with their own weapons". On February 12, 1831, he witnessed a solar eclipse that was visible from much of the southeastern United States, and was convinced that it was the sign for which he was waiting. He began preparations for an uprising against the enslavers in Southampton County by purchasing muskets. Turner said, "I communicated the great work laid out to do, to four in whom I had the greatest confidence," fellow slaves Henry, Hark, Nelson, and Sam.
After the rebellion, a reward notice described him as:
5 feet 6 or 8 inches [168–173 cm] high, weighs between 150 and 160 pounds [68–73 kg], rather "bright" [light-colored] complexion, but not a mulatto, broad shoulders, larger flat nose, large eyes, broad flat feet, rather knockneed, walks brisk and active, hair on the top of the head very thin, no beard, except on the upper lip and the top of the chin, a scar on one of his temples, also one on the back of his neck, a large knot on one of the bones of his right arm, near the wrist, produced by a blow.

THE REBELLION
Nat Turner's Rebellion, also known as the Southampton Insurrection, was a rebellion of enslaved Virginians that took place in Southampton County, Virginia, in August 1831, led by Nat Turner. The rebels killed between 55 and 65 people, at least 51 of whom were White. The rebellion was effectively suppressed within a few days, at Belmont Plantation on the morning of August 23, but Turner survived in hiding for more than two months afterwards.
There was widespread fear in the aftermath, and militias organized in retaliation to the rebels. Approximately 120 enslaved people and free African Americans were killed by militias and mobs in the area. The Commonwealth of Virginia later executed an additional 56 enslaved people accused of being part of the rebellion, including Turner himself; many Black people who had not participated were also persecuted in the frenzy. Because Turner had been educated and literate as well as a popular preacher, state legislatures subsequently passed new laws prohibiting education of enslaved people and free Black people, restricting rights of assembly and other civil liberties for free Black people, and requiring White ministers to be present at all worship services.
TODAY'S ALMANAC
Question of the Day
What is the distribution of religions in the United States?
According to a 2020 survey by the Public Religion Research Institute, it's estimated that about 70 percent of Americans describe themselves as Christian, 1.4 percent as Jewish, 0.8 percent as Muslim, 0.8 percent as Buddhist, and about 4 percent as belonging to other religions. The remaining 23 percent say that they have no religious affiliation.
Advice of the Day
Plant new lawns or reseed thin ones now.
Home Hint of the Day
To get rid of a musty odor in upholstered furniture, spray a deodorant or sprinkle cat litter over the piece. Let it sit for a while, then vacuum. Repeat if necessary.
Word of the Day
Anemometer
An instrument to measure the speed of the wind.
Puzzle of the Day
The Pelican State.(Name the U.S. state!)
Louisiana
Died
Richard III of England – 1485
Calvin E. Stowe (professor of biblical studies) – 1886
Kate Chopin (author) – 1904
Born
Claude Debussy (composer) – 1862
John Lee Hooker (singer) – 1917
Ray Bradbury (science fiction author) – 1920
Carl Yastrzemski (baseball player) – 1939
Cindy Williams (actress) – 1947
Tori Amos (musician) – 1963
Ty Burrell (actor) – 1967
Kristen Wiig (actress) – 1973
James Corden (actor, tv host) – 1978
Dua Lipa (singer) – 1995
Events
Ann Franklin, sister-in-law of Benjamin, became the first female editor for an American newspaper, the Newport, R.I., Mercury following her husband's death.– 1762
Nat Turner led slave rebellion in Southampton County, Virginia– 1831
The schooner, America, won an international race sponsored by the Royal Yacht Society in England. This became a traditional international event known as the America's Cup race– 1851
William Sheppard patented a liquid soap (Patent #49561)– 1865
U.S. President Teddy Roosevelt became the first president to ride in an automobile– 1902
Steven C. Rockefeller married Anne Marie Rasmussen– 1959
The Beatles arrived in New York City on their last U.S. tour– 1966
Okanagan Mountain Park wildfire strengthened, Kelowna, British Columbia– 2003
Masked thieves burst into the Oslo museum and snatched a version of the Edvard Munch masterpiece The Scream and a second Munch painting from the walls as visitors watched in shock– 2004
Several earthquakes struck southern Colorado; the largest measuring magnitude-5.3– 2011
Weather
Damaging frosts from New England to North Carolina– 1816
Tornado wound through Middlesex County, MA– 1851
Frost damaged crops in the Midwest– 1857
Severe frost hit Fort Custer, Montana– 1883
A record four hurricanes were observed at one time in the North Atlantic. One of these storms hit the U.S. coast days later, killing 1,000-2,000 people in Georgia and South Carolina.– 1893
1.25" hail fell in Castle Rock, Colorado– 2007
COURTESY www.almanac.com